Xbox Series X - Hands On Impressions (Kind of a Review)
by Kirby Yablonski








Over the past two weeks I have been using the upcoming Xbox Series X in a 'home' environment (my home office). Unlike scored reviews for hardware, I want to communicate my general impressions, as the Xbox Series X is not yet in the public's hands and there will be a few updates (hardware and software) that will make the experience even more refined. For those that may be wondering, I game on a 43-inch Samsung 4K HDR TV running at 60hz.

I believe that the Xbox Series X clearly shows that Microsoft has put a lot of time and research into the making of the new console. Its form factor was unveiled in December 2019 during the spectacle that is known as The Game Awards. It was a surprise for everyone watching, as no one saw this unveiling coming. The rectangular black box immediately generated buzz, and many people associated it with a fridge, even creating memes of the Xbox Series X sitting in a kitchen in place of a refrigerator. As time went by, Microsoft disclosed tidbits of information to the public, from what hardware they were putting in, the new SSD drive they would harness to the software technology that will be used by developers and what Series X actually looked inside.




In an effort not to be "one of those articles", I tend to keep most tech specs out; however, for those who might be interested, here is what lies inside the cube-like box that is the Series X:

• CPU 8x Cores @ 3.8 GHz (3.6 GHz w/ SMT) Custom Zen 2 CPU
• GPU 12 TFLOPS, 52 CUs @ 1.825 GHz Custom RDNA 2 GPU
• Memory 16 GB GDDR6
• Memory Bandwidth 10GB @ 560 GB/s, 6GB @ 336 GB/s
• Internal Storage 1 TB Custom NVME SSD
• I/O Throughput 2.4 GB/s (Raw), 4.8 GB/s (Compressed, with custom hardware decompression block)
• Expandable Storage 1 TB Expansion Card (matches internal storage exactly)
• External Storage USB 3.1 External HDD Support
• Optical Drive 4K UHD Blu-Ray Drive
• Performance Target 4K @ 60 FPS, Up to 120 FPS, 8K capable
• Video out: HDMI 2.1
• Input/Output: 3x USB 3.1 Gen 1 Type-A ports
• Networking: 10/100/1000 ethernet port, 802.11ac dual band wireless

So, there you have it, all the tech jargon that explains what is inside the plastic body. It is impressive stuff, and if you have seen any of the pics of what is inside, they have neatly, and tightly, packed all that tech into it while using vapour chamber cooling and a very large fan to maintain a regular and sustainable temperature. During the lead up to the release there have been news articles about the Xbox Series X putting out some very hot air when in use. Having used it for the time I have had it, I can confirm that it gets warm, but not hot. How some people spread the narrative that it got too hot to touch is just silly. I expected that it would expel air that would be warm when running hard, and it indeed does, but it is not crazy hot as some people claimed.

As you look at the noted specs above, you can see that the Xbox Series X has a 1TB Custom NVME SSD. This is part of the heart of the new console (along with the CPU & GPU). This SSD is fast, and it helps to make the Series X experience what it is. From the loading games, starting paused games, to transferring and/or downloading new games, it plays an important part.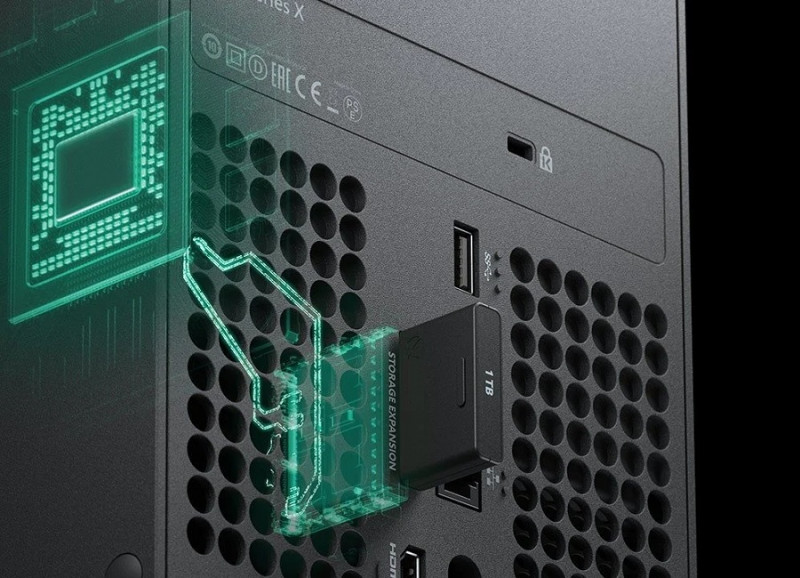 If you are looking to expand your storage space, there are two different ways you can do so.

The first solution is to buy an expansion SSD drive designed specifically for the Series X. It is the same custom NVME SSD that is inside the Series X but in a size factor a memory card. At time of writing this, there is only one expansion drive available and it is produced by Seagate. It is 1TB in size and costs $299 (CDN). I know that many people think this is expensive, and indeed it is costly; however, do a search on the internet and you will find that the price is comparable to current NVME high speed SSD's on the market. You should also know that if you are playing a game that is either designed for the Series X or optimized for it, you will need to install it on the internal SSD or the expandable SSD, because the data it contains, and data transfer rate it requires, is only capable via the new SSD.

The other method to increase the Series X's storage is to use an external USB 3.0 HDD or SSD. You can store and play original Xbox One games, as well as all backwards compatible games including those from the Xbox 360 and the original Xbox on the external SSD or HDD. You can also store Series X games too. Storing Series X games on an external USB 3.0 HDD or SSD allows you to free up space on the internal SSD and allows for a quick transfer process versus re-downloading it should you wish to transfer it back to the Series X.

So, how does the new Xbox Series X SSD perform? I would have to say it performs admirably. One of the first things that I noticed was how snappy the dashboard was. Usually on the Xbox One X, there would be minor lag here and there as I navigated through the various menu options in the dashboard and loaded up a few things; however, with the Xbox Series X, both its power and its SSD result in a smoother experience. Loading up games is also a faster. I am a Destiny fan, and when I load up Destiny 2 on my Xbox One X, it takes upwards of 3 minutes to go from dashboard to being in orbit in the game world. When loading the game up on the Xbox Series X, both the logins that I timed were under 60 seconds. I also noticed that the in-game UI was snapper and faster to use and certain actions (e.g. deleting items) were quicker. Other games that I played showed very quick load times. Forza Horizon 4 was noticeably quicker in all aspects. For example, when loading up any of the DLC areas, it was mere seconds before I found myself in the DLC world.

Of course, there is also that new Quick Resume feature. It works as advertised; however, we did receive an email from Microsoft PR that some games were not yet compatible with the feature, and that hot fixes would be coming in around or after the November 10th launch. Regardless, being able to use the Quick Resume feature was impressive. My 14 year-old son plays games on the Xbox One S, and I showed him how Quick Resume worked. He was surprised with not only how quick it was, but also the fact that it allowed me to go right back to the area I left in game. His overall review of the feature was simple: "That's pretty cool dad!!!". (Following video courtesy of Microsoft/Xbox)


One more quick point. You will also notice that on most occasions, downloading games over the world wide web is faster on the new console. After downloading on the Xbox Series X, there were times when my Xbox One X, on a good internet day, cannot touch the download speed of the Series X on a similar day. It wasn't all the time, but given that I found it happening more often, it was noticeable indeed.

In terms of gaming experiences, this is a contentious point right now and a big elephant in the room given that Microsoft is launching the Xbox Series X but with no first party games that take FULL advantage of the console. I am a little disheartened by this fact and it is a real sore spot for some, and I get it. The titles that Microsoft is relying on to show off their new console are third party games, which are multi-platform and cross-generation. Now that this complaint is out of the way let us talk about some games that are optimized for the Series X.

Forza Horizon 4 is an upgrade to say the least as you will notice the graphical improvements almost instantly. The best way that I can explain it is that it looks more PC-like. The reflections are more evident, the lines are sharper and the draw distance is improved, including that which you see in your rear-view mirror. Of course, we cannot forget those loading times I mentioned earlier, which are shorter and get you into the game faster.

I also had the opportunity to play Dirt 5. One of the features that I checked out was the ability to change from a focus on visuals to a focus on performance (framerate). I chose to use the visual focus, as I really wanted to see the upgraded visuals. I did switch to the performance mode a few times, and it was smooth as silk when playing with some minor downgrades in specific visual areas to account foran even more rock solid framerate. What I was also excited about was the instant restarts when playing. Should you find the desire to restart a track, you do not have to wait as it's an instant response. Confirm the restart option and boom; you are back on the starting grid. I cannot wait to see more driving games implement this feature.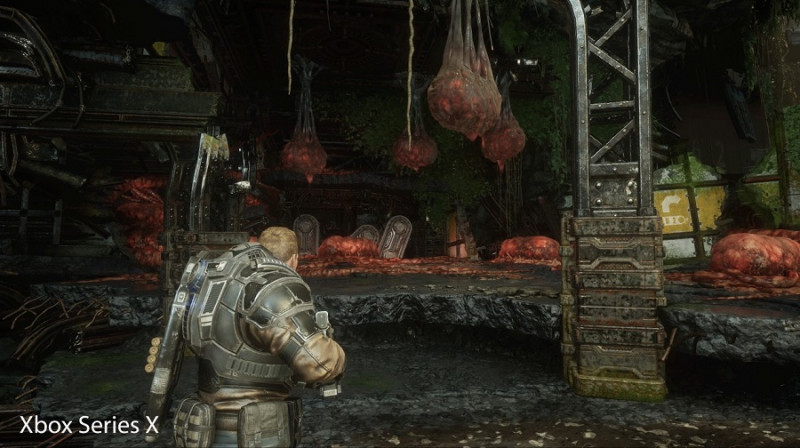 Finally, we can't skip Gears 5. You will find the detail much improved, as textures feature a better level of depth and detail than before. The game feels smoother when it runs, including the delay when pressing a button to the on-screen action occurring. The frame rate feels better too. Overall, the enhancements are noticeable, and the game runs in dynamic 4K, keeping a 60fps feeling with far fewer dips in frame rate then on the Xbox One X, allowing for the smoother experience.

Microsoft has introduced a refined Xbox controller. They have added a new hybrid D-Pad, which is part disc and part traditional cross. There is also texture on the grips that allows for less slippage. Microsoft also physically modified the trigger and bumper buttons and added texture there too. And finally, there is a new share button allowing you to take screenshots and capture video clips by simply by pressing or holding it down. For me the refinements were noticeable but not ground-breaking. This is one area I hoped to see more innovation than refinement. I know that Sony has amped up their game (pun not intended) as they have totally redesigned their PS5 controller from the inside out with new features and a new look. In Xbox's defence, some state why mess with a great controller in the first place? I understand that rationale, but still, innovation is good.

One of the most underappreciated features of the Xbox Series X in my opinion is the ability to use all the peripherals from the Xbox One. This includes controllers, headsets, steering wheels and whatever else you might currently use. This will save current Xbox One owners looking to upgrade to the Series X a lot of money. I can continue to use my Elite Controller Series 2 and my current favourite wireless headsets (SteelSeries and Turtle Beach). It is as simple as synchronizing the peripherals to the new Xbox Series X when you get it.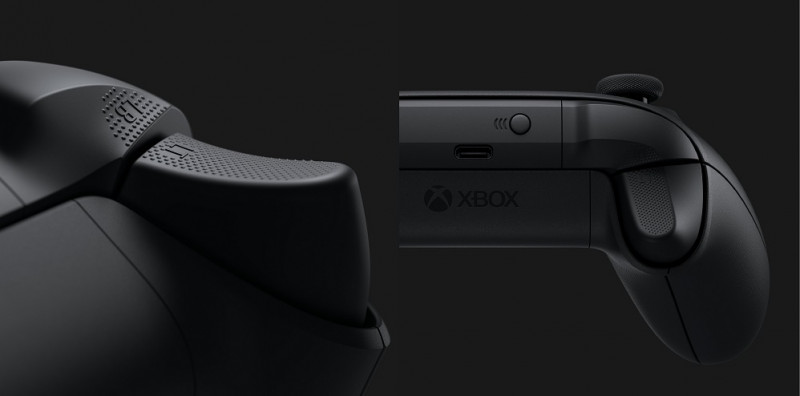 Not all was smooth sailing during the time I have spent with the Series X. There was the aforementioned issue with not all games working with the Quick Resume feature. Personally, I did not know that this had to be enabled for each game as I thought it was just system dependent. I also noticed some hiccups with capturing video footage. I captured in either 4K or in 1080p, and observed a hiccup in sound occurring after pressing the share button that was always noticeable. Finally, while most of my Xbox One controllers and headsets worked with most games, I hit a snafu in one particular game where I would lose sound to my headset after the game's intro until the gameplay actually started (e.g. out of menus). It was strange and it was only with one game though. Finally, although I found the dashboard to be snappy and responsive, I still hit the odd bit of lag or some freeze when trying to do things too fast or too often; however, this was far and few between.

There is no doubt that the Xbox Series X is one heck of a piece of technology. There is a lot of tech in a small form factor. And while the SSD is 1TB, after considering the OS, it whittles down to slightly over 800GB, which may seem like a lot, but many of the games that are optimized for the Series X are anywhere from 90 to over 100 GB. I believe a larger internal SSD would have been optimal, but I can only imagine how much it would have added to the cost. The new controller refinements are good too, and fans will enjoy the changes made; however, there has not been any innovative features in the controller for quite sometime.

Overall, I think that the future is somewhat bright for the Series X as there is a lot of power, a solid GPU, and a speedy SSD combined with some pretty techy software for developers to use. I just wish that Microsoft could have launched a must have first party title with their new next-gen console, but there are a lot of third party games to play, and previously released but now optimized games to play too. If you are an Xbox fan, or interested in getting into the Xbox ecosystem, now is the time with the Series X (and of course the Series S).