NEWS - Saturday, October 25, 2014

Assassin's Creed Unity now available for pre-order on Xbox One
From the Major Nelson blog:
Assassin's Creed Unity is Now Available for Digital Preorder & Download on Xbox One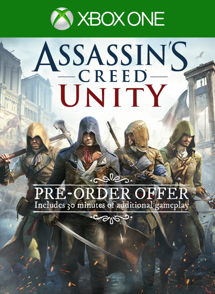 Game Description: ASSASSIN'S CREED UNITY EXPECTED TO RELEASE ON 11/11/2014. YOU MAY DOWNLOAD THE GAME FROM XBOX LIVE BEFORE THEN, BUT IT WILL NOT BE PLAYABLE UNTIL 12:01 AM PST ON THE RELEASE DATE.
Assassin's Creed Unity is an action/adventure game set in the city of Paris during one of its darkest hours, the French Revolution. Take ownership of the story by customising Arno's equipement to make the experience unique to you, both visually and mechanically. In addition to an epic single-player experience, Assassin's Creed Unity delivers the excitement of playing with up to three friends through online cooperative gameplay in specific missions. Throughout the game, take part in one of the most pivotal moments of French history in a compelling storyline and a breath-taking playground that brought you the city of lights of today.
There are 2 versions of Assassin's Creed Unity available for pre-order –the standard pre-order edition and the Gold Edition. Click each link for more details or see below.
Assassin's Creed Unity standard pre-order edition, available starting today for $59.99 (USD). Preorder Assassin's Creed Unity now and get your hands on extra content! Embark upon an extraordinary journey as Arno exposes the true powers behind the French Revolution and expand your immersive experience with an additional mission! – The Chemical Revolution Mission
Assassin's Creed Unity Gold Edition, available starting today for $89.99 (USD) and is the ultimate version of Assassin's Creed Unity and the full Season Pass.

Source: http://www.majornelson.com