NEWS - Tuesday, April 19, 2016

Win an Xbox One with Custom Controller at PAX East 2016!
Whether you're attending PAX East or following from home, you can join in the fun and enter to win an Xbox One and custom controller featuring designs inspired by Gears of War 4, Quantum Break, Overwatch, Mirrors Edge Catalyst, and others. Best of all there's no purchase necessary!
Snap and share a photo of one of our custom controller designs with #XboxSweepstakes or retweet @Xbox's #XboxSweepstakes post during the sweepstakes, which runs from April 21 through April 24. For more details and all of the legal stuff, be sure check out the Official Rules.
If you're at PAX East, stop by the Xbox Booth (we're in 5044 and 6044) to check out these custom controllers in person and play some of the most anticipated upcoming titles and new releases. We'll be featuring Gears of War 4, Quantum Break, Forza Motorsport 6 Porsche Expansion, Mirrors Edge Catalyst, Overwatch, and Cuphead.
Get immersed in the year's most unique gaming experience at our Quantum Break photo booth or visit our unique ombre styling salon in honor of our new ombre fade finished controllers, Dusk Shadow and Copper Shadow.
For now you can check out a pic of the controllers below: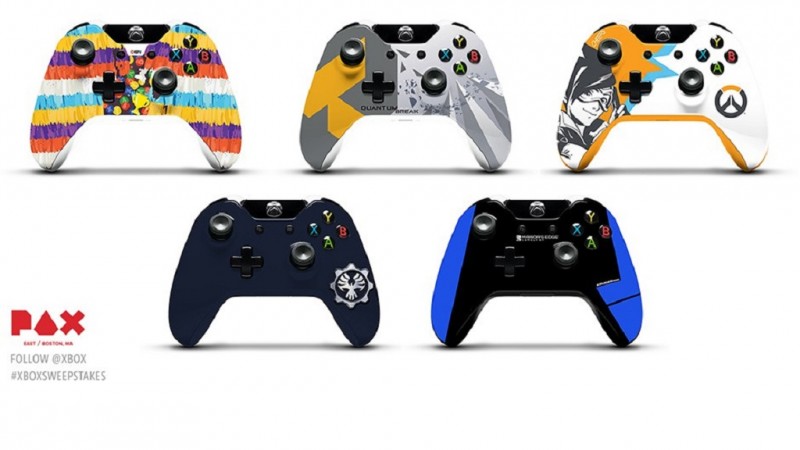 Source: http://news.xbox.com/