NEWS - Wednesday, August 17, 2016

For Honor Announces Playable Heroes and More
During the start of gamescom 2016, Ubisoft® debuted their full roster of 12 playable Heroes in For Honor. The Knight, Viking and Samurai legacies will each feature four true elite warriors, capable of making a major difference on the battlefield. In addition to the full-fledged story campaign revealed at E3 2016, For Honor includes five engaging Multiplayer modes: Dominion, Brawl, Duel, Elimination and Skirmish.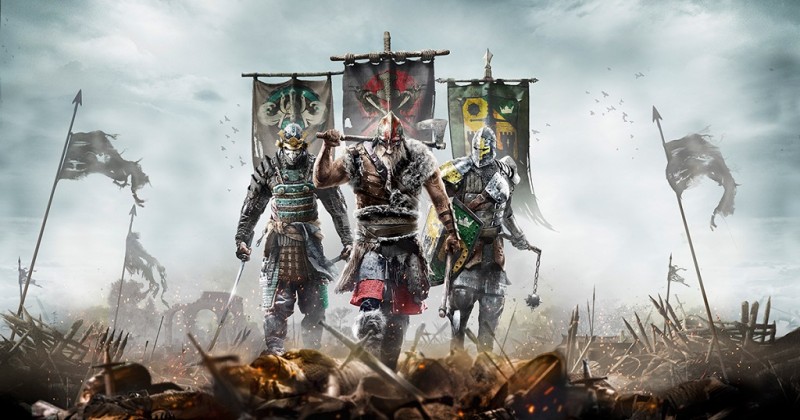 For Honor embarks players in the chaos, fury and brutality of ruthless, visceral close-quarter combat featuring the brutal Vikings, the deadly Knights and the cold-blooded Samurai. In each faction, players will be able to choose among four different types of Heroes:
Vanguards are well-balanced Heroes, with good attack, and defense capabilities and great versatility.
Assassins are swift and lethal characters, great duelists with very good offense
Heavies are the most resistant Heroes, their attacks are slow but deadly. They're especially efficient for defending a point and annihilating AI enemies.
Hybrids mix elements and characteristics of other types. They are advanced characters fostering uncommon tactics.
Heroes come with their own set of skills, weapons, armor and fighting style. With a wide library of customization options, players are able to personalize their Heroes to not only look and feel unique, but also tailored to their combat style.
For Honor's in-depth progression is unique to each Hero, with select elements shared across PvE and PvP gameplay modes. At the end of each multiplayer match and each campaign mission, players are awarded XP that unlocks new combat abilities and new visual customization options. They also have the chance to loot armor and weapon parts on the battlefield, with specific stats allowing each player to adapt their gear to their playstyle while ensuring fairness and balance in multiplayer.
For Honor's multiplayer modes are playable with and against other players or bots in split-screen co-op on consoles. These multiplayer modes offer each player a different way to live the fantasy of being a skilled melee warrior on a believable battlefield:
Duel is a 1v1 moce puts two Heroes face-to-face in a fight to the death. Skill is fundamental in Duel of course, but as in Brawl, players have the possibility to use the environment to their advantage.
Skirmish is a 4v4 Team Death Match like mode. Combat skills are key in this mode as players score points for their team by killing enemy Heroes.
Elimination In this 4v4 mode, the last surviving player on the battlefield wins the round for their team.
Dominion is a 4v4 objective-based mode in which two teams of four players fight for control of the battlefield. It's a mode that relies upon skill, communication and teamwork.
Brawl 2v2: Each team of two players need to kill the two enemy Heroes to win a round. Skill, awareness, cooperation and the capacity to use the environment to the player's advantage are key components.
Consumers will have their chance to playtest For Honor from September 15-18 with the For Honor Closed Alpha. The development team will be looking for feedback from gamers during the Closed Alpha to carve the best gaming experience possible when the game launches. To sign up for it and get the latest news and content about For Honor and have a chance to play the game first, please visit www.forhonorgame.com.
Ubisoft also revealed the contents of the For Honor Collector's Case, exclusively on Uplay. Players will follow the path of the warriors and dominate the battlefield with the For Honor™ Collector's Case, which contains premium digital and physical content along with three 1/3 scale full metal faction helmet replicas and the Season Pass. For Honor will be available on February 14th, 2017.
The Collector's Case of For Honor will offer:
For Honor Gold Edition: the base game, the Digital Deluxe Pack from the Deluxe Edition, and the full Season Pass
An exclusive Collector's Box
Three 1/3 scale, full metal warrior helmets on wooden stands representing the Knights, the Vikings and the Samurai
An exclusive lithography
The game's original soundtrack
Additionally, fans who pre-order For Honor will receive the Legacy Battle Pack. This pack includes three Hero outfits embodying the ferocious spirit of each faction. These three armor styles are exclusive to the Legacy Battle Pack and wearable by the Warden, Raider, and Kensei Heroes.

Phew, that was A LOT of information. We hope you were able to digest it. On that note, we hope to have more about the game as time goes by.


Source: Press Release/YouTube