NEWS - Wednesday, November 23, 2016

December's Games with Gold Announced
Well folks, it's almost that time, as we are on the tail end of November and December is right around the corner. With that in mind, Microsoft has announced it's final group of free games for those with Xbox Live Gold.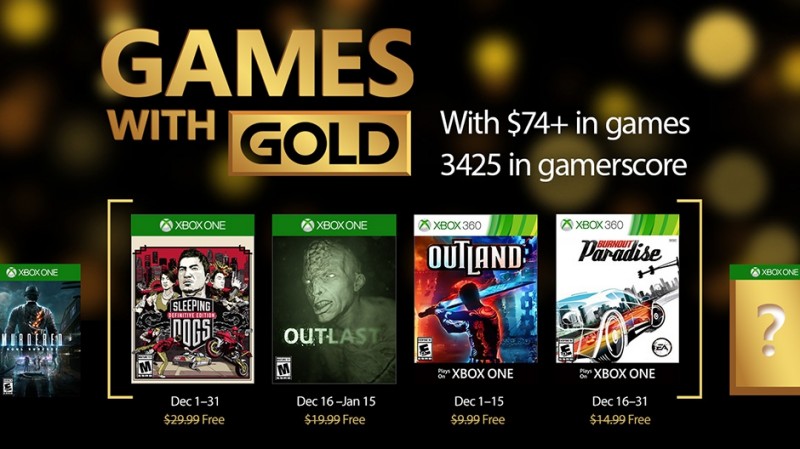 Here's the details on all of the games you can download:
Sleeping Dogs: Definitive Edition ($29.99 ERP): Available from December 1-31 on Xbox One
Fight as an undercover cop in the open-world action-adventure game that has been infused with visual upgrades and packed with even more high octane action. Sleeping Dogs: Definitive Edition pushes the drive-and-guns open-world genre with a truly compelling story as an undercover Hong Kong detective. With critically acclaimed combat, a huge variety of vehicles, and countless side quests as all DLC is included, this game provides nonstop thrills in the vibrant and gritty streets of Hong Kong.
Outlast ($19.99 ERP): Available from December 16- January 15 on Xbox One
Play as the investigative journalist, Miles Upshur, who finds himself trapped in a nerve-racking mental asylum whose patients have been twisted by a dark secret. Lacking weapons, Miles can only run or hide to escape the asylum's terrifying inhabitants, inspiring the chilling fear of a helpless survival horror game.
Outland ($9.99 ERP): Available from December 1-15 on Xbox 360 & Xbox One
Bridge the gap between balance and chaos, or doom the world to destruction in Outland, a polarity-shifting 2D platformer. With a gorgeous visual style and unique light-shifting gameplay system.
Burnout Paradise ($14.99 ERP): Available from December 16-31 on Xbox 360 & Xbox One
Crashing cars has never been as much fun as in Burnout Paradise. Bringing an open-world to the classic eye-watering speed and spectacular crash-heavy racing game, Burnout Paradise lets you earn your Burnout Driver's license by competing in over 100 events including Races, Stunt Run, Road Rages, and Marked Man.
So there you have it Xbox Fans. It looks like Microsoft is hoping to entice you to download more solid free games, and we always thing free is good.


Source: Xbox News Wire/YouTube