NEWS - Tuesday, April 11, 2017

Ghost Recon Wildlands First Expansion Detailed
Ubisoft has unviled the details on Ghost Recon Wildlands' first expansion, Narco Road. It will be available to season pass owners simultaneously across all platforms on April 18. Season pass owners will have access to Narco Road one week before it releases for individual purchase on April 25 for the suggested retail price of $19.99.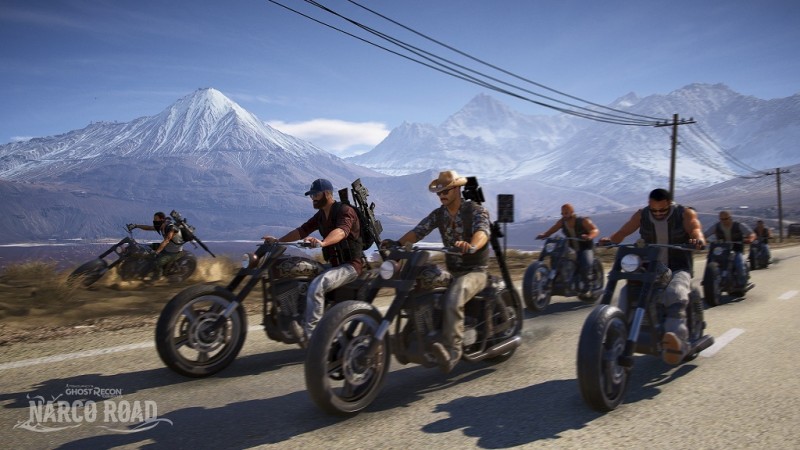 Narco Road tasks players with infiltrating three gangs of smugglers led by the elusive El Invisible. Players will have to work their way up the ranks and earn the trust of the mysterious leader if they have any hope of bringing him to justice. Reaching El Invisible will require gaining the trust of three new charismatic bosses:
Eddie Escovado: The self-proclaimed social media star and adrenaline-addicted leader of the Kamikazes gang.
Arturo Rey: The mysterious leader of the Death Riders, a gang of riders who worship Santa Muerte.
Tonio Mateos: The arrogant leader of the Jinetes Locos, a gang specializing in racing muscle cars.
To earn the respect of these bosses, players will complete more than 15 fast-paced campaign missions. In addition to these new story missions, four new types of side missions and racing challenges offer adrenaline-fueled action. Completing these activities will earn players fame and followers. The more followers a player acquires, the more interest they will get from the gang bosses, and the closer they will come to bringing down El Invisible.

Narco Road also features four exclusive outfits, nine new weapons and four new vehicle types. Traverse the massive Bolivian map in huge monster trucks, nitro-boosted muscle cars, powerful motorcycles and aerobatic planes.

Additionally, a new game update will be launching April 12 on consoles and April 14 on PC. The update will introduce weekly live season challenges in the form of solo, co-op and community tasks that refresh every Wednesday. Players who complete these challenges will be rewarded with up to three unique in-game rewards per week. Challenges will be available through multiple seasons, each of them lasting six weeks and featuring a specific theme. In the first season, The Rise and Fall of Unidad, players gather intel on Unidad's operations and combat the threat to the country.

So, will you be downloading the new DLC? Feel free to let us know in our forums.


Source: Press Release