NEWS - Tuesday, February 26, 2008

EA Announces NFL Head Coach 09
Released under the EA Sports brand, NFL Head Coach 09 is a unique NFL experience that gives gamers the power to make decisions that define their career and ultimately the fate of their franchise as a head coach in the NFL.

"In NFL Head Coach 09, the gamer has complete control of their franchise's destiny," says NFL Head Coach 09 Executive Producer Jeremy Strauser. "From draft day to game day, the gamers' decisions impact their team's success and make or break a team's road to the Super Bowl."

In 2007, Dungy became the first African-American coach to win a Super Bowl when the Indianapolis Colts defeated the Chicago Bears 29-17 in Super Bowl XLI. Since Dungy's arrival to Indianapolis in 2001, the Colts have earned six playoff berths and have won more than 70 regular-season games. Dungy has an impressive .661 winning percentage as a head coach over the past 12 seasons.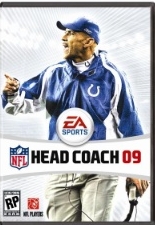 NFL Head Coach 09 provides a complete NFL experience, offering a variety of different ways to control an NFL franchise, on and off the field, in-season and off-season. With strategic game planning features, NFL Head Coach 09 places gamers in the coach's seat by allowing gamers to comprehensively scout the opponent, build playbooks, and develop a team that will adapt to the philosophy and system of an NFL franchise.

The sideline is your playing field in NFL Head Coach 09 - gamers can make adjustments to plays and game strategies in an instant. The outcome of every game depends on game-time decisions made on the sideline. Success depends on proper preparation and knowledge of the opposing teams' strategies, as well as expert and timely play calling.

Developed in Orlando, Florida by EA Tiburon, NFL Head Coach 09 will be available for the PlayStation 3 computer entertainment system and Xbox 360 video game system from Microsoft.

EA Sports is the leading interactive sports software brand in the world, with top-selling titles and franchises including Madden NFL Football, FIFA Soccer, NHL hockey, NBA LIVE basketball, NCAAFootball, Tiger Woods PGA TOUR and NASCAR racing.


Source: http://www.ign.com