EA: Innovating the online space
by Jake Reardon




There was a time way back when that if you put the names EA and Xbox Live in the same room no one would believe you. After all, in the early days of our beloved Xbox Live, the only way to play EA games online was on another console. Now go back to that fateful E3, where EA finally decided to hop on the band wagon. Microsoft may have even developed their LSP technology with the sole purpose of getting EA on board. Early efforts from EA titles were a mixed bag. You had to first agree to their special online terms of use, and then you would be thrown onto an EA server to connect to friends. From the get go there were definitely growing pains. Sometimes you couldn't connect to certain friends, other times you couldn't even log on because the EA rooms were full.

To be fair, Xbox live still to this day has weird router compatibility issues, so the problem probably wasn't all on EA's end. Over time, and particularly, as the hype from a new release would simmer down a bit, the EA servers became more reliable. The games themselves had a limited set of online features to enjoy, but the basics were in place.

Now, fast forward to fall 2007, and we can see that a change is brewing in the online space. For all of its early falters, this year and beyond, EA is really taking the lead innovating the online space. Embracing community, sharing, and web integration, the whole EA online world is set to explode; in a good way. Let's look at how some of their recently released and upcoming titles are looking to take the online world by storm and bring integration to a new level.

The Game: Tiger Woods PGA Tour 08
Release date: August 28th, 2007
Review: http://www.xboxaddict.com/staff_review/12869.html
The Innovation: GamerNet, shared clips of shots and replays, camera create a face.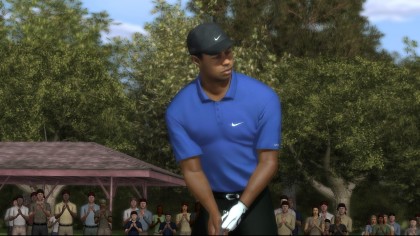 For years video game gold fans have had very limited options to play online with friends. In fact, the best online Golf experience on the original Xbox was probably Links 2004 and its excellent use of the XSN website. This year, Tiger 08 has really pulled out all of the stops with the introduction of GamerNet. Think of GamerNet as an online virtual golf community. Users can upload their favorite clips, best shots, and even full rounds for other users to challenge. Beat the challenge and you are rewarded with reward points. There are even virtual channels such as the celebrity channel, freestyle, and full 9 and 18 hole rounds. When posting a challenge to GamerNet, you can specify the win conditions such as landing your ball in a certain area and finishing a hole in a certain number of shots. One really cool use of this is that you could in theory play your friends online, but do it at different times. So go out, play a great round, post it to GamerNet, then send out challenges to all of your friends. When they play that round, they will actually play against your custom avatar, and see the actual shots you made along the way.
Speaking of customization, Tiger 08 gives you the option to import a picture you upload to their website or use the vision cam to literally put your face in the game. The technology at work here is fairly impressive, and if the source photo is good enough, the results are stunning. The reason for this is that they actually create geometry for your avatar's face, and then wrap the picture you took on top of that.

The Game: NHL 08
Release date: September 11th, 2007
The Innovation: Online Team Play, emergent AI, create a play, email game results.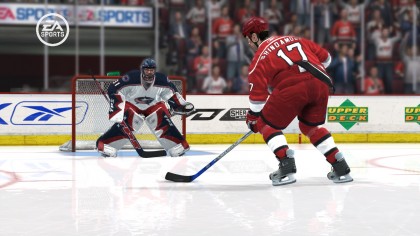 Not since NHL Rivals back on the original Xbox has there ever been a way to play online with more than 2 consoles at once. The idea was solid; however, the actual game left a lot to be desired. Fast forward to NHL 08 and its implementation of online team play and you can now play up to 6 consoles online in one game. And unlike NHL rivals, NHL 08 is really freaking good. The online play is smooth this year unlike NHL 07, and with a good connection, online team play works remarkably well. There is nothing as fun as playing with 3 vs. 3 with 5 other friends. It's such a blast to set up real life teammates and call for the puck as you take that perfect pass and snap it top corner. You also have the option to lock yourself into a specific position, or play the traditional way where you can player switch (this sometimes becomes confusing with many players).

The other innovation this year is an AI that learns and adapts to your style of play. Yes, many developers have claimed this type of smart A.I. in the past, but this year is the first time we actually see it in action. When you get shut down in the third period attempting moves that worked in the first, don't say you weren't warned. To counter this, EA has given the player a unique create a play option that has you interactively building and testing plays in practice mode. Then, in game, the play diagrams show up on ice as you run them. This leads to some amazingly innovative plays and ways to beat the A.I if you put in the time to learn to use it. You also get the return of an improves skill stick, a face button-less control scheme that is both simple and intuitive, and you can even have the game email you stats of games played online. NHL 08 truly is a hockey fans dream, and we can only hope for full 5 on 5 online team play in NHL 09.

The Game: skate.
Release date: September 14th, 2007
The Innovation: Shared Videos, online video web integration, flick-it controls.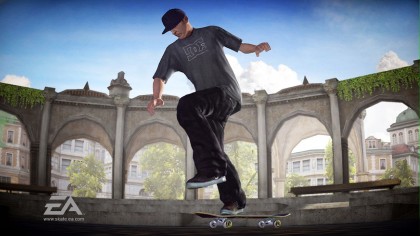 For so many years Tony Hawk was the only name in skateboarding video games. EA has finally taken the challenge and released a brilliant and innovative game in skate. Breaking the typical arcade feel of previous games, skate takes a more realistic approach to the sport. The camera is a lot lower, and the moves are more realistic. What innovates skate is how they have build in a bevy of online community features and tools that for the first time take the game from the console onto the web. At the heart of this is the replay and saved film feature. At any time, the game is always recording your travels through the fictional world. Simply pause the game and you can view the last minute or so of footage. You can edit the clip, add video effects, slow motion, and change camera angles. Once you are happy with your clip, you simply upload it to the both the online website, and your skate file share. It's important to note that the actual clip is actually rendered out into a flash video that can then be viewed by anyone with a web browser. It is incredible to watch in game footage of cool bails or sick tricks the next day right on the skate website. It's also a really viral way to share cool moments and highlights with friends around the world.
The other really unique thing incorporated into stick is its dual analogue control scheme. The left stick controls your steering and body, while the right stick handles tricks, and jumps. The left and right triggers handle grabs to round things out. After a short learning curve, performing tricks using this controls scheme becomes second nature. All of your available moves are unlocked from the start, you just have to find and learn how and when to do them. In essence you are actually learning to skate rather than being forced to complete ridiculous challenges and then be rewarded with the ability to perform a 720 nollie. Hopefully future games take a hint from skate and start to look at more innovative ways to build controls in their games.

The Game: FIFA Soccer 08
Release date: October 9th, 2007
The Innovation: Be a Pro mode, 5 vs. 5 online team play.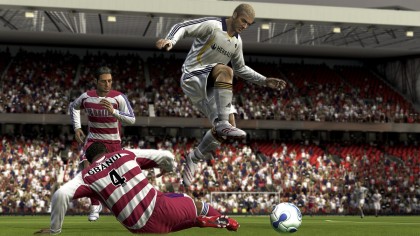 The FIFA series is a yet another staple in the EA stable of yearly releases. To keep things fresh, and keep fans buying games, it's important that they add more features than just updated rosters. As Soccer is apparently the #1 sport in the world, there is a large audience to keep happy. For FIFA 08, EA has introduced a completely new way to play the game, called Be a Pro Mode. In this mode, you take control of a single player throughout the entire game. To help you along you are given real time feedback and analysis on the fly. As well, a unique camera angle keeps track both of your player and the play, and even zooms in when you go on offence. The other feature to note is full 5 on 5 Online team play. As with NHL 08, there is nothing quite as fun as replacing a bunch of A.I. with real life human beings. It increases the dynamics of the game tenfold, and once you get used to playing this way, you may want to never go back to boring 2 player vs. mode ever again. I can predict a future where we see each member of your squad controlled by a real person, and it's all thanks to the push EA is making in online play.
The Game: Need for Speed ProStreet
Release date: November 13th, 2007
The Innovation: Online race day, make and share your own events, text messaging to cell phones.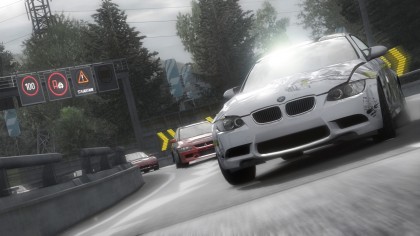 The Need For Speed franchise is another long running EA series that is constantly changing up the formula. From being chased through the streets by police, to intense night-time street racing in the rain, each year usually tries something different. ProStreet is coming out now and there is a heavy focus on the competitive world of street racing. You will find yourself competing in various modes such, as drift, grip, drag, and speed shootouts. All of these disciplines combine into what is called a race weekend. What you can do, is create online race weekends for you and your friends to compete in over Xbox Live. You can set up these weekends as challenges where you can send messages to friends to try and beat the best score. You can also have private leaderboards for each challenge, and they can be taken on at any time. If that's not enough, if someone beats your top score in a race day or challenge, you can set it up so the game will text your cell phone and let you know it's time to step up. This lets groups of players play ProStreet how they want to play it. Overall, online is incorporated into every mode in the game, so as long as you are connected to live, the game is constantly comparing you to your friends. EA is billing ProStreet as the ultimate online racing proving ground, and it's possible they are actually going to deliver on that promise.
The Game: Rock Band
Release date: November 20th, 2007
The Innovation: Online Band play, Music delivery Platform.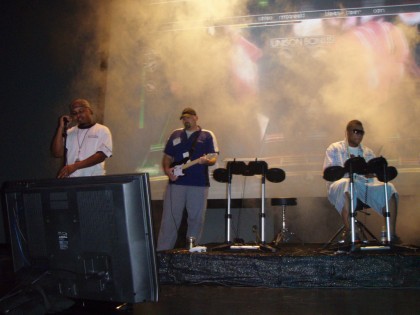 Before the advent of games like Guitar Hero, if someone told you that grown adults and plastic instruments would prove to be so popular, you might call that person crazy. As it turns out though, making music this way is a compelling and universally fun social experience. Rock Band is looking to amp up that experience a notch, and features Vocals, Drums, Bass, and Lead guitar. Just like real bands, it's hard to get 4 band members together to practice all at same time, so fortunately a full online mode has been integrated into Rock Band. While nothing can beat how fun it is to assemble 4 friends in your living room and rock out, the online mode and accompanying website community should make those "drummer wanted" ads more popular than ever. The real crux of what Rock band is trying to accomplish though, is to become a viable music delivery platform. The goal is to have both full album downloads, as well as weekly content to keep things fresh. One can almost envision this as the "itunes" of Xbox Live, but instead of just passively listening to the music you can now interact and perform it in a variety of ways. If the Rock Band formula works, look for the world of downloadable music games to take note.