Month in Review, January 2008
by Josh Burkhead




Hey Addicts,

It's already a month into 2008, and my resolution to finish more games has officially been flushed down the toilet of obscurity. Not to say that many releases have come out this month worth your attention, but there's certainly more than enough out there right now to carry you well into February without forcing you to go outside and do something. The horror!

This month a couple of revelations grabbed my attention. Did you see the rumor/announcement/torture that a remastered Goldeneye 007 was in the making for the Xbox Live Arcade but was squashed in mid-development?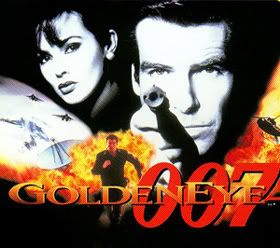 There were a
couple of videos
claiming to have solid proof that it was in fact in development, as the aged rumors have suggested for some time now. Are the videos enough proof to say that it existed? I think so. After the videos started coming out there started appearing some articles that suggested that Microsoft and Nintendo simply couldn't come to an agreement when it came to splitting the proceeds. My solution? Simply split the development costs (bringing in a Nintendo representative if need be) and release the game on the Xbox 360 first, then handing over the new code to Nintendo allowing them to further pursue a release on Virtual Console. All Xbox 360 proceeds go to Microsoft, and all VC sales go to Nintendo. Surely it can't be that hard...
This title could do amazing things for the Xbox Live Arcade in general. I have a close friend who has now owned an Xbox 360 since early 2006, and never really knew what the Arcade was until the Foot Clan needed their tail kicked by a couple of "toitles" in some co-op action. Over the course of a couple of games we had a discussion on other games we played earlier in our gaming lives and I heard the following words: "I used to play Doom all the time in the dark, scary and stuff especially when you're 13. Haha, I wish I could play that again." My eyes lit up, and all I could say was "Are you serious? What? Say that again?". She's had an Xbox 360 for over 2 years and really never explored the Arcade or even the concept of Microsoft Points, let alone adding them to her account. My inner gamer became that of a sad puppy. I told her all about how Doom is available and we could even go co-op on that like banannaz on soft serve. We haven't played it quite yet. I just gotta get on her account without her knowing it, and before you can say "charge it" we'll be set!
Doom and TMNT is only a few examples that most gamers would be quick to shell out 5 bucks for, no pun intended, but have absolutely no awareness as to what they're missing. Microsoft has to do something to make the everyday gamer more aware of the Marketplace and what it all has to offer. What a better way to do that than Goldeneye 007 on XBLA complete with 4-8 player multiplayer? Goldeneye on the XBLA is a must-have, "Shellbwains!". It can't get much more clear than that. Okay, maybe then we can get a remastered Daytona USA on the Arcade after 007... is that asking too much? :(
One other quick mention: In case you didn't see it this month, EA/Bioware's Mass Effect
was unjustly ripped
a new blowhole by the "Fair And Balanced" Fox News Network. I won't even go into it, as Adam Sessler did it so well already. I used to cringe at the thought of watching Adam Sessler on TechTV back in the day, but after his points made
in this video
I may just invite him over for a 2 dollar Sammie. It's on the house Adam.
What else was released this month?
Retail Releases
:
NFL Tour
- Demo also on XBLM (think NFL Street vol.1, but with clunky gameplay, some unrecognizeable faces, and a ton of fireworks. WTH happened?)
Burnout Paradise
- Demo also on XBLM
Devil May Cry 4
- Demo also on on XBLM
Arcade Releases:


Metal Slug 3
Omega Five
Tron
Boogie Bunnies
Chessmaster Live
Rez HD
Other news worthy items:


Rock Band sees yet more DLC on Marketplace.
Microsoft offers XBLA game Undertow as compensation for Xbox Live downtime in December/January.
Rare's "The Fast and the Furriest" in development for XBLA.
Xbox Live reaches over 10 million subscribers. "I gotz my hata blockaz on".
ABC, Disney and MGM pledge more content onto Video Marketplace.
Stranglehold chokes the chicken, 1200 points for some multiplayer maps. Ouch.
Warner Bros. drops HD DVD, goes Blu-Ray exclusive.
Lode Runner announced for XBLA.
Gamerscoreblog.com sponsors Community Meet=Up event during Consumer Electronics Show 2008.
2K Sports taps out on the College Hoops series, citing licencing disagreements.
Turok , Fifa Street 3, and The Club demos available on Marketplace.
Call of Duty 4 dethrones Halo 3 as the most played Xbox Live game in December. I owe someone 20 bucks.
That's all I got for January. What's going on next month? We've got some good titles coming due in February, you might catch me on some Turok.
Later,
Mordeux