Interview with Blackrock Studios: PURE
by Stephen Cameron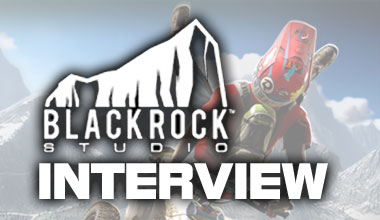 Please introduce yourself, and your role at Blackrock Studios.

Jason Avent, Game Director

What do you think will set this game apart from other similar games?

Well there are a lot of offroad multi-vehicle games out there where having different vehicles is the hook. In PURE, we focused on massive jumps and mad tricks. Mastering the tricks system while racing is a new challenge for off-road racing fans. You have to do tricks to get boost and then boost to win races but your boost bar also doubles up as a gauge of your trick levels. So when you trick, you gain more powerful tricks and when you boost or crash, you can lose those tricks so it's a constant balance between boosting and doing the more powerful tricks. It's a very different mechanic than any that has come before. But from a pure experience point of view, PURE is faster, you jump MUCH higher and you can perform much more crazy stunts. It's really fun and different to all the other off-road racing games.

Will this game be a simulator, or more of an arcade experience?

Arcade. You go faster, higher and much more crazy than real life. The riders, bikes and environments look realistic but what you do in them just isn't. It's fun over realism every time when it comes to speed, air and tricks. It's also very easy to get into but there is also a lot of depth in the racing and tricks system.

The game looks great, what graphics engine was used to make this game tick?

We use our own technology for graphics and physics so we have a lot of control and can do things that other people can't.

Please tell us about the multiplayer aspects of PURE.

We have 16 players online. Everything that's available in single player is also available online. We also have the Freeride mode which is unique to online where you can drive where you like and don't have a lap or time limit so you can just session areas of tracks with your friends while the game records your best lap times, your highest combos, your longest jump and so on. This constantly updates as players break each others records. It's pretty freeform. We also have leaderboards and custom championships.

How in depth will user be able to customize his/her ATV and rider?

In our game, we allow players to create their quad bikes from the ground up. I've never seen this done before. You literally build your ride from licensed, real-world ATV parts and go race it. You earn more, better parts as you go through the PURE world tour and we reckon that once you've unlocked them all, you'll be able to create over 60,000 different quad bikes. You can also change your rider's outfit and choose from 7 different riders with their own unique tricks.

How many tracks will ship with the game?

There are over 35 tracks in the game spread across seven worldwide locations. These include Jungles, Deserts, Mountain ranges, giant lakes, volcanoes, beaches, forests and even an airplane graveyard.

How large are the areas/worlds?

Put it this way, you can see for 20 miles into the distance. The typical lap times are about two minutes though.

A lot of users want longevity in their game, please tell us your plans for downloadable content via Xbox Live Marketplace. (I.E. Tracks, gear, etc.)

We have not released any plans for DLC, though all of this is possible.

What features do you want our readers to really notice about the game when they get it?

The biggest thing is that the game plays differently to anything that came before it. It's all out fun. It's so fast it'll scare you, you jump so high you get vertigo and you style it out on the way down by pulling some of over 70 different tricks.


Any last words of wisdom?

I've never enjoyed working on a game as much as I have with this one. It really is a blast to play.