Saints Row 2 Multiplayer Event
by Edward Webb





Saints Row 2 "Multiplaya" Preview Event

On September 24, 2008, game developer Volition and publisher THQ held a private party event for gaming media to showcase the multiplayer aspects of their upcoming game, Saints Row 2. We were put up at a very nice resort in Berkeley and shuttled to the event, which was held at the "Slide" club in downtown San Francisco.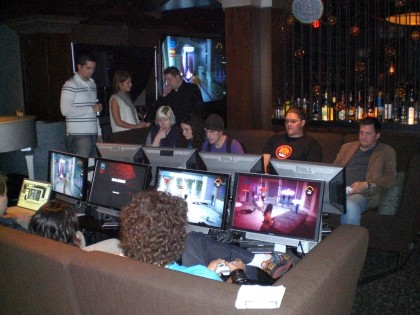 Saints Row 2 takes places five years after the events of SR1 and is centered once again in the city of Stilwater. The game supports a full "drop in/drop out" co-op campaign mode, and three competitive multiplayer modes: Gangsta Brawl and Team Gangsta Brawl (the stuff Deathmatches are made of) and a new gametype called Strong Arm.
While a few people will lament the loss of some of the gametypes from the original SR1, the cuts were made for the better. Gamers would gravitate to where the other gamers were, which ended up with everybody playing one gametype and none of the others. With Strong Arm, gamers come together to play a variety of games chosen at random. On one hand, you lose the ability to hand pick the gametypes. On the other, the game will have a longer life as a multiplayer option for gamers because of the variety. It's less likely to get stale.
Strong Arm is a 4 vs. 4 team-based game. Some of the multiplayer games in Strong Arm include:
Demolition Derby – Destroy vehicles to earn cash. There's also a super vehicle that is practically unbeatable but worth a ton of money.
Racing – Grab a car and pass through all the checkpoints first to win the race.
Theft – Steal goods and sell them to a fence.
Snatch – Recruit a ho. Fair enough.
Hitman – Kill a specific person.
Mayhem – Kill anything, destroy anything.
There are places where you will find graffiti tags painted on walls. If you capture those points by spraying over the graffiti (it changes the image to your team color), then you get a powerup for your team. That powerup will remain in effect until the game ends, or the tag is repainted by the other team. Tag options include police support, which sends the cops to hinder the other team, unlimited sprint, increased damage, money doubling, etc.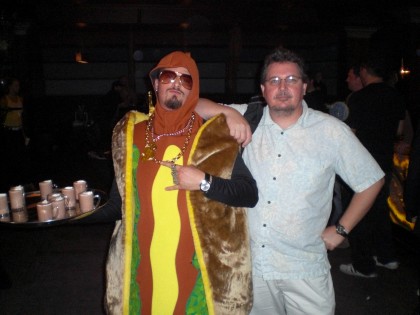 I had a good time playing Strong Arm, but to be honest, I'm a little concerned about how this will hold up with the large number of multiplayer options that will be available this fall. The graphics aren't on par with other games coming out in this time window, and they should be. We also didn't play with mics, so even though we were playing as teams, the team "feel" was missing. The tagging feature seemed like something you'd do if you stumbled across a tag, but not something you'd seek out or spend effort trying to protect, like you might do for a key weapon like a sniper rifle or rocker launcher.
Fans of the SR1 multiplayer will probably find something to like here in Saints Row 2, but it's doubtful that the multiplayer part of the game will draw in a huge number of new fans.