Secret of Monkey Island Review
by Rick Wallace




The Secret of Monkey Island brings back memories of days past and good old text based graphical games when they were extremely popular. Clicks of the mouse move you from area to area and interacting with the environment via text based choices determined how the game played out. Ah yes the good old days. Well the fine folks at LucasArts have brought the classic into the new age of video games and upgraded it to next generation graphics.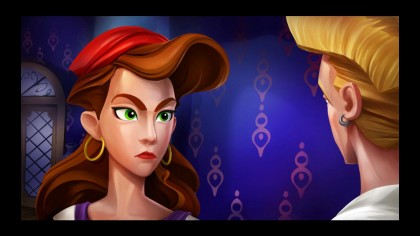 At a time, point and click graphical text adventures were the talk of the town among PC and Apple users alike. Games that allowed you to examine, talk with other characters, move around the screen with simple click were the craze and swallowed many hours of youngsters lives. Its a welcome site to see this game brought to the new generation of gamers and hopefully the craze will catch on once again. You'll have commands such as Walk To, Look At, Talk To, etc. Its very easy to get lost in this game.


The game begins with you looking over Monkey Island in the Caribbean Sea, but you'll notice quickly that its in a pixelated graphic style you would find in the old PC days. That quickly changes as the screen transforms from the old graphics to the new next generation style we have all become accustomed to with the 360. The game the same beloved gameplay with upgraded graphics but it still hold true to the way the game played on the PC many moons ago. Oh and by the way, for some old school loving, when you are playing the game be sure to hit the back button and play the game in its old school graphical glory! Totally pixelated, and totally awesome!