We Check out Droplitz on XBLA
by Rick Wallace




Xbox Live Arcade is the perfect medium for all kinds of games. But one of the most successful and popular genres are puzzlers. Just like all the online game sites, Xbox Live Arcade houses the most addictive of games that have you playing hours on end trying to achieve that highest score you possibly can. Atlus's latest offering to XBLA comes in the form of Droplitz. Atlus, the publisher, is much more known for their traditional Japanese RPG style games, so this title is a bit out of left field. But this game will not disappoint the puzzle enthusiasts out there whether you are a novice player or an advanced player. When you first fire up the game, its seems a bit odd and confusing but after a few plays you quickly realize what you are supposed to be doing and accomplishing. Its quite simple and addictive. Be forewarned.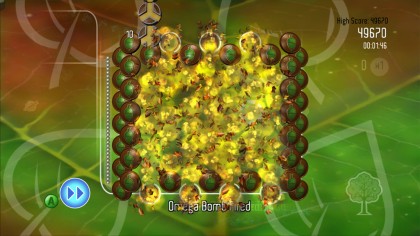 Graphically the game is colorful and well done. You'll be treated to a blend of Japanese style RPG music which tends to make the game very relaxing for a lack of better words. Nothing over the top graphically or in the sound department that makes it stand out or detract from the overall experience. You'll just kick your feet up, lean back in your recliner and enjoy some puzzling fun.