Review: TMNT Turtles in Time Re-Shelled
by Rick Wallace




Cowabunga dude!!! Oh how that saying brings back memories and the first time the Turtles hit Xbox Live Arcade was a treat in itself for many of us older generation gamers. Well now Ubisoft brings the original game into a new world with polished graphics and game play. And they did a great job doing it. The trend lately has been to bring titles from the past back in full next generation graphical beauty and so far Ubisoft and others have been able to do just that, and its seems to be quite popular. TMNT: Turtles In Time Re-Shelled is definitely one that all gamers should experience. If you played the first release on arcade then you should definitely give this one a run and see how they upgraded from a classic to a masterpiece.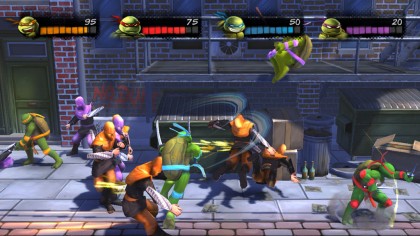 Sure overall the game is basically the same game with a new coat of paint. But how can the any Teenage Mutant Ninja Turtles game not be fun to play? I personally was taken back by the stunning upgrade in graphics and immediately remembered what Ubisoft did with Prince of Persia on the arcade. I truly think the younger generation needs to experience the last generation titles and I can't think of a better way to do it. Upgrade the graphics to what kids expect today and they will enjoy the game immensely. And that's just what Ubisoft has done. Of course having HD capabilities definitely helps this title out, and I am playing this one in 1080P on a 73" DLP screen, and it looks absolutely fantastic. No pixilation can be seen in the game which can be considered quite an accomplishment. Ubisoft definitely has this technology down and I look forward to all they have in store for us as XBLA continues to pick up more and more steam.