Lode Runner Review
by Stephen Cameron




Most young readers / gamers are probably asking themselves..."What the heck is Lode Runner ?", "Is it like Halo, or Gears of War?" Hmmm, no, not quite, but what it was, is just as popular.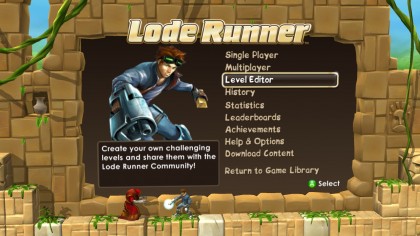 Let's start from the beginning...Back in the 80's when Back to the Future, and Max Headroom were king, games were programmed by single individuals. Lode Runner was no exception. This game was completely designed, programmed by one guy named Douglas E. Smith. Soon after was picked up by a publisher called Broderbund Software back in 1983. They were same people behind such releases as Choplifter, Where in the World is Carmen Sandiego?, Karateka and Myst. These cats would actually give EA a run for their money back then!


How cool was this game ? Lode Runner was literally one of my first gaming experiences. I was 12 years old, and it was me and my buddy huddled around the Commodore Vic-20, taking turns playing, and before we knew it...quite a few hours had gone by. The game honestly had it all, fast easy to jump into gameplay, as for the graphics and sound...well...we played it on a black and white television with mono sound. That didn't matter to us, why? Because, the game has the most important element in a game, addicting gameplay.





Why was this game cooler than other game out at the time? First off, it was playable at home, so my parents didn't freak out, simply because I wasn't (on what they thought) hanging out at the arcade filled with quarter poppin' drug dealers, and excessively loud music. I was playing games at home in a relatively safe environment.
Lode Runner was also advanced in the level creation department, it was probably, if not the first game to have an easy to use level editor included with it. You have to remember this creative aspect or the do-it-yourself approach to gaming was basically in its infancy. Sadly, we had to save levels we created on a cassette drive.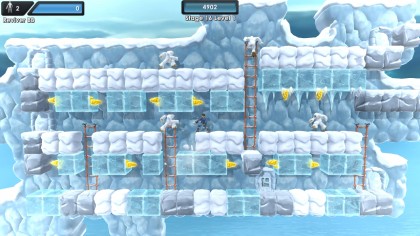 Ok, enough history...


Lode Runner is back in on the Xbox 360 arcade, and hosting all the really cool historical features I detailed above, plus featuring a very cool new coop multiplayer mode, 272 brand new levels, five other gameplay modes, high-definition graphics and five unique environments. In one of the environments, they also have an interesting mechanical level that changes as you get near objects and switches that really changes the level and makes it more interesting. My favorite was the volcano environment; they have mines that let you blow crap up, to help progress to the next level.


Lode Runner also makes good use of the 360's controller by using the triggers for determining the direction of your digging. Let me explain, to dig left while running you use the left trigger, and vice-versa for the right. In the old days this left and right stuff was really hard.
Let me be perfectly honest, I haven't played every variation of Lode Runner from years past, and I don't know what they've brought in from the Nintendo or the coin-op versions. I just know that our Xbox version rocks, period. The younger audience members might want to at least try the demo.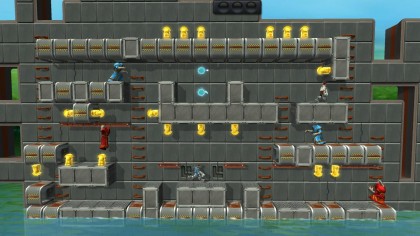 Why? The basics of this game should be a building block for a lot of (so called AAA titles) games out there. This is simple addictive gameplay at its best. Do yourself a favor, and buy Lode Runner for the mere 1200 Microsoft points. Why? Because you are not only playing a great game, you are playing a part of gaming history. Score 8.5/10