Halo Evolutions Novel
by Ken Laffrenier




So I've had a 360 for over 3 years now and I've never been a huge Halo fan. I've played Halo 1, 3 and ODST but I'm too attached to the Command & Conquer series to give Halo Wars a decent chance and I completely missed the Halo 2 offering. As you can see I know what Halo is but I've never been a die hard; I just like a good game.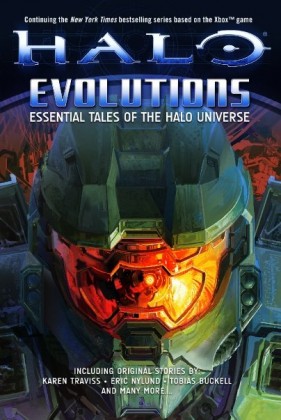 Now my view of Halo has changed!


Recently, I took to reading the Tor Books release: Halo Evolutions. This 528 page offering features a collection of short stories, contributed by some of today's hottest Sci-Fi authors (did someone say Karen Travis or Eric Nylund). Let me say that I am a avid reader, but I prefer escapist stories that are immersive and detailed; this includes Stephen King, Dean Koontz, Nora Roberts (okay maybe not Nora Roberts but my wife swears by her) but most of my time is spent diving into the expanded universe that is the Star Wars series of books.


Halo Evolutions includes everything a reader and a fan would be looking for; action, drama, suspense, intrigue and you are offered a real sense of movement. More than once I found myself reading too fast just to find out whats going to become of our heroes. On the note of heroes, there are several. I truly expected to read from the perspective of 'Master Chief' or even the Covenant, instead I experienced a point of view that added so much to the Halo mythology. There are great new characters introduced in the book along with some familiar faces and, regardless of the familiarity, you can't help but be drawn into the lives and perspectives of the characters. Even as you are eager to play out their successes, you find that the challenges they face can sometimes be overwhelming.


This is more than an compendium to the Halo universe, it actually presents a satisfying and thoroughly engrossing read. You can't help but catch yourself wondering, throughout your day, what is to become of the newest Spartan, Spartan III, the Covenant or even the 'Flood'. This collection of 11 stories are offered as individual and unique short stories but what the stories lack in 'word count' they more than make up for in depth and character.


I don't believe that these short stories were created to introduce new readers to the Halo gaming universe but rather to introduce Halo gamers and readers to the underlying means and reasoning to many of the events taking place throughout the vast game arena. Don't get me wrong, you don't have to have any idea what the difference is between a Spartan and an Orbital Drop Shock Trooper or understand the similarities between an Elite and a Jackal, to really enjoy the entertainment value of the book as a whole.


Here's a tip; if you are a casual reader, pick this book up...


If you are a passionate reader, pick this book up...


If you are not a fan of reading novels, pick this book up!!


You won't be disappointed.


The stories flow well and are easy reads. You won't find yourself searching through a story to clarify what you've just read nor will you find yourself putting the book down to go play the games; what you will find is that you really want to play the games again and, personally, I want to search out some of the other novels in the Halo series. I get the feeling there is a lot more appeal to the Halo universe than simply dreaming of the day we'll all have our very own 'Cortana'.