Penny Arcade Expo 2010
by Adam Dileva




Xboxaddict was at PAX Prime this year for a full 3 days of gaming, playing, sightseeing, and general debauchery. Heading to Seattle, there were a handful of titles that I knew I had to get some hands-on time with but I was also surprised with a bunch of titles that I saw, played and surprisingly enjoyed.

With how much was at PAX 2010, it would be impossible (or a very long read) to list everything, so I'm going to just make quick notes of the titles that stood out for me beyond general expectations.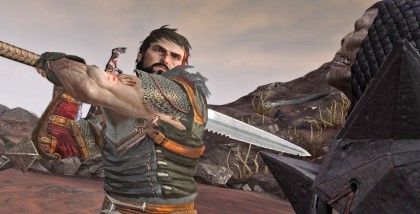 I loved Dragon Age, you loved Dragon Age, and if you had patience to wait in a very long and slow moving line, you were granted with a quick 10 minute speech of what's new in the sequel and then 10 minutes to play an early part of the actual game.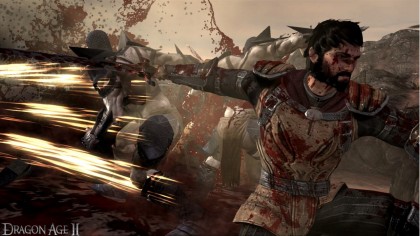 It's quite evident that Bioware has listened to feedback from Origins and seemed to have corrected issues players had with the game and even improved on others. As they put it 'we want something awesome to happen when you press a button'. Combat has somewhat changed because now instead of setting up your commands and going to make a sandwich while it does its thing, it's much more interactive and a whole lot more enjoyable to play.

Dragon Age 2 takes place years after Origins and spans a much longer time period (where Origins was only over the course of a short span of time). The story is told in an interesting way with two characters telling a story (this you playing their versions). One character embellishes and exaggerates greatly and when you play his version of the tale, you are exploding enemies, blowing things up, and simply being a bad ass. When you listen and play the other person's version, it's how things actually happened and you'll notice the difference in difficulty. It was a short ten minutes if game time, but it's looking simply awesome and doesn't look like it's going to disappoint.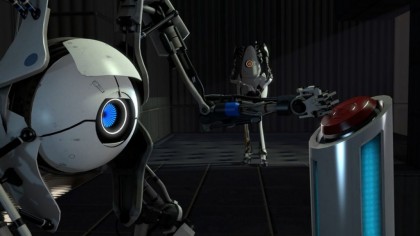 Next up was another sequel; Portal 2. Valve brought everyone into a room, sat us down and then showed us about ten to fifteen minutes of the new cooperative gameplay. When playing co-op, the story is completely different than single player. They said that single player's campaign length was about twice as long as the first Portal and that the co-op section will also be about the same length.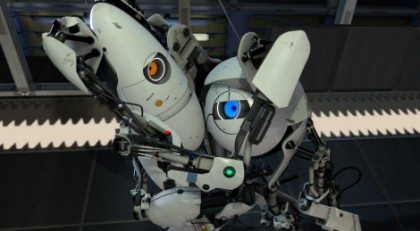 We were introduced to the two characters that you'll be playing in cooperative mode (though no names were given yet). First you'll learn the basics and how to help each other when confined in spaces or stuck and the other player needs to help you progress (to help them progress as well). I assumed that each character was going to be given one portal each, but no, each player has access to both portals, so you can imagine how complex co-op puzzles are going to become with twice as much to think about. We were shown some of the new puzzle elements like light bridges that can be 'moved' with portals, ink blots that will make you speed up when you walk on them and more. It's looking very solid and so much so that I don't think it's going to need to rely on an 'Orange Box' like before to help it sell. Glados beckons.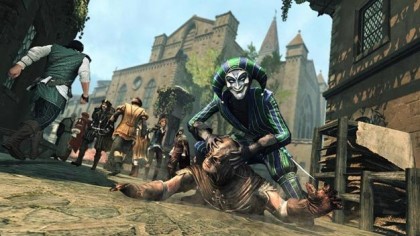 Ubisoft had a huge booth (thus a huge line) to show off the new multiplayer mode of Assassin's Creed Brotherhood. There is a whole new single player campaign, but I'm very excited for the multiplayer aspect finally being included in the series. Essentially, multiple people will be playing as undercover assassins with their own goals and targets. You need to accomplish these goals but while watching your own back as someone could have you as their target. This means you need to try and blend in with the crowd, walk normally (like an NPC), and simply try to not stick out (while also trying to finish your objectives). It seemed very high tension and no game is going to be the same due to how people change their play styles.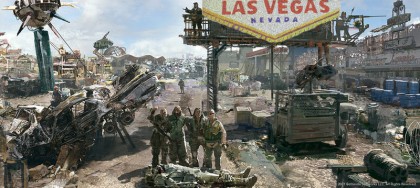 Fallout New Vegas was next on my list. Starting the demo you are dumped in the middle of the desert mid mission with some decent inventory. If you played Fallout 3 (yea, I know that's a very small if) then everything is going to feel just like home. The Pipboy is the same; the way you navigate the menus are the same and even the general controls. This does worry me just a little in the sense that some people might view this full game as basically a map-pack with some new items and such, but even the feel of the area that I played did seem new and fresh in some way.

I was a big fan of Fear when it first came out, and Fear 2 was a great addition to the Alma tale; naturally I needed to get my hands on Fear 3. It's definitely Fear; same kind of creepiness, awesome weapons, slow-mo time, and a ton of enemies and zombies that are out to kill you. It felt much more like Fear 2 than the original (mech section included) and I'm looking to find more out about it.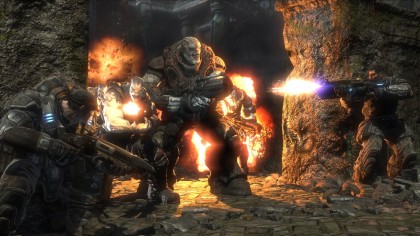 Let's get to some of the big boys that are going to be coming out shortly. Gears of War 3; what can I say that you won't know. We got to play the new cooperative Beast mode which is essentially Horde mode, but reversed since you play the Locust instead of the humans. More than just a skin swap, you get points for killing more guys and with new rounds you can then choose which Locust you'ld like to be. Do better and you can afford to play as the beefier Berzerkers or choose a class that can heal and revive team mates. You can even become a fast moving Ticker that everyone hates to hear nearby and diversifying your classes among the team is a huge advantage. It's a long wait until April 2011, that's for sure.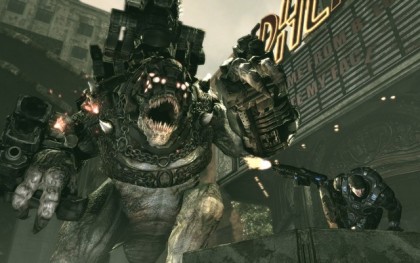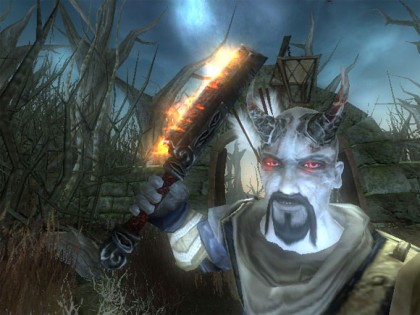 Fable 3 is coming quickly next month and I got my hands on it very quickly, though I purposely didn't play for too long as I want to be surprised and more excited as the release date comes closer. The map system is vastly improved, the combat felt much more fluent, and I was impressed with how much easier it was to use magic this time (Fable 2 had long wait times to use the powerful spells). Your faithful pet returns, it feels like Fable and that's a great thing!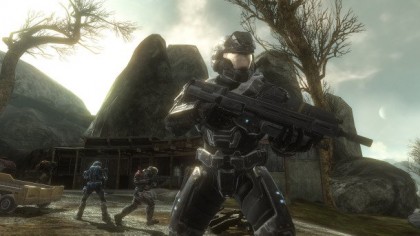 There was no way I could go to PAX and not play some Halo Reach, that would simply be blasphemy. Again, there's not much to say, it's out very soon and we'll all be playing it, but rest assured, it's very very good. If you played beta then you got a sample of what's to come; but there's going to be even more that what you played a few short months ago. I wish it was September 14th now.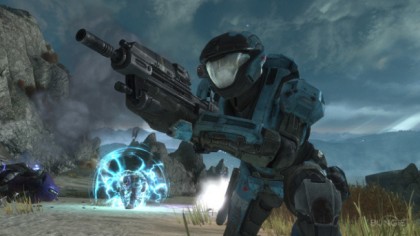 You may or may not believe me, hell, seeing videos and the booth I was still kind of in shock. Duke Nukem Forever is actually coming out next year. Yes, insert obligatory joke here, but it's real and now Gearbox is going to finish what 3D Realms started well over a decade ago. It's not only coming to PC, it'll now be releasing on the 360 as well! Yes, we'll all believe it when we see it, but it's very convincing. Always bet on Duke.



Kinect was in full force with quite a few of the launch games that'll be coming November 4th. Dance Central seemed to be the one Kinect game everyone wanted to play and I saw quite a few people playing I never thought could even dance. This is going to be the main hit for Kinect at launch.

Kinect Sports was quite fun as was Kinect Adventures (the one that will come with the sensor) and everything simply works. You move and your character moves the same way. It's incredibly impressive and it really is something that needs to be seen and played before casting judgment. When you try it, have an open mind and you'll be impressed.

I was also lucky enough to try some new hardware in the form of a few Plantronics headsets. If you've forgotten, Plantronics was the company that made the compact Halo 2 headsets for the original Xbox back in the day; you remember the small green one that went around your ear. Turns out Plantronics is getting back into the gaming headset market with a few options for gamers that need a great sounding headset at an affordable price.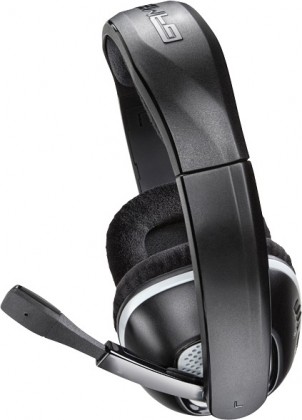 There's going to be a few options starting with the X10 basic one-ear headset all the way up to a wired and wireless solution that fully encompasses your ear comfortably in beautiful stereo sound. When you see these on the shelves, they'll be less expensive than other options out there, but don't let that fool you on their quality, a lot time and effort has gone into making these new headsets gamer friendly (such as cables that are less prone to breaking) and simply great sounding audio. Xbox Addict will have a review on some of these headsets in the future, so keep an eye out.

Now what I save for last is going to surprise some people since I've already talked about some of the biggest titles coming out very shortly. You won't be able to guess it, so I won't leave you in suspense, but this title is exactly what I was talking about at the beginning about not really being on my radar until I sat down and played with it. Two Worlds II was being shown in playable form.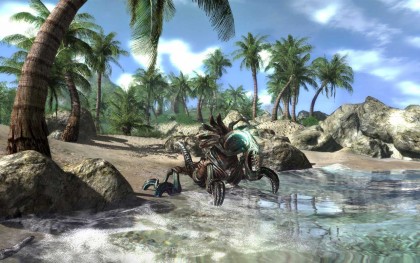 I was probably one of the very few people who actually sat down through Two Worlds beginning to end and enjoyed parts of it. It had very cool ideas; it was simply a bad port to the consoles that made it receive the reputation that it did that made it somewhat unplayable for many people. Being one of the few who endured through the issues, I was actually excited when a sequel (well technically the expansion, though that was turned into the sequel) was announced as I could only imagine how much potential the game could have with a proper porting to the consoles and some more development time (thank you Southpeak for not rushing Temptation out the door!).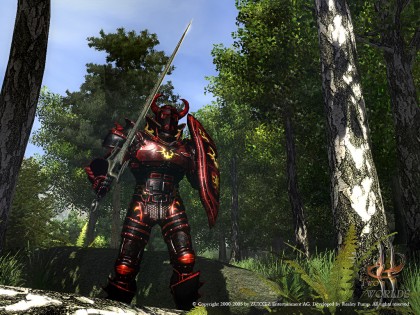 If you played the first, you'll remember the frame rate issues and the blandness of how the world looked among other things. When you see Two Worlds II, it's clearly apparent from the first moment that this is a completely new (and optimized!) engine that actually makes the world surrounding you look great! Combat has been redone and much easier to pull off your special attacks (along with hotkeying items and armor), the voice acting will no longer make you want to turn off the sound on the TV, and it's very apparent that much effort is being put into the sequel to hopefully turn around the series that got off to a bad start.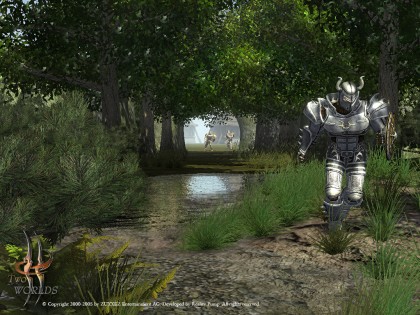 Xbox Addict will have a review of Two Worlds II when it's closer to launch in October, but from what I've seen, at least keep it on your watch list as it was incredibly impressive from what I got to play. If Southpeak can win over some gamers and prove that Two Worlds II belongs in their collection, this could be one of the biggest surprises of the year; it's that much of a night and day difference from what I saw at PAX.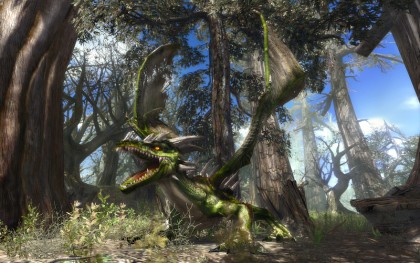 PAX 2010 was great overall with tons to see and not enough time to play it all. 3 days seems like a lot but when you're on the floor all day waiting in lines, it goes by very quickly. Gears, Fable, Halo, Fallout, Mortal Kombat, Fear, Lord of the Rings and a ton more were in tow and fantastic to see. There's so much more than what I mentioned here, but keep an eye on everything in this list as they looked fantastic and I had no regrets waiting in the lines to experience them for myself. Now I start the countdown to PAX 2011.