Black Ops II: Revolution DLC
by Adam Dileva




A revolution has arrived, though it's in the form of DLC for Call of Duty Black Ops II. Weighing in at 1200 Microsoft Points (or free if you've purchased the discounted Season Pass) and a massive 1.86GB download, the first Map Pack DLC is finally here. Granted, there is more to the Revolution DLC than simply just multiplayer maps, as it also includes a new Zombies map, Zombies Mode, and a brand new weapon for multiplayer; the first in the series history.



Let's start with the fancy new weapon that you're going to want to try right away. The Peacekeeper is a powerful SMG / Assault Rifle hybrid (though it's classified as a SMG) that offers the medium and close quarters strengths of a SMG but also with the range of an Assault Rifle. This allows you to play quickly and aggressively at a medium distance for best results. I was initially wondering if the Peacekeeper was going to be vastly overpowered, as a ploy to get to you purchase the DLC, but alas, it feels just like any other gun at your disposal, which is a good thing. If it ended up being overpowered, it would have been labeled 'pay to win', but it's not, and it's only as good as the person shooting it. It's also a great looking gun and it definitely excels in certain situations, though I'm finding many of my friends using it are either loving it and using it as their new main weapon, or not bothering with it at all, simply because that's not the style that they play, like myself.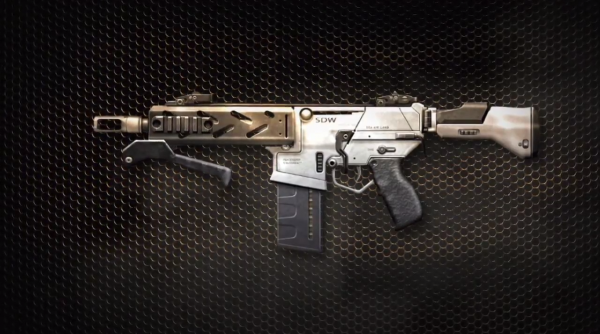 Why you're really here though is the new maps of course. With four new maps to play and enjoy, it may not seem like it a lot, but they each play drastically different and you'll quickly learn to love one or two of them. First off we have the map Hydro, set it Pakistan. The main catch for this map is that it takes place at a hydroelectric dam, where you can fight up top amiss the chaos, or try your luck and flank your enemies from the tunnels below. The bulk of the gunfire will take place in the middle area up top, as there are many walkways that lead to the same area, but the real fun begins when you hear a siren go off, warning players that the dam's tunnels are about to flood. If you're caught beneath the surface when this happens, you're going to get swept away and killed. It's a shame that the warning for the flooding gives you well more than enough time to get out of the way, as it would have been more entertaining for shorter or no notices of the incoming floods. Hydro feels like a standard Call of Duty multiplayer map with many corridors and not much room for snipers to watch over the battlefield. You will constantly be ambushed from multiple directions but it's the 'easiest' of the new DLC maps to jump into with its simple and effective layout.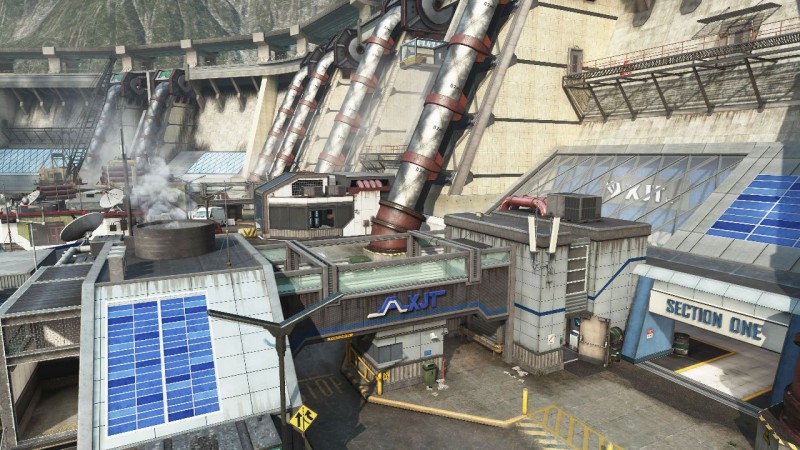 Grind is the next map that is hosted in Venice Beach, California, and you'll swear that this map was ripped straight out of a Tony Hawk game. Grind takes place in a massive skate park, complete with ramps, half pipes, tunnels, and many curved edges. There's an indoor area that seems to get the most use, as people flock to this area with reckless abandonment. Because of the majority of curved walls from the ramps, this also slightly changes how you play, even though you might not notice it yourself. Where you would normally take cover around the corner of a wall, now you have to stand higher up on the ramp instead, which exposes you slightly more to different angles. Because of these curved edges, those smart enough and with a sentry gun can severely cut off a large portion and maneuverability of the map. This map plays a little more vertically than most and the curved walls add a new dimension to your strategy.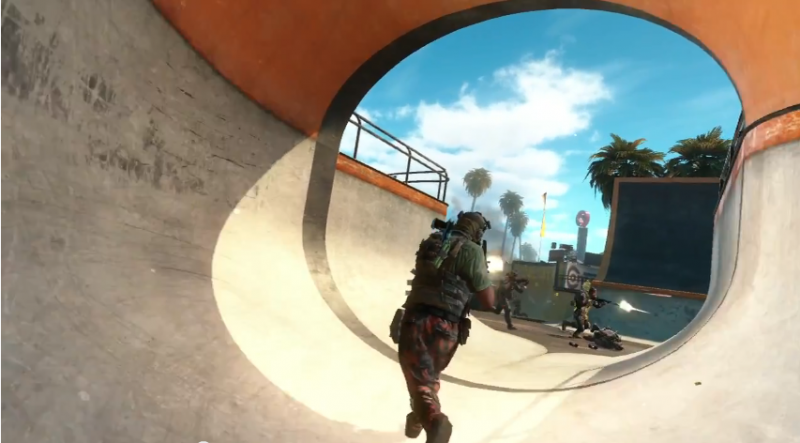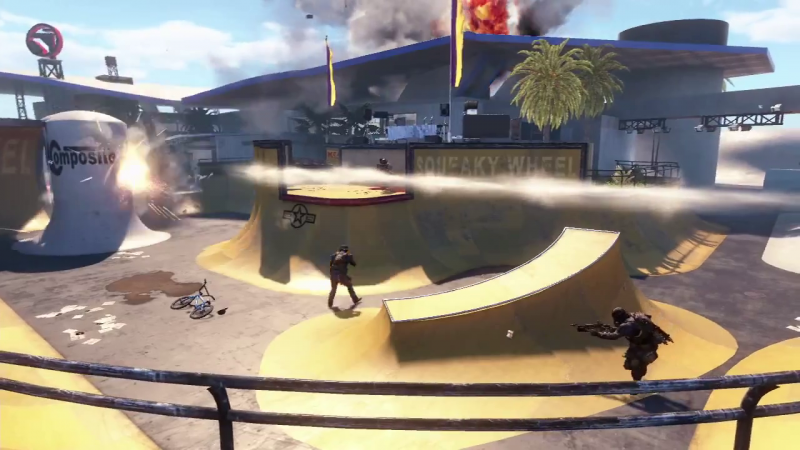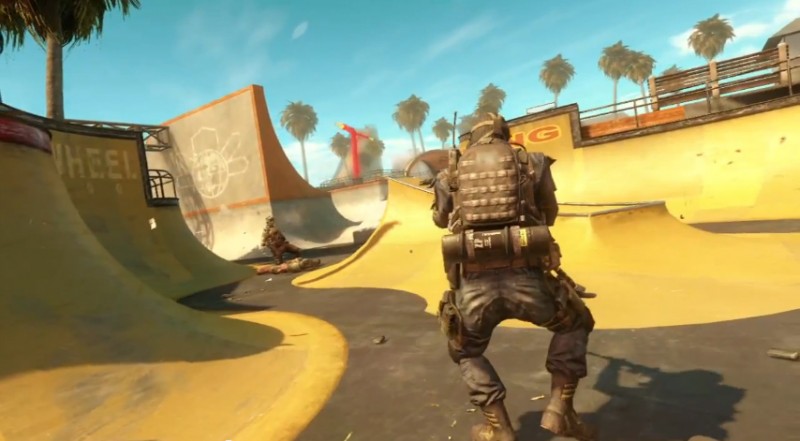 Downhill takes place in the French Alps and is snow covered and most will compare this to the old Summit level. Here you'll fight down the hillside and even through ski lodges, though you better watch out for the moving gondolas, as they will kill you without any hesitation if you touch them. Downhill is mostly close quarters combat, though there are a few sniper perches that till make your life hell if you try and run through the middle to the gondolas. It follows the same tried and true method of having a middle path with two sides and flanking routes, but it does so without giving you much breathing room to sit and rest from combat. Downhill's gimmick is obviously the chair lifts, as they are constantly moving through the main area of the lodge, but touching them in any way will kill you. This is very odd, especially when you're running into it in the same direction; you'll quickly learn to completely avoid them all together. If you're looking for a map to try out your new Peacekeeper, I highly suggest Downhill; it almost feels like it was made for it.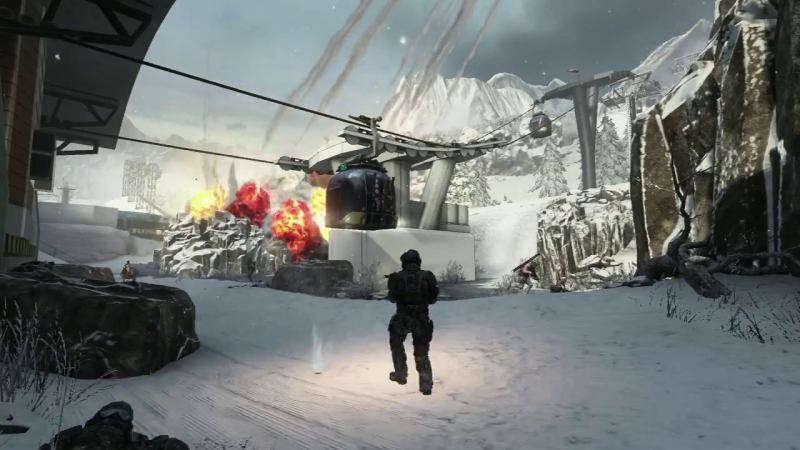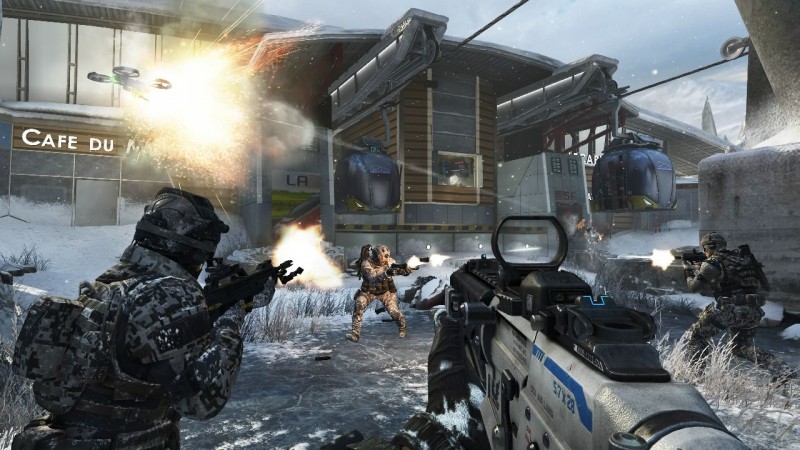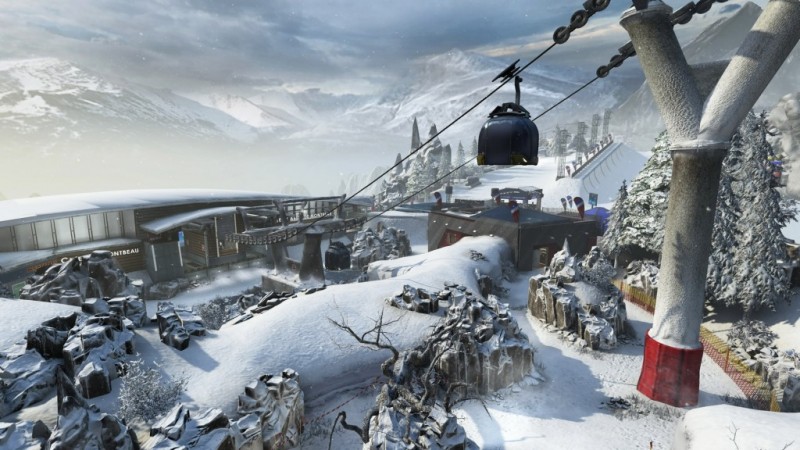 The last of the main maps in Revolution is set in the Gobi Desert and aptly named Mirage. The backdrop of Mirage is that of a luxury resort that has been decimated by a passing sandstorm. This map is much more 'open' than the others in Revolution, and this is the map you want if you're a sniper or want to play the long distance play. With it being the largest of the four new maps, there is also a chokepoint in the center that will also play into those that like the close quarter play as well. It would have been interesting to have a sand storm come in at random times that wiped out anyone that wasn't inside, much like Hydro's water trap or the gondolas in Downhill. Out of the four maps, this was my least favorite, but that is also probably because I don't do so well in open maps and prefer my medium range gameplay.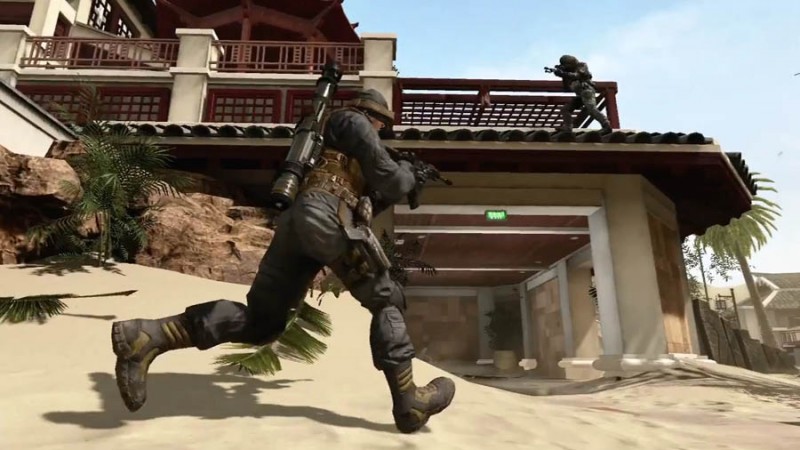 If most of your time online play Black Ops II is spent in Zombies rather than traditional multiplayer, fear not, as there's something here for you as well. First is a brand new Zombie mode called Turned. Here you play as a zombie and you're after the single human on the map, attempting to turn them. If you manage to kill the human, you're then turned into the human and must try to survive as long as possible against all of the other zombies out to try and get you. For each of the zombie players that you kill as the human, your weapon will upgrade, just as in Gun Game, and the player with the longest time spent as a human at the end is the victor. The balance doesn't feel too right though, as it's near impossible to survive a lengthy amount of time and if you do, it seems like it's due to luck. Out of all the offerings Revolution gives us, I found the new Turned Mode to be the most forgettable.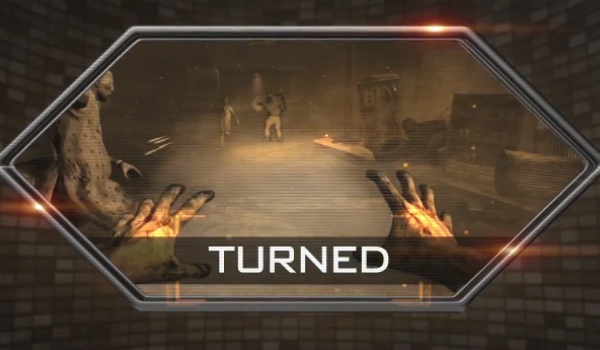 Die Rise is the new zombies map, and it certainly delivers. Taking place in a destroyed Chinese city with many crumbled skyscrapers, you'll have the ability to build new weaponry and even try your skills against a new type of zombie. Die Rise is much more vertical compared to the other zombie maps, which will take some getting used to, especially learning what pits you should not fall into, but it gives a fresh breath of air to the mode. I've never been that big into the zombie modes in Call of Duty, but this map alone has the opportunity to change my mind.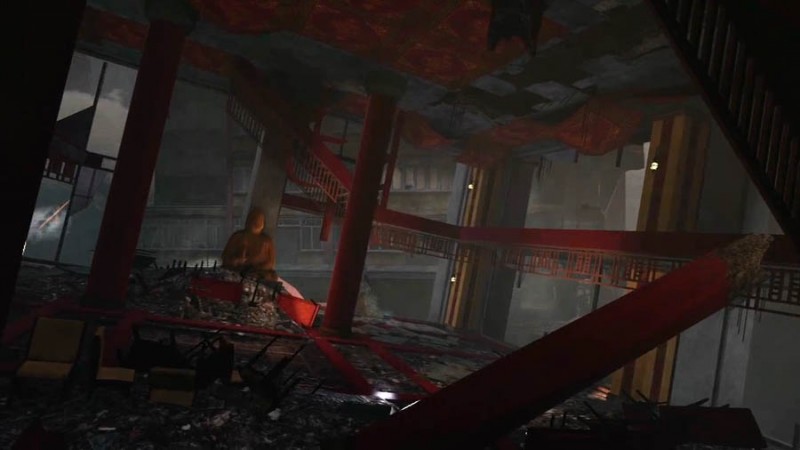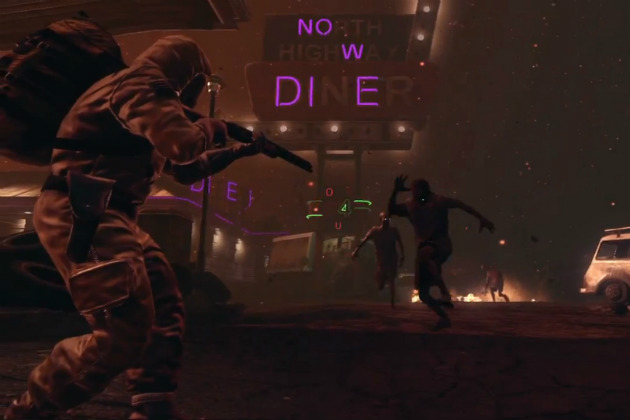 For those that purchase the DLC, there's a specific Revolution Playlist if you want to only play the new maps until you learn them better, but it only has a few of the main game modes such as Team Deathmatch, Mosh Pit, and Domination. Sadly, for players like myself that only play in the Hardcore modes, we are left to dry unless we play private matches on the new maps. It's a shame that the four new maps are included in all of the modes, so here's to hoping that Activision will listen to those of us left in the dark.



While I don't think any of the maps are classified as "must play", I truly enjoyed Hydro and Downhill as they stick to the Call of Duty map formula. Each map is drastically different and even if you were treating Revolution simply as a multiplayer map pack, I would still recommend it. When you include a new weapon, (one that you'll surely really enjoy or avoid all together) a new zombie mode (even though it falls a little flat), and a fantastic new map for zombies mode, you have quite the 'bang for the buck' here. For 1200 Microsoft Points, Revolution has great DLC content for what's included. If you already know you're going to purchase the following DLC packs, you might as well simply buy the Season Pass and get a discount while you're at it.