Halo: Silentium Review (Novel)
by Adam Dileva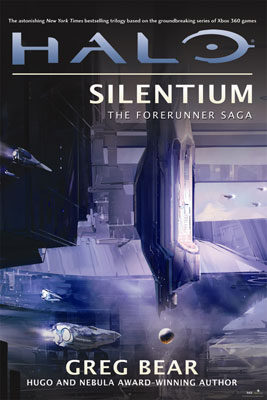 I'm a shameless Halo fan. If it's got the logo on it or has to do with Master Chief I either want it or have it already. The same has been true for all of the Halo novels, though until the recent trilogies, I never finished many of them. Greg Bear finally releases the long awaited conclusion to the Forerunner Saga, titled Silentium. I was unsure what to think of Silentium before sitting down with it for a few chapters, as I found the last Greg Bear novel, Primordium, to be very slow for the majority of the read, though it picked up frantically at the end and made me anticipate this release.


Take note, that the Forerunner saga doesn't directly have anything to do with Master Chief and the bulk of the Halo games, as these novels take place eons before those times. While you might not be reading about Chief and Cortana, the events that take place in these novels indirectly play into not only their story, but the whole of the Halo lore and universe as well. Novels like these give so much backstory and insight you'll never experience if you were to only play the games. For a Halo fan like myself that wants to learn more about the backstory of the universe, The Flood, Forerunners, and much more, this trilogy offers more insight than I ever thought possible and truly makes the Halo universe much more believable and deep.


I really enjoyed Cryptum, the first of the trilogy, as it was our first real insight into the cryptic Forerunners, though was a little let down with Primordium simply for its long drawn out narrative that only picked up at the very end. This is what made me unsure what to expect with Silentium; would I get more memorable characters and events unfold like in Cryptum, or would it be a slow pace, saving all the good parts till the end like in Primordium? I'm glad to report that I actually enjoyed Silentium, exponentially more so than even Cryptum. I was hooked very early on and once some huge questions where getting answered, I couldn't put it down. The biggest draw and reason to purchase and read Silentium is that it answers a lot of questions many Halo players have had lingering since the first Halo: Combat Evolved game. Even questions proposed from Halo 4's campaign have some answers and almost all loose ends are tied up very nicely and with surprising fashion.


To the casual Halo fan that only plays the game and doesn't know much about its deep and rich history, the Forerunner's were beings that existed many millennia before the Human-Covenant war that most fans will know. Forerunners were around at the beginning of humanity and Greg Bear's Forerunner trilogy delves into this long forgotten past. Characters like the Didact and Librarian that were introduced in Halo 3 and 4 are given much more detail and are actually the centralized characters in Silentium.


The Didact may be the main antagonist in Halo 4, but this saga shows a different side of him, and the reasoning for many of his actions which may make you think a little differently of him; I know it did for me. The Didact exists as two different individuals, the original Didact, known as Ur-Didact, the one that John 117 fought against in Requiem. The other being of the Didact, known as IsoDidact, was originally another Forerunner known as Bornstellar Makes Eternal Lasting before Ur-Didact implanted his consciousness within him.


Ur-Didact's wife, The Librarian, was a Forerunner dedicated to researching sentient beings in the galaxy, attempting to protect them from the oncoming Flood invasion. Once she learns of this new thread, called The Flood, she realizes how grave the threat is to all sentient life and attempts to save as many humans as possible so that she could also study them. When she sees how rapidly humanity is evolving over thousands of years, she hides the progress from not only the council and the Master Builder, but her husband, Ur-Didact, as well for good reasons.


In the last few years of the Forerunner Empire, The Flood arrived as a serious threat, not only to their race and people, but the whole galaxy as well. With imminent extermination looming, The Didact and Librarian will realize what must be done to save the future of the galaxy after realizing the relationship of the Precursors and The Flood. The Flood is devastating, but with an ally helping their cause, it seems like there is little hope left to survive for the Forerunners.


I don't really want to get into much of the main plot, as it's a fantastic read and spoiling the secrets within would not be fair to you, the reader. Silentium switches viewpoints between the Librarian, the Didacts, the Master Builder, Catalog, and even Guilty Spark who we've known for a long time. Greg Bear did such a good job at exploring Ur-Didact's background and history so well, that it effectively changed my perception of him, being as we knew so little in just the Halo 4 storyline. The way the Librarian is portrayed shows true compassion for life, and even to her husband, even though they are not close in many ways (even before he was sent to his Cryptum to rest before Chief awoke him in Halo 4).


Silentium doesn't hold back and all of the storylines that began in the first books have been effectively answered. There are some absolutely monumental and huge reveals about The Flood and their origin, what happened to the almost forgotten Precursors, and many more that left me shocked. So much makes sense now and almost everything I knew before finally ties together well. Many hardcore Halo fans are going to be very enthused to finally get some answers we've had for many years, as this final chapter reveals most of its secrets.


As I said in my review of Primordium, Greg writes very slow in the beginning but then fires all his guns at once near the end. Sure it may be slow to start but hang in there, as the final third of the novel is well worth the anticipation. Sure you won't know what's going on if you've not read his previous two novels or have a simple grasp on the halo lore and universe, but Silentium is easily my favorite halo novel now, as questions I've had for years finally get some answers. This is a fantastic finale to the Forerunner Saga trilogy and answered so many questions I had. Greg Bear has done a remarkable job with Silentium and without a doubt made up for the slow read with Primordium; he finished the fight. I now honestly suggest reading his whole trilogy simply so you can read Silentium and make sense of how epic his reveals are at the end in regards to Halo lore. Again, it may not directly involve the iconic Master Chief, but Silentium sets forth the whole backdrop of the universe we've come to love ever since the first game over a decade ago and you'll see the Halo rings and universe in a very different way after learning Silentium's secrets.