Review - Halo: Mortal Dictata (Novel)
by Adam Dileva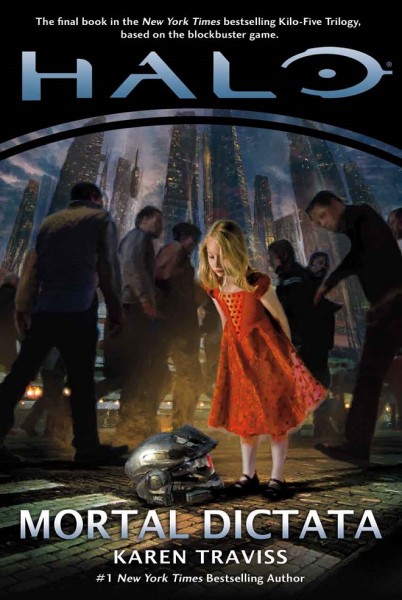 It's been a long time coming, but the final chapter of Karen Traviss' Halo novel of the Kilo-Five trilogy is finally here. If you've read the previous two in the trilogy, Glasslands and The Thursday War, this entry, Mortal Dictata, closes out the stories of the main cast of characters we've come to know in the previous two. If you're just jumping in to a random Halo novel or want to read about the iconic Master Chief from the games, then this isn't the novel for you. Traviss' trilogy is a slow build that cumulates at the end of this novel, built on what the previous two have slowly been leading to. This novel, and series, is really for the Halo fan that wants to delve much deeper into the lore and universe that the games are set in and will be rewarded with little tidbits of information that does indirectly relate to the games in a way as well. Karen Traviss, previously known for some Star Wars and Gears of War novels, writes very similar to the previous two entries that has you bouncing around from character to character as you read and Mortal Dictata focuses much more on Naomi's personal background and story to give her some more character and life, something we don't see often with the Spartans.


I quite enjoyed the overlying story arc that revolved around Naomi and her introduction into the Spartan-II program, as you get to see a side that generally doesn't get a lot of details, from the other family member's perspective. Staffan Sentzke is an ordinary father who starts to worry when Naomi doesn't return from school on time one day. Like any worried father that thinks the worst has happen, he tries to find her but she is eventually found in a nearby town, though he can tell instantly that she's different somehow and not acting like herself. If you know the Spartan-II program, then you're aware that the reason Naomi's father think she's acting different, is because she is different. The program kidnaps young children and replaces them with a flash clone in their place, which usually die at a young age as well. Eventually the Naomi clone (unknown to him) dies, and his wife commits suicide, so he vows to uncover the truth about Naoimi's disappearance, by any means necessary.


Sentzke's plan is to use a battleship, Pious Inquisitor, to threaten Earth, saying he will glass it unless he gets the answers he desires about Naomi's disappearance decades earlier. Other members of Kilo-Five, which we've been following in the previous novels, are tasked with finding this ship and preventing anything from happening. While all of this is going on, Naomi learns about her father and is struggling with what to do with the information being brought to her about a father she doesn't remember and who is now considered a terrorist.


I don't want to go too much further into the story, but the whole main story arc plays out in an interesting way with a satisfying conclusion. Seeing Naomi struggling with her emotions is something we don't really get to see often with any of the Spartan's, and shows that they are still human deep inside, regardless of the Spartan-II program. As I mentioned in my The Thursday War review, the AI BB has easily become my favorite character in this trilogy, and I was more than happy with the final pages of the epilogue which reveals something quite substantial about BB and the Mortal Dictata in general. If you're invented into the Halo lore, this novel has some tidbits that you'll for sure want to know and give a few "ah ha!" moments.


If you're simply jumping into this novel without reading the previous entries into the trilogy, Glasslands, and The Thursday War, you're going to be very confused about what's going on, who's who, and what all the terminology means for the different races. Mortal Dictata assumes you've read up to this point and know that Elites are actually called Sangheili, Kig-Yar are Jackals, Unggoy are Grunts, and Engineers are Huragok's. You also already know that the AI's have a short life span, who Osman and Admiral Parangosky are and what their beliefs are.


While I enjoyed the read and Mortal Dictata tying up a few loose ends, I did have two issues with the story that really stood out to me. Firstly, the notion that Staffan thinks that he can threaten Earth with a single Covenant Battlecruiser is completely preposterous. When you realize it took hundreds of ships to glass Reach, a single ship, even if it could get into Earth's atmosphere, wouldn't be as big of a threat that it's made out to be. It's lightly mentioned that a single ship wouldn't really be a huge threat, but it seems every character doesn't know this and thinks Earth may fall because of this single cruiser. It makes for an off-balance where the stakes really aren't that high when you know this. Many events were very drawn out and predictable, as you could see what was going to happen in the end, pages before reading it.


The second issue I had a problem with was the same thing I mentioned in my The Thursday War review as well. Dr. Halsey, responsible for the Spartan-II program is completely vilified even further in Mortal Dictata. For those unaware, Halsey was the one who created the program, which entails kidnapping children and replaced with flash clones (exactly what happened to Naomi), while the real children are thrusted into the grueling Spartan-II program. While the end does not always justify the means, without these superhuman soldiers, Humankind would not be around today if it wasn't for them and the program. Master Chief, the epitome of the program, is the perfect example of the program's necessary evil. Halsey is portrayed as this evil woman who was immoral and completely evil, but if you know the lore, you know she felt more like a mother figure to them, even though she knows it was immoral at its core. In the latter half of the book almost every character goes out of their way to vilify and think poorly of Halsey, almost as if the author had a secondary agenda. Every few pages is filled with anti-Halsey to the point of being overbearing and obvious.


The book itself was quite long, teetering at over 400 pages, which I believe could have been cut down slightly, as there are many parts that remind you things you already knew or are reinforcing ideas already touched on in the previous Kilo-Five novels. The real action doesn't really begin until the last quarter of the book as well, so those hoping for an action filled read will be disappointed until the last few chapters. Aside from a few key points, I know I'm going to forget a lot about Mortal Dictata as well. While not completely forgettable, there simply wasn't as many amazing reveals that the trilogy Greg Bear wrote.


That being said, the last quarter of the book was a great read, as was the fantastic reveal at the very end in the epilogue that ties everything together with BB. Overall, Mortal Dictata is well written and provides closure on the trilogy, and while Traviss is a talented writer, I simply didn't enjoy this one as much as the previous two in the series. There was a lot of rollercoaster moments, times where it was a challenge to get through the pages, and others where I couldn't put it down. If you're a super Halo fan like I am and have read the previous novels in the series, then it's a no brainer to finish it up with Mortal Dictata, or if you simply want to delve deeper into the lore for backstory surrounding the events that take place in the Halo games we love.