Subnautica: A Game Preview Putting You In Scuba Steve's Flippers
by Brent Roberts




With Microsoft constantly trying to add value to the Xbox Live service, gamers now get the benefit of playing early versions of upcoming games through the Games Preview Program. This acts as a link between developer and gamer in an effort to make a better product. I recently had the chance to experience the game Subnautica, developed by Unknown Worlds Entertainment. Starting out you'll note the disclaimer that indicates the build on the Xbox One is an older version than the one on PC and it doesn't provide some of the features and functions found on that other platform. There were multiple gametypes to select from but the only difference (outside of creating your own game) was how you manage to balance food, water, oxygen, and death. So it was with somewhat open expections that I put on my virtual oxygen tank and dove right in!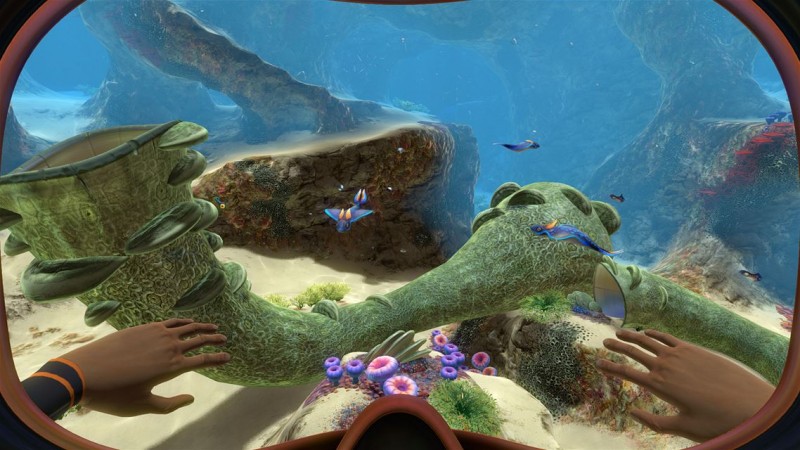 The games starts off with your character, who I'll call Scuba Steve, strapping himself into an escape pod and hangs on for dear life as they bear witness to a bunch of camera jarring action before a monitor within the pod becomes unhinged, flies off and smashes you right in the face, thus knocking you out cold. When you awaken you find yourself still in the pod, and when you climb out you see that you have landed in world filled with water. You don't know where you are and you don't have any useful information to assist you, and this is where the fight for survival begins. We've all seen images like this in Hollywood before such as Cast Away, The Life of Pi, and many more detailed stories about being stranded in a place where you can't drink the water, and Subnautica is no different. The lack of clean drinking water is just one problem you face though as you also need to consume food (sorry PETA) plus work on developing some form of shelter.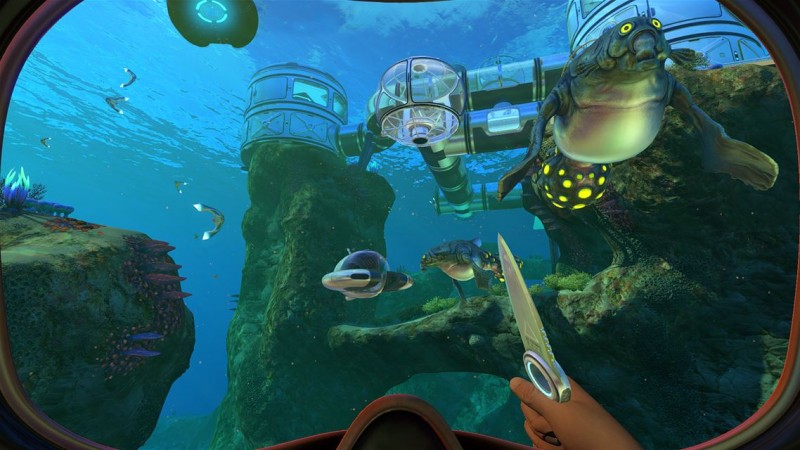 Without a doubt Subnautica is a pure survival game at its core. It's one that will make you feel like MacGyver, Steve Zissou, Bear Grylls, and the Crocodile Hunter all in one. One factor stood out right from the beginning and that was the impression I got from the water effects. When beneath the surface, white caps above form gaps for rays of sunlight to shine below, and when you're underwater the imaging of the surface is some of the best water interaction I've ever seen in a game. Watching not only how light illuminates the water at different times of the day, but how the flora and fauna react will shift your perspective and start to immerse you into this world. But anyways, back to the experience.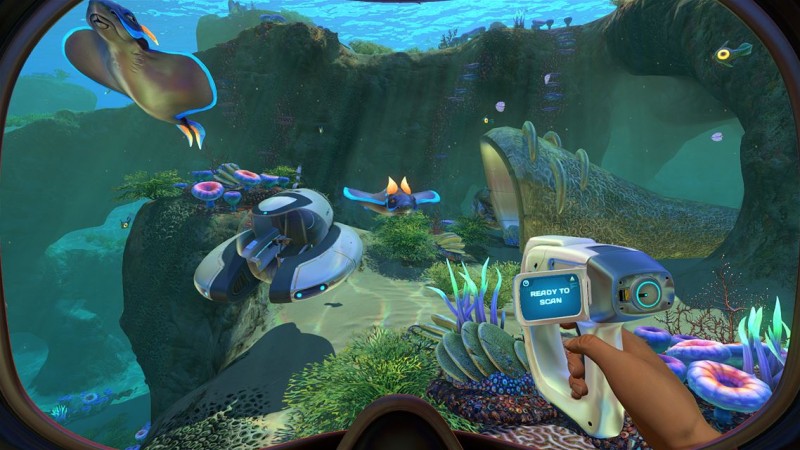 When my character woke up I had no idea what I needed to do to. I was obviously aware that this game followed a similar structure of 'collect Item A and combine it with Item B to create Item C', thus gaining the benefits and bonuses from it. Sadly, there was no guidance in terms of what items need to be collected to create other items. There is a crafting table that you can interact with and that will show you the basics; however, there's no way to track a specific crafting item requirements (at least as of right now), so unless you have a photographic memory, or look it up online, you'll be visiting this station quite frequently for reminders. Storage space is also limited so you will find yourself making very frequent trips back to the pod, but then again, you would naturally do that anyways if this were a real life scenario.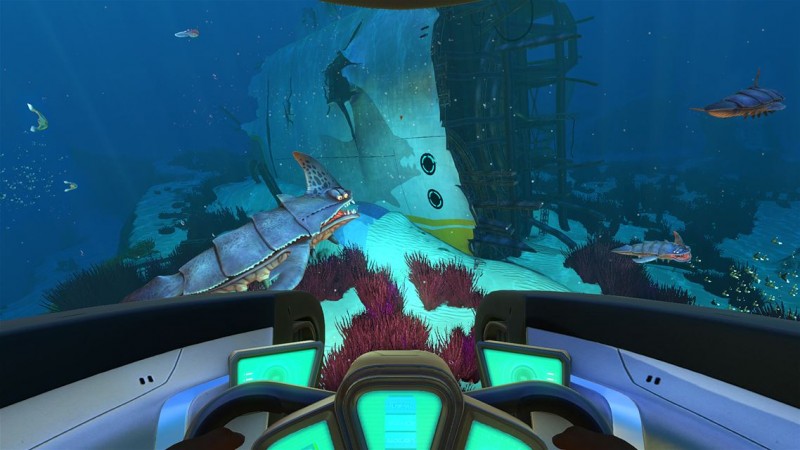 One of the items you can create is a defense knife which you can use to not only hunt fish and defend yourself from attacking creatures, but it also allows you to gather plant samples which are needed to craft other items. So, as I began to take Scuba Steve outside the pod and jump in the crystal clear blue water, I noticed off in the distance what looked like long plant stocks of seaweed rising from the ocean floor. Colorful fish of varying shapes and size filled my field of view and I started to descend deeper into the water. I noticed that some items seem to 'pop up' instantly like they hadn't loaded yet in the world, but being that this is a preview, and an old build at that, I can easily see where this can be polished away to make the experience seamless and more immersive.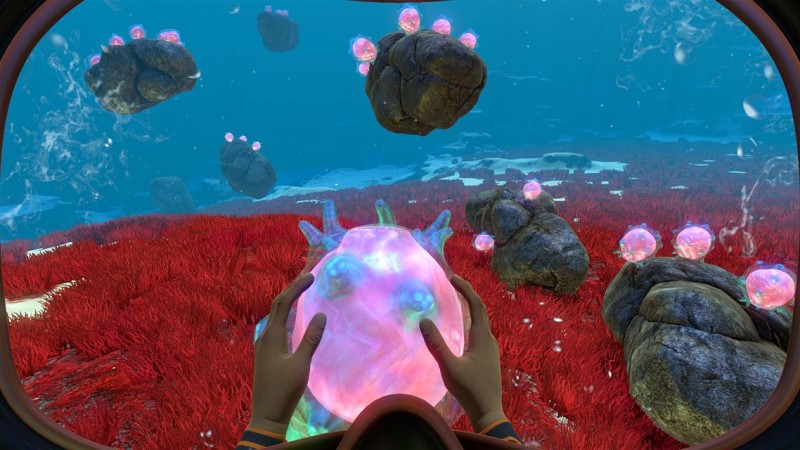 As I descended, I quickly realized that my oxygen tank was about empty. I totally forgot that this could happen. A little voice alerted me that I had 10 seconds of oxygen left, so I raced towards the surface. I swum with all of my might and as my oxygen levels went to 2% and then 0%, my screen started to dim black (just like in real life how you would begin to black out), but with my last couple moments of consciousness I managed to break the surface and regain all my oxygen back. That's how my first few hours of Subnautica were. I would dive for resources and materials, but I always had to make sure that I was within reach of the surface, otherwise I'd die and respawn in the pod having lost some of my collected items.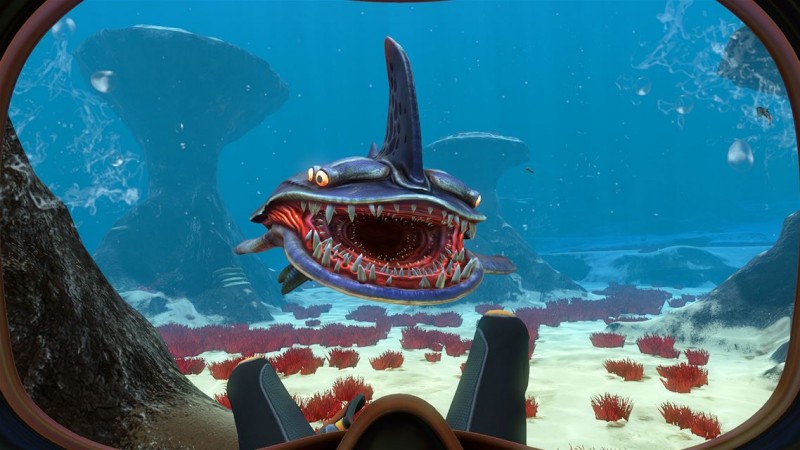 After doing this for awhile I had managed to make myself some flippers, a radiation suit, extra oxygen tanks, a combat knife, extra storage, and then I started to try and build my base. It was things like this that started to immerse me in my "survival experience", and I enjoyed it. Subnautica is a game about building and survival and that is exactly what you do. I can easily see how it could be a sleeper hit that takes us all by surprise, as long as the development contilnues in a positive manner. There are some other minor issues though outside of the graphic 'pop up' that I would like to see improved upon, but again this game is a preview, so I can't hold any of what I experienced against Unknown Worlds Entertainment. I will praise them though because this preview is simplistic in nature but everything in it is executed very well for the build I got to experience. Hopefully August 2016 sees a well-developed game at launch and successful future for this developer.