The New Astro A50s - A Sneak Peak of What Has Changed
by Kirby Yablonski








Less than a week ago, during the madness that is known as E3, I got a chance to sit down with James from Astro Gaming and check out the new A50s that were announced prior to the show. This was the first chance we had here at Xbox Addict to check them out in person. After sitting down to hear what is new with them, as well being given a chance to hold and listen to them, I have to say that I am very excited to put them through the paces once released.

Although the A50s look fairly similar to the original A50s, there is a lot of change; from the chat ability, the features, to the base station itself.

One of the first things that we discovered was that the new A50s are totally wireless, and when I say wireless, I mean wireless. They no longer require a chat cable. Using a USB connection, and fiber optic cable, all the sound is produced in the base station and then sent to the headphones, and of course voice is sent back the other way wirelessly. They are a fully licensed first party headphone, so they have the ability to access the Xbox One's wireless features.

Astro has also developed a new base station for the new A50s. It is an all in one unit. From decoding and sending out the Dolby Headphone 2 encoded sound, to displaying the battery status of the headphones themselves, the base station does it all. It is also a pairing and charging station as there are magnetic pogo pins on the top of the base station, and once you put the headset on the pins it automatically pairs and starts charging it. James stated that there is no "user intervention" needed, which makes the new A50s a simplistic set of headphones to use too.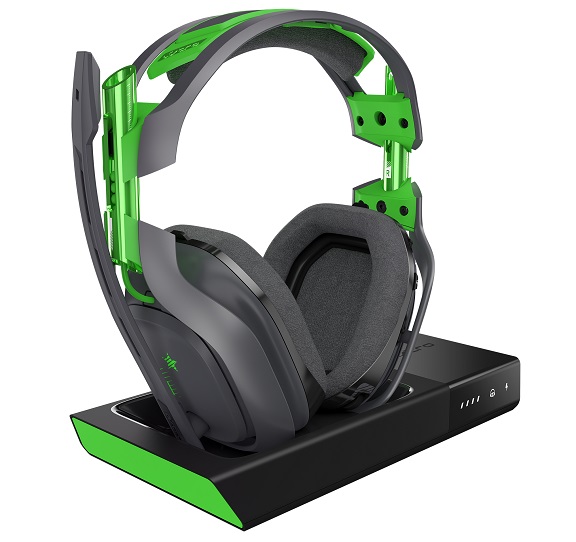 The headset has a new power saving feature too. There is an accelerometer in the headset allowing it to know its orientation including such things as when it's laying down on a desk, moving, or actually being worn by the user, it can all be interpreted by the headset itself. The headset will turn itself off after 10-15 seconds of non-use when laying on its side, and once you pick it up it re-establishes the connection with the base station and is ready to use, no button presses needed. Again, limited "user intervention". For those wondering what the headset's battery is rated for, James stated it should last around 15 hours and will take 5 hours to charge. The latter is not only to charge it to full status, but it is also recommended for battery health.

A neat feature is that the base station if fully PC compatible out of the box, so you won't need USB drivers. Standard Windows Audio Drivers are used and you will get full Dolby Surround over USB. This is great for those Xbox gamers who plan to take advantage of Microsoft's Play Anywhere feature on many of their upcoming games, allowing them to play on their Xbox One and/or their Windows 10 PC. There is a simple switch on the side of the base station to change between Xbox and PC modes. You just plug it via USB cable, turn the switch to PC mode, and you'll get full Dolby Surround Sound through the A50s as the processing is handled in the base station.

As with the original A50s there are 3 EQ Modes available. These modes are Astro, Pro and Studio. Astro Mode is considered the 'standard mode' and it was introduced on the A40 TR headset and carried over to the A50's. It is basically your all around type mode as it is a really rich and robust sounding mode, and good for gaming. The Pro Mode was described as shooting focused or footstep focused. Something that would be used when playing first person shooters. Finally, the Studio Mode is a little flatter and a little more reference headphone focused with brighter highs and flatter bass.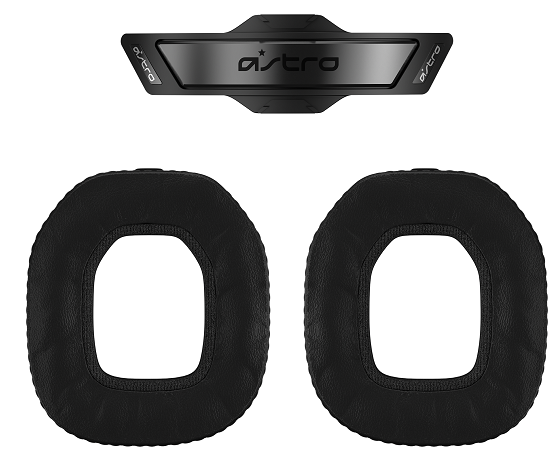 The New A50s come with the PC enabled Astro Command Center. Here you have the ability to adjust the EQ settings and it will allow you to save your setting to the new A50s. You are able to download and save entire profiles of EQ settings that you may like. This is interesting as it was not available in the original A50s, and one of my biggest complaints about them. Being able to have some customizable settings will be awesome, and users are always tweaking stuff, so I am sure the Astro community will have lots to choose from. Being able to use these settings on the headset is huge for Xbox/PC users. James said that the Astro community was asking for this ability in general, and the people at Astro listened and added this much requested feature.

You can use the available Astro Command Software to adjust your microphone settings, including microphone monitoring, which is a huge thing given a lot of people who game have families and they don't want to yell into their mic have to hear what they are saying.

There is also a "Stream Port", which is a USB end point that ends up in your recording devices tab where you can go into the Astro Command Center and adjust all the audio that is going into your built-in mix amp and send it any streaming software. You can record it or share it, and this was implemented to help streamers and/or podcasters who use Astro products.

The new A50s are introducing the same mod-kit set-up that is available for the A40 TRs. Here you will be able to put different ear cushions that don't allow as much sound from the outside to come into the headphones (think sound isolation), as well as a new somewhat plushier headband for even more comfort. The ear cushions are magnetic while the headband simply snaps in. There was no confirmation of different types of colours or themes for mod-kits; however, James did say that there are different styles of mod-kits for the A40 TRs, so anything could be possible in the future, just nothing confirmed for launch.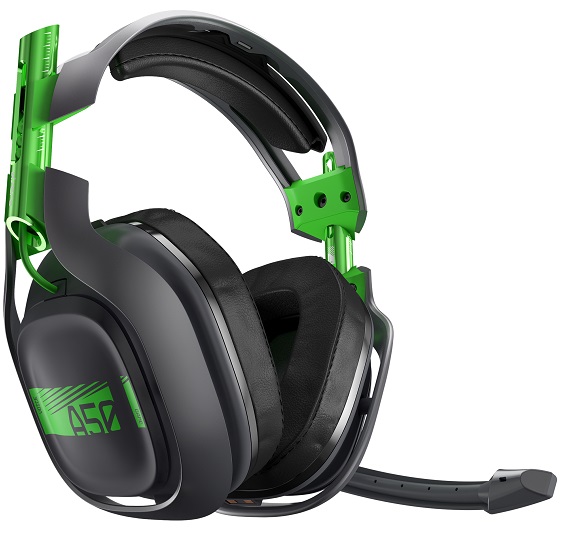 James was also kind enough to run an audio demo through one of the headsets that created distinct sound notes for specific areas. The sounds were specifically left front, center, right front, right rear and left rear. I closed my eyes and James hit play. Each sound was specifically in the point where it was supposed to be. In terms of the rear sound, it was not right behind me, as these are headphones for goodness sake, but it was distinctly different then the sounds that were to be in front of me and directionality of each sound was evident. Not bad Astro, not bad at all.

When looking at what audience the new A50s are targeted for, James said that they are for the home user and the pro-sumer who want the ultimate home theater experience and ultimate gaming experience in a relaxed environment. And of course, those that prefer a wireless set-up versus a one with cords (e.g. A40 TR)

I posed a question to James about why not call this headset something new, like the A55 or A60. His answer was quite interesting and made a lot of sense. He said that when looking at the Porsche 911, it's been the 911 for a long time, and it is recognizable and somewhat of a flagship for Porsche. With the A50s, it is Astro's flagship headset and a true successor to the original A50, redesigned in many ways from the ground up, but it looks the same. So the updated, or new, A50 remains their flagship but with many improvements.

I have to say that I really wondered what the improvements to the A50 would entail in a real world, and after spending time with James, and the A50 Headset, I am pretty impressed so far, and like I said earlier, I can't wait to put this headset through its paces once it is released to get a real feel for what they are offering. Until then, a big thanks to Astro and James for taking the time to show me the Xbox One version of the new A50s.