ReCore Preview and Behind Closed Doors Developer Interview
by Kirby Yablonski








A couple of weeks ago we here at XBA got to sit down with some of the team making ReCore for the Xbox One. Mark Pacini (Game Director) from Armature Studios (of Metroid Prime fame) and Keiji Inafune (Mr. Mega Man himself) from Comcept took some time for a Behind Closed Door (BCD) meeting and demo. The game demo on the show floor that attendees could play was about three or so hours into the game and heavily combat focused. Mark admitted that the show floor demo was fairly difficult as you didn't have a proper introduction to the combat and gameplay mechanics prior to being thrown in. When meeting with Marc and Keiji Inafune we were treated to the beginning of the game where as we were introduced to Jewel and Mack and we got a bit more understanding of why things were what they were, story wise.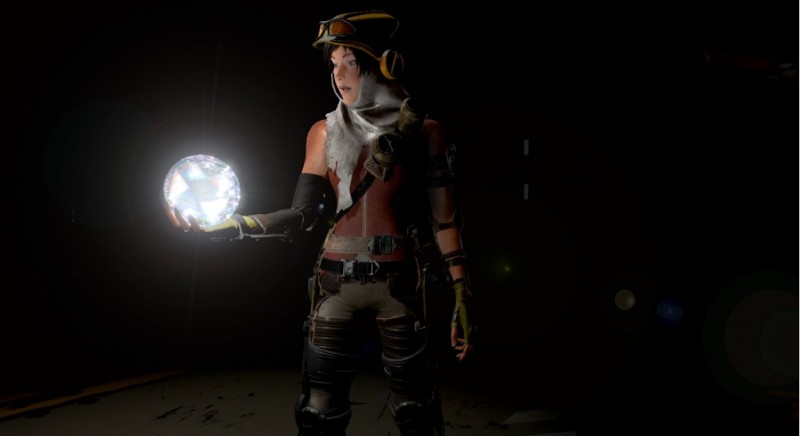 Through his interpreter, Keiji Inafune provided a bit of background of the story and what the philosophy of ReCore was all about. The Earth is in a "critical state" and mankind has moved on to another planet where they are trying to terraform it. The new planet is known as Far Eden. Jewel, the main protagonist, wakes up to find out that the whole terraforming process has been thrown "out-of-whack" and the robots that are on the planet to help them with the terraforming have turned against her, and the other people, and to complicate things a little more, those 'other people' are nowhere to be found. Jewel, and her corebot Mack, set out to discover what has happened on Far Eden and try to get the project back on track. During their adventure they make a lot of discoveries about the world they are currently inhabiting, both good and bad.

Part of the ReCore philosophy is to have the mystery elements, combat elements, and the adventure elements play off of each other to give insight into what has happened on the planet. Keiji Inafune stated that this philosophy, along with what Mark's team at Armature Studios has done, has combined to give ReCore a nice level of "...polish and compelling playability" in his opinion.

The BCD demo we were shown started with Jewel waking up for her terraforming shift on Far Eden. As she awakens, she discovers that things have taken a nasty turn. Her companion, the aforementioned corebot Mack, is a robotic dog. Each worker on the planet is given a companion to stay with them, and Mack just so happens to be a match for Jewel. These companions are very loyal and very protective of their "human" and in regards to gameplay, they play more than just a visual role during the game. Jewel and Mack's on-screen adventure starts as they search for a power source to help bring their vehicle, called a crawler, back online. What I found interesting during the demo was that there was an in-game narrator and we were not given any inclination of who it was and why they were narrating. I am definitely curious as to this narrator's origin and what, if any, role they may play in the story.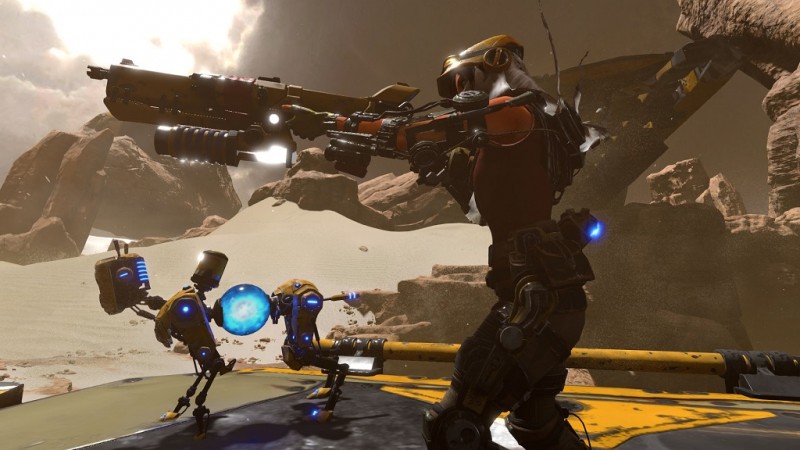 Workers who live on Far Eden are equipped with exosuits that help them access the varied terrain they traverse. This suit of course affects gameplay. You can double jump as well as a dash and you can use these moves in a number of various ways to get where you are going. I played the demo on the show floor, and my thoughts are that you will need these moves to get to far off ledges, switches, and other places within the game world.

Mark stated that one of the things they wanted to focus on in ReCore was Jewel's dynamic movement and the timing of her abilities, so they have included a lock-on system (for aiming) to allow players to focus on advanced movement, positioning and timing that are key in the combat on Far Eden. The also included a generous "mantling" system that allows you to get onto ledges quite easily as long as you are somewhat near them. All in all the game's controls are really intuitive and make for a much more fluid gaming experience. And trust me, after playing the game, and watching the BCD demo, you'll appreciate the controls for what they are.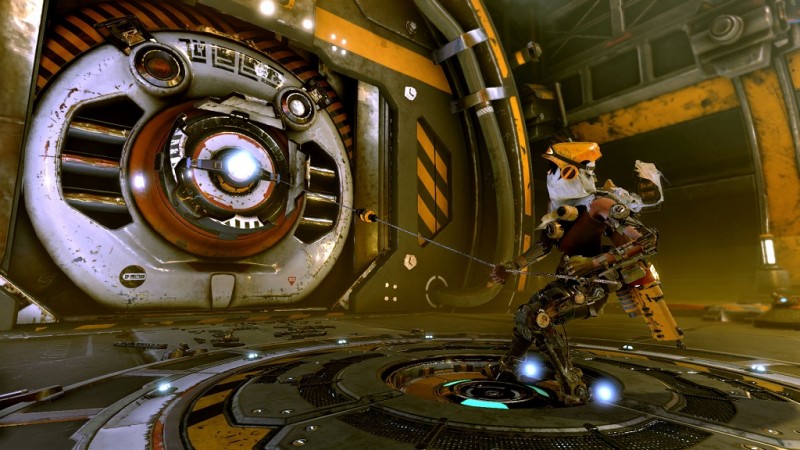 ReCore integrates a lot of jumping, dashing, and exploration, and you are introduced to these mechanics as you make your way through the game. Your weapon has a rapid fire shot and a charge shot (more powerful) that you'll learn to use at various times. You'll also be introduced to a system of colour matching your ammo, as the robots that are malfunctioning are various colours and you will find yourself switching to certain coloured ammo to fight specific enemies. It was noted that certain colours will result in the bigger enemies having certain special attack abilities. For example, some bigger red enemies can unleash a fire attack, such as a ring of fire that goes across the floor of the level. You'll find that you'll not only have to attack your enemy, but dodge specific attacks certain ways.

Given the title of the game is ReCore, you can use a move where you can pull out the cores of other robots should you choose. I say "choose" as you can destroy most robots should you want or you can pull out their core. Certain bigger enemies have their health broken into sections, and if you damage each section without pause you build up combos (score multipliers) and once you get the enemy's health below a certain point you can then attempt to pull out its' core. Mark also told us that there are some enemies that you will have to pull out their core as there is no other way to finish the battle.

One of the neat things about your 'companions', as you will get more than one as you make your way through the game, is that they have specific abilities that are key to moving you forward in the game. In terms of the BCD demo we were shown, Mack has the ability to find things that are hidden, and he will help you find key items or parts that are needed for you to get past certain sections of a level you are going through. As you get deeper into the game you'll have to use each companion's special ability to move along in your adventure. As would be expected, Jewel and her companion corebots can level up by collecting cores and killing enemy robots. It was discussed that your companions really become an extension of you and that your item acquisition and levelling up really does focus on them given they are not only part of you, but that they are a useful tool and weapon as you make your way through the game.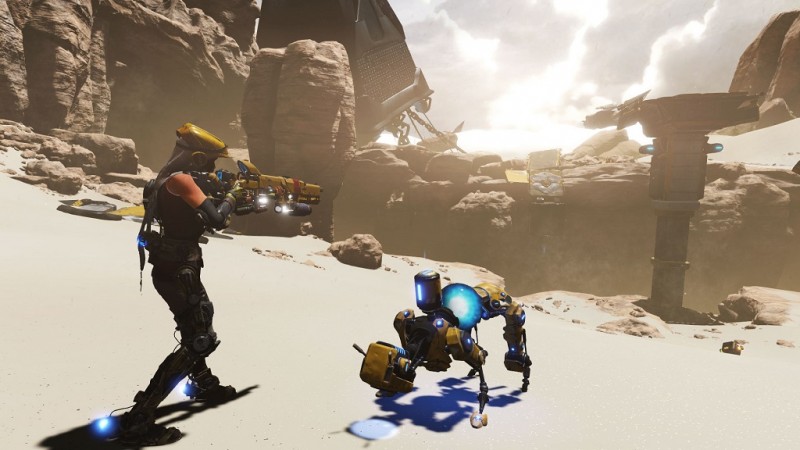 The overall game design, visually speaking, is very anime inspired without looking like a true Japanese anime you'd find on Blu-ray (if that makes sense). The game is also filled with great looking cutscenes to progress the story along. Of course the voice acting we listened to (e.g. narrator and Jewel) was fairly good too, but I'll have to leave my final judgment until I have played through the final game to comment on all of it.

After playing the show floor demo, and having watched beginning stage of ReCore during the BCD, I was left with the strange thought that it could make a good 2D side scrolling Metroid-inspired platform shooter, as there are so many elements in the 3D world of ReCore that would translate well into this form. With that in mind, I was able to ask Keiji Inafune where the inspiration of the game originates from. He stated that in terms of the world setting, a lot of it is indeed drawn from anime and Japanese culture. Although he recognized my thoughts about 2D gameplay and the existing ReCore mechanisms, he stated that Comcept, along with Armature Studios, wanted to focus on adventure, exploration and discovery, so the 3D world that the game exists in made sense for the narrative they wanted to tell. He continued to say that Armature Studios' game like Metroid Prime, and games that he developed, like Mega Man and Lost Planet, really lend well to the 3D medium that ReCore is set in.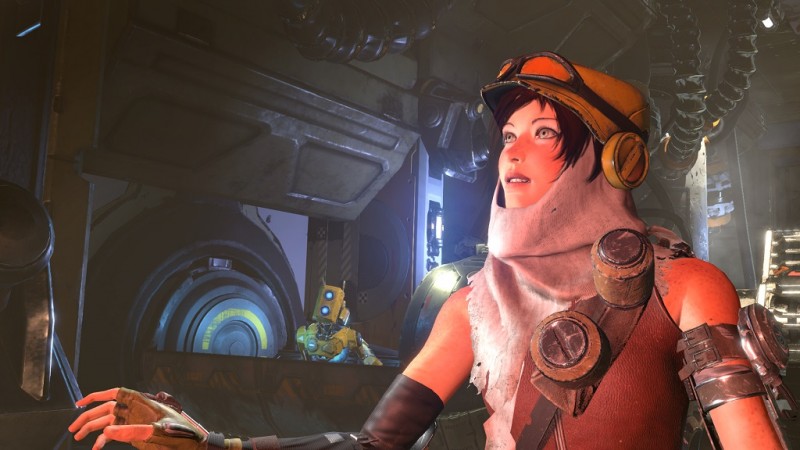 I was also curious as to know what the gameplay length may be. This was due to the fact that the gameplay demo on the show floor was about three hours or so into the game, and we had just watched the beginning. We were told that the game is roughly an 8 to 12-hour experience to finish the "golden paths" story, but there are a lot of items to find and collect, so that time is easily extended. The game itself is coming out on September 13 and it will be retailing for $39.99 (USD), but if you are a collector buff, like a few of us here at Xbox Addict are, there is a $179.99 (USD) collector's version that includes a steelbook and a beautifully created sculpture of Jewel and Mack.

I'll admit it, when ReCore was unveiled at E3 2015 last year, I had my concerns, not because I didn't think it would be a good game, but because I had no idea of what the concept was and how it would actually play out. That being said, after playing the game and sitting in with Mark Pacini and Keiji Inafune, I have to say that I am pleasantly surprised with how it is shaping up and how well it plays. It has action, story, platforming, and even puzzle elements all mixed into one, and it plays solid. I for one am very interested in playing the final version when it ships this September and I think you should be interested in it too.