Dangerous Golf, back on the tee.
by Brent Roberts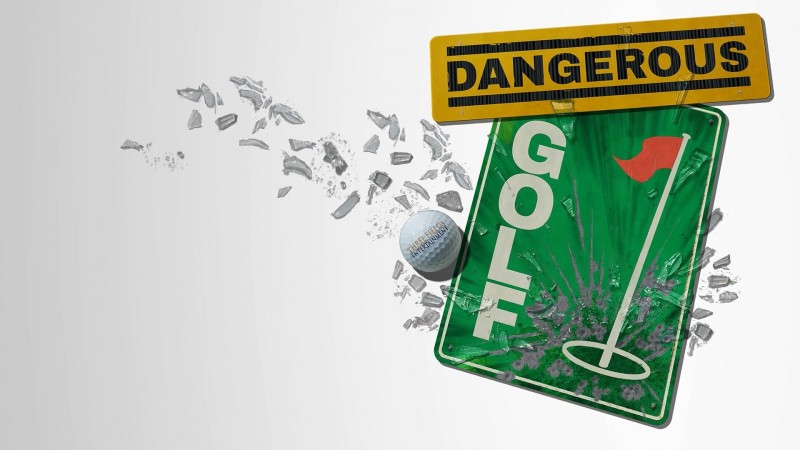 Over the past few months, and since our return to the World Wide Web, we here at XboxAddict have had the chance to review a vast amount of indie games on the Xbox One, and while some were innovative and enjoyable, others made you want to shout obscenities and look for other games to play. I originally reviewed the indie title Dangerous Golf and there were multiple areas where I felt the game was underperforming. Recently developer Three Fields Entertainment released a patch that is said to improve this game. With a lull in less than stellar indie games releasing I decided to pop open a liquid refreshment and hit the.... suit of armor?

If you hadn't read my original review (I don't know why you wouldn't, but you can find it HERE.) Dangerous Golf is a volatile mix of drunk humor, explosions, huge lump sums of virtual cash, more explosions, incredible destructible environments, and even more explosions. Going through the single player campaign is where the lion's share of depth lies. Utilizing the gameplay, your job is to smash and destroy everything possible to accumulate as much virtual cash as you can, and in doing so you'll earn some medals.

The gameplay was fun and entertaining, yet complex with a learning curve that almost made you feel drunk trying to balance the camera and flight path of the ball. In the recent update Three Fields Entertainment claims to have evened out the difficulty curve and even fixed holes that people disliked. And I have to say that they indeed have done that. I find this absolutely amazing for one simple reason, they listened to the community. How many times have we, as gamers, clamored to developers and publishers only to have logical ideas fall upon deaf ears and cold shoulders? Thank you Three Fields Entertainment for actually listening.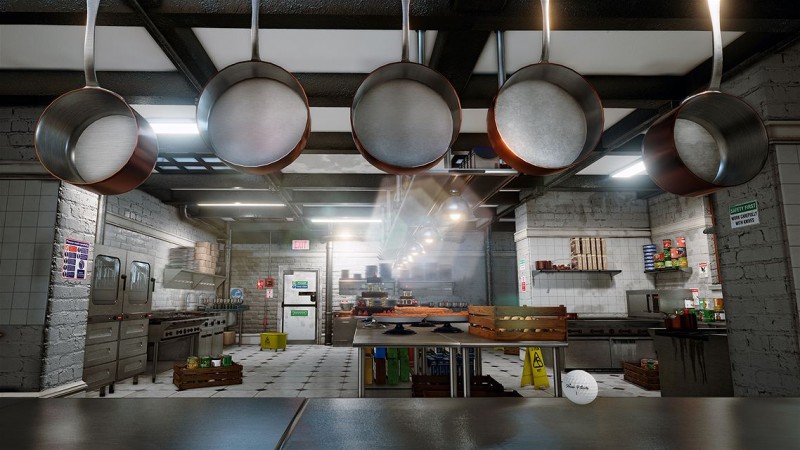 Evening out the difficulty curve and fixing some of the game's course holes wasn't the only thing they did. They also polished the framerate and locked everything in at 30fps, which now makes Dangerous Golf very smooth. So, while these improvements make a tremendous impact, there is one change that I have to say literally transforms the entire game. During my original review I said this:

"Dangerous Golf though also has one major fault and that is the loading time in-between holes. Let's say you want to play a hole, well thanks to the graphic load on the game itself, it takes at least 15 seconds to load, which may seem like a small amount of time but if you sit there and count to 15 you will realize that it's much longer than you originally thought. It's ok, go ahead and try it, I'll wait. So now you know what you will experience every time you hit RETRY, or every time you move onto the next hole. Every 4 holes of Golf you play, you effectively spend at least 1 minute of your gameplay time waiting. Any way you look at it, that's atrocious."

Now, when you load up a hole for the first time, the loading sequence is still quite long but, and this is a HUGE BUT, the load times in between the restarts (which, if we're honest with each other now, you will restart many, many times.) have been reduced to only a few seconds. Gone are the days when you celebrated birthdays while you waited for things to restart, because now you make many attempts a minute and this feature alone drives up the value of this game immensely. Literally words cannot describe just how much of a positive impact this has in this game.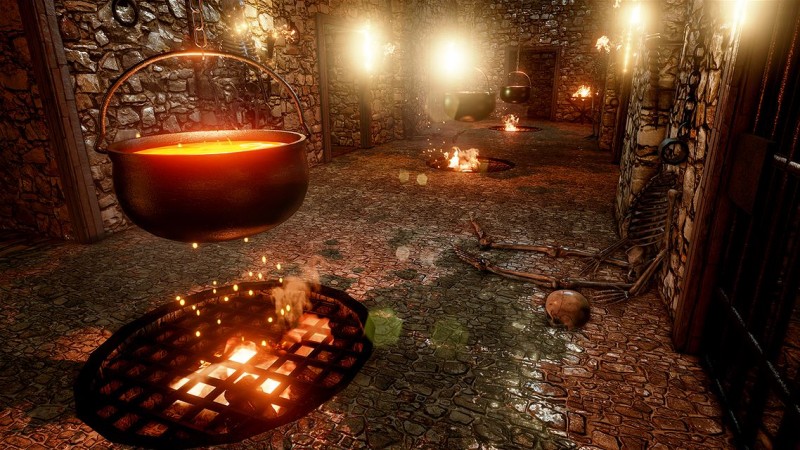 If that weren't enough, Three Fields Entertainment as introduced a new system for ball control. In Dangerous Golf, before the patch (BP), when you would start your SmashBreaker move you would use the right stick to change the camera angle and your left stick to steer your ball within that 3D space. It was confusing to get used to. Now you can switch to a simple mode and have functions for both your SmashBreaker and/or drop to putt controls assigned to one stick or even one button. Personally, the one button drop to putt is nice, but not really something that I would call an essential, or even necessary, fix. And after using the advanced controls for so long, using them to start curving my ball around corners and making 180 degree turns, I would strongly recommend going with advanced controls over the simple ones.

Speaking of SmashBreakers, Three Fields Entertainment has also introduced an entirely new gameplay feature called SmashWave. This new gameplay feature involves your ball coming to rest, right before you putt, and shooting out a 360-degree blast of fiery energy. While it's designed to help clear a path towards the hole, the radius isn't that wide so make sure that you don't rely on this if you're on the opposite side of the map. This SmashWave can also backfire. There were times when I used it to try and gain some cash and in doing so a massive suit of armor fell on top of my ball thus blocking me from the hole completely. Yes, I was greedy, and yes I know I had it coming.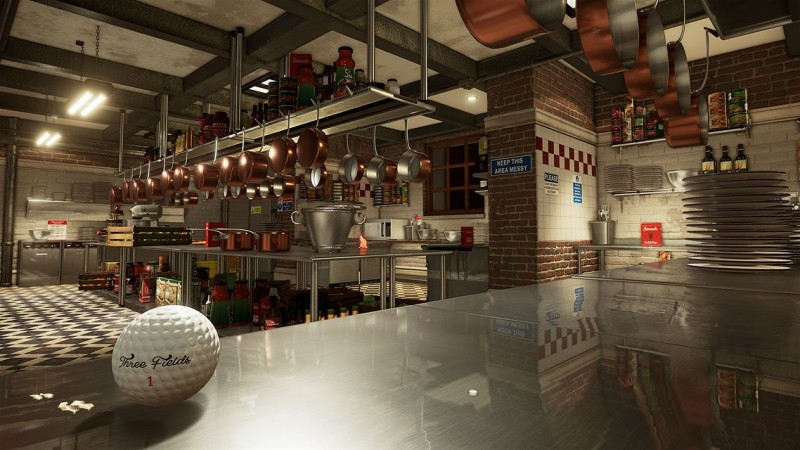 Priced at $19.99, and given the changes that have been implemented since launch, it feels that Dangerous Golf has really taken the feedback from the gaming community to heart and implemented a bunch of fixes (and some I didn't even touch on here) in an effort to smash the drive off the tee. Three Fields Entertainment just pulled a Happy Gilmore on the gaming world. In my previous review I wrote:

"....priced at $20, thanks to the faults there's absolutely no way I can tell you readers that this price is justified. Don't get me wrong, the simplistic core of destruction will provide you hours of enjoyment, but also hours of waiting."

Now, though there are still some faults I would have to say that the future looks bright for this game if this is the type of support we can expect from this team of 11 strong at Three Fields Entertainment. I wish these updates were around at launch because I would have scored it a lot higher without a doubt. With that being said, I'll see all of you on the 19th hole.