Tablo - A solution for an OTA DVR for Xbox One
by Adam Dileva








I used to pay well over $100 a month for premium cable for many years. Sure, it was convenient to have every show and channel at my fingertips, especially with a DVR to record them so I could watch at my leisure, but times change though, and we just don't watch enough TV to justify the expensive monthly cost, especially given that many shows can usually be watched online the day after on their official websites.

When I had cable, I also used the secondary input on my Xbox One to watch TV so I could easily 'snap' the TV on the side while playing a game or multitask all while using the system without having to change inputs. I really enjoyed watching TV that way, but alas, the day came when we officially became 'cord cutters'. We no longer have a cable TV package, which makes watching some shows difficult, but I really miss having the convenience of watching my shows through the Xbox One.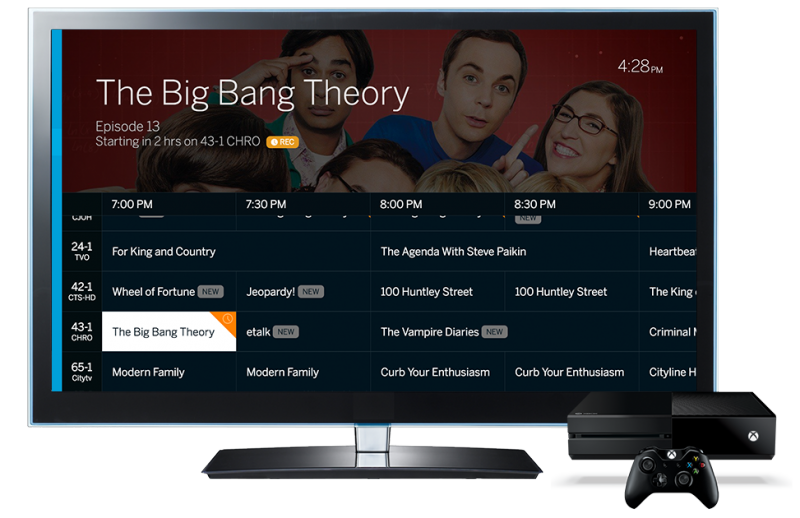 With all of this in mind, it was exciting when Microsoft announced last year that they were planning on having a solution which was to support the Xbox One as a DVR for those that use OTA (over the air) dongles. I was sold, I just simply had to wait. Sadly, it was announced late this year that those plans were put on indefinite hold, leaving Xbox One users without a real integrated solution for OTA DVR functionality.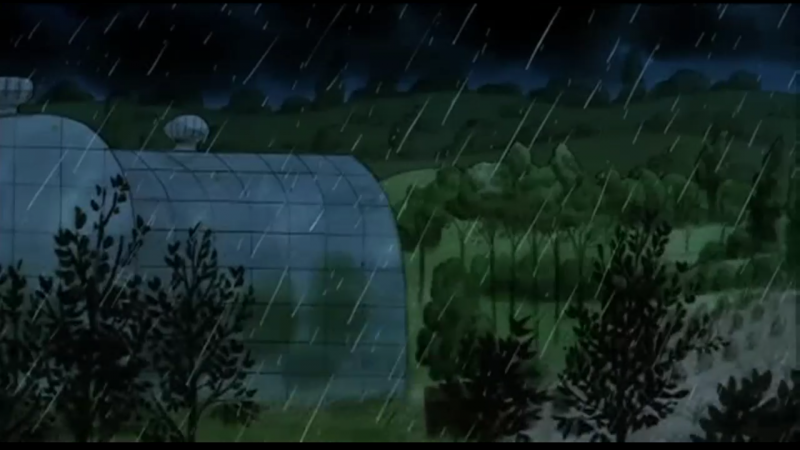 While there are some solutions for OTA DVR's, they're usually expensive or quite a hassle to get up and going, not even including that much of your content is going to be based on your geographical location in proximity to the nearest towers. Also, if you're a cord cutter, you're most likely trying to save a few bucks, so many of these solutions simply aren't financially feasible.

For those not in the know, when many stations switched to digital, they also broadcast their content OTA for free, as long as you have a proper antenna to receive it. I was pretty skeptical when I first bought an OTA antenna, a Mohu Leaf 50 to be exact, but I was surprised with the clarity on the few channels I was in range to receive. One channel in particular looked just as sharp as it did when I had cable, which I wasn't expecting. While getting OTA TV isn't hard to setup, or terribly expensive, but adding some sort of DVR functionality can make it become more pricey and expensive, that is, until Tablo entered the market.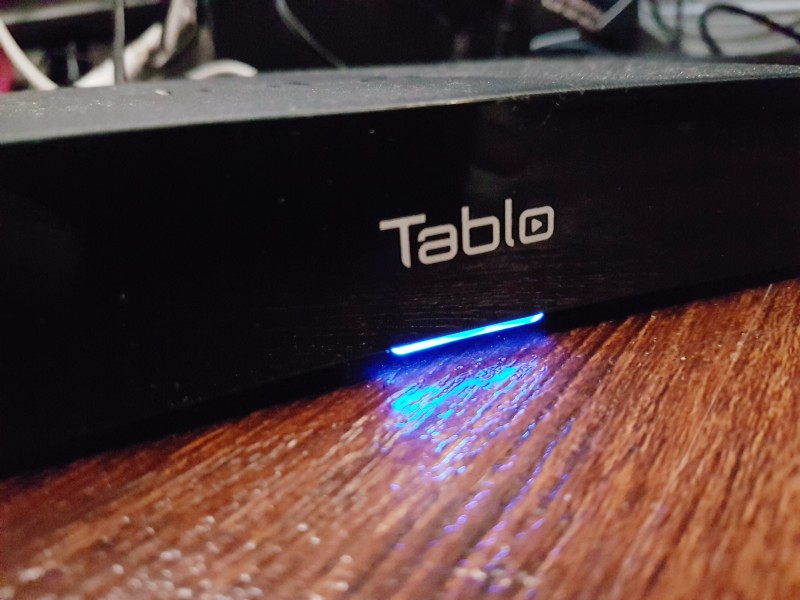 Tablo, made by Nuvyyo, is the OTA DVR solution some of us have been waiting for, as it can record any channel it receives and also stream to nearly any connected device in your home, albeit with a few caveats. Tablo is a small inconspicuous little black box that's about the size of a novel. There's no fancy LED screen, or even a remote, just a simple blue glowing light to indicate it's doing something.

What makes Tablo unique is that it's a network based OTA DVR, meaning that there's no HDMI connection on the small box as it is used as a media server for your home instead. No longer are you tethered to a single TV or device, but now you can stream to virtually any connected device in your home, even your Xbox One. While Microsoft's solution was going to be a single tuner, Tablo offers a 2 and a 4 tuner model, and I've been using the 2 tuner model for a few weeks now.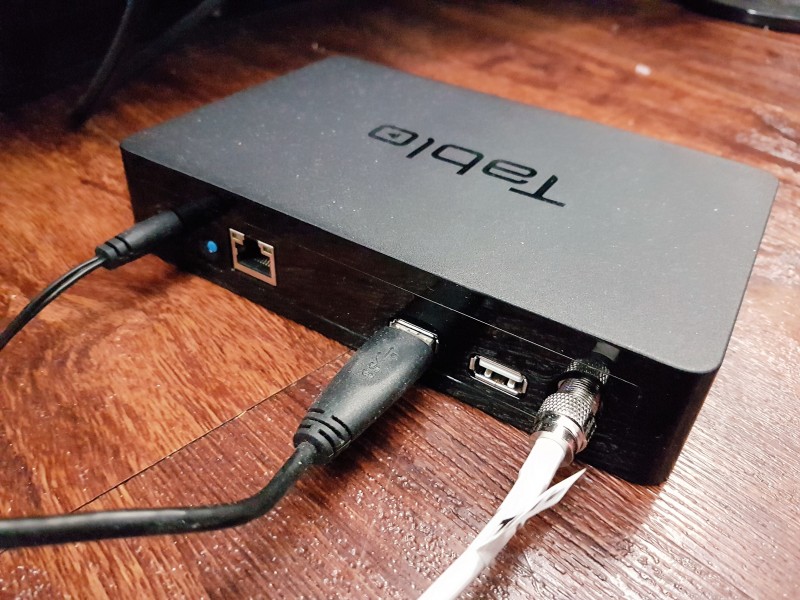 Given that there's no HDMI connection from the Tablo, you'll essentially be pushing all of your recorded and live content to your Xbox One, Roku, Apple TV, tablets, PC's, and smart TV's as long as they're connected to your network. While the Tablo may look like just another small black box that sits in the living room, it's not required to be connected to any device (aside from a power plug) so you can essentially hide it anywhere in your home that you like, provided the attached antenna cord can reach it. It may not seem like a big deal, but the fact that you don't need to have the Tablo anywhere even near the TV means you can place it elsewhere in the home, even near a different window that may result in better reception, or completely hidden away should you want to.

Looking at the back of the Tablo you'll notice that there's only a handful of inputs: Power, Ethernet, antenna, and two USB ports. It has built in Wi-Fi, so you don't need to use the Ethernet port if you have a fast enough router. Again, the lack of an HDMI port may seem odd at first, but it's a smart decision given that almost every device in the home can be access on your network, including your Xbox One.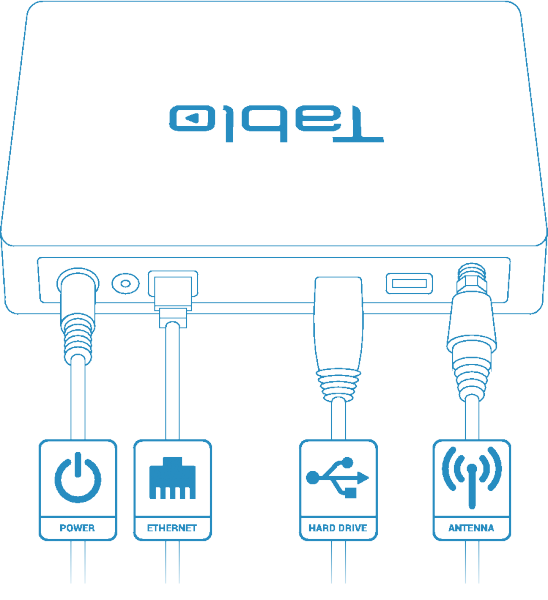 The two USB ports allow you to connect a USB hard drive, which is how and where you'll save all your recorded content. I'm currently using a portable 1TB Western Digital, and even when I set the Tablo to record at the highest quality setting (HD 1080 – 10Mbps, 720@60fps), I haven't even come close to filling the HDD after a few weeks, though I do simply delete shows after watching them

To get the Tablo up and running you'll need a few things that aren't included in the box: an HDTV antenna, a USB hard drive, and an internet connection. The Tablo only comes with the unit itself, an Ethernet cord, power cable, and instructions. You'll notice that there's no remote included, as it's controlled by your controller (on Xbox One obviously), tablet, smartphone, or other devices like Roku, etc. The USB ports are 2.0 instead of 3.0, but I haven't run into that being an issue yet.

So, now that you've done the easy setup of plugging the antenna and hard drive in, your Tablo is all ready to go and available to start watching and recording OTA content once you get the app. The next step is to download the app on the Xbox One, which can be found directly here: https://www.microsoft.com/en-us/store/p/tablo/9nblggh51r8j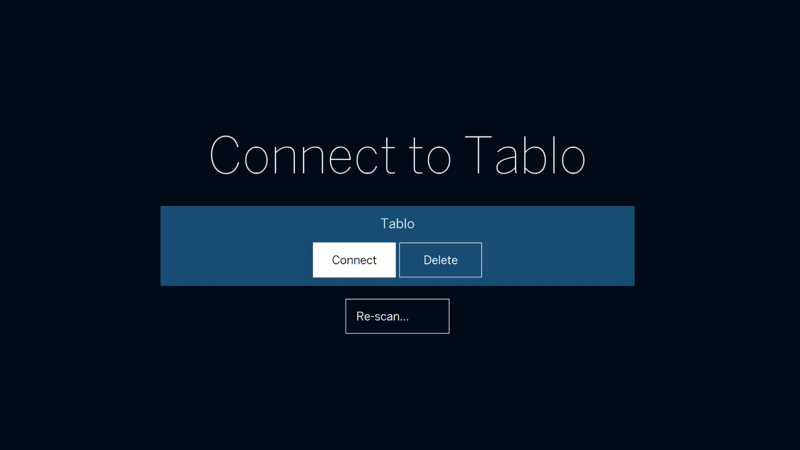 After getting the Xbox One app you'll need to complete a couple more steps, which only takes a few moments, and then you'll scan for any OTA channels that your antenna is in range of. This is where a user's experience will differ, as the channels you receive are solely based on your geography in relation to the nearest towers. So while I get 4 channels or so, you may get 40, or even maybe just 1. There are websites out there where you can put in your postal/zip code and get an idea of what you can expect for OTA channels, but just be aware that this will also depend on your antenna as well. The bigger and better the antenna, the wider range and clearer picture you'll receive; just something to keep in mind.

The app is simple to use, and regardless of the device you use it is visually similar across all of them, even on the Xbox One. There's a few categories you can choose from, which are separated so that that all make sense: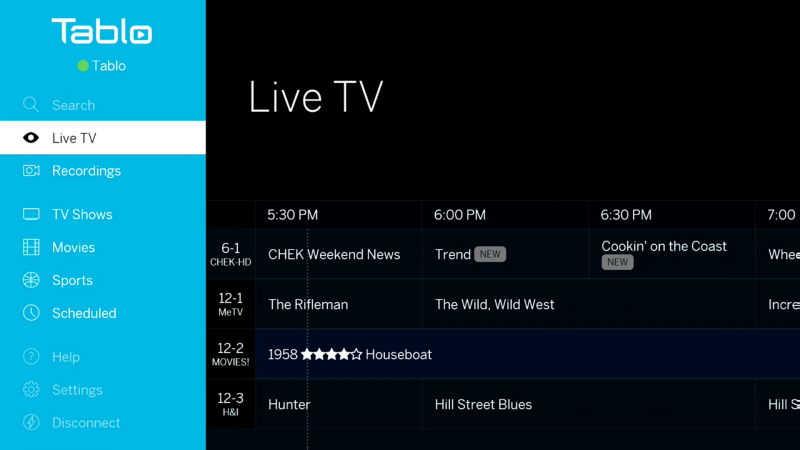 Live TV: This will show you the next 24 hours' worth of content in a traditional TV guide grid. Choosing one of the blocks will expand it, giving you more information on the show and even other recording times should you wish.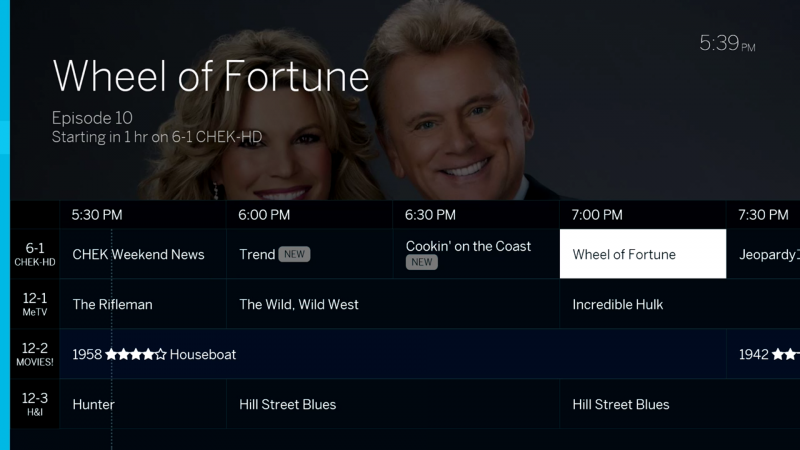 Prime Time: Shows what will be playing during Prime Time (7pm – 11pm) for the next two weeks.

TV Shows: I love this section, as it will show every TV show that is listed to play for the next two weeks. From here you can set recordings of entire shows or just individual episodes if you wish. You can also see when they are scheduled to play.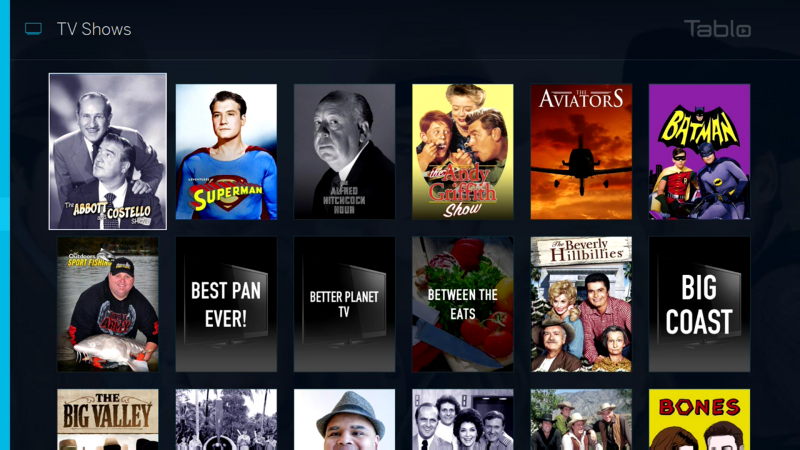 Movies: Just like TV shows, this is where you'll see the next two weeks of schedules movies to play that you can set to record.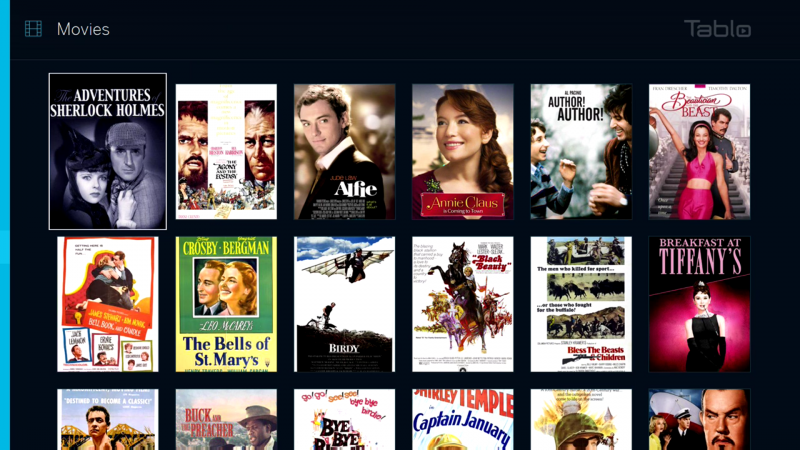 Sports: Same as above but with sports obviously.

Scheduled: This is where you can see a list of everything you've set to record in the future, allowing you to decide if you want to remove any recordings or add more.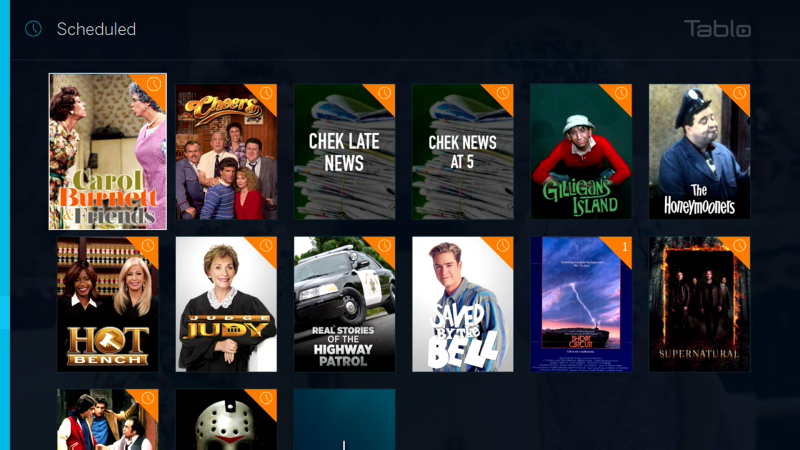 Recordings: You've been recording content, and this is where you'll find all of it saved and ready to watch at your leisure.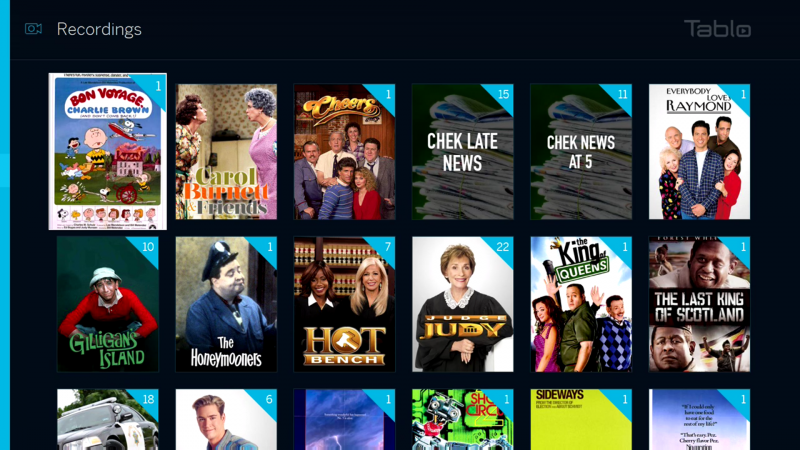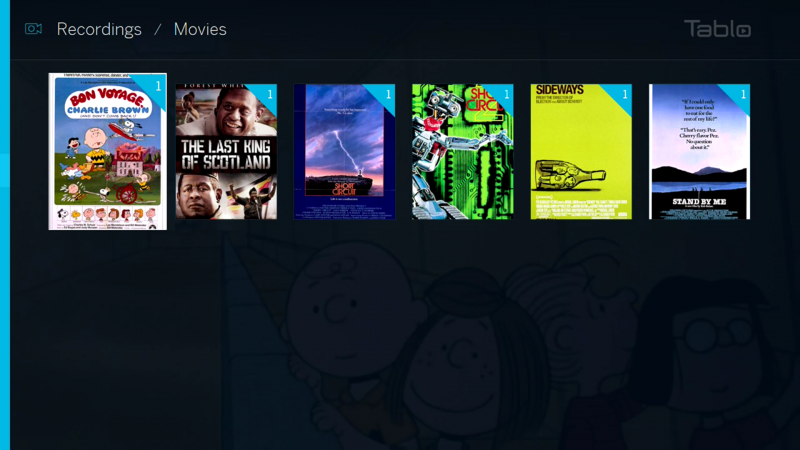 Settings: Here you can set numerous options such as adding or removing channels, checking how full your hard drive(s) are, and other minor settings, such as if you want the front blue light on the Tablo on or not.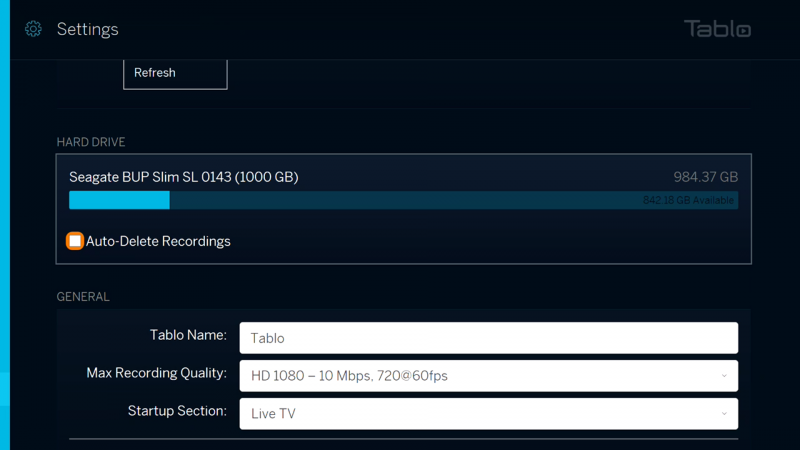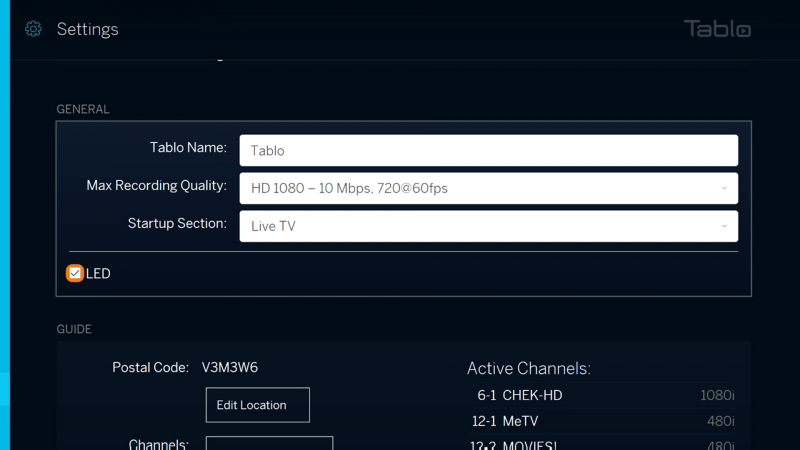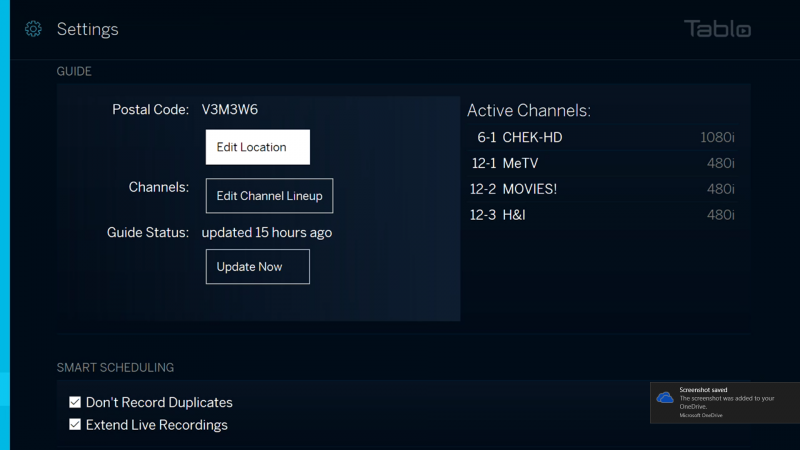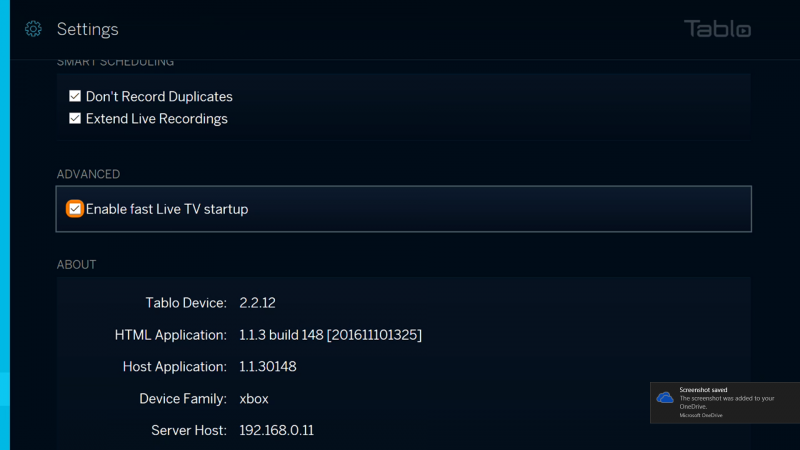 Disconnect: Self-explanatory, as this is how you disconnect from the Tablo if needed (or if you have multiple devices you can connect to another one).

So, how does Tablo make money aside from the initial box sale? They offer an optional subscription for $5 USD/month. and even offer a $150 USD lifetime subscription should you decide this is how you'll be watching TV from here on out. You get a 14 day trial when you set up the device. The subscription gives you cover art and detailed episode descriptions. It even gets you Tablo Connect, an out-of-home streaming option for when you are away, but sadly the Xbox app does not support that feature as far as I could tell. Can you get by without the subscription? Sure, but it won't be as easy to find out episode descriptions and have it look as good in the app without.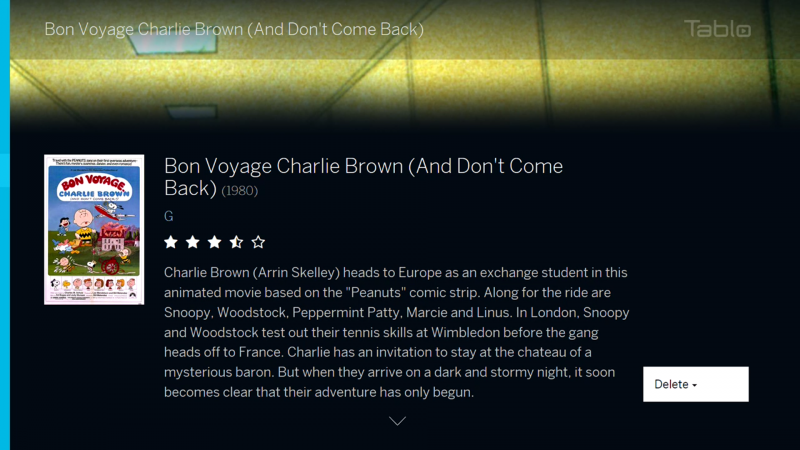 I initially thought that the Xbox One app would be a slimmed down version of the other app versions, and while it has some minor differences, there's nothing that's drastically different when comparing it to the web based or PC based app. You'll be able to use the TV guide style view of live TV, see all your recordings, and set any that you wish as well. You're also able to pause and rewind live TV, fast forward through commercials on recordings, and schedule recordings of a single episode or entire series with a simple and easy click.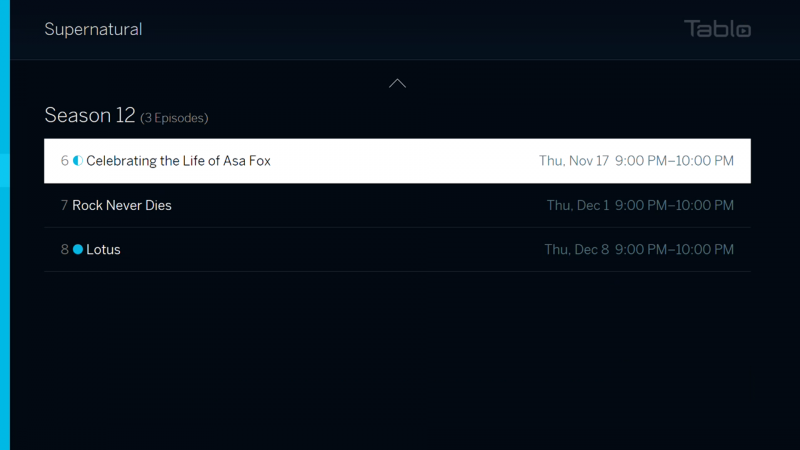 Now, for the most part I've been fairly happy with the Tablo. I've been able to record shows and watch them later on without issue, mostly. There's a few bugs and omissions that I've run into though, some focused on Xbox One integration and others that simply need to be fixed as time goes on. When you get a clear signal channels looks amazing and there's no problems with playback. Granted, this limitation is again mostly based on your geography and the quality/range of your antenna, but when you have a scrambled show with lots of artifcating, even fast forwarding and resuming shows seem to cause the Tablo to hiccup now and then. If the show records flawlessly I had no issues, but when it didn't due to poor reception, there always seemed to be some sort of issue.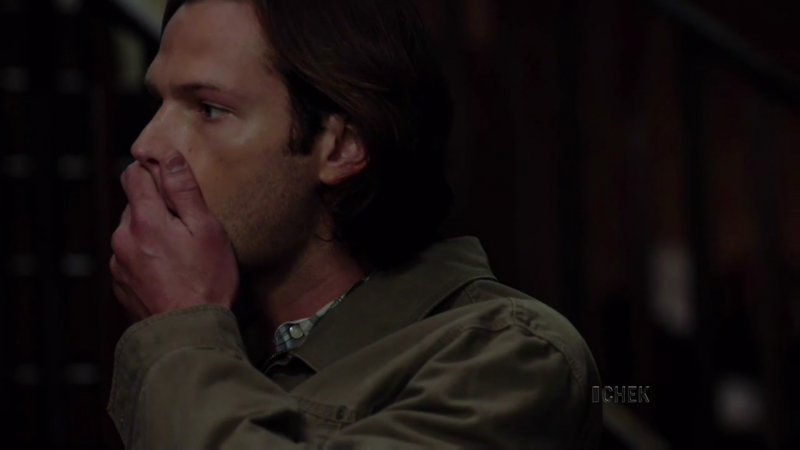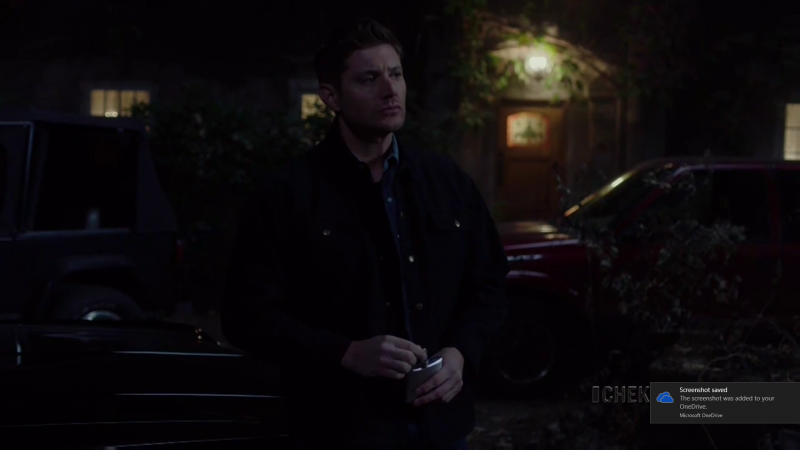 Another issue I ran into occurred when I had poor reception one night. I decided to try placing my antenna in a new area of the window to help. I moved it and rescanned the channels, but what I didn't know beforehand was that when it rescans the channels it doesn't simply add new ones it might find to your previous list, as it essentially wipes your list and starts fresh with what it finds at that time. So, for whatever reason the best channel I had didn't show up under the newest scan, so I was unable to watch that channel until another subsequent scan or two and it appeared once again.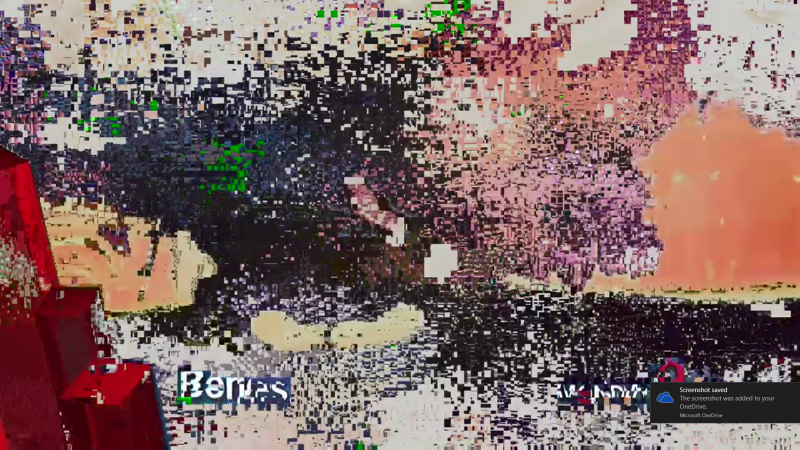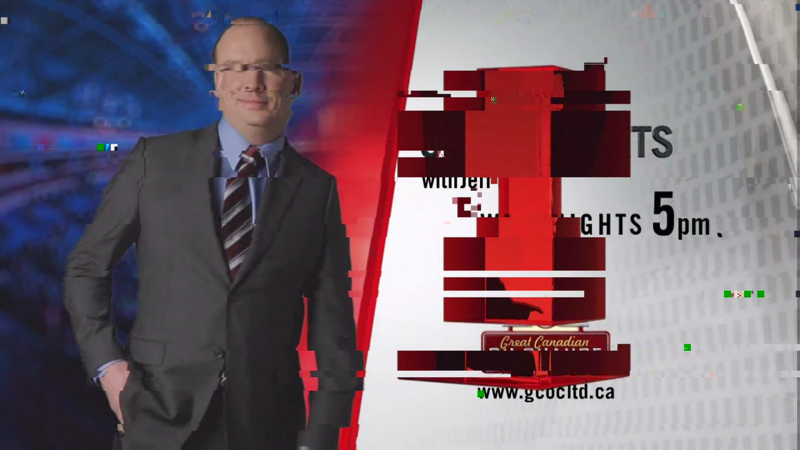 The UI is simple to get the hang of, but some inputs are a little confusing, like having to press down to view your recorded episodes instead of a button press. Nothing that's a deal breaker, but there's a few commands that don't feel intuitive. Also, I loved my old cable provider's DVR as I could manually set extra time on my recorded shows, a few minutes before and after, to make sure I didn't miss anything. Sadly this option isn't available with the Tablo yet, and I'm hoping that will be added in the future. You can imagine the frustration this could cause if you're using the Tablo to record your sports, not allowing you to add extra time may prove frustrating since sports gamse rarely end in their designated time slot.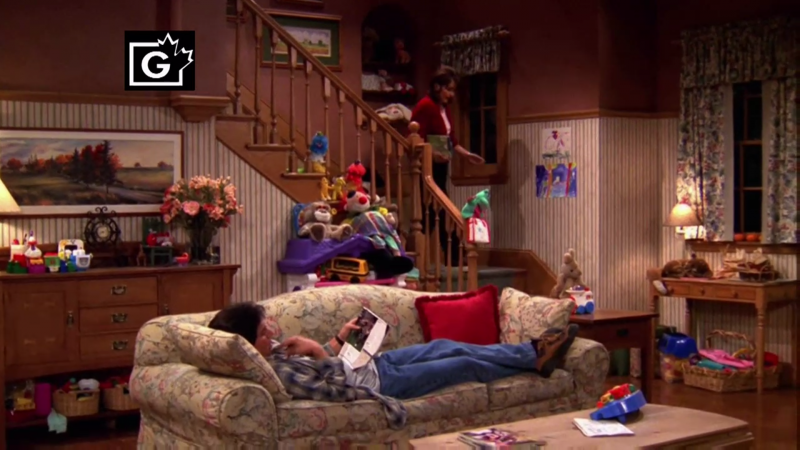 Tablo seems to be meant for people that already have an antenna, as there is no all-in-one bundle that I was able to find, so while the Tablo device (2 tuner) is only $220 USD (I've seen current sales at $189.99), which is pretty decent for the device, you need to factor in the cost of an OTA antenna and a USB hard drive. While the Tablo won't break the bank if you don't already own all the other pieces, not owning them up the cost to if you're jumping in feet first. I luckily already had the antenna and hard drive, so I was able to get up and running right away. Keep in mind you'll also want to factor in the monthly subscription as well for the best experience. The upfront cost may seem like a lot at first, but factor in what you save from ditching cable and you're well ahead of the game after a few months.

I was very excited to be able to watch recorded and live TV and movies through my Xbox One again, and while I do love that they've been forward thinking and giving us Xbox gamers/owners some support, there's two glaring omissions that make Tablo a MUST have for cable cutters that I hope Nuvyyo can remedy by adding in the near future. First off, Tablo doesn't integrate into the OneGuide, under Live TV or App Channels. So, while I can use the Tablo app to watch everything, there's no direct integration into the Xbox One ecosystem itself. This was the best part about having my cable provider's DVR hooked into the Xbox One, as it allowed for full integration into the system browsing, along with Kinect support.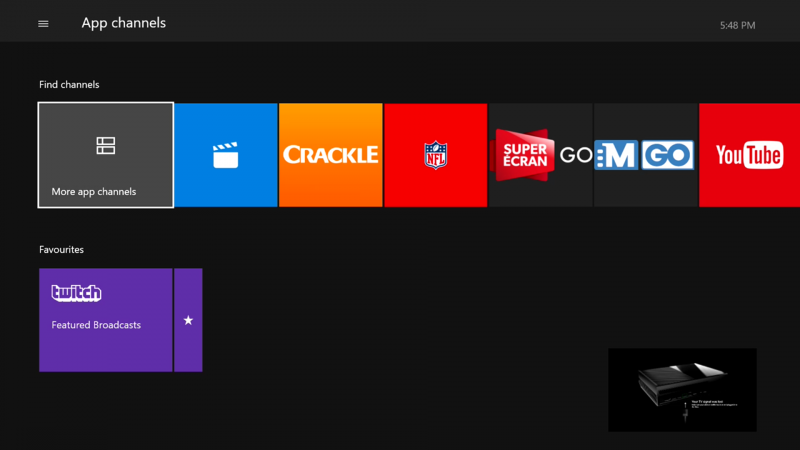 Secondly, there's no support yet for snapping Tablo. This means that you can't snap your TV shows onto the side of the screen while you play your games. Being able to snap live TV with my cable provider's DVR was an amazing feature to have (because of the HDMI connection), and I did so all the time with Netflix as well, so if Tablo can somehow add this feature to the Xbox One app, it'll also be a big win. I'm sure there's some sort of restrictions on Microsoft's end for these omissions, but these two features absolutely need to be added for it to be a real replacement for cord cutters on Xbox One.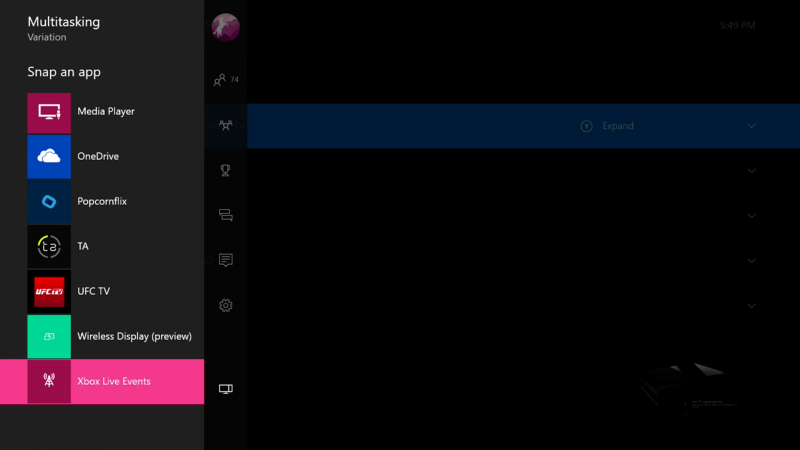 There's obviously a cost for cord cutting if you still want to watch TV, but it pales in comparison to the monthly fees for cable, and it can easily pay for itself in a short amount of time. If you live in an area that can receive a handful of channels, especially HD, then you may seriously want to look into a Tablo if you want to watch and record live TV via your Xbox One, but that's part of the catch as well, as Tablo can only do this with what it receives, something that is out of its control as it is solely geography based. As I said before, Tablo has some great features, especially not having to being tethered to a device via HDMI, and for such a relatively new device, the support and features are more than I was expecting, save for the true Xbox One integration of OneGuide and Snap of course.

Overall: 8 / 10

***Nuvyyo provided us with a Tablo for the purposes of this review***