Forza Horizon 3 - Blizzard Mountian DLC
by Kirby Yablonski








Forza Horizon 3 is, in my opinion, one of the best racers to be released in years. Its' open world gameplay and combination of simulation and arcade controls makes it a racing game that is unmatched. Add to the fact that you can change the settings to make it more sim or more arcade as you desire, and you have a racing game that can meet the needs of many racing fans. Travelling across a virtual Australia has been great since the game's release. From the dry and dusty environment of the Outback, lush and dense rainforests with damp roads and creeks that overflow over their banks, to the concrete jungle of Byron Bay, there is quite a variety of terrain and roads to be traversed. Well, you can add a new playground in the world of Forza Horizon 3, the snow-covered roads and villages of Blizzard Mountain, a new paid DLC environment that was released a few weeks ago, and in a nutshell, it's a great addition to the core game.

Blizzard Mountain is a stand-alone expansion. You won't be able to drive to the area like the others on the Forza Horizon 3 map as the DLC has to literally load up on its own. You will find the 'entry' point for the DLC in the Outback though. From there you are whisked off to the snow covered environment of Blizzard Mountain where you'll find that it has its own roads (50 of them), its own events (e.g. bucket lists, drift zones, danger signs and speed traps), its own bonus boards, and of course its own races. You will also find eight new cars come with the DLC, and they are really focused on being able to race in the snow and on the ice. You'll find Ken Block's 2016 Ford GYMKHANA 9 Focus RS RX, the 2016 Subaru #199 WRX STI VT15r Rally Car, legendary rally racers like the 1985 Lancia Delta S4 Group B, the 1975 Lancia Stratos HF Group 4, rough and ready trucks like the 2016 Nissan Titan Warrior Concept, the 1966 Ford F-100 Flareside Abatti Racing Trophy Truck and the 2016 RJ Anderson #37 RZR-Rockstar Energry Pro 2 Truck. You can race with any vehicle you already own of course, as your car will be equipped with snow tires, but the new vehicles are quite fun to race in too.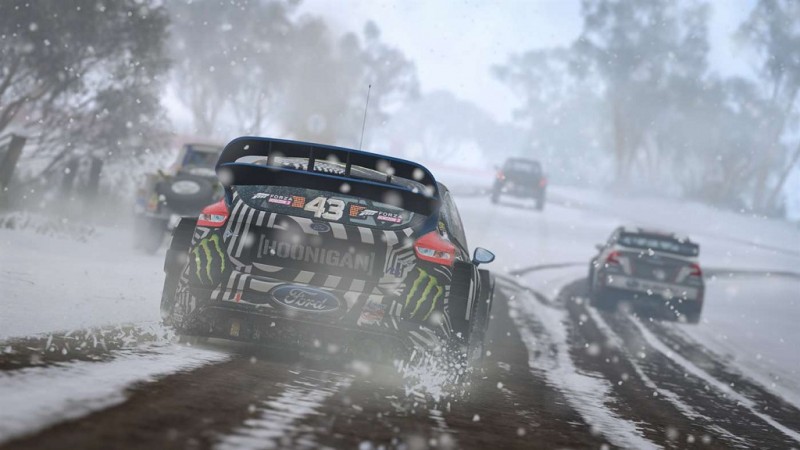 As you start to race you'll discover that you don't earn fans to progress, as the progression system is based on stars. You'll need to earn a specific number of stars to open the next level of races and challenges. You can earn one, two or three stars per race/event. How does this affect the overall experience you ask? Well, more than you might think. To get the maximum stars in the races you'll have to do other things above and beyond winning the race. This can range from reaching a certain number of skill points or completing a specific number of specific actions (e.g. drifts). This affects the racing experience in such that you'll have to focus on doing specific things while managing to fight off your opponents for top spot. I found that it made for quite intense racing as the ability to get all three stars in each race can be challenging to say the least. You are not only focused on speed, but now you'll need a lot more finesse and/or skill. I won't lie, I dialed down the skill level once or twice to earn the maximum number of stars (*starts the walk of shame*); however, you'll most likely enjoy the heart pounding races that result as you try to meet the one specific criteria to meet the three-star requirement while winning.

Another key area you'll find a lot of change is in the physics. Given that you are now racing on powdery or compact snow, and even ice, you'll discover that the environment totally affects how your car or truck handles, even with the equipped studded snow tires. You'll have to compensate for slippery conditions on the roads, and if you take it off-road the depth of the snow will affect how your vehicle preforms, as there is a noticeable difference in how some vehicles do better in certain snow than others. There is even a frozen lake in Blizzard Mountain that will have you reassessing how you go into corners, as there is little to no control when trying to take a corner at high speed on the frozen water. Playground Games flexes its physics programming muscles in Blizzard Mountain, make no mistake about it. It all makes for nice change of pace in Forza Horizon 3's overall racing experience.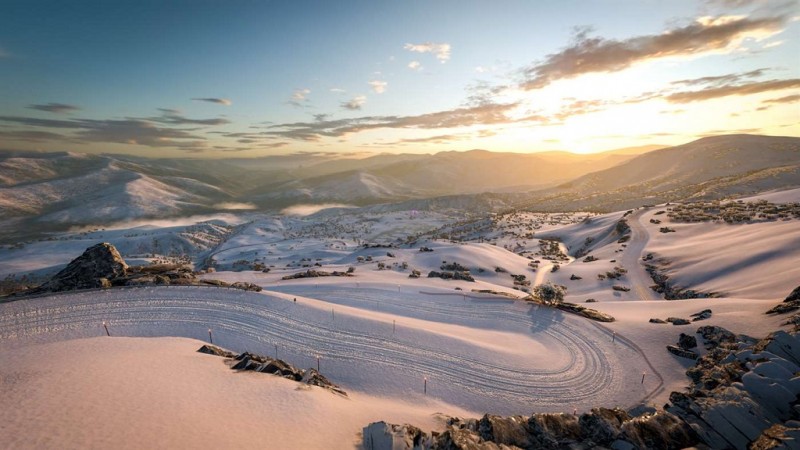 You'll find that there are many hours of driving in this DLC. For example, one of my first days with the new content I managed to clock in over 3 hours just driving around, doing the odd race, and looking for all the 'roads' to explore and bonus boards to break. This was before I took the time to seriously tackle the various races and whatnot. Of course you can race with friends in Blizzard Mountain as long as they have the DLC too. There is more than enough content here to keep you busy for quite a while, and when you're done the core content, go have fun and just explore what the mountain has to offer you.

Visually speaking, Blizzard Mountain is once again testament to what Playground Games has been able to do with the Xbox One hardware. The setting is so different from what you experience in the core Forza Horizon 3 game given that you are now driving around on a snowy mountain. Trees and their branches are covered in snow while grass and dirt is now a blanket of compact or powdery versions of the white stuff. The roadways can be full of snow with tracks worn into them or you'll find a bright sheen as light reflects off a stretch of well-worn ice. You'll see a couple of quaint mountainside villages too, along with a chairlift that goes from the bottom of the area to almost the top. As you 'frolic' through the snow your vehicle(s) will get covered in snow, ice, and even salt/sand. The longer you drive in, and through, various forms of snow or ice the more your car starts to show its own visual signs that you are no longer in the warm paradise of Byron Bay or on the sandy shore zipping along the beach where the limestone cliffs known as 12 Apostles shadow you.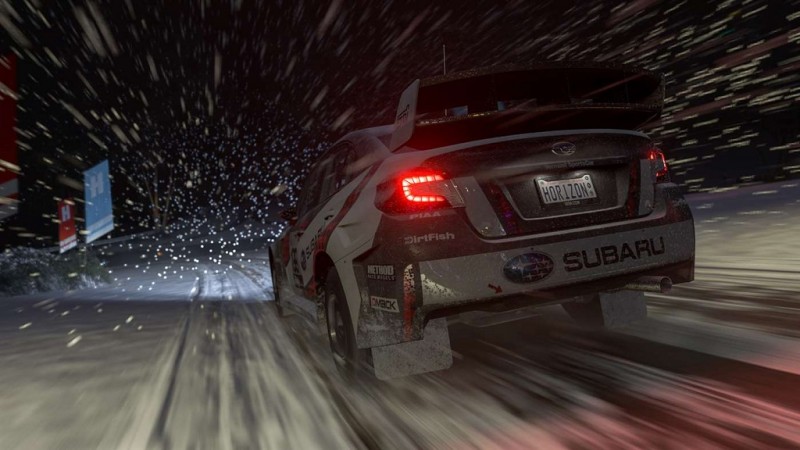 One of the big features of Blizzard Mountain is the weather, and as the title of the DLC gives you a hint of what lies ahead, you'll be faced with blizzards more often than not. When a blizzard rolls in it is very impressive. Visibility will almost become nil and you'll see trees and signs rocking in the wind as snow blows by your vehicle. Add the darkness of night into the mix and you must be quick on the reflexes as you try to not only navigate the landscape in front of you, but as you fight the urge to just marvel at the outstanding visuals during a blizzard as well.

Overall, the first DLC race content for Forza Horizon 3, Blizzard Mountain, is a great and satisfying add-on. The only complaint that is worth noting is the fact that the progression system's change makes for some very hard work to get three stars, and although I get the fact that a challenge is good, it can still be on the hard side now and then. With a great new environment, solid visuals, eight new cars, and of course hours of new content to race and explore, this DLC is easily worth the price of admission.

OVERALL SCORE: 9.3 / 10