Interview: Alexandre Assier - Producer at Kylotonn Games
by Adam Dileva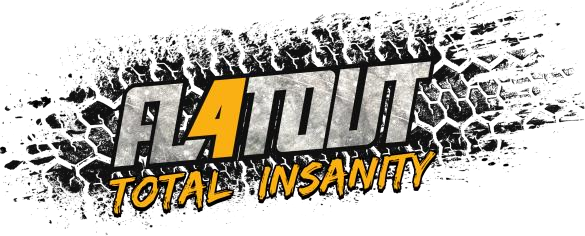 Thanks for taking the time to do this interview, as we here at Xbox Addict (XBA) have some pretty big racing fans on staff, from Forza, Need for Speed, Burnout, to of course the longtime running FlatOut series. That being said, we have a bunch of questions for you about the newest upcoming release.

Xbox Addict: So, start off by letting us know why fans should be excited for FlatOut 4: Total Insanity, when does it release, and what are the pre-order bonuses?

Alexandre: [AA] FlatOut 4 was made by and for fans of the series – it's a love letter to the original FlatOut games, taking the roots of the first ones and adding new and exciting modes. The game begins its global roll out at the end of March.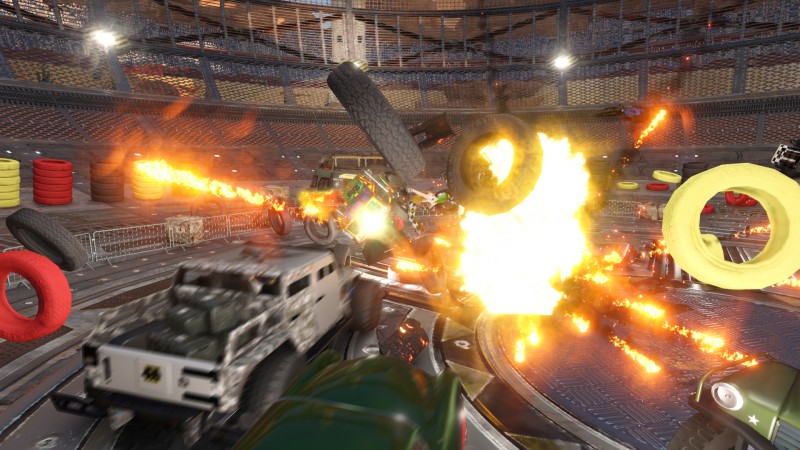 XBA: What makes 4 deserve the Total Insanity title and the most insane thing you can do?

A: [AA] Total Insanity is what the FlatOut franchise is all about, at its core. A game that never takes itself too seriously and fills a gaping void in a market full of racing sims. There's something tremendously satisfying about tricking out a jet engine powered ice cream van and tearing through a water canal at breakneck speed tossing a mine ahead at your unwitting opponent. We also have the return of the amazing Stunt mode from the earlier games. We have some favorites recreated like stone skipping, baseball and rings of fire as well as knew additions like billiards, golf and cup pong!


XBA: So I've played nearly every entry into the series to date, and like most, FlatOut 2 Ultimate Carnage was the one I enjoyed best and spent the most amount of time with. Why do you think FlatOut 2 was one of the more favorite ones from the series, even after all these years and sequels?

A: [AA] FlatOut 2 was tremendously fun, I agree completely. It was easy to drive/play but hard to master, something so many great games have in common. Of course there was the satisfying deformation of your car/destructions. And I particularly loved the multiplayer with your friends! And the Stunts mode! All these things are so important to FlatOut and are things we've tried very hard to get right in our new game.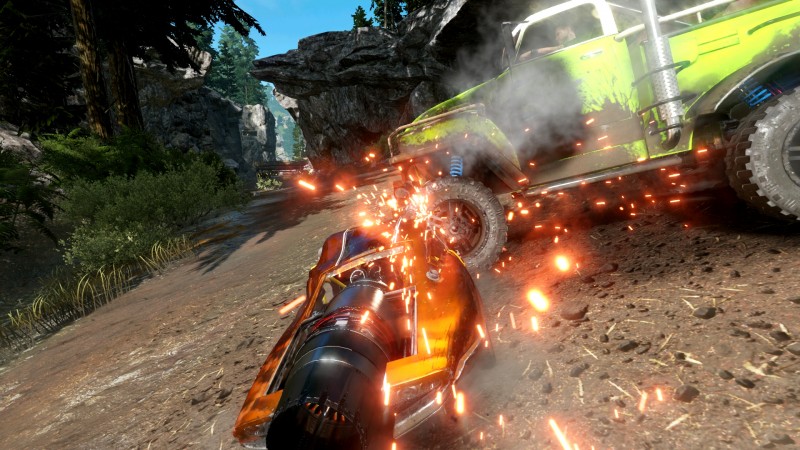 XBA: What has been learned from the previous games in the FlatOut series that you're improving in 4, and why do you believe fans weren't as fond of 3?

A: [AA] When we set out to make FlatOut 4, it was important to us to go back and really take a long hard look at how their tracks were made, the design decisions they made. The desert tracks were the first place we started and it took a ton of iteration to get Val Verde feeling like a FlatOut track. Decisions about visibility, tracks width, debris, humor, short cuts, etc. The rest of the tracks were much more straight forward once we nailed things down with Val Verde. One of the things that is evident when you go back to the old games is that stuff is just literally everywhere flying around like crazy. It's a big part of the vibe of FlatOut. We really pushed as hard as we could on our engine to capture that feeling in FlatOut 4. We also spent a great deal of time on the sense of speed and especially the speed you feel from the nitro boost. We think that the sense of speed, the intensity of this, is something we've done particularly well. FlatOut 3 isn't something we really spent any time with, we really were going back to the franchise's roots making this game.


XBA: So, we've seen the announcement trailer, which of course got us excited to have the FlatOut series return, and we noticed a few details we were wondering about. Race modes and Destruction Derby look like they are returning, so how many modes are actually in the game and how do they differ?

A: [AA] In our career mode, you will play through touraments with a variety of race set ups including a new type of gameplay called Assault where players add weapons and traps to their arsenal of tricks. There will of course be traditional races as well as carnage mode, beat the bomb, time trials. Arena mode includes power ups and several modes including survivor, capture the flag and deathmatch. And for the Stunts, we have added new kind of Stunts to play with your friends as we discussed earlier.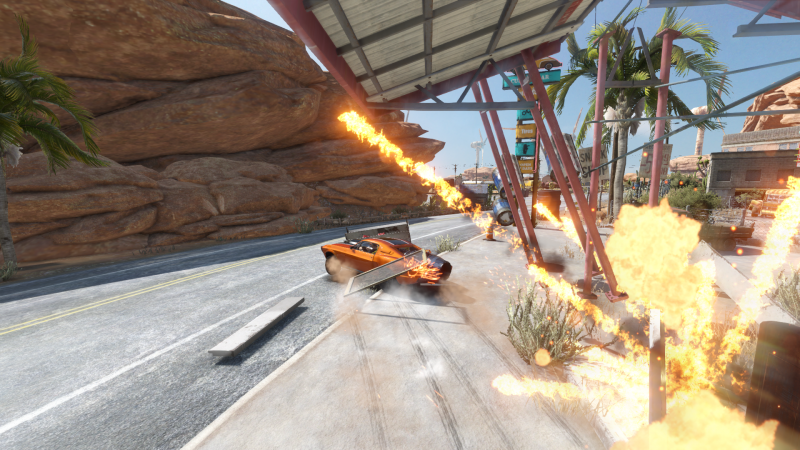 XBA: The first FlatOut handled very 'slippery' if I recall properly, yet it was a big improvement that FlatOut 2 addressed. As for the car handling physics, how does this one handle compared to the other FlatOut titles? Will we need to ease off the throttle in turns, or is there some type of drift mechanic in place?

A: [AA] We have a lot of different cars and they all will require their their own handling. Some are drifting and others are not, while some you will have to ease off the throttle, break, or use hand brake to really take advantage of each car's unique make. Like in the previous games, we're also including the garage to customize your cars and here, compared to the earlier FlatOut titles, you'll see a much bigger impact on your car from the changes you make. We really wanted to let you lovingly customize your favorite car, and not just have to unlock specific cars that will fit for each track.


XBA: I noticed that some vehicles had jet engines strapped to them, so what kind of car customization can we expect? Spoilers, body kits, decals? Strictly skins and visual changes, or parts that will also upgrade your vehicle as well?

A: [AA] You will have 2 kinds of customization: The first one is the upgrade of your car as just discussed, which changes its caracteristics. More power, better handling… While the other part is cosmetics: you will be able to change the liveries, change your Nitro effects, your horn sounds and your driver. Post launch, this is something we'll support with DLC.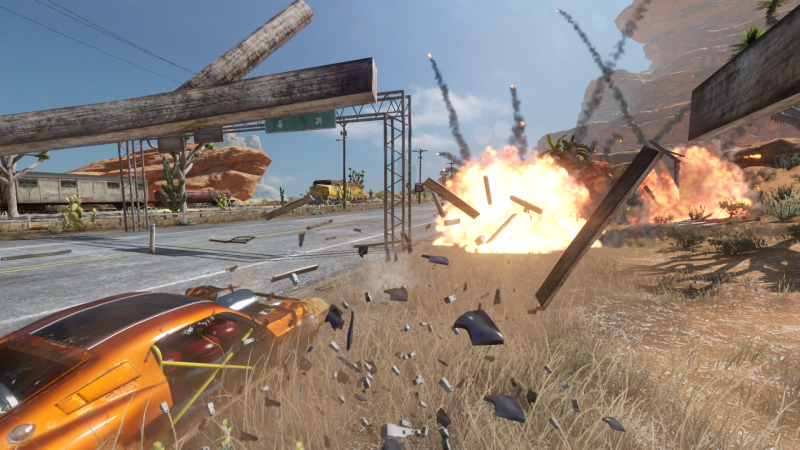 XBA: Any licensed cars we can expect to play with, and any returning favorites from the series?

A: [AA] There won't be any licensed cars. They're all new originals! Destruction derby games are all about smashing and trashing cars, which is something not popular with many car manufacturers. :)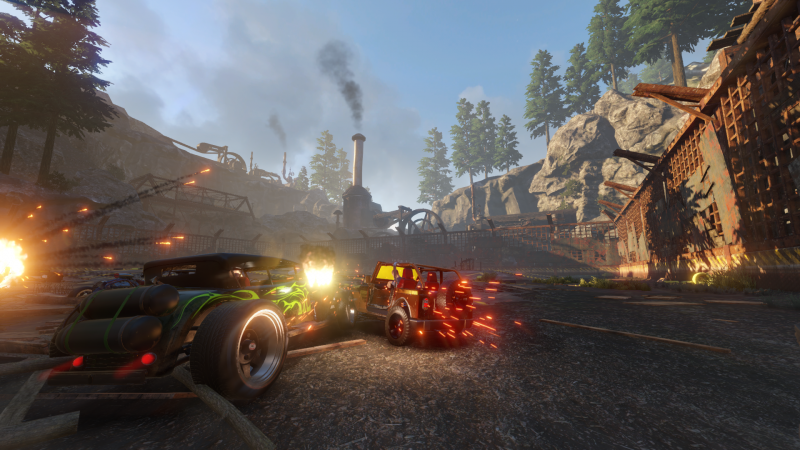 XBA: Are there weapons to use during race modes? What types and can they be changed or upgraded?

A: [AA] It's only on a specific game mode called Assault mode. We have a cost in Nitro to use. So you will have to choose between boosting your car or using your weapons/traps. Players will have in their arsenal a magnetic bomb, a mine they can toss forward/backward, a shockwave they can trigger around the car and harrows to set behind their car as a tricky surprise for the player behind them!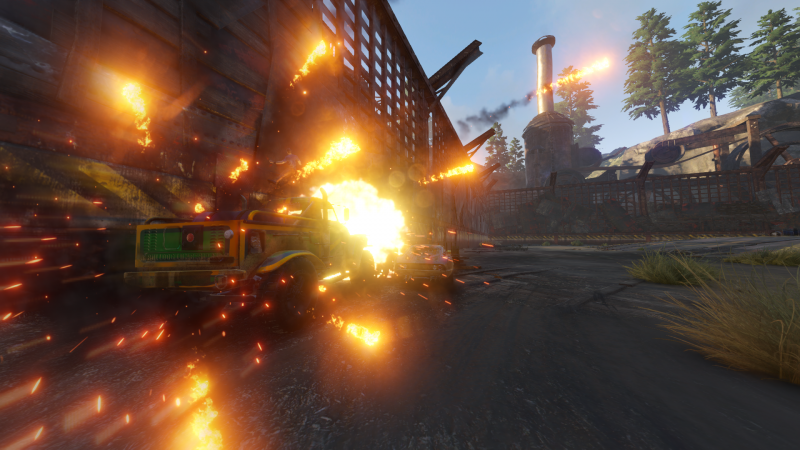 XBA: I've read there will be 20 tracks. Any DLC or Season Pass plans to up this number in the future that you're able to share?

A: [AA] Yes, we have quite a bit of DLC planned post launch to look forward to!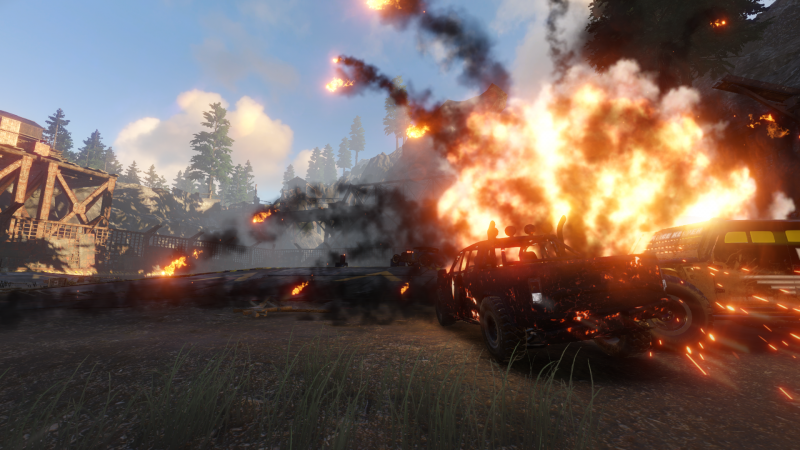 XBA: It looks like you've been holding a contest for fans to vote for their favorite classic FlatOut track to be an inspiration for a new track in FlatOut 4. How has the response been and which track actually won?

A: [AA] Yes, we did it at the beginning of the project and the reception was great! It was really important to us to make the fans feel a part of the creation of the new game. Water Canal 2 won. We actually used it to inspire the level design of one of our tracks too.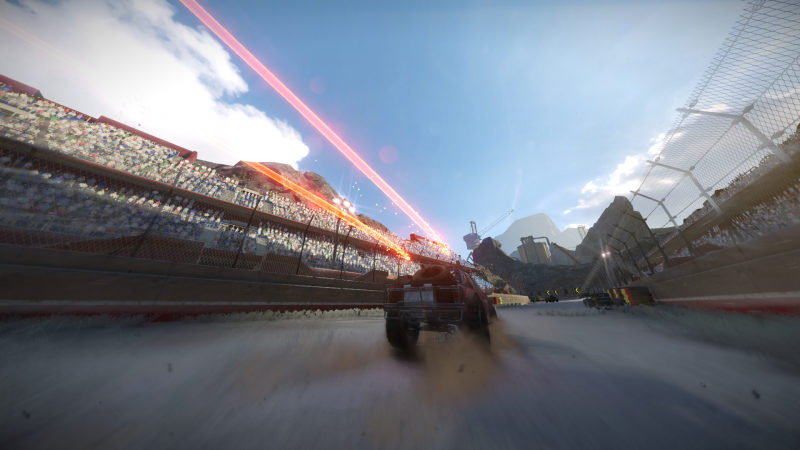 XBA: It looks as if there will be 8 players supported for online carnage? How come this specific number of players were chosen? As for local, how many players can play split-screen, and can split-screen players also contend online as well?

A: [AA] We think that 8 is a good compromise for our arenas. No split-screen on FO4, but there is a party stunt mode to play locally with friends.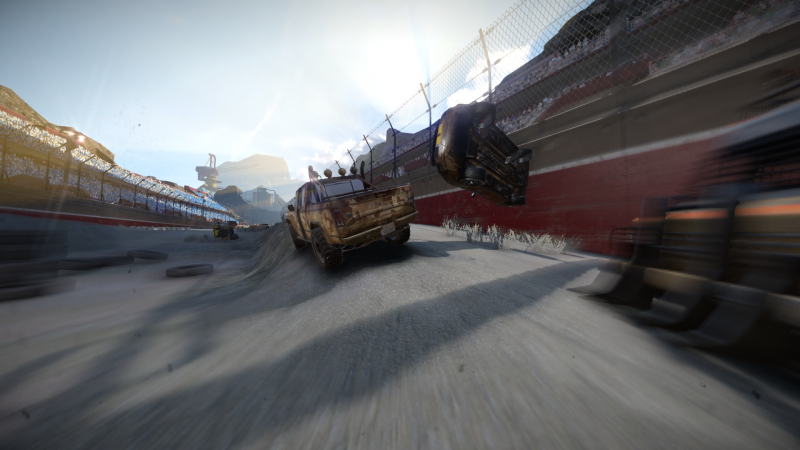 XBA: Demolition Derby was one of my favorite games on the PS1 growing up, so to see FlatOut 4 bringing back a long-lost mode like that got me very excited from the trailer. In Demolition Derby specifically, how can you tell how much health vehicles have left? I ask because the trailer obviously didn't show the HUD, but I also didn't notice any significant car damage either.

A: [AA] You'll have the information in your user interface for your vehicle's health. For your opponents, there will be a specific mark with a color saying its level of health. The degree of visual destruction of the car and the smoke they are giving off will will also let you know too.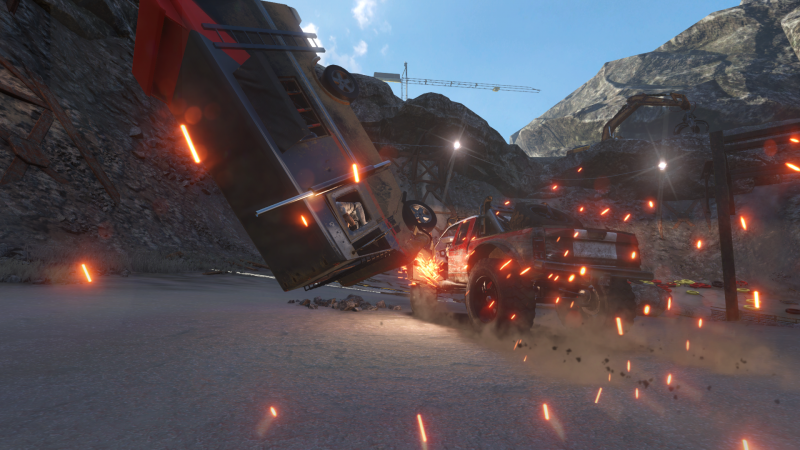 XBA: Any fun type of tournament settings or brackets in Demolition Derby?

A: [AA] The Arenas include Keep the Flag, Survivor and Deathmatch. There are power ups littered around the arena as well which do things like give you damage buffs and increase health.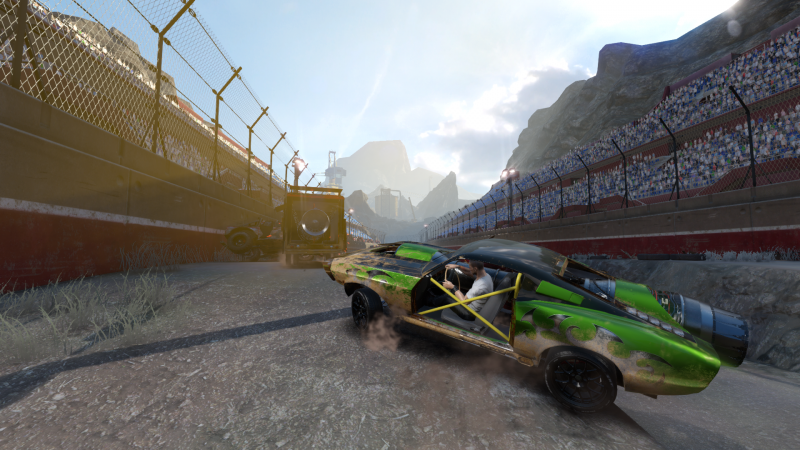 XBA: A favorite feature that hooked me onto the FlatOut games back in the day was the fact that your driver could go flying through the windshield. Does that make me a bad person that I laugh every time that happens?

A: [AA] No, it just makes you OUR sort of racing fan. :)


XBA: Speaking of frequent flyer miles, the trailer didn't show any driver ejections through the glass, so is this feature still included in FlatOut 4?

A: [AA] Sure! That's part of FlatOut! That was just the first trailer, we have more planned to show off more features of the game.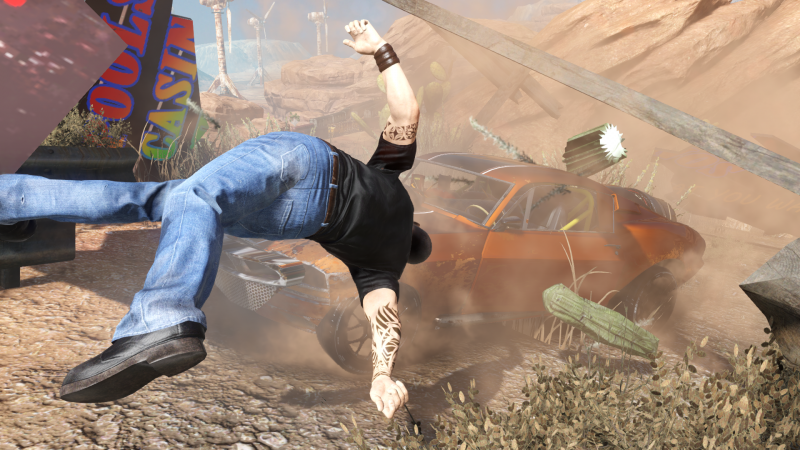 XBA: Since we're on the topic, I've probably spent dozens and dozens of hours in the Stunt Modes from the previous games, yet the announce trailer didn't seem to show any of these. How many stunt modes are returning and which ones are being reimagined?

A: [AA] You will have 12 Stunts: 6 remasterized from the previous FlatOut (the favorite ones) and 6 new original ones. The remastered stunt classics include Soccer, Baseball, Stone Skipping, Rings of Fire, Curling, and High Jump. Our new additions include Billiards, Finnish Pins, Long Jump, Total Destruction, Cup Ping and Golf.


XBA: Which Stunt Mode do you think gamers will have the most fun with, and which one is the most has the most insanity?

A: [AA] Golf as it's my favorite one! :) But to play with friends, I think Curling is one of the most fun.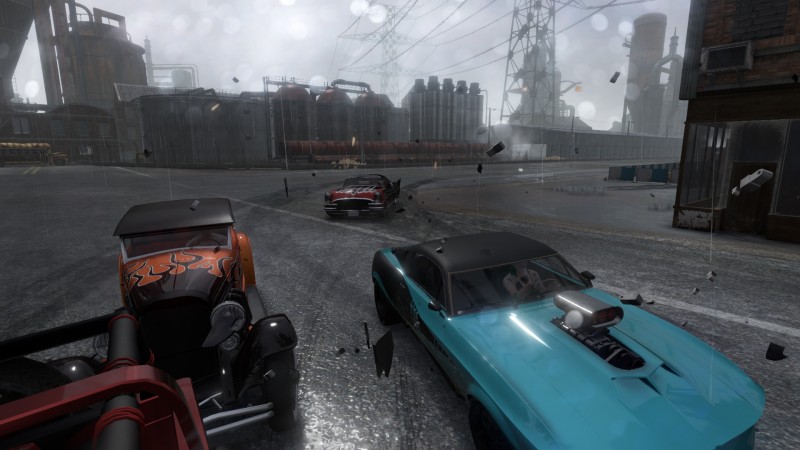 XBA: Are there leaderboards and online multiplayer for Stunt Modes?

A: [AA] Yes. There will be leaderboards and hot seat mutliplayers for the Stunt modes.


XBA: Anything else you would like to mention or include to get fans excited about FlatOut's long awaited return?

A: [AA] If you are fans of the series like we are, I'm sure that you will enjoy this new FlatOut as much as we have enjoyed creating it.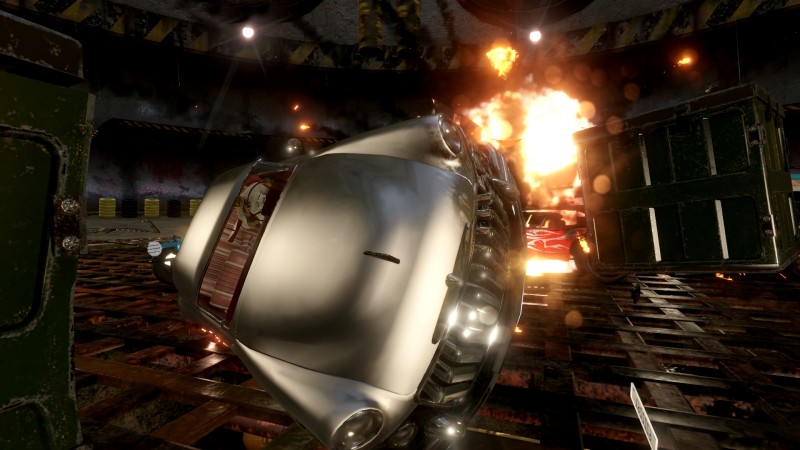 Thank you for taking the time and we can't wait to start smashing some vehicles in April! Good luck with the launch and we're excited to start launching some drivers through their windshields!