Bionik Quickshot and Lynx Review
by Adam Dileva








Video game Accessoriy maker Bionik is looking to become a big player in the console accessory market with some new product releases designed to improve your default controllers in numerous ways. We got a chance to go in depth with two of their recent Xbox One centric products, the Quickshot and Lynx. There's a ton of different companies out there that release accessories and controller kits for consoles, so what makes Bionik stand out amongst the competition? Let's delve into the details and find out.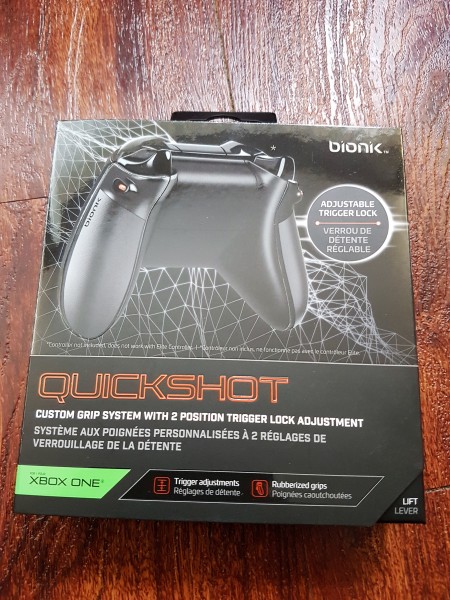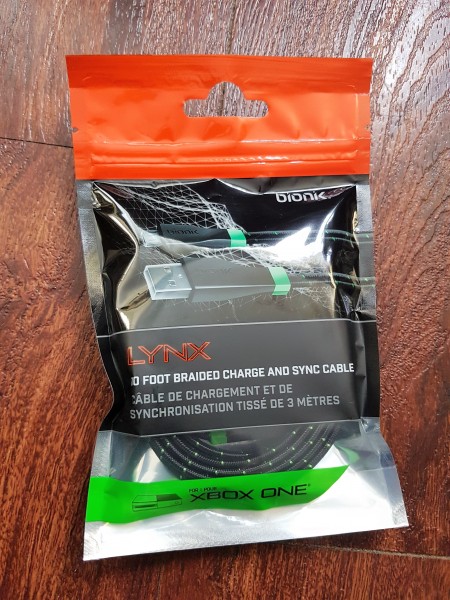 The Quickshot is a custom grip system with a two position trigger lock adjustment system, and yes, this is for your standard Xbox One controller, not the Elite controller (though they do offer a different Elite accessory kit as well). This isn't meant to transform your standard controller into an Elite, but instead enhance it by adding a texture grip to the sides as well as a dual trigger lock system, allowing for quicker response times in faster paced games. The Lynx charging cable is a very high quality 10 foot cable that is flat and tangle resistant.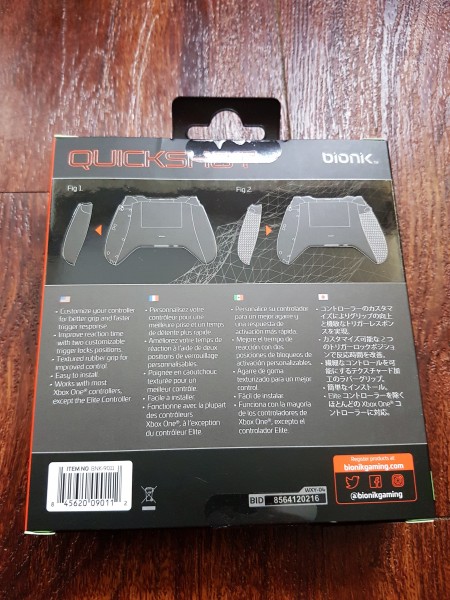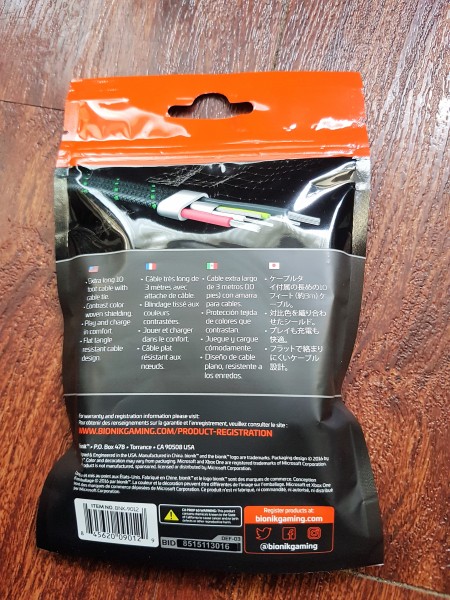 So what's in the box (well, bag when it comes to the Lynx)? In the Quickshot you'll get 2 controller grips for the left and right side, an installation tool, and a user guide with instructions of how to install it properly. With the Lynx you'll get the 10 foot cable, complete with a Velcro tie to keep it stored neatly.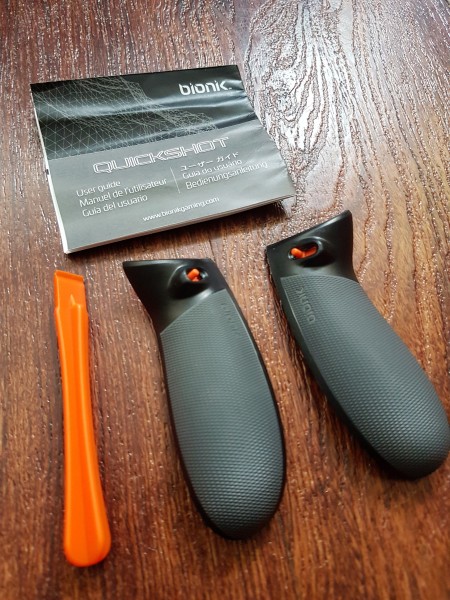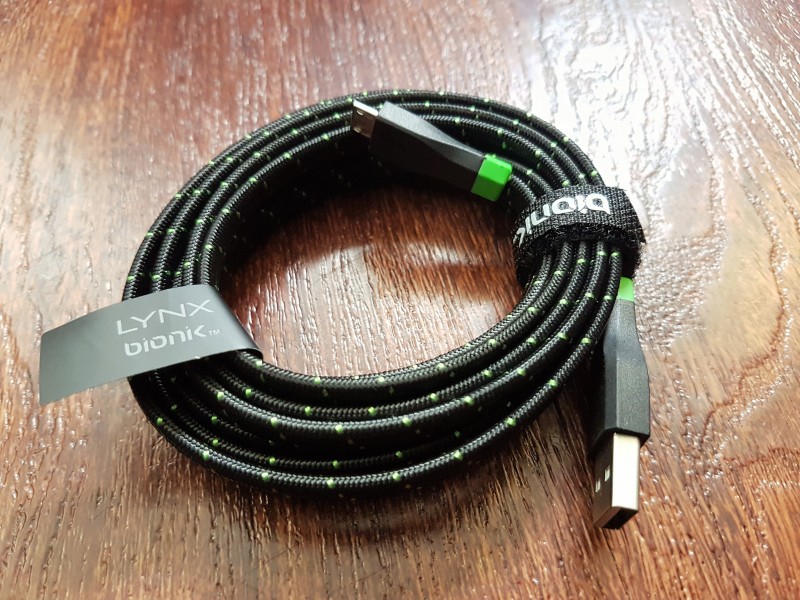 Ok, with all that being said, lets focus on the Quickshot. The first thing you need to do after opening the Quickshot is to separate the pieces and take a look at the instructions. These steps are made as easy as possible, as there's no reading involved, just a bunch of pictures to follow. Take note though, there is a warning indicating that Bionik is not responsible for damage caused by improper installation or use of any other tools than the one provided, which is obvious, but made me slightly nervous knowing that I was about to pry my controller apart.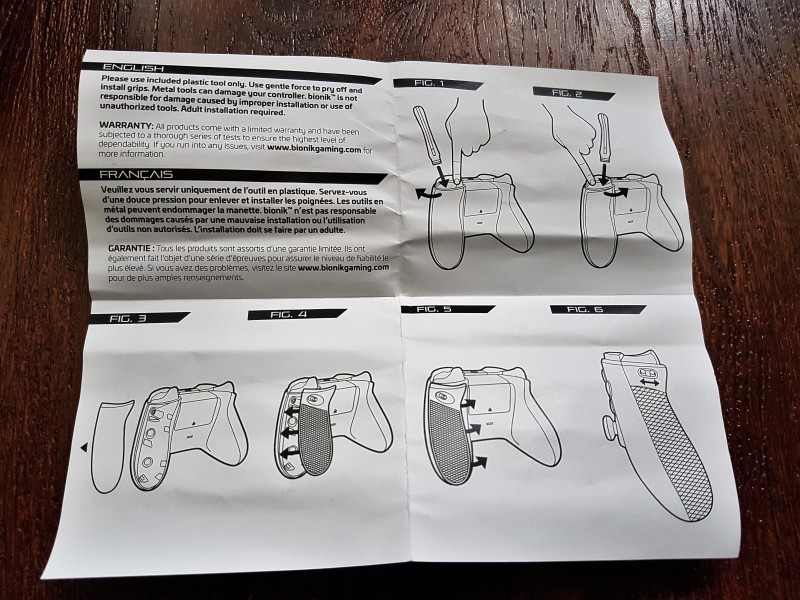 I actually didn't know the back of the controller grips popped off (with this special tool of course), and when I was working on gently prying the first one off, all that was going through my mind were thought about me breaking it and being out a controller. You begin by holding the trigger down, gently putting the tool into the crevice and sliding down the crack of the controller. Eventually it'll easily pop off, but like I said, I was nervous doing it the first time.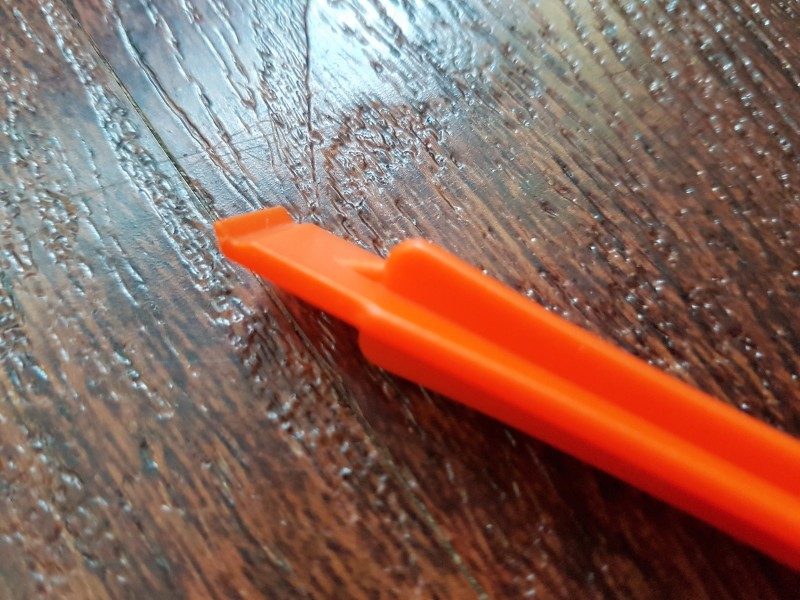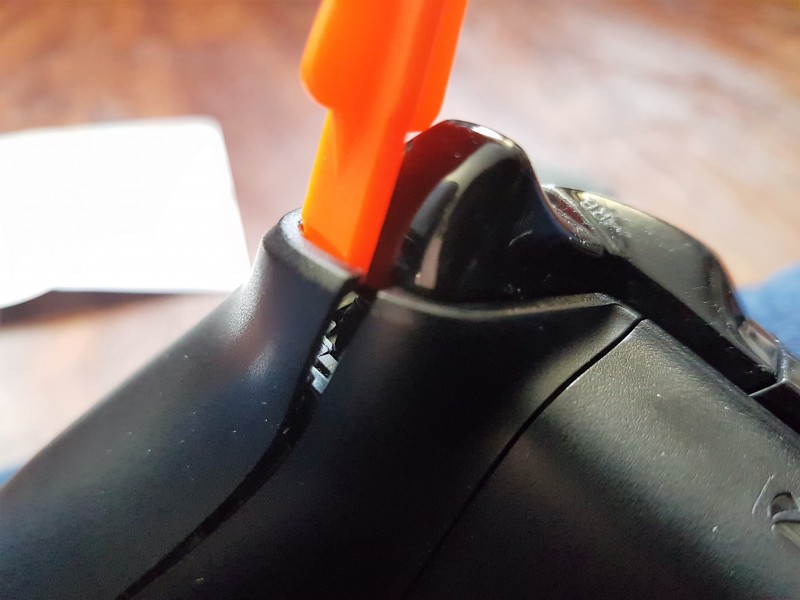 Once I did the first side, the second one was much easier, as I knew how much force was necessary to pry the default grip off. After they are removed you simply put the little clips of the Quickshot into one side of the controller and press it on, much like the back of a remote. Once the new Bionik grips were on I did a quick inspection only to find it was uneven. Obviously a small mistake on my part, as they are identical parts, but one side had a larger gap than the other where the seams meet, something that would have driven my OCD into high gear if I left it.

I pried off the Quickshot, reinstalled, making sure to try and get a snugger fit, and after the second time both sides were equal and flush with the controller. The first thing you'll notice after they are installed is the textured rubber grip on the back half of the controller. It's has an argyle pattern (hundreds of little diamonds), allowing for your skin to grip any part it touches quite easily. It's touted as a rubber grip but it feels very similar to the grip on the new Xbox One controllers, though it is slightly more defined with its ridged pattern.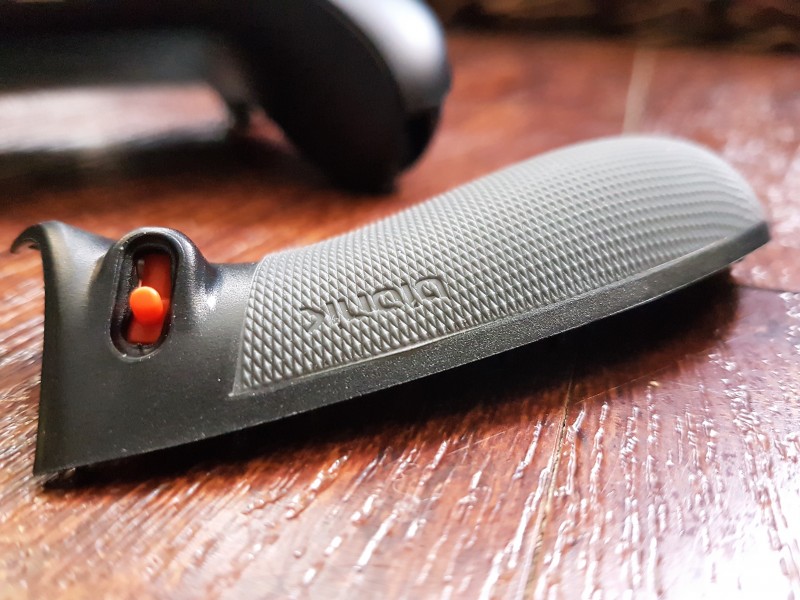 While the grips are a nice touch, the most likely the reason you'd purchase the Quickshot is for its trigger locks. If you've used an Elite controller before, you're very aware with how awesome having trigger locks are for certain games can be. These locks allow you to essentially register a trigger press, but without the need for the trigger to be pressed all the way down. This results in a quicker shot, making a difference in quicker paced games, especially shooters.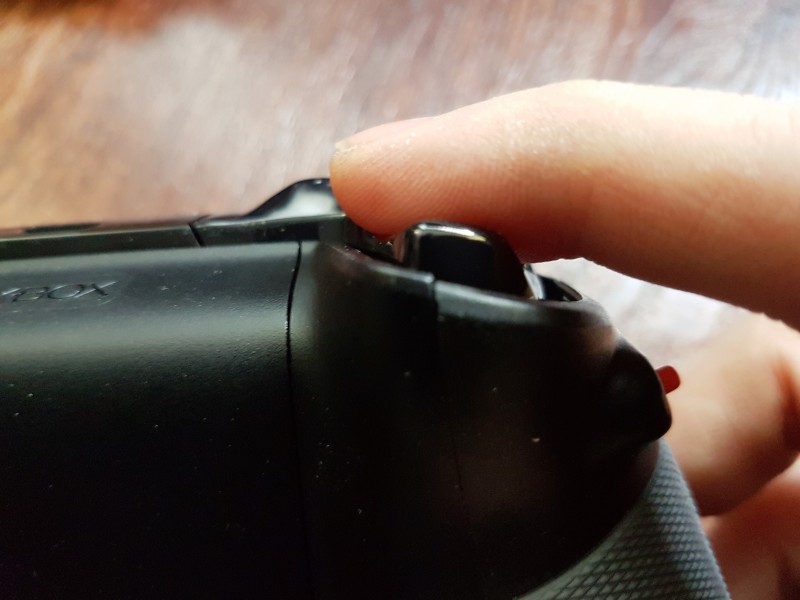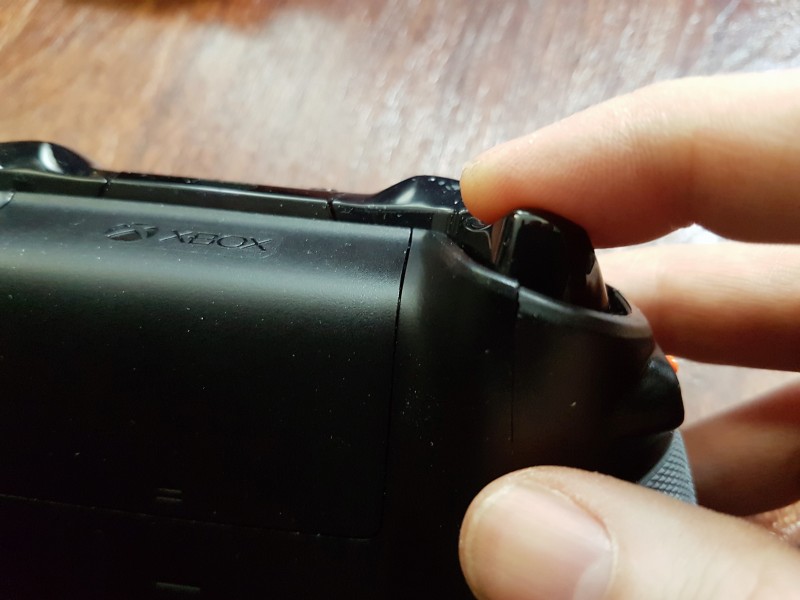 The locks allow for two different settings based on your preference. The first setting is very subtle whereas the second setting locks the trigger about half way. While not everyone will notice the benefit of having a slightly different quicker response time with their trigger presses, it's there. Another thing worth noting is that it takes some getting used to is the slight protrusion of the switch locks on the side of the controller.

These orange tabs are used to determine the lock position (yes, you can disable it completely as well if you simply want to use them for the grips) and they stick out slightly, potentially running against your middle finger that grips the controller beside the triggers, like it did mine. It's not uncomfortable, it's just different to feel the slight bump resting against your finger when you've spent thousands of hours with the default controller, bump free.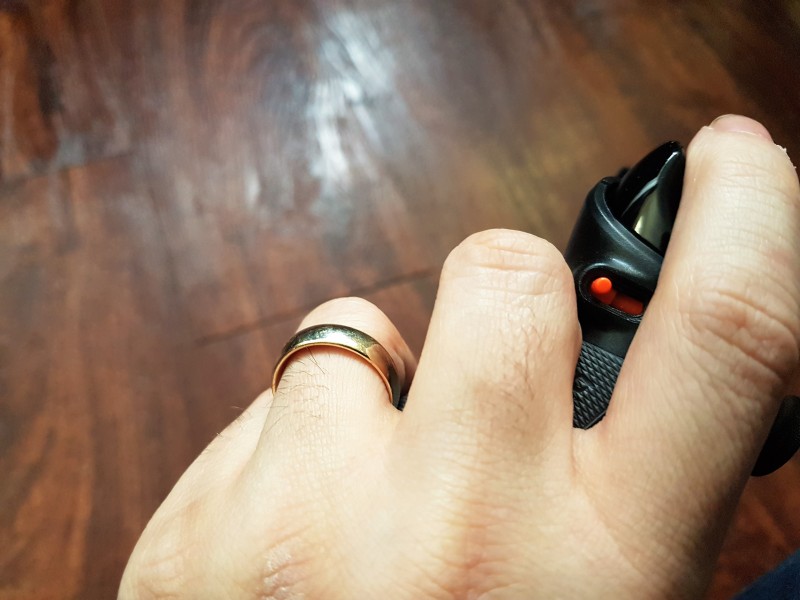 In regards to the Lynx cable, sure there's probably not much to say about a cable, but it's definitely a premium cable that I now use exclusively to charge my controller for a few reasons. If you have an Elite controller you're aware that it also comes with a braided and fancy cable, but I honestly believe Bionik has one-upped them with their offering. The main difference is that the Lynx cable is a flat tangle resistant cable, meaning when you throw it in whatever storage area until it's needed next, it won't become tangled nearly as easily as rounded cables.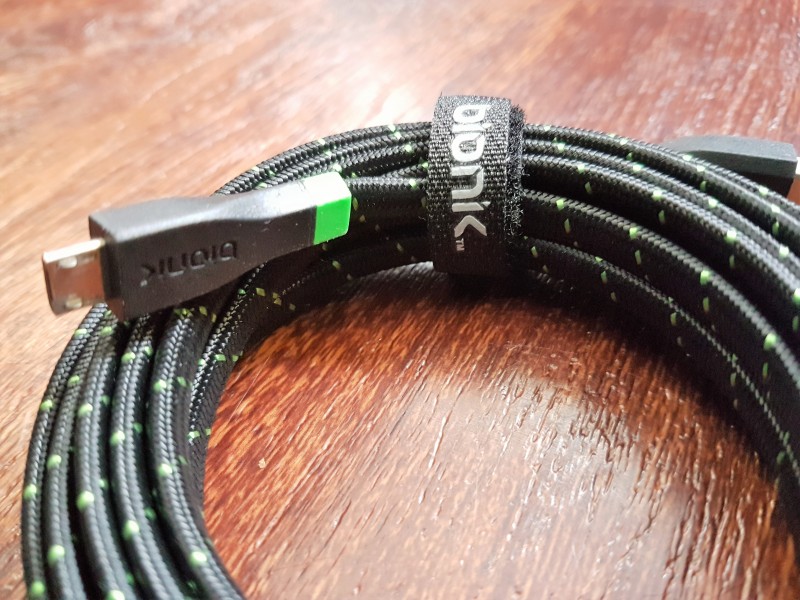 The other reason this cable is perfect for me is that it's actually 10 feet long, an extra foot or so longer than the default Play and Charge cable. With my living room setup, I always have to sit up when the controller is charging while playing; with the Lynx cable I can fully lunge on the couch, with room to spare (comfort sitting for the win). Sure, some people won't need the length that is offered, but for those that do, it makes a big difference.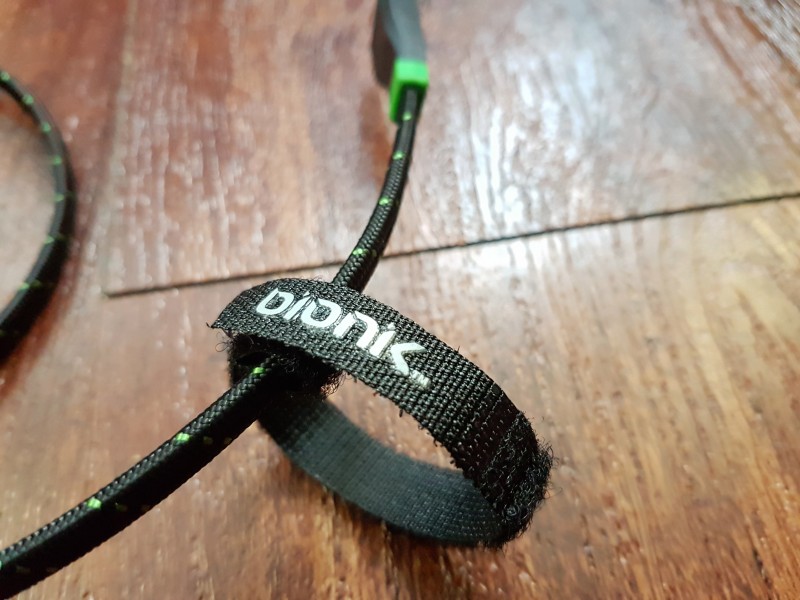 Where cables usually fail is where they attach to the head, or the plug, as normally that's where you pull it out of the charging port. After a handful of weeks with the Lynx, there's no sign of wear or tear with the cable, even when purposely yanking at it to test out the durability. The only thing of note is that at the bottom of the controller, the Lynx cable doesn't sit flush with the controller. There's no effect on its charging abilities, and it was something I was specifically looking for, and you may notice as well.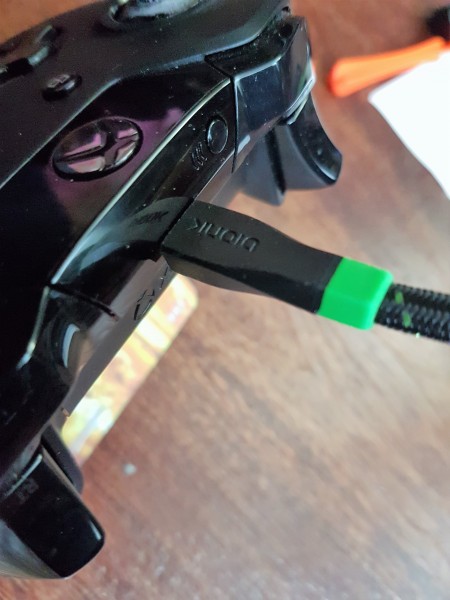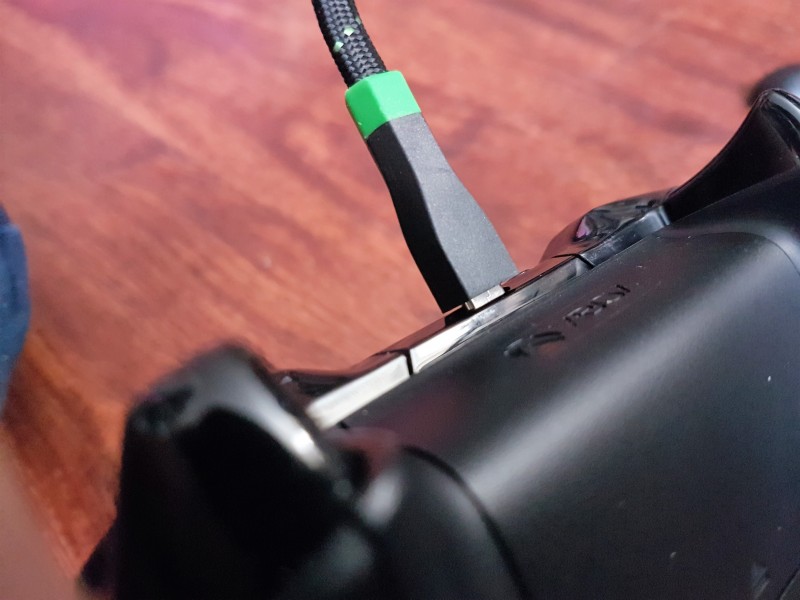 I took the Quickshot grips off my controller and went back to the default ones to see how it felt, I was surprised. While obviously I lost the trigger locks, it felt very odd going back to the non-textured grip, so I quickly reinstalled the Quickshot, which is now my default set-up for the controller. These grips won't transform your controller into a fully-fledged Elite controller, but that's not their purpose, what it will do however is give you a small taste of a better feeling controller, something that the Elite has perfected.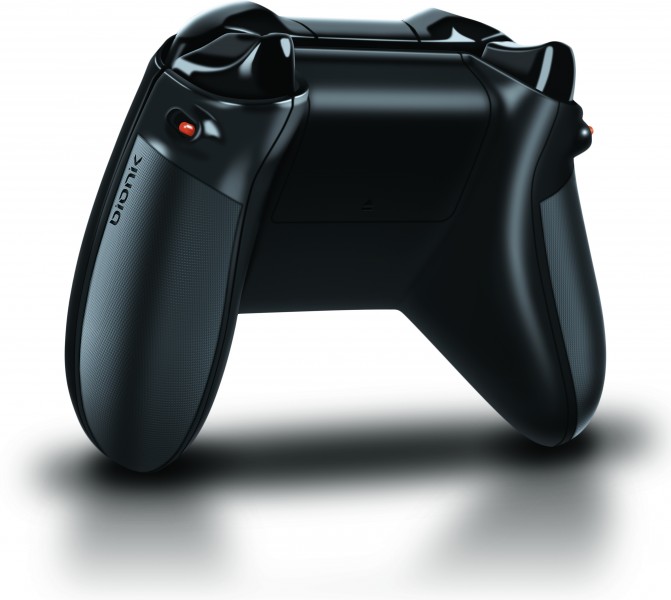 The grips are easy to install once you get over the nervousness of prying apart your controller. I'm just wondering how many times you can install, remove, and install again before some of the clips decide to snap, something I'm sure has been tested intensively. The trigger locks work as advertised and obviously your mileage may vary, depending on what types of games you play, you just need to get used to the small protrusion where the lock can be set that rests on your finger.

The only thing I worry about is losing the installation tool, as when I switch to a new controller I'll most likely transfer over the Quickshot simply for its grip that feels great on the palms. As for the Lynx cable, the thick braided material ensure it won't become damaged when you throw it aside after your controller is charged, and the more than generous length should accommodate almost any living room setup.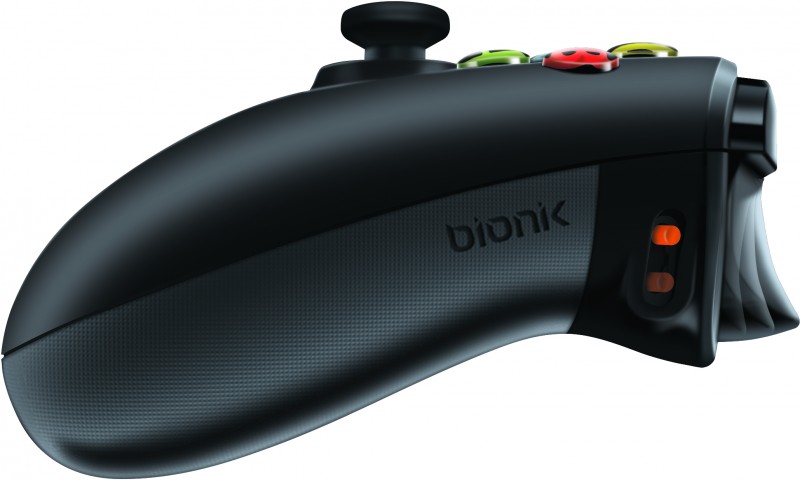 These are just Bionik's first offering for Xbox One gamers, and given when I've got to use so far, I'm excited to see what their next accessory offering is for Microsoft's console. The best part about their offerings is that the prices are fair, $19.99 for the Quickshot and $14.99 for the Lynx, and they do not feel cheap in your hands. Check out Bionik's Quickshot if you're looking for a 'better-than-default' grip or want to see if trigger locks will help you improve your competitive gaming, and as for the Lynx cable, I'd recommend it too.