Sound Blaster X Katana Gaming Soundbar Review
by Kirby Yablonski






Features:

- 2.1 Sound System
- Sound Bar Dimensions: 6 cm (h) x 60 cm (w) x 7.9 cm (d)
- Subwoofer Dimensions: 33.3 cm (h) x 13 cm (w) x 29.9 cm (d)
- Soundbar Weight: 1.5 kg
- Subwoofer Weight: 4 kg
- Tri-Amplified Design
- Bluetooth 4.2 compatible
- Optical-in
- USB Audio
- USB FlashDrive
- Mic-in
- Headset-Out

Sound plays an important part in gaming today. Current consoles are capable of a lot of different sound codecs, from standard stereo, Dolby Digital, DTS, and even Dolby Atmos, the latter is only 'top-tier' if you have speakers in your ceiling or are using a compatible headset for the sound codec. With that being said, I've reviewed a few Xbox headsets over the past year or so, but I have yet to do a review like this one you're about to read. Let me explain.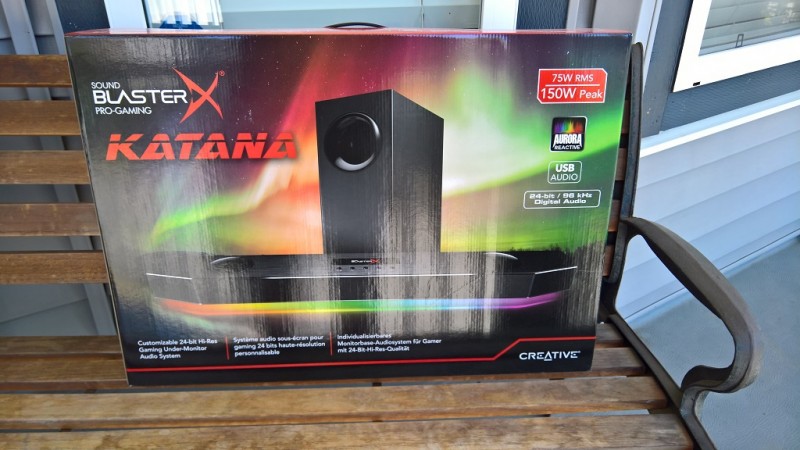 Xbox gamers, or any console gamer for a matter of fact, don't always game in the 'perfect' environment. You'll find various room setups that gamers pursue their hobby in, be it in a home theater or media room, a family room, a home office, a living room, and even a den or dorm room, just to name a few. Many rooms can be small and are not able to accommodate your typical stereo or a dream surround sound set-up. Sure, gaming headsets are great, but what if you don't want to game with a headset on all the time and you don't want to just use your TV's internal speakers. That is where Creative, a company that has been making PC peripherals since 1981, comes in.

Creative owns the brand Sound Blaster, which is synonymous with products for digital entertainment including, but not limited to, speakers, webcams, headphones, gaming headsets, MP3 players and other things. They have been in the business for a while, and have quite a well-established name and reputation. One of the products they have released this year is the Sound Blaster X Katana. It's a soundbar and subwoofer combo that is designed for PC gaming. The soundbar fits under one's monitor and the subwoofer goes on the floor. At E3 2017 this past June, I was walking the show floor and saw Creative's booth with the Katana in action, and while standing there it hit me, this soundbar/subwoofer combination would be great those who use their Xbox One in a small room like those mentioned above. With that in mind, we were sent a unit for review, and for the past few weeks I have been putting it through its paces using my Xbox One S in my home office.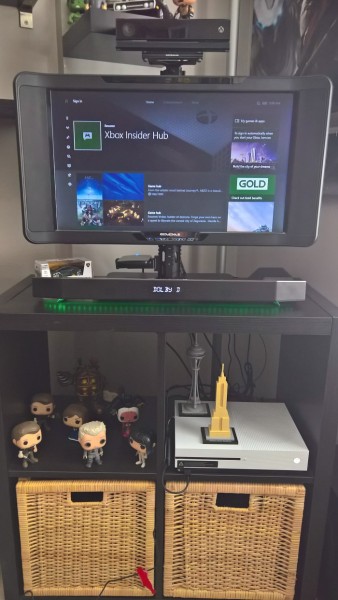 When the Katana arrived, I was surprised how compact the box was, but yet how heavy it was too. I opened it up and found all the contents that I needed inside. This included the soundbar, the subwoofer, power cable, a USB cable, I/R remote as well as 2 wall mount brackets should you have the placement to put it on a wall. Set up is very easy too. I ran an optic cable from the back of the Xbox One S to the soundbar, and the included cable for the soundbar to run to the subwoofer, and I was already to go.

I do recommend that you update the Katana's firmware. It's as simple as downloading the computer program to your PC (or Mac), and then simply plug the soundbar into your PC via the USB cable and follow the on-screen instructions, as the program and soundbar will do the rest. This program will also let you fine tune such things as EQ settings as well as the LED lights on the bottom of the soundbar with various colours and patterns. I played with the light settings to match my mood for each sound setting, but I did not touch any EQ settings as I am not an expert in this area, and what is already included sounds great. Just knowing that you can play with the EQ settings however is a neat thing given as there will be those out there that most likely will want to do so.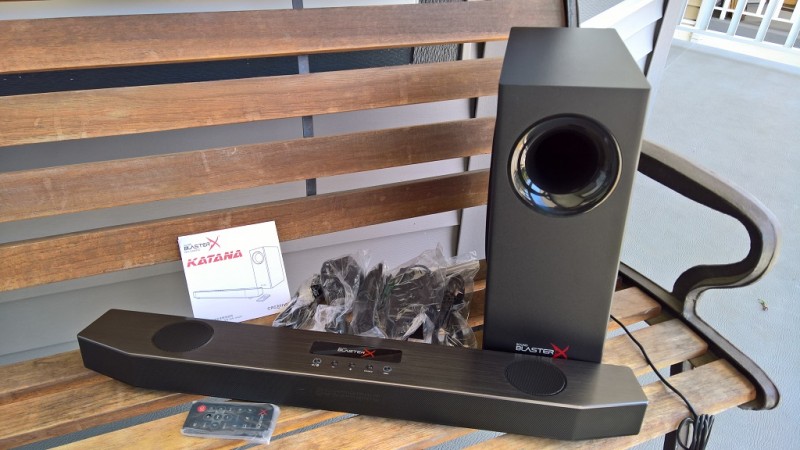 The soundbar is made of a high-quality black/grey toned plastic, with a hard grill on front. There is a digital readout on the front (centered) too that will display basic information you need, such as which input you using and/or what light pattern you are using if it is turned on. There are two front firing tweeters with two upward firing mid-range drivers on the top. The soundbar sits as a bit of an angle too, as the front speakers fire slightly up from the surface you have the soundbar on. In terms of inputs, you have the choice of Bluetooth, Optical Cable, 3.5mm (Aux-In), USB FlashDrive, USB Audio and even a mic-in port. Every input is on the back of the soundbar and stays out of sight should you run your cables right. The output to the subwoofer is also on the back of the soundbar. The subwoofer contains the power plug to power the soundbar/subwoofer combo. It is black in colour and has a port on the front and a 6.5-inch subwoofer sitting on the left side covered in speaker fabric.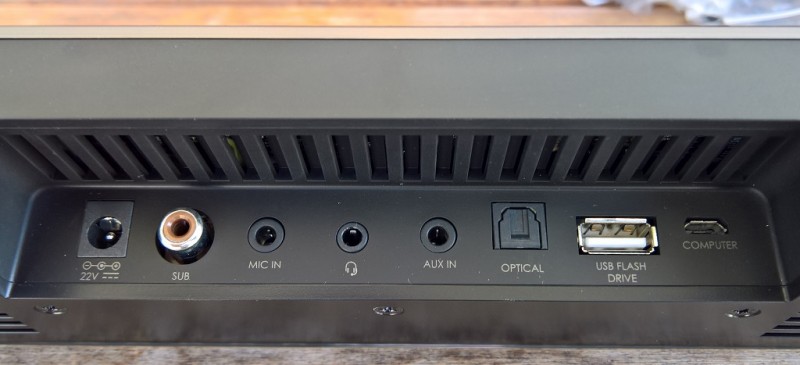 Included with the Katana is a small, but quite useful, I/R remote. This little remote turns the Katana on and off as well as letting you call up the display to see what input you are on, change the LED lighting (up to 5 different programmed choices), change your input, as well as control the master volume and the bass. It was great to be able to control most of what I needed through this little remote and I found it fairly useful for those times when I was gaming, watching a movie or TV series, or just listening to music.

In terms of the RGB lighting, the pictures on the website are a bit misleading, as you don't get that razor sharp light effect on the surface where the soundbar is, as you'll see the individual LED lights reflection that can change colour, so they are more dots and a slight line rather then a razor-sharp line. That being said, it was something that was kind of neat at times, and a visual indicator to what mode I was listening too. Being able to change the color and light pattern was a bonus too. Given that I was using the Xbox One for everything, I changed the 'Gaming' mode light to a pulsating green, then I changed it a wave green, then I finally chose a solid green. Regardless, there are quite a few options in this area.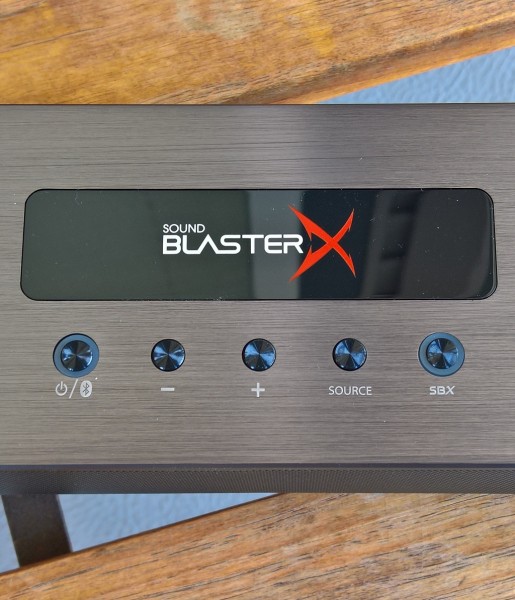 So, how does the Katana sound you ask. I would have to say it sounds damn good, and I do mean damn good. I wasn't expecting to have such a well-rounded audio experience in my home office as I did. There are 5 different sound modes to choose from, including Neutral (flat EQ), Gaming, Concert, Cinematic and Night Mode. Given that my goal was to really put this unit through its paces gaming on the Xbox One, I played a variety of games including Victor Vran, Forza Horizon 3, DiRT 4, Call of Duty: Modern Warfare Remastered and ABZU. Each game offered up their own experience, both sound and play wise, and the Katana brought each game to life in its own way.

What really impressed me with the Katana in 'Gaming' mode was just how full and how well balanced everything sounded. From the boom of the explosions and distinct sound of the weapons in COD: Modern Warfare Remastered, the sound of dirt, mud, snow or gravel being kicked up by my rally car in DiRT 4, the sound of the various Australian environments, car engines of different origins, and music offered up in Forza Horizon 3 to the narrative driven, voice acted story of Victor Vran or the incredible soothing music and underwater sounds found in ABZU. The mids and highs that emanated from the sound bar were clear, and not driven to the point where they were distorted, and the subwoofer managed to handle the bass without missing a beat, or boom. The amazing thing about the Katana, when playing all these different games, is that nothing, and I do mean nothing, sounded muddled, or out of place, and each sound seemed to have its own soundstage without another one trying to play over it. It made gaming on my Xbox One S in my home office so enjoyable.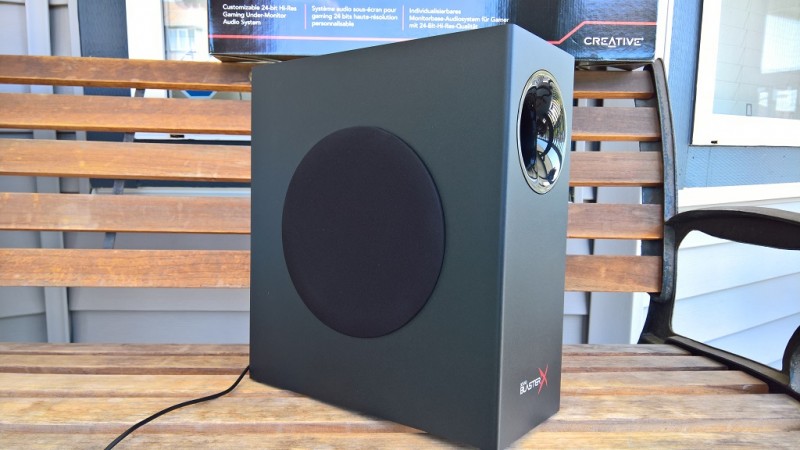 When I took a break from gaming I managed to watch a movie on Blu-ray and TV series or two on Netflix, so I put the Katana into 'Cinematic' mode. In terms of Netflix, I finally finished watching Season 4 of Orange is the New Black, and I was impressed with how well the dialogue came through in center stage, while all the other sounds, from music to the occasional sound effects managed to fill sound the room. Next up, I started watching Iron Fist, as I had begun to watch it a few months ago, but it didn't seem to interest me, but I want to finish it so I can watch other things Marvel related. Again, dialogue was crystal clear and not out of place of all the other sounds including the fight scenes and music that makes up the series. I watched some of these Netflix offerings in 'Night' mode a few times as well, and I found that it took the bass heavy emphasis away and allowed things to continue to sound balanced to the point where I didn't have to turn up the volume to hear anything I needed to. Finally, I put in Rogue One on Blu-ray one day, and I have to say that it sounded great. From the sounds of the Star Wars centric symphonic music to the sounds of laser blasters, explosions, and even the creatures found throughout the prequel's universe, the Katana handled it with ease and made it enjoyable to watch a movie like this in my home office setting.

During my review time, had the chance to listen to music via Groove, the Xbox One's music service. I put the Katana in 'Concert' mode and man was I impressed again. I listened to a wide range of music, from Deadmou5, ZZ Top, Imagine Dragons, Video Games Live concerts to Dire Straits, David Bowie, Billy Idol and even Justin Timberlake. What I found during all my time listening was how well the Katana handled the various music genres. Bass was solid and noticeable, even boomy when needed, all while all the other sounds of the mids and highs came through the soundbar with no issues at hand. It filled the room with ease and was enjoyable to listen to any type of music. My wife even commented how she was outside and could hear the music coming out of the open window of my office on the third floor of our house with ease, and even was able to appreciate some of the beats.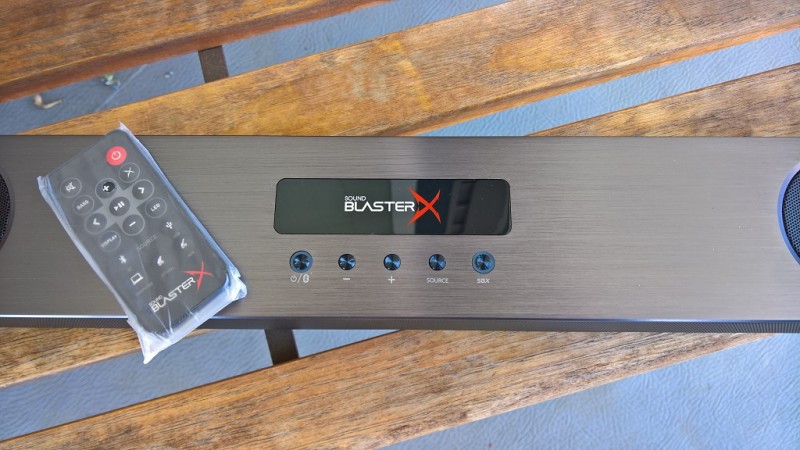 One thing that I must mention is that the Katana's information sheet indicates that it does 5.1 Dolby playback when getting the signal via optical cable. Now, you only have two tweeters, two mid-range drivers, and the subwoofer, that is it. There are no rear speakers and no dedicated center channel. So, to have the Katana do 5.1 sound is a bit of a stretch; however, what I can say is that the sound does fill the room, and you do feel kind of in the middle of it at times, but any simulation of a full 5.1 speaker set-up is a bit of a stretech, and you won't get a 5.1 surround sound feeling, but again, you can feel the sound fill the room.

After spending a few weeks with the Sound Blaster X Katana, a unit that has been somewhat focused as a PC gaming speaker set-up, I have to say that it is very well suited to the Xbox One, from gaming, movies, Netflix series and music. I really enjoyed gaming with the Katana, as it brought games to life. Heck, I even found myself watching more Netflix in my home office than I have ever before, as I enjoyed the sound that much. There is no doubt that the Katana is a perfect companion for those who game on the Xbox One, and who don't have the space, or money, for an audio experience that is more than just TV speakers. Its' well balanced audio is the highlight of the soundbar/subwoofer combination along with its' ability to get loud, followed by some fairly good looks and a simple, but useful, remote. I can't help but not only recommend the Sound Blaster X Katana, but if you game in any kind of room/environment that I mentioned in this review, do yourself a favour, just pick this Sound Blaster product as your gaming experience will be that much better.


OVERALL SCORE: 9 / 10