Mantis Burn Racing: Battle Cars DLC
by Adam Dileva








We enjoyed the base Mantis Burn Racing game (review HERE), as it scored a respectable 80%, with our biggest complaint being its slow and frequent loading times. VooFoo Studios returns with a bite sized DLC pack, Battle Cars, weighing in at a meager $2.50 (CAD) purchase price to entice you back into the top down racing world. While this DLC doesn't remedy the long load times, this Battle Cars DLC adds vehicular combat on top of the core racing to the game, alongside with new cars and modes. Now, it's not just about making it to the finish line, but surviving to even make it across to the end.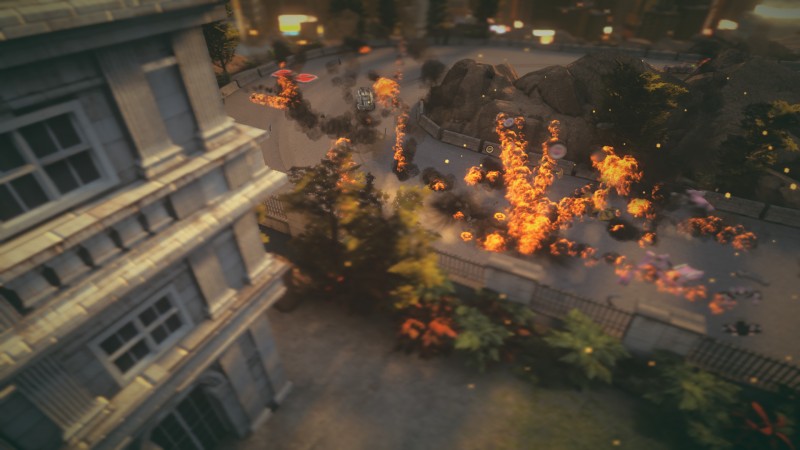 The main feature about Battle Cars is that there are 3 new vehicles that you're forced to used, and just like the base game, there's light, medium and heavy automobiles that are outfitted with machines guns in the front, and mines to drop in the back. Also included is a new 'Battle' career that spans 26 events, much like the base game as well. You'll earn XP and upgrades ihe same way as the base game, so there's some depth if you want to grind races over again for better earnings.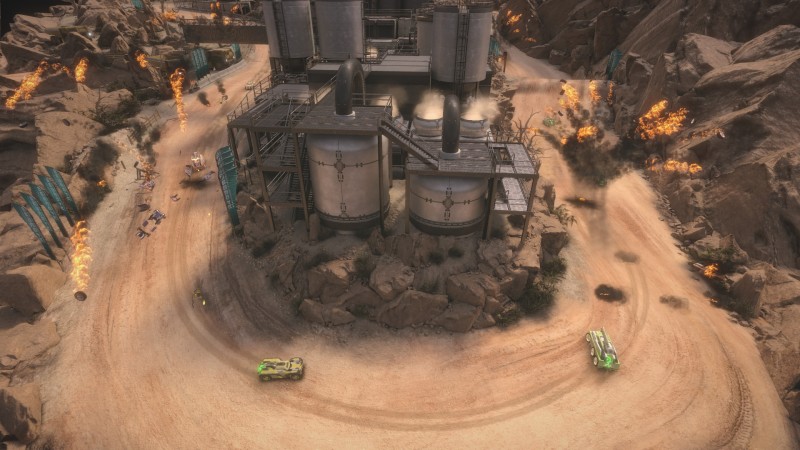 This Battle Cars DLC is very simplistic, as it honestly just adds machine guns you can fire forward and mines you can drop behind you. The heavy vehicles can take more punishment but they are slower than the lighter, speedier cars, so there's a tradeoff, though the majority of the Battle career will lock you into a specific type of vehicle for each event. Because of this, make sure you don't make the same mistake I did and fully upgrade only 1 of 3 cars, as you'll need to use each type frequently across many events. There are a few events open to all classes, so those become a preference based on your playstyle.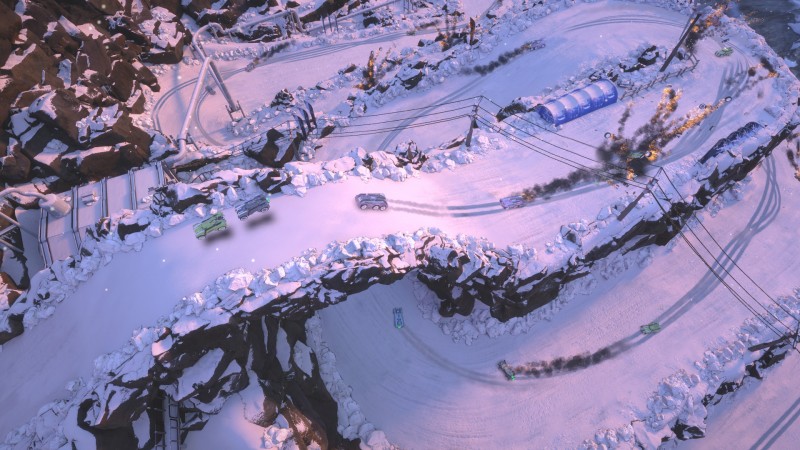 Instead of gaining your power-ups Mario Kart style by driving over blocks or collecting them, you get both weapons after a short amount of time from the start of the race, usually one lap in. First, the forward facing machine guns will unlock shortly after the race begins, and within 30 seconds from this poin, you will know if you're going to win or lose the race from that moment on. All hell breaks loose once weapons are enabled, and because of the lack of rubber banding, or any real way to catch the leader of a race, you need to make sure you get out ahead of the pack as easily as possible, or else you're going to have no chance catching up.

Your gun fires incredibly fast and, even against the heavy vehicles, it can take down most vehicles quite quickly. This is a bonus when you're behind a pack, trying to catch up, but if you're in the lead, expect to get destroyed as soon as you start to hear that gun shooting behind you. Sure, you have mines that you can drop, and they will work some of the time, but if it's not in the direct path of the care behind you then it won't. You're only allowed to drop 3 mines at a time, each of which will slowly regenerate after each lap.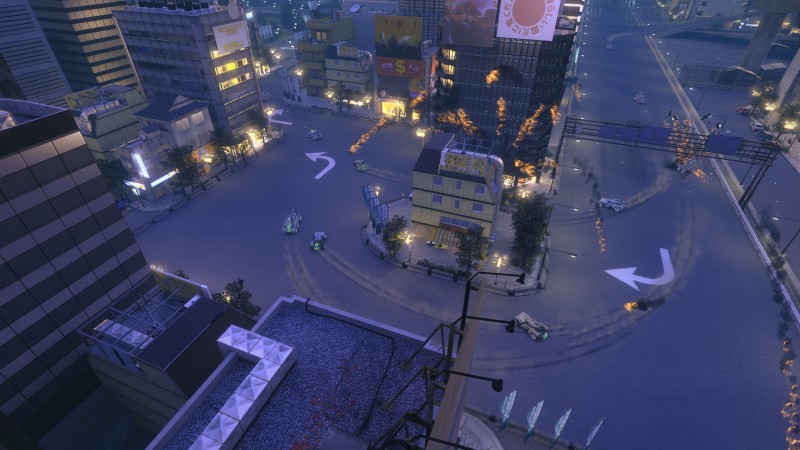 While the vehicular combat is an interesting change, there's also new event types you'll get to play in the Battle career. You'll earn XP the more enemies you destroy and the better you place, and the multi-event races make a return as well. Racing alone isn't going to win you these events, and with a slew of new modes like Accumulator Rumble, Survival, and King of the Track, there's some new focus for you to enjoy with Battle Cars.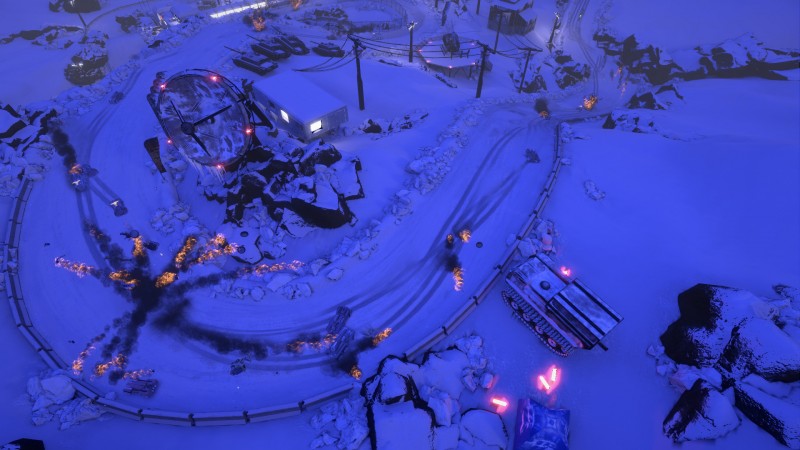 I do wish there was some sort of other super weapon to be picked up, something that would help you gain some ground on the race leader, and while I get that it would put a Mario Kart like spin on it, it's frustrating to be blown up, sometimes multiple times in a row, knowing you have zero chance of winning an event afterwards. While there is an option for split screen fun, there's also online battle that can be utilized (cross play with PC too!), though sitting in a lobby for quite some time, I was unable to find a single match unfortunately. There are even a handful of new achievements to be had for those wanting to work towards some more Gamerscore as well.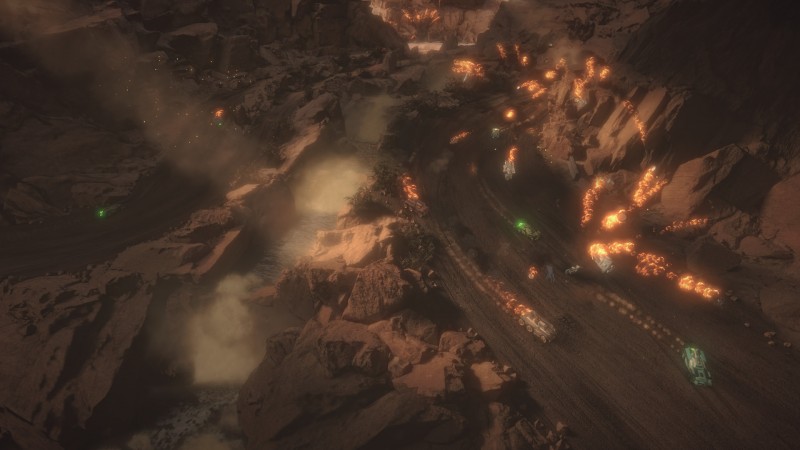 For $2.50, it's hard to fault the Battle Cars DLC too much. It does exactly what it says it wants to do, by adding weapons to the already enjoyable gameplay, but that's also all it does at the same time. The weapons are VERY basic and essentially just means you'll be holding 'X' to shoot whenever someone gets in front of you. It's a shame that event placings are decided so quickly on, as there's no real way to catch up if you get destroyed early in the race. Luckily though the Battle career is just long enough to get a few more hours playtime out of you, and for a cheap price.


Overall: 7/10