J!NX - Halo Clothes, and more, for Halo (and Xbox) Fans
by Kirby Yablonski








Given that we are an Xbox centric website, we are always looking for any products that represent any of the numerous Xbox brands. Of course, what brand is not synonymous with Xbox than that of Halo. Yep, I remember playing the original Halo on my original Xbox, with the 'Duke' controller and all. It was that game, and that console, that really got me back into video gaming. Regardless, being that the Halo brand is fairly iconic, fans always look for ways to show off their "Halo Pride", and we think that one company who really steps up for Halo related gear is J!NX. Yes, there is a company outside of Microsoft that takes the Halo name seriously, and puts out a lot, and we do mean a lot, of Halo themed products.

This year marks the 10-year anniversary of Halo 3. On September 25, 2007, Microsoft released the third entry into the Halo universe on the Xbox 360. Since that time, it's been released on the Xbox One via the "Master Chief Collection", as well as the original Xbox 360 version becoming backwards compatible on the Xbox One. Halo fans sure have gotten some use out of its gameplay, and leave it to J!NX to step up and release a few new products to celebrate the 10-year anniversary.

First off there is the new Halo UNSC Bomber Jacket. It's a military style jacket, so it only makes sense for the color to be 'Military Green'. Look closely and you'll see the buttons are emblazoned with UNSC logos, and of course a stitched UNSC logo on the left arm as well as Spirit of Fire patch on right sleeve too. The zipper is the Halo logo as well. There are a few zippered pockets for you to store items without fear of anything falling out. It's a Nylon based jacket, so it should be good for mild to somewhat cold & rainy weather. You can see the Bomber Jacket in the image below: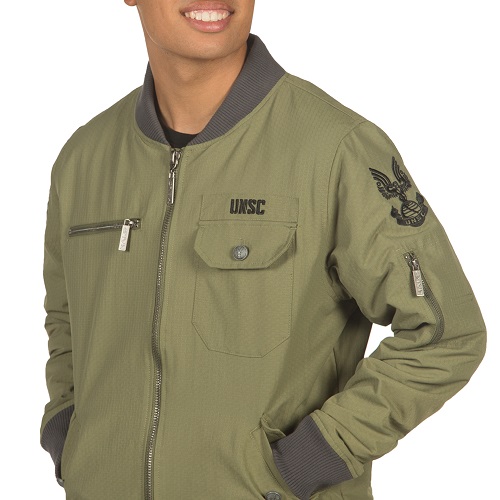 Next up is the new Halo UNSC Army Jacket. Again, with the military theme, but the green is much darker than the Bomber Jacket above. It has a removable hood for those who wish to keep their 'noggin' warm, and given that you can take it off, it will be good for those who don't like a hood at all. It has a UNSC Logo on the front and a Spartan-II logo on the left sleeve. There are button/snap pockets on the front (x2) and the right shoulder, with each snap emblazoned with UNSC logos. It made of warm and comfy cotton too, so you can not only look good in your Halo wear, but feel content with it on too. This jacket is my favorite looking one as it looks 'rough and tumble', one that could be definitely be worn with cargo pants, cargo shorts, or jeans, all which I prefer. Check out the image below of the Army Jacket: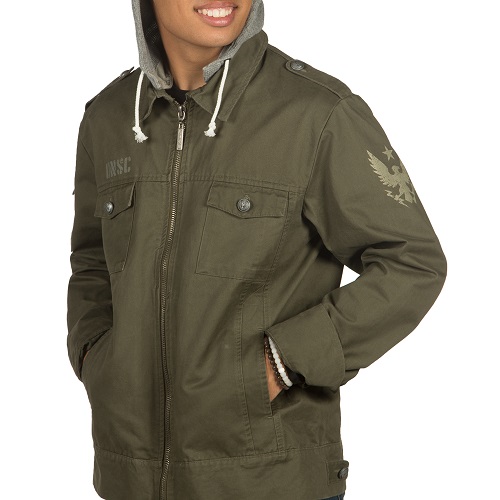 Finally, J!NX has created a Halo 3 10th Anniversary T-Shirt. It has the iconic Halo 3 logo from the box that so many people have come to know. It's Master Chief with his trusty battle rifle in front of a blazing sun lighting up the planet environment and ancient artifacts of some sort behind him. The logo on the shirt has a bit of a faded look, which we believe it to be to show the fact that Halo 3 is 10 years old...kind of a retro look so to speak. You can see an image of the shirt below: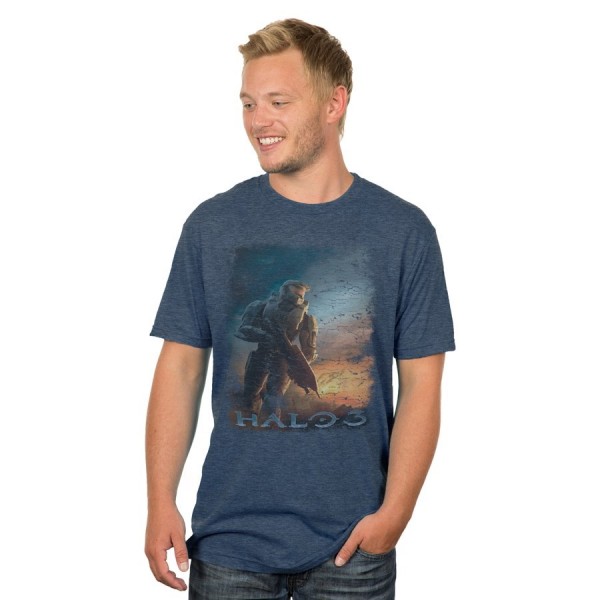 For those that may not be interested in only celebrating the 10-year anniversary of Halo 3, there are a TON of other things for you to look at, and buy. From tee-shirts, hoodies, jerseys, hats, vinyl figurines, weapon replicas, key chains, bracelets, wallets, toques (beanies), plushies, pins, key chains, belts, stickers, posters, models, DVDs, Blu-rays and even more. These products can represent any of the Halo franchises too, from Halo, Halo Wars, Halo ODST, Halo Red vs. Blue to the Halo Championship Series (eSports). We were lucky enough to receive a few items including two of the Halo 6-inch Vinyl Figurines (Master Chief and Locke variants) as well as a couple of shirts, and my favorite, the Halo Elites Team Pullover Hoodie. As for the figurines, you'd be surprised with the detail found on them, and the variants have a bit more to them, with Master Chief having a cracked visor and Locke all geared up into his 'night ops' suit. They have their own unique look and design, and they look good. They are suitable for display anywhere you might want too to show them off and should be a conversation piece for fans who spot them in your room. As for the clothes, I want to focus on the hoody. I love the design, and it's such a great play on sports logos, yet it uses Halo assets. You can't go wrong with a hoodie, in my view, and this one looks great. You can check it out in the image below: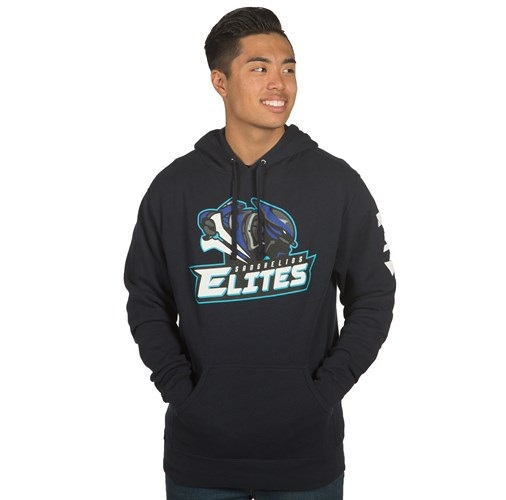 Overall, we think that if you're an Xbox fan, and/or a fan of Halo, you can't go wrong by heading over to www.jinx.com and checking out what all you can find, and possibly pick up, in Halo related clothes and other products. I do have one warning for you, the Halo clothes from J!NX do fit quite small. I am a bigger guy, and can fit into 2XL clothes on most occasions (yep, I am a plus-size guy), but I have to say that J!NX's 2XL are smaller than expected, and the line overall is quite 'slim', so take that into consideration when buying. Just a heads up. With that being said, what do you Halo fans think of the products and what interests you the most?