Xbox One X – An Average Gamer's Review
by Kirby Yablonski








If you are a gamer, or a tech person in general, then you might know that Microsoft has recently released a mid-generation update to the Xbox One, and that new console is simply called the Xbox One X. Just over a week ago I posted pictures of the unit as I unboxed it. But now that I have been playing it prior to, and during, the launch, it's time for me, who I believe can be categorized as the same level as average gamers out there, as I am far from 'pro', to let you know what I truly think of the new console.

Now this review, if you want to call it that, will try to stay away from being over technical, and talk about the experience from a user perspective. I will even try to compare it to the previous Xbox One's out there, given that that the Xbox One X is now the premium console in the Xbox One family, and one hell of a powerful console overall. With that being said, let's get the tech-specs mumbo-jumbo out of way now. Below you'll find a nice, and neat, summary of what makes up Microsoft's newest beast:

• GPU - Custom GPU @ 1.172 GHz, 40 CUs, Polaris features, 6.0 TFLOPS
• Memory - 12 GB GDDR5 @ 326 GB/s
• Flash - 8GB
• Internal storage - 1TB HDD
• Optical disc drive - 4K UHD Blu-ray
• Power Supply - 245W, internal
• HDMI resolution and framerate - 2160p @ 60Hz | AMD FreeSync | HDMI Variable Refresh Rate (when ratified)
• HDR10 support
• HDCP 2.2
• Video CODECs - HEVC/H.265, VP9, AVC/H.264, MPEG-2, MPEG-4 Part 2, VC1/WMV9
• HDMI audio, encoded - Dolby Digital 5.1, DTS 5.1, PCM 2.0, 5.1, & 7.1; Dolby TrueHD w/Atmos (from games)
• HDMI audio, passthru - Dolby TrueHD (opt. Atmos), DD+ (opt. Atmos), DTS-HR/MA (opt. DTS:X)
• S/PDIF audio, encoded - Dolby Digital 5.1, DTS 5.1, PCM 2.0
• CODECs decoded - AAC, MP3, MPEG1, WMV
• Connectivity - 3 USB 3.0 | 2 HDMI (1 HDMI 2.0b out, 1 HDMI 1.4b in) | S/PDIF | IR receiver/IR Blaster port | IR Blaster|
Ethernet (IEEE 802.3 10/100/1000) | Kinect (via external USB adapter)
• Wireless - IEEE 802.11ac dual band (5GHz & 2.4GHz), 2x2 wireless Wi-Fi with Wi-Fi Direct for home networks
• Accessories radio - Dedicated dual band Xbox Wireless radio
• Dimensions - 11.81 x 9.44 x 2.36 in (299.97 x 239.77 x 59.94 mm)
• Weight - 8.40 lbs (3.81 kg)

With all that technical jargon out of the way, what we really want to talk about is what the Xbox One X can do, what it offers in the mid-generation update, whether it's something that you may want to buy ASAP or wait for all the hubbub to die down and then buy one when you have the coin. Speaking of coin, the Xbox One X sells for $599 (CDN) and is definitely not cheap. Why so expensive you ask? Well, it has a ton of 'horsepower' compared to all existing consoles on the market, and there is some pretty advanced tech in it; from the Scorpio Engine (chip), the custom designed vapor cooling, 12GB of DDR5 RAM to the fact that it is the smallest console built by Microsoft to date. So, with all the technology and power inside, it's not unexpected that the console would be expensive. For comparison, you can buy an Xbox One S for around $349 (CDN) bunded with a game two as well. But we will talk more about that later.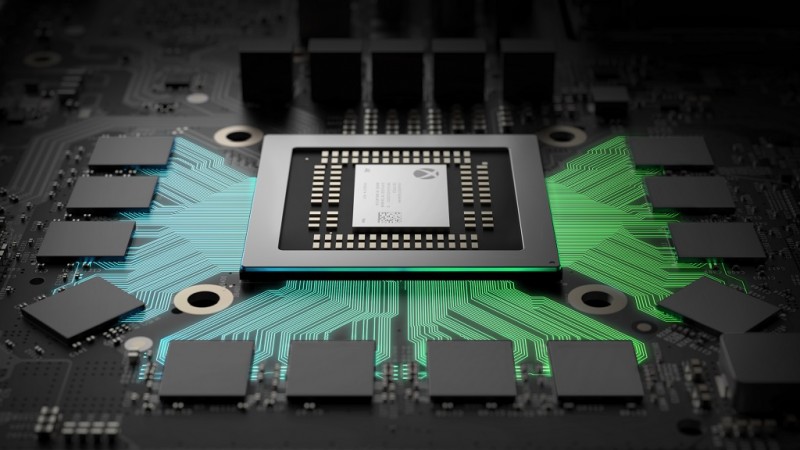 At this juncture in time, the Xbox One X is the closest that gamers can come to a PC like experience on a home console. The Scorpio Engine and the 12GB of DDR RAM really let developers, who can access up to 9GB of the RAM, unlock beauty in a game. But what is key with this newest entry into the Xbox One family is that all Xbox One games will play on all the consoles available (Xbox One, Xbox One S & Xbox One X), so although the extra power of the new Xbox One X can do some amazing things for a game, the developers do have to start with the lowest common denominator, which is a regular Xbox One. Games will not be made with the Xbox One X in mind only, as they must run on the other versions of the Xbox One platform. Now, it should be noted that Microsoft no longer makes the original (first generation) Xbox One, as only the Xbox One S and the just released Xbox One X are the two consoles from Microsoft.

Microsoft has been touting since the Xbox One X's first announcement, when it was called Project Scorpio (June 2016 at E3), that it would be the first console to offer true 4K HDR gaming. This is something that they continued to emphasize from the first announcement and up to the recent launch. And I have to say that I have played a few games in 4K and HDR on the Xbox One X during my time with it over the past week or so, and they look pretty darn good. I do have to offer up a disclaimer though, as during my time with the Xbox One X, not many games had had their 4K updates ready, and as of writing this, the Xbox One X Enhanced games filter in the "Games & Apps" app has not been working properly. How do I know you ask? Well, COD: WWII is an enhanced game, as is Forza Motorsport 7, and both of these games are supposed to have had 'X Enhancement' updates, but they are yet to show using the 'Xbox One X Enhanced' filter in the "Games & Apps" app. On the flipside, games like Quantum Break, Halo 5: Guardians and Gears of War 4, which again, are enhanced, are indeed showing up. So, with that being noted, my actual game time with enhanced titles was somewhat limited to what was updated.

I recently bought a new 4K HDR TV for my home office in preparation for the Xbox One X. I have to say that Microsoft has made sure you're ready to go with simple steps using the TV settings in the Xbox One X. It's as simple as heading to Settings -> Display & Sound -> Video Output -> Advanced Video Setting -> 4K TV Details. This will let you know everything your TV will, or will not, support. The Xbox One X will also auto-detect your TV, and discover if it is 4K, and ask if you want that setting for your display. One caveat, the Xbox One X menu is 1080p upscaled to 4K if you are using the 4K settings. Regardless, the Xbox One X is simple to connect (one HDMI cable included in the box) and is capable of true 4K resolution using both HDR and the Wide Color Gamut (more colors than regular HD output). Make sure your TV 's firmware is up to date, and that your settings in your TV are turned on (e.g. UHD, HDR, etc.).


For me, one of the big "wow" moments when I had everything set up was playing Gears of War 4 in 4K, HDR running at 30fps. Given my lack of PC gaming, as I have never really gamed on a gaming PC as I don't have one (don't hate me), seeing this game in such a high resolution, and with HDR on, was pretty darn amazing. Using the HDR on/off split screen feature of the game (screen is cut into two and one half is HDR on, the other half is HDR off) really shows how the HDR is implemented. As for the resolution, the best way to describe it is "detailed". I walked around one of the first levels in the game just checking out the scenery, such as the details in the textures, the water reflections, shadows with smooth edges, and more. It was all very clean and somewhat impressive.

Another game that made me realize what they are doing with 4K HDR is a game that was remastered, Rush: A Disney Pixar Adventure. Yes, it's an old Kinect game that was redone for the Xbox One X, but it really shows what they can do. Although the visuals are not over complicated, it was how clean and how smooth everything was, and the colors really 'popped' off the screen. I remember reviewing this game with my kids on the Xbox 360, and I don't remember the visuals looking the way they do now. It by no means challenges the processing in the Xbox One X, but man, talk about color and hi-resolution, it really it that evident.

Call of Duty WWII was released on November 3, during the time I had my Xbox One X. Upon my first time playing it, I was greeted with an HDR slider, for blacks and white colors (e.g. brightness for each). So, when I checked out some multiplayer I was amazed with the textures and lighting that I was impressed. I can't ever remember a COD game feeling so detailed, and the colors so saturated. Now, I know that there was no way to see if the 4K assets and HDR enhancements were downloaded, but I took the fact that the game asked me to adjust the HDR setting for black and white colours to mean the game was indeed doing so. The fact that it made such a profound difference to me, even in multiplayer, seeing the level of detail that I was seeing in this game, hit home how the Xbox One X was indeed doing its job.


And finally, there is Forza Motorsport 7. This game has been touted to be somewhat of a benchmark for what the Xbox One X can do, and I have to say that it does so much. I had been playing FM7 on my 1080p monitor and when I bought my 4K TV, it looked even better when I played on my Xbox One S, but then, the Xbox One X enhancement came out, and holy cow, talk about crisp and clean visuals when playing on the Xbox One X. So much of each tracks environment are more detailed, and none so more than the new Dubai. Look closely as you speed through the areas enclosed by desert rock, and you will see what I mean. As for the lighting and HDR effects, they are amazing too, as the sky looks so lifelike and the colors are so saturated (in a good way). The way the sun breaks though clouds and lights up the track, and your car too, is quite stunning. Drive in the 'cockpit' view and the clean lines of the interior of a Bugatti or Lamborghini are very noticeable and lifelike. This game truly does show what the Xbox One X is capable of.

I had the Xbox One X during my Extra Life fundraising weekend, and I took the 'X' out of my home office and into my home theater where three of us had individual gaming stations. I was gaming on a GAEMS M240 Gaming Monitor which is only 1080p. It was a good way to see what the Xbox One X could do on a 1080p screen utilizing its supersampling technique. For the uneducated, Supersampling takes the 4K assets and scales them to 1080p. The benefit of this, as described by Microsoft, is that the visuals will be cleaner, there will be less jaggy areas where there was before, and you'll get the benefits of longer draw distances, colors that are a bit brighter, and an overall better picture. Having played some of the games on the 'X' on my 4K TV, and then on the GAEMS 1080p gaming monitor, I can say that they did look good. I noticed a quite a bit of detail in Forza Motorsport 7 than when played on the 'S', and Gears of War 4 had a very, very sharp look to it, just not 4K sharp. You'll find that lighting effects carry over somewhat from the Xbox One X Enhanced games too, but again, it is just not as sharp as a 4K image. I was fairly impressed with how things did look during my 24 hours of gaming on the Xbox One X on a 1080p screen, and I would venture to say that the supersampling does seem to work.

Now, of course there were other games to try, but I wanted to limit what I spoke about only to keep this article somewhat readable in a fair amount of time. Microsoft claims that the Xbox One X will run backwards compatible games better than the regular Xbox One, but I won't lie, I didn't check any of these out given that I was running out of time.

In terms of the processing speed, the Xbox One X does load games faster, and I was able to compare some load times during the past weekend during Extra Life. My friend, who played with me, had his own Xbox One S hooked up, so when we played games of similar nature I watched his load screen versus mine. One such game was Destiny 2, and I was quite amazed how much more quickly the game loaded for me then for him. When we were in a 'fireteam' and loading up an area to play, the Xbox One X was clearly faster, as I would have the 'fly down to the planet' screen finished well before him. There were even times that my screen was done everything in terms of loading, and he was barely half way through his loading. It was shocking. I also noticed that Forza Motorsport 7 was loading close to half the time than that of the Xbox One S. This was based on my playthroughs in the past when I reviewed the game on the Xbox One S, as well as when I played it on the Xbox One X. Overall, my non-scientific analysis in this area is such that the Xbox One X is indeed quicker when loading games than past Xbox Ones.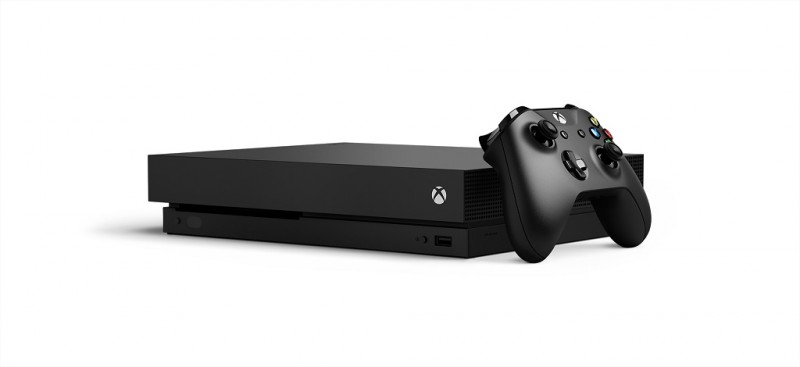 As with the Xbox One S, the 'X' can play 4K Blu-rays as well as stream 4K content from Netflix, Amazon and Hulu. In terms of the 4K Blu-rays, watching them with a TV that supports not only the resolution, but HDR as well, is wonderful. We were provided a copy of Planet Earth 2 in 4K HDR and it was amazing. The crispness of the image was beyond what I expected, as were the colors. HDR adds a whole new level of whites and blacks to what you are watching, and all the colors in between. I know that the Xbox One S can do this as well, but I didn't have my 4K TV for too long before the 'X' arrived. Watching such a color intensive 4K Blu-ray like Planet Earth 2 was a treat, and even one of my kids (who are aged 13 and 11 respectively) commented on how good the "show on TV" looked.

Streaming 4K content is easy to do. When I first went into Netflix it detected my 4K display and settings and asked me if I wanted to play 4K content, at a price of course (an extra 4 bucks/month). The image was sharp, while streaming, and it was a nice treat to have a bump in quality of the picture. My understanding is that streaming services don't always, if not at all, support HDR at this time, and when I pressed the information button on my TV remote, I did not notice any HDR tagging. Not being a streaming expert, I don't know if this is the app itself or an actual streaming services issue.

As with the Xbox One S, there are a wide selection of sound options, including uncompressed stereo as well as uncompressed 5.1 and 7.1 surround sound. Microsoft added support for Dolby Atmos earlier this year, and it is also available on the Xbox One X. In terms of headphone sound, you have the choice of stereo, Window Sonic (Virtual Surround) and Dolby Atmos for Headphones. In terms of the Xbox's ability to play Dolby Atmos (through a receiver or headphones), it requires you to purchase a 15-dollar app. This app comes with some trailers to let you listen to what Dolby Atmos sounds like. I don't have Dolby Atmos in my home theater, yet (don't tell my wife I said that), but I did try the headphone version of it. Although it is a 'virtual surround sound' experience, it kind of works. Sure, you don't have independent speakers, but I closed my eyes and you could actually hear some surround sound effects, and you felt like you were in the middle of the sound.

You probably realize that I have not spoken about the dashboard system within the Xbox One X. Well, that is because it is the same one as all other Xbox Ones. The dashboard allows for the same level of customizability that is found on the Xbox One and the Xbox One S. You'll notice it is quite snappy, as you navigate through the various layers of it, but that is also the way it behaved when updated not too long ago. For fans who may be getting their first Xbox console with the 'X', it will take time to learn, but it won't be hard to do so.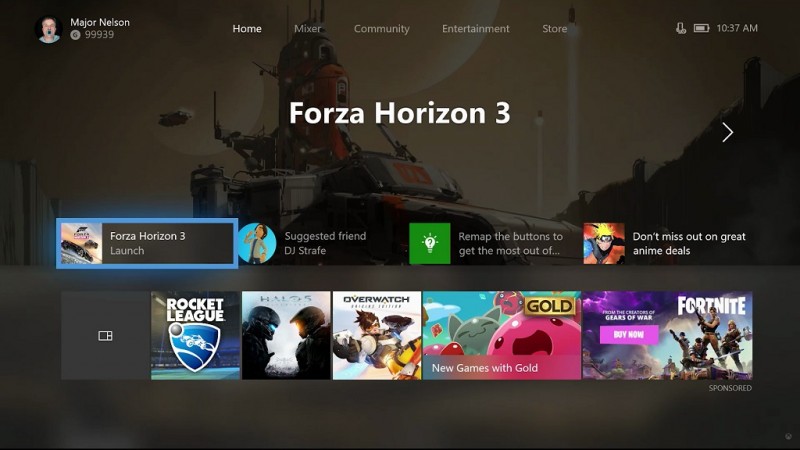 As we start to wrap up this review, the question remains: "Who is the Xbox One X really for?". That is an interesting question, given the price, the games, and what else is out there for one to choose from. So, here is my multi-part answer:

If you're a tech enthusiast, who must have the newest, most powerful, and most up to date tech, then the Xbox One X should be on your "must buy" list, especially if you're a video gamer. It's full of amazing technology and power that makes gaming a joy in 4K with HDR on, and can really show off any other tech (4K TV or projector, surround sound system, what PC-Like gaming on a console can be like, etc.) that you happen to have in your house.

If you're an individual who has just has a 4K TV, and who loves to video game, then the Xbox One X should be a 'must seriously consider' for you. You'll be able to play a lot of games in 4K resolution with HDR and you'll be able to wow your friends when they come over with some impressive gaming graphics. Not to mention the 4K Blu-rays and 4K streaming you can do to enjoy content outside of gaming. There is no doubt that many 3rd party games will look, and run better, on the Xbox One X, as it has the technology to do so, and Microsoft does have some first party titles that gamers can enjoy, and they can only be found on the Xbox (and PC) platform.

If you are a current Xbox One owner (Original or 'S') who plays games on any resolution of a screen, this is where the waters become a bit murky. Currently, the Xbox One S can do a lot of what the X does, especially non-gaming media wise. You can watch 4K Blu-rays and 4K streaming, and it also has support for HDR. And of course ALL Xbox One games work with it. What it doesn't have, that the 'X' has, is the power to play games in true 4K resolution and it does not have the internal hardware for quick loading and the enhanced graphics that the 'X' can do. So, if you want the best that the Xbox brand can provide, then you'll probably want to consider the 'X'; however, if you're happy with the current Xbox console you have, then you may want ask yourself, "Is it worth the upgrade right now?".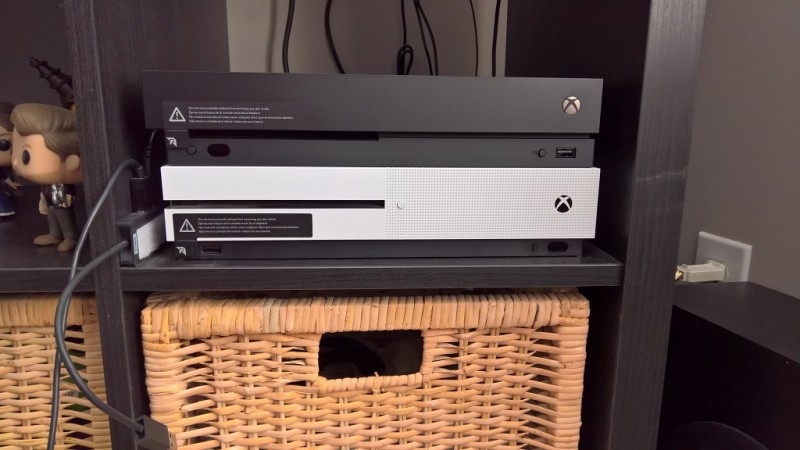 And finally, if you're a gamer who has been on the fence about buying an Xbox One, then the Xbox One X might interest you, if you can afford it. It's truly the most powerful console available at this time. It has a ton of processing power, content will look good on any display, and it really is a nice piece of hardware for gaming on. Where the issue for new buyers may be is in the price, as $599 (CDN) is a lot of coin when compared to being able to pick up an Xbox One S for around $349 (CDN), with a game or two, and you get to play all the games you can play on the 'X', just not with all the visual bells and whistles. And of course you can stream and play 4K media. If you thought the waters were somewhat murky for those that may own an Xbox One console already, they are even murkier for those getting into the world of Xbox gaming for the first time.

I thought I would kind of neat to pass on a conversation that my brother-in-law and I have been having a lot of over the past few weeks about the new Xbox One X. He states that he likes the 'choices' that Xbox has for gamers. His view is there are people like me, who love new tech and want the best gaming experience they can get, so he clearly believes that the 'X' is something that fits my 'profile'. For him however, he just wants to play games and have fun, so playing on the Xbox One (not the 'S') is more than doable for him, and he can still play online with me and his friends and he is enjoying it. He may jump up to the Xbox One X someday, but right now he is content with his current Xbox One.

Oh, and one final tidbit, you really have to consider the games, no matter what the platform is. If there are no games on the system for you to play, you may just pass the 'X' up. For Microsoft's newest console, third party games will look and play better on it (well, most of them), but there is always the issue, and debate, of first party games. This is where the world of gamers is very decisive, as some say that there are not enough must have first party titles to play. This point clearly lies on you as a gamer, and what games you want to play. If they are not going to be on the Xbox One platform, then you may want to hold off.

Microsoft has created a mid-generation update to the original Xbox One, and Xbox One 'S', that has a boatload of processing power and can play games in 4K. There is truly a lot of technology inside the casing of the new 'X', and it has benefits no matter what resolution screen you play on. The 'X' has been crafted to be a piece of tech that could, and should, interest many. Overall, I am fairly impressed with the new hardware, and I can honestly say that it is an exciting time to be an Xbox One gamer. Now excuse me, I need to go and run a few laps of Nürburgring in 4K/60fps with HDR enabled.

Overall Score: 9 / 10