A Razer Christmas In January Giveaway
by Adam Dileva







Christmas may be over, but we here at XboxAddict and our good friends at Razer have you covered, officially dubbing this month 'A Razer Christmas In January!' That's right, we're going a massive giveaway and we want you to enter and have the most chances possible to win for some awesome Razer gear for Xbox One (seriously, if you don't enter, we're just going to keep it…)!

So what makes this giveaway so awesome I hear you asking? Well for starters, Razer is going to give a winner a Razer Wolverine Tournament Edition controller for Xbox One!

What, that's not good enough for you? Ok fine, we're giving two away! But you want a headset? Then how about your chance to win the Razer Thresher for Xbox One? Awesome right!?

What? You want more? Alright then, someone is also going to win a Razer Thresher Ultimate!

BOOM! *mic drop*

.....
.....

Wait, we haven't told you about the way to enter have we? Oops. *picks mic back up*

So you don't have a long attention span and simply want to enter the contest? Then click HERE and get started with your daily entries!

We know you come to XBA for our reviews, especially our Razer coverage, but in case you missed it, here's the last few Razer products we covered:






Razer Wolverine Ultimate review HERE - "it's a fantastic feeling and responding controller"





Razer Thresher review HERE - "I truly have no issues recommending this headset for Xbox One owners, as it the audio that emanates from it is full, well balanced, and a treat for the ears to hear."






Razer Thresher Ultimate review HERE - "it feels that you're getting one of Razer's top of the line products"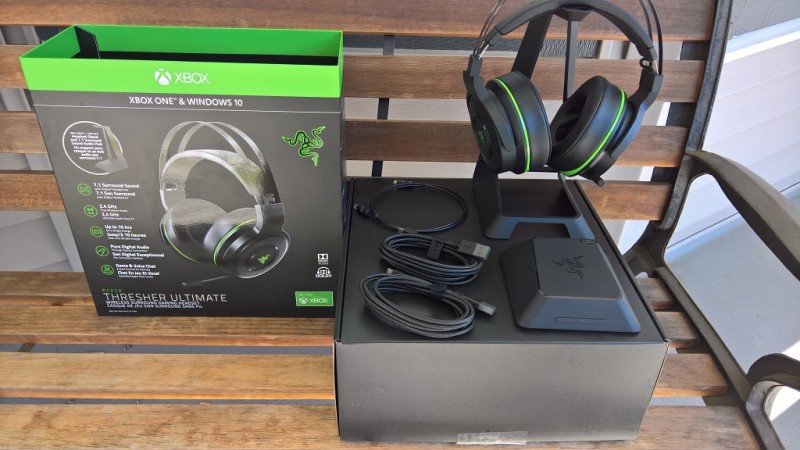 Entering is super easy, there's tons of ways to enter, AND you can enter every day if you want to maximize your chances at winning this awesomeness. You've come here and have spent all this time reading, so we want to give you a leg up on the competition with some facts that MAY or MAY NOT be asked for bonus entries.

For example, did you know Razer Chroma lighting can up to 16.8 million colors for you to personalize your gear with, or that the Razer Thresher Ultimate comes with a base station and headset stand when compared to the regular Razer Thresher? You obviously knew that the Razer Wolverine Ultimate Tournament Edition has an amazing 12 month warranty included, leaps and bounds beyond what others offer, right?

So there you have it! Your chance to win some awesome Razer gear for Xbox One!

Who: Xboxaddict.com and Razer
What: A Razer Christmas In January Giveaway – 1x Razer Thresher Ultimate, 1x Razer Thresher, 2X Razer Wolverine Tournament Edition
When: Now until Feb 4th 2018
Where: Link for entry HERE
Why: Because you love free stuff!