Age of Empires: Definitive Edition Review
by Adam Dileva






To say that Age of Empires helped shape and boost the RTS genre would be an understatement. Microsoft published the first Age of Empires game back in 1997, and here we are 20 years later, with the inevitable remaster, Age of Empires: Definitive Edition. Revitalizing a 20-year-old game for the modern era is no simple task, and while it's been given a slew of new features, soundtrack and 4K assets, the question remains: "Has it aged well?"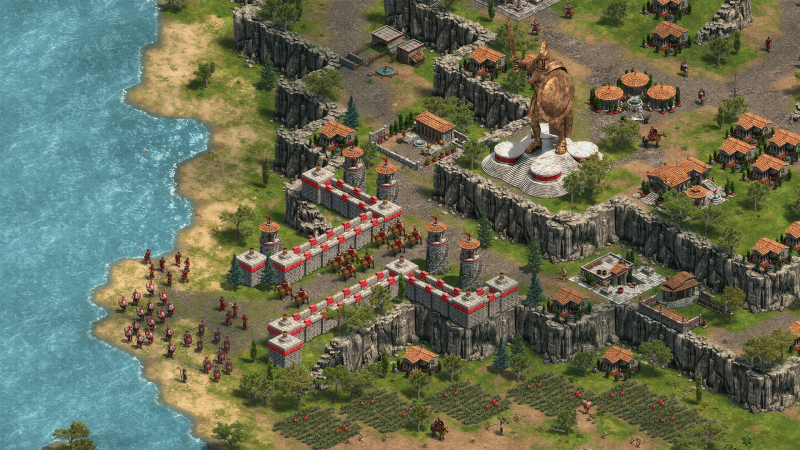 But Xboxaddict is an Xbox centric website, and I can see you saying yourself "You're covering a PC game?". Yes, you're right, but there are times where a genre defining game, and fan favorite, deserves the extra attention, and that is no different here, plus it's a Microsoft title, the makers of the Xbox One, so that's how we're going to segway this game review in! If you have fond memories of installing Age of Empires back in the late 90's, you'll be happy to know that a lot of work has gone into not only the visual enhancements, which are plenty, but many changes have taken place under the hood to make the game a better experience overall.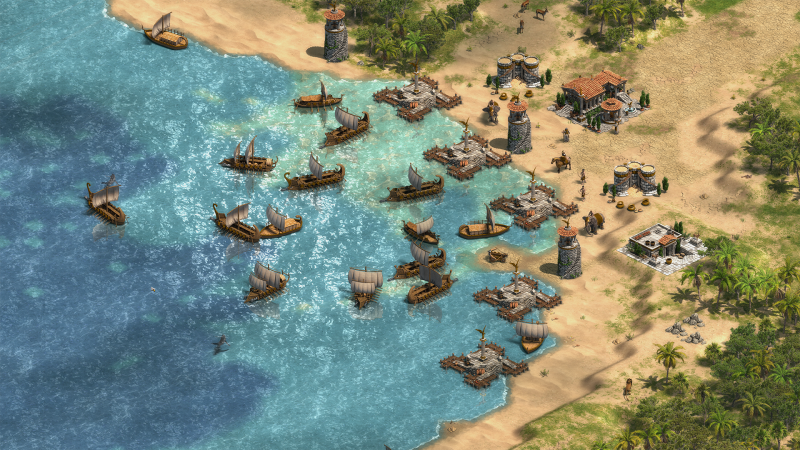 What I always really enjoyed about the Age of Empires series is that they don't try and cram all of human history into the game, like another RTS called Civilization, but instead it focuses on a small window in history and expands it further as you start in the Stone Age and work towards the Iron Age. With dozens of hours to be had in the campaign, you'll have plenty of civilizations to play as, ranging from Egyptian, Sumerians, Macedonians, Babylonians, Greek, Persian, and even the Romans, as the first expansion called The Rise of Rome, is also included in the Definitive Edition, and these are only a few of who you can play as.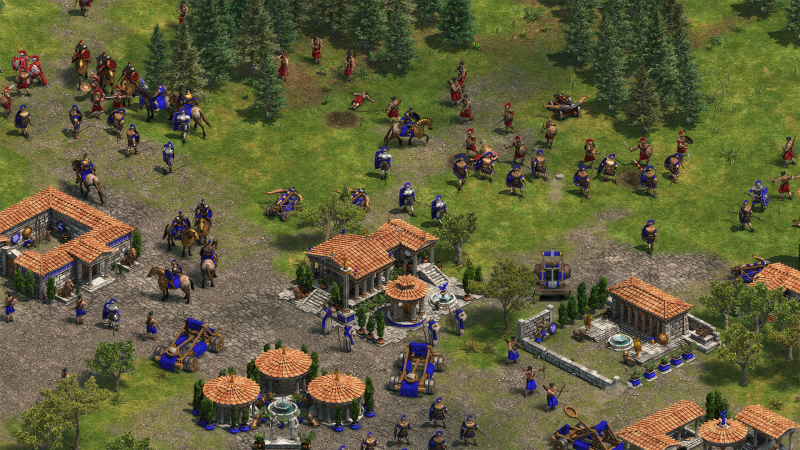 Instead of a traditional tutorial per-se, the first campaign walks you through the basics, teaching you how to use your people to gather, build, fortify, defend and attack. Things begin easy enough, as you learn how to expand your population by building houses, gathering wood and hunting, but eventually you'll have neighboring factions that you'll need to defend yourself from. While I'm not a RTS expert in any way, you're going to need a lot of practice to get up to speed on how to properly advance, as it's only a matter of time before you become under attack. Even on the Easy difficulty setting, it took me quite a few games to strategize the best path for advancement before I was able to withstand getting quickly overrun.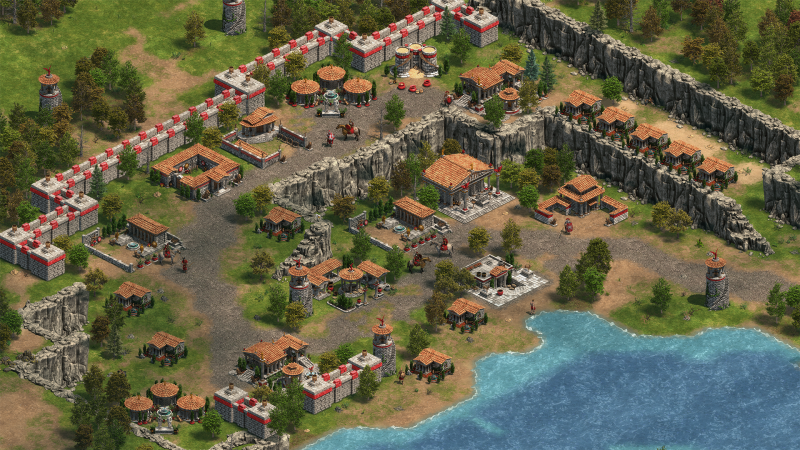 Like most RTS games, Age of Empires is all about micromanaging your population and strategizing the best pathway to victory. You'll need to fortify, build, expand, research and conquer if you want to be successful, and from the very beginning moments, the earliest decisions can be your main reason for victory or your ultimate downfall.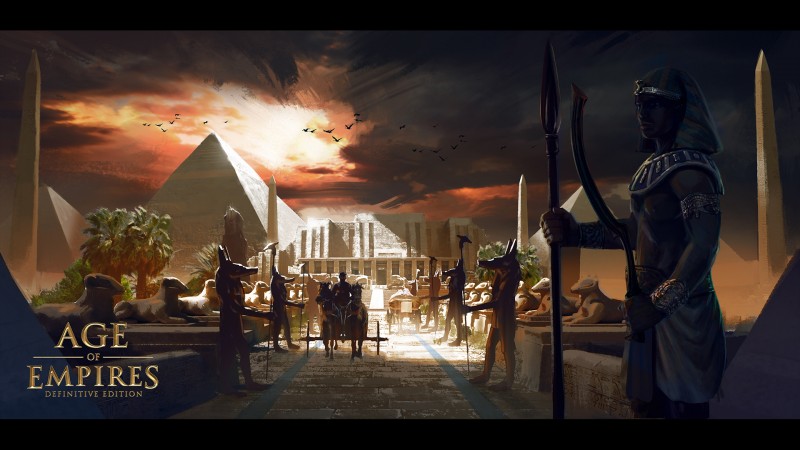 It's been 20 years since this franchise was first launched into the world, so what's new you ask? Well, these days it's pretty easy to slap on a new coat of paint and call it a remaster or definitive edition, but it seems some actual work has gone into making this resurgence of Age of Empires more than a superficial cash grab. Visually, all of the graphics have been overhauled, complete with 4K assests. Granted, they still look dated, but when you compare the 1997 visuals to this current re-release, there's a massive difference. The pixel art and animations have been completely redone to be more in line with a modern take on a classic, which works for it, especially the buildings, as there's a ton of detail in each structure now. Those wanting a trip down nostalgia lane, there is a classic mode in the options if you want to enjoy the graphics from the original time period.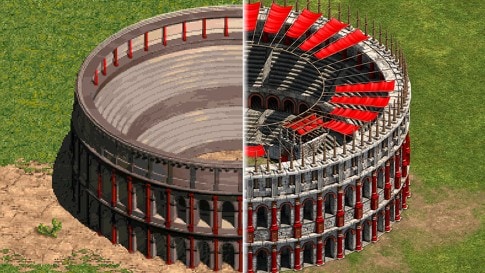 Audio has also been completely redone, as the music itself sounds much more orchestral and clearer, and I believe new songs were even added. Many of the original sound effects are inclued in the game, but they have been improved upon as well. But audio and video aren't the only improvements included in this Definitive Edition, as a long laundry list of 'quality of life' improvements have also made it into the mix. Here's just a few of the notable ones that I found to be a huge addition, making me wonder how it was possible without them previously, such as a massively improved and cleaner UI:

- Larger Population Cap: Previously you could only have 50 units, though this has been multiplied 5 times, allowing for a staggering 250 per player, making for some intense battles in the late game.

- Zoom: Somehow being able to zoom in and out with the mouse wheel wasn't an option. Now it is, and you can get a birds-eye view or get up close to your villagers.

- Attack Move: Now you can send your army to a destination and attack anything on the way!

- Rally Points: You can now select any building and have all units produced automatically path to the destination. The same goes for new villagers, as you can click on a resource, and new units will automatically go and assist.

- Queueing: I never realized it, but previously you were only able to create one unit at a time. Now you can queue multiple units provided you have the materials. The same goes for multi-building queues, as you can select all of a specific type of building and have each one queue up a unit creation so you're not having to click each building separately.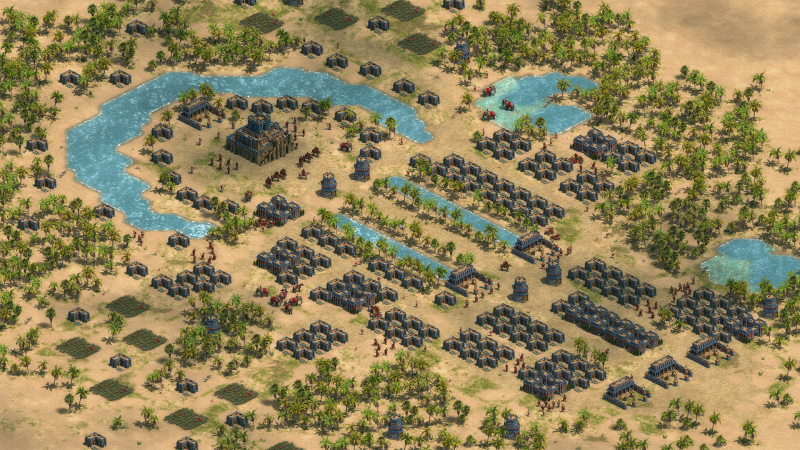 It's said that the each unit's pathfinding has been vastly improved, which I'm sure it has in general when compared to the original release, but there are still times when I don't believe it, as units will seemingly wander in a random path to their designated location rather than usebthe easiest and shortest possible route. Many times I'll have a squad moving to a location, only to have 2 or 3 units take a long scenic route around an area of trees for no reason. While there are a ton of improvements that have been made, and are welcomed, there's still a few nagging issues that really irk me, like being unable to queue up multiple types of unit creations from a single building, which seems like an omission or oversight.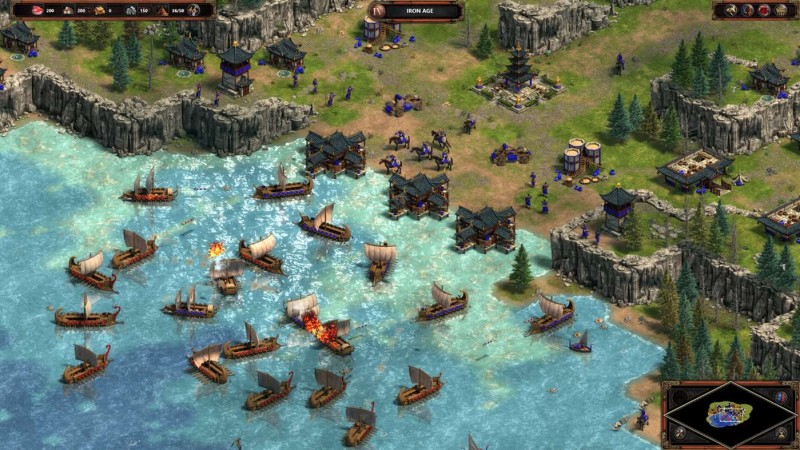 Should you wish, Age of Empires: Definitive Edition supports up to eight players online with a handful of new modes and features. You can create custom games, set teams and more, and while it worked for me without issue for the most part, there were a handful of games where other players would drop out, seemingly from network issues. Maybe I just got lucky and never had an issue myself, but I never dropped due to lag or network conditions. While there are not a huge amount of lobbies at one time, I never had an any issues finding a game to play when I wanted to, so here's to hoping the community will keep breathing life into its online component, though of course LAN is also an option should you manage to still attend these type of gaming parties.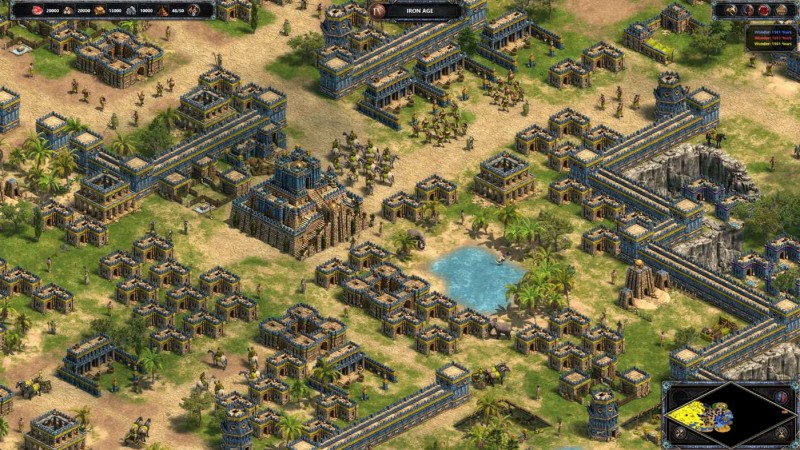 If you missed the original Age of Empires for whatever reason, or want to experience some great nostalgia, the Definitive Edition is a great way to jump in and relive one of RTS's greats from years gone by. While not perfect, and sometimes clunky, it's got a ton of improvements that won't make it feel as dated as it probably should. It's an excellent nod to the original and its improvements only help it solidify the importance it had on the genre so many years ago. Fans of the original game will rejoice in the visual and mechanic improvements, and new comers might just get hooked onto the series with its simple fun.



Overall: 7.3/ 10