Razer Electra V2 Headset Review
by Adam Dileva








Features:

Audio Connection: 3.5 mm Audio Connection
Speaker Frequency Response: 20 Hz – 20 kHz
Headset Power: Wired
Speaker Size: 40 mm with Neodymium magnets
Cable length: 1.3 m / 4.27 ft.
Microphone: Unidirectional
Weight: 10.4 ounces / 278 g

When choosing a headset, some base their decisions on sound, comfort, weight, features, or even price. Not everyone can afford the top tier headsets that sometimes cost more than the consoles themselves, but they still want a personal audio experience. Nor does everyone have the want, space or budget to install a surround sound speaker system in their living room. Finally, if you're like me, you prefer to play at night when the rest of the family is asleep, making a full speaker setup impossible. This is why I choose using a headset whenever I game, plus I need the microphone to chat with my Xbox friends as we game at all times as well.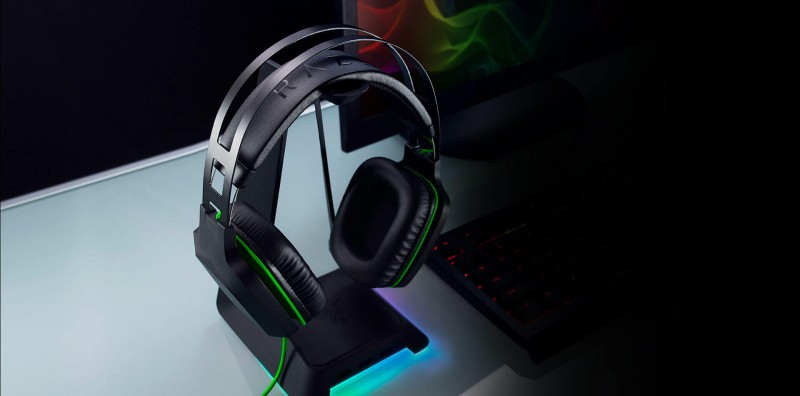 Razer is more synonymous with mid to high end range of headsets,as well as accessories, so I was curious when the Razer Electra V2 arrived, as it's more geared as an entry level, budget conscious, headset. There are plenty of budget headphones out there, and not all are made equal, especially at the entry level. Priced at just $79.99 CAD ($69.99 USD), the Razer Electra V2 offers a decent sounding headset with a virtual 7.1 profile without frills or gimmicks. Granted, at this entry price point, it's obvious that it won't sound nearly as crisp and vibrant as a headset that costs four times as much, but that's why you get what you pay for.

Compatible with PC, mobile, and consoles, the Electra V2 utilizes a standard 3.5mm audio jack that is hard wired into the headset and cannot be removed, but also comes with a splitter cable for headphone and microphone separation on PC should you desire to separate the channels. While the 90 degree "L" shaped connector will work fine for most devices, I found it a little awkward when plugging into my Xbox One controller with the end of the plug sticking out in a direction when placed on my lap.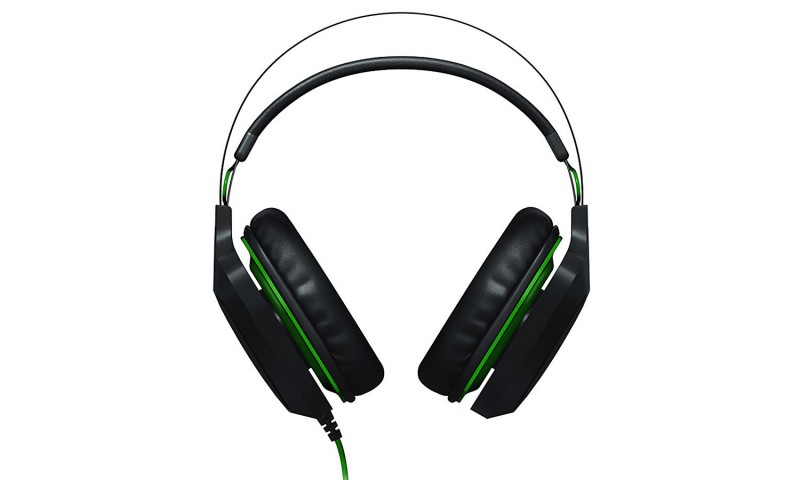 One of the more unique features the Electra V2 boasts is its automatically adjusting headband. That's right, no needing to fiddle with the ear cups, as finding the perfect notch on normals bands is always a pain. It utilizes a lightweight aluminum frame, and the band is easily my favorite aesthetic about the headset, as it gives a premium look to it. This creates a flexible band that should withstand intense gaming sessions and rough treatment over the months, as I've purposely tossed (lightly) the headset after use to test the durability and had no issues with any damage yet.

The wires that attach to the cups have some slack, and when you place it on your head, they will automatically adjust to the size and width of your head. This of course is going to vary with each individual's size and shape, but for the most part it works as expected. The only issue I found is that I haven't completely 'broken' the headset in, so I'm constantly having to pull 'down' the cups to rest comfortably over my ears. Over time I believe the headset will adjust better, but even after weeks of use, the headset still feels a little tight and has to be manipulated to rest comfortably over my ears.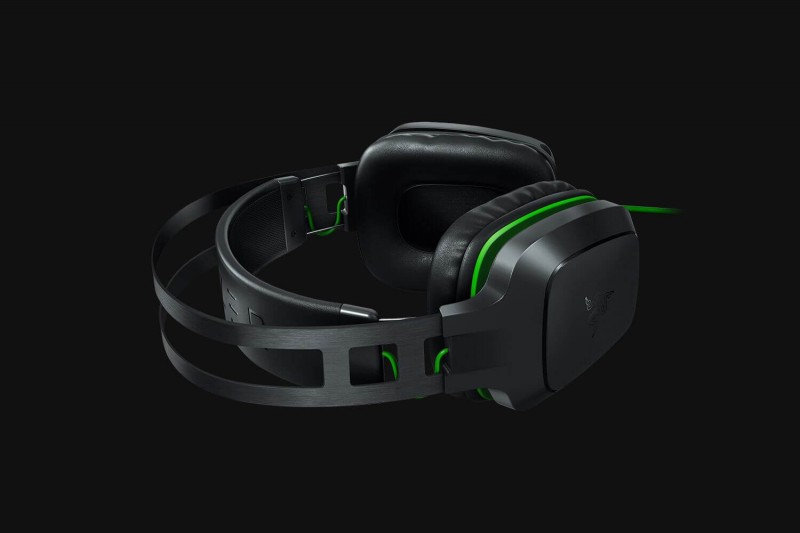 As for the speakers within each earcup, each cup houses a custom tuned 40mm driver with a faux leather cup surrounding each one to be placed over your ear. The headset gives decent noise isolation, but my loud 5 year old in the same room can still be heard through them, even at the higher volumes. As for the sound profile, it simply sounds alright. Bass is decent, though I wish it had some more punch to it, and its overall sound is balanced for the most part, even with the virtual 7.1 surround.

Many games depend on sound, sometimes more so than the visuals, so having complete 7.1 surround can make a substantial difference to the experience. For example, I always use Hellblade: Senua's Sacrifice as my default game to test out audio, as it has the most perfect audio profiles I've ever experienced with tons of nuanced and distinctive attributes. Even though there is only 2 drivers, Razer delivers a virtual 7.1 audio profile that does an decent job of creating sound that appears as though it's coming from all around you. This is why I use Hellblade as my standard, as voices come from every angle all around, which would also apply to shooters and other games, where you can hear sound cues coming from multiple directions, enhancing your gameplay and immersion.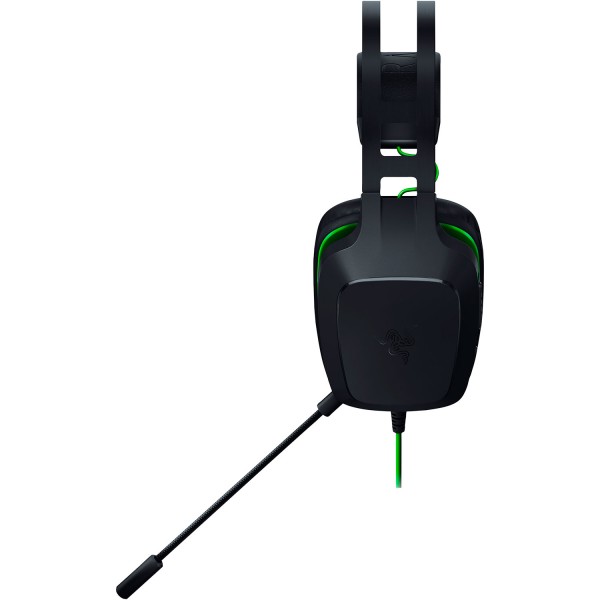 Controls are placed on the back of the left cup, but is as basic, and somewhat cheap feeling, as it gets. There's a slider that goes up and down for volume and a toggle for muting. You're able to adjust on the fly, but I found the volume slider to not be very precise, as I wished it was a dial setting with more 'markers' for specific volume levels since it either sounded too low or loud without much room in between to find that perfect setting. Granted, I'm partially deaf in one ear, so I generally had to have the volume at max.

Included is a detachable boom microphone with a flex goose neck, allowing you to adjust and manipulate it exactly how and what distance from your mouth as you desire. When testing my voice on PC, I sounded mostly normal when compared to other microphones, though I noticed background noise tended to come through as well, as there is no filter over the mic itself. According to friends I sounded normal and clear, but a lot of the background noise was getting picked up as well, again, possibly because of the lack of a filter overtop of the microphone. Either way, it sounded decent, but nothing amazing.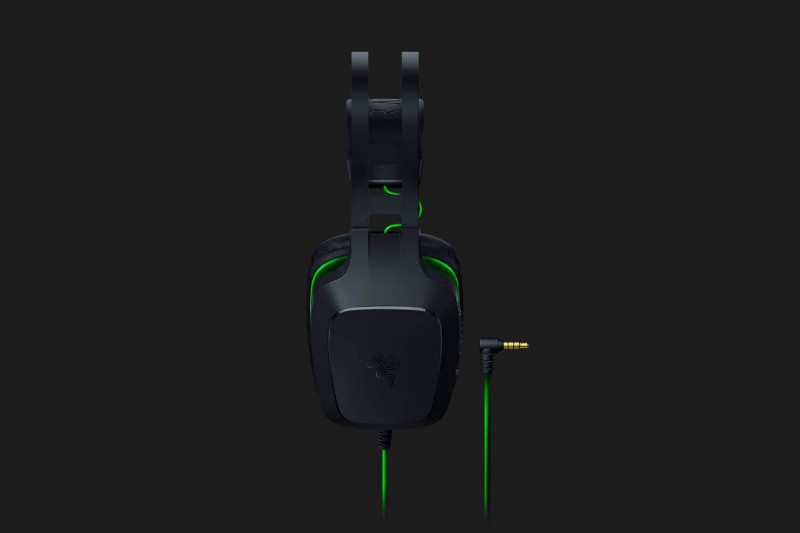 I game a lot (actually, an obscene amount at times), so I put a lot of value into comfort levels of a headset, as it's not unheard of playing 8+ hours at a time when I get lucky with uninterrupted gaming sessions. While the headset itself is comfortable with its padded band and plush earcups, the only issue I have is with the tightness of it, as I'm having to pull down the cups now and then to stay over my ear, as it wants to flex back to its default state. I'm sure over time it will be 'broken in' and won't be as much of an issue, but after weeks of use, this hasn't changed yet. My other complaint is that the razer-fied green cable is long enough to reach whatever device you want, but it's constantly tangling with normal use, leaving me to unravel it each time I place it on my head.

Audio may lack a punch with the bass, but the audio overall is balanced, and given that this is an entry level headset, the virtual 7.1 can be impressive for the price point. I mainly used the Electra V2 for my Xbox One gaming sessions, which performed just fine when needed, but I also tested them out while blasting some tunes on Spotify, as well as watching a movie on the PC. For the music, it sounded level, but again I wish it had more bass for my EDM tracks. For TV shows and movies I found the sound to be very flat overall. There was no big ups or downs, as if the EQ settings were simply tweaked to be level across the board. Would I have loved to have EQ settings and tweaking the sound to how I prefer? Of course, but this is also an entry level headset, so it's not to be expected.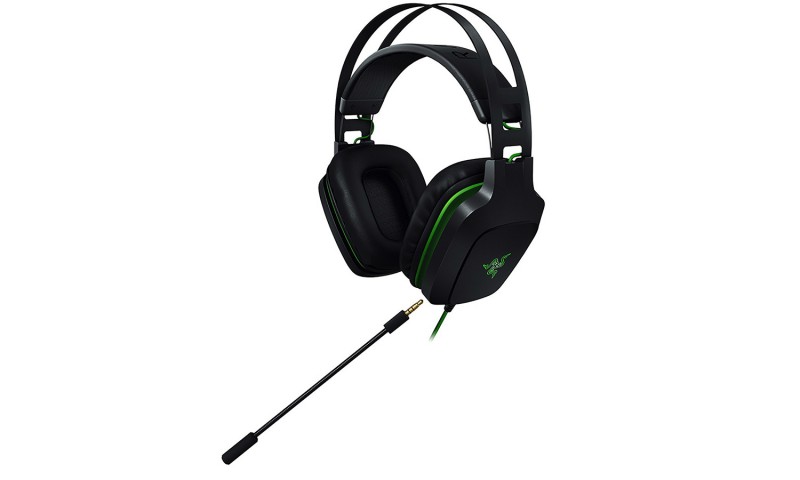 Unlike the majority of Razer's offerings, there's no Chroma lighting included here, nor any other fancy features. If you're looking for an entry level headset, but still want quality in the build, then the Razer Electra V2 is a great gateway to not only their headsets, but better quality ones as well. While I wish the bass was boosted more and the cups fit naturally on my head, if you're looking for a starter no-frills headset with a brand name behind it and virtual 7.1 audio, the Razer Electra V2 is a solid choice.

Overall: 7/ 10