Evil Shift Controller - An eSports Focused Controller Worth Considering
by Kirby Yablonski








For those who play a lot of video games, controllers are a somewhat personal thing, as many people prefer something different over what another person might like. Customizing and specializing controllers have really caught on, from the size of analog sticks to how sensitive a button may be, first and third-party companies have indeed been creating some great controllers. As an Xbox One centric site, we all know that Microsoft has created two ways to get a specialized controller, the first being the Design Lab, where you can design a controller to look the way you want it to (e.g. colors of shell, buttons, etc.), while the second way is through the Elite Controller, where one can change the physical attributes of their controller (e.g. analog sticks, d-pad, trigger log, paddles) as well as sensitivity of buttons and the analog stick movement. Third party controller companies also have a lot of different types of specialized controllers for gamers to purchase, and one such company is Evil Controllers.

Last year, at E3 2017, I had a chance to sit with the founder of Evil Controllers, Adam Coe. During that time, I saw a prototype of one of their upcoming controllers, and it was the one that this review covers. While chatting, Adam talked about the history of his company. He was in university and was a gamer, and he modified an Xbox 360 controller for his own use, which helped him when playing Halo. From there he took the last of his money, bought a bunch of controllers, modified them, and sold them on the internet, and he was surprised with how popular they became. From there he quit university and started a company, which is of course called Evil Controllers. Who knew one man's passion for being better when video gaming would spawn a whole company that catered to those who wanted to be better too.

My first specialized controller that I ever bought was one that I purchased from Evil Controllers. It was only custom in the sense of a custom paint job, some logos on it, and a red home button color, but regardless, it was my first foray into getting a controller which was not a standard looking one. Since then I have used the standard Xbox One controller, the Elite controller, Design Lab Controllers, as well as a SCUF made controller and an Elite controller customized with SCUF accessories. I can now add a new controller to this list, and it is again from Evil Controllers. It is called the Evil Shift, a controller that is geared for eSports like use, and one that I have been using off and on for the past couple of months. Why so long to review a controller you ask? Good question. I wanted to see how durable it was, as well as if it could last longer than a few weeks before anything went 'wonky' with it.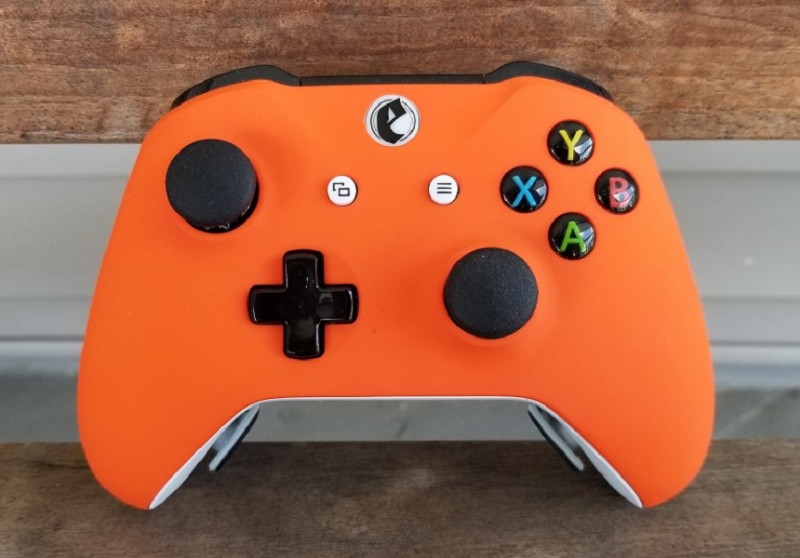 When I first opened the box that housed the controller for review, I was surprised to see that it was bright orange in color, almost like the color of a pylon that you might see at a school or those that are used to control traffic during construction. The orange material used was also somewhat soft, so it wasn't standard plastic, as it was more of a "soft-touch" material, and I found to be a nice touch (pun intended). The grips themselves were also not standard, as they were black, and textured, to be more 'grippy' (yes, I just used that word) so the controller would not slip during extended gaming sessions.

The Evil Shift also has the ability to change different sized analog sticks. This is an option you can choose when ordering the controller. If you do go with this option, changing the sticks is as simple as just pulling each stick out (straight, not angled) and then replacing with another stick. You line the new stick up and give it a good press until you hear it click and it test it to make sure it moves smoothly. I found the attention to detail on these analog sticks was pretty good, as you will even find the little devil looking controller logo on the base that clicks into the shell. The extra sticks that were sent with the controller were in a nice little drawstring pouch for safe keeping. The only gripe I have here that although the analog sticks were indeed different sizes, they only had convex tops (curves outward like the exterior of a circle), and I know that some may want concave tops (curves inward like the interior of a circle). Personally, I prefer a mix of both, and a mix of sizes. It's not a deal breaker by any means, but something worth mentioning.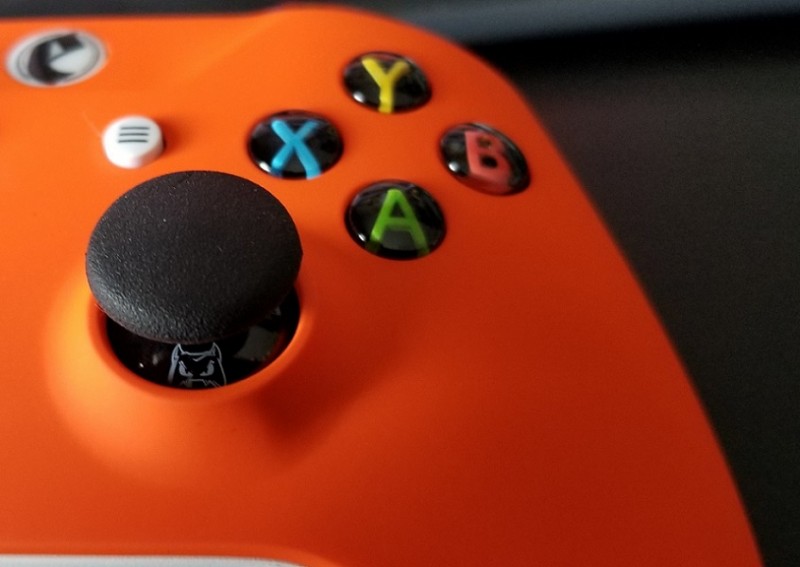 I found the analog sticks to be quite good. The texture of the tops was able to sustain my thumbs on them without any major slippage, which is important when playing games. Although they are convex based, they aren't overly round, so even with my complaint above, about the lack of concave tops, they were more than useful, and as a bonus they incorporate a larger surface area too, allowing for more surface to put your thumb on. I was able to play any game, from shooters, platformers to driving games with no analog stick issues. There seemed to be just the right tension too, and as I played over the last couple of months with them, it did loosen up a bit, but not that much.

One of the things that I was quite surprised with was the triggers and face buttons (A,B,X,Y). They are standard looking in their appearance, but they are not standard in their use. Let me explain.

The triggers have no 'locking' feature, which other third-party companies have, enabling a shorter squeeze that allow you to pull the trigger faster, as the travel is less. This is something most used in FPS games like COD, Halo, and Destiny to name a few. What the triggers are on the Evil Shift though are what Evil Controllers describes as "Hairpin Triggers". They note that the have engineered the trigger tension by over 50%. Now, I can't measure this, but what I can say is that they feel the same, but man, do guns fire quickly in shooters. The fact that they feel 'quick', but that there are no trigger locks needed, means that they are able to be used with ANY game, from driving games, platforms games, puzzle games to any game you want. And this is without the need to change anything mechanically too. Heck, was it psychological that I felt I was firing guns faster and hitting maximum 'pedal press' when hitting the gas or brake driving games? I can't answer that per se, but what I can say is when I played with the controller at E3 last year, we compared the vanilla Xbox One controller to the Evil Shift using COD Advanced Warrior, and there was a difference, so I can tell you that.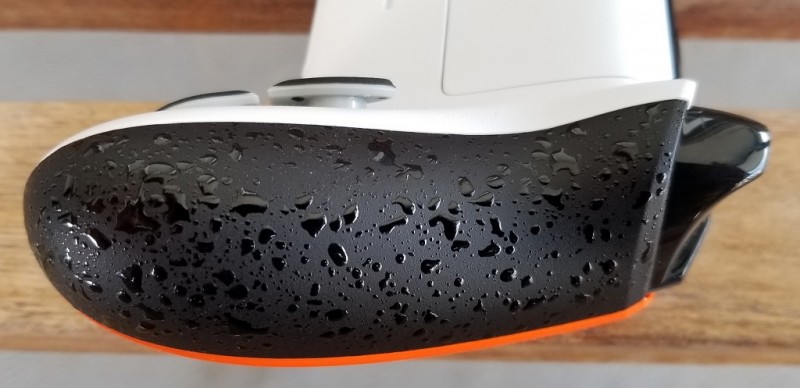 In terms of the face buttons (A,B,X,Y), there is definitely a different feel to them than most controllers. Evil Controllers offers up "Quick-Touch" technology which allows you to use less pressure than regular buttons. The button travel is decreased over other controllers and you can actually feel it. They even have a 'click' sound to them when you press them, which, in my opinion, I liked, as it felt and sounded more arcade like in quality. I liked using them and, in some ways, when going back to a regular controller, or even the Elite controller, there was a notable difference in how they felt, and how I felt they performed.

One of the key features of the Evil Shift controllers is the paddle system that is incorporated into the controller. It's not a traditional 'paddle' in the sense of size, especially when compared to the Elite controller paddle system or the system that SCUF uses on most of their controllers. With the Evil Shift, the paddle system is more like four (4) large buttons, placed more towards the bottom inside of the controller, where you fingers generally go when holding it. It takes a little getting used to, having the paddle system there, but I found it easier to adjust to then the Elite controller, and almost as natural as a SCUF paddle system. What is really amazing about these paddle buttons is how you can press anywhere on them and they will register allowing the resulting action (e.g. weapon loading, jumping, sliding, etc.) as if you pressed a face button. In some ways you may even find them too sensitive, especially during your adjustment phase to the paddle buttons, but given how easy it is to use them as they register anywhere you press on them, it can be crucial when speed of input is needed.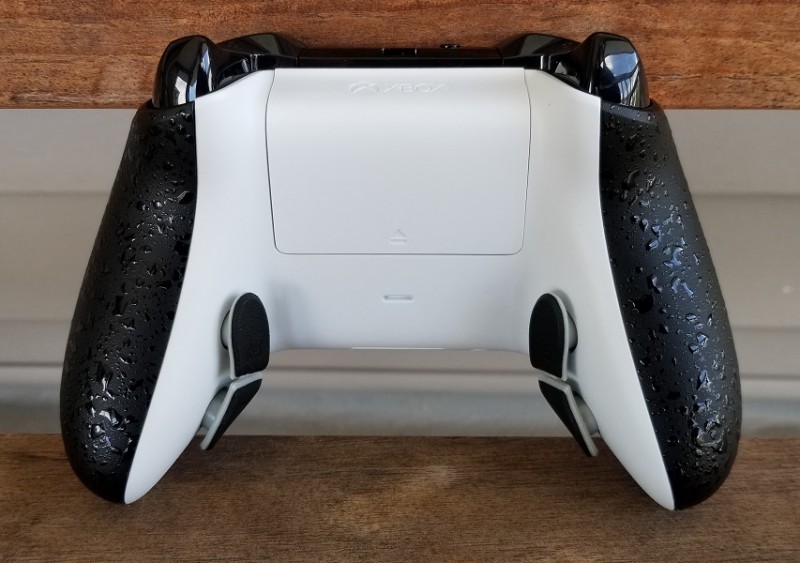 What I found neat about the Evil Shift controller is that remapping your buttons to the paddles is extremely easy, and you do not need a computer or special magnet to do so. It is as simple as pressing and holding the view button (left beside the menu button) and holding the paddle you would like to remap. Once the guide (home) button flashes and the controller vibrates, you let go of the two buttons. You can then press any of the inputs on the controller that you might like to map to one of the four (4) paddle buttons....and viola, you are done. Yep, it's that simple and you can do this during any game that you may be playing. I loved the simplicity of remapping buttons to the paddles and I think may will be amazed how simple it really is. Oh, and you can remap the trigger controls to the paddle controls as well.

The Evil Shift controller is indeed a solid controller to use, as many of it's features work, and work well. What may hold some people back though is the price. As of writing this review, and having configured an Evil Shift controller to have all the features I have spoken about above, you'll be spending about $210.00 (USD). That is a lot of coin for a controller. That being said, you can take off a feature or two (e.g. soft touch shell, custom sticks or quick touch buttons) to reduce the price. But on the flipside, you can also add a few more features (e.g. color of LED (for home button), color of analog sticks, color of face buttons) to add even more to that figure. So, I recommend that you head on over to Evil Controllers website and create your own controller with various options to see what you might be able to afford or not.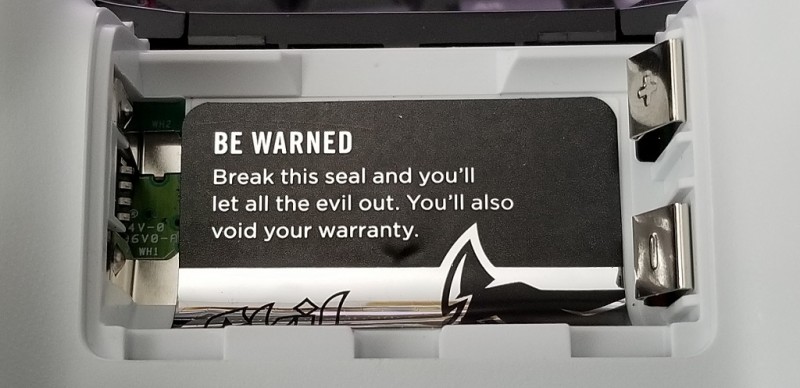 So, what's the final verdict? The Evil Shift controller is definitely a sleeper controller. It looks totally stock, except for the paddle buttons underneath. What makes it so special are the additions to it, with the hairpin triggers, the quick touch buttons, along with the how easy it is to press the paddle buttons, and of course the simplicity to remap button inputs to the paddle buttons without any need of a computer or special magnet. Credit goes to those who deserve it, and Evil Controllers deserves some mad props for what they have added to the specialized controller market with this eSports focused controller. If you have the money and want to try a solid controller for a more competitive experience, definitely check out the Evil Shift controller.


Overall Score: 8 / 10