Dishonored: The Return of Daud Review
by Chad Goodmurphy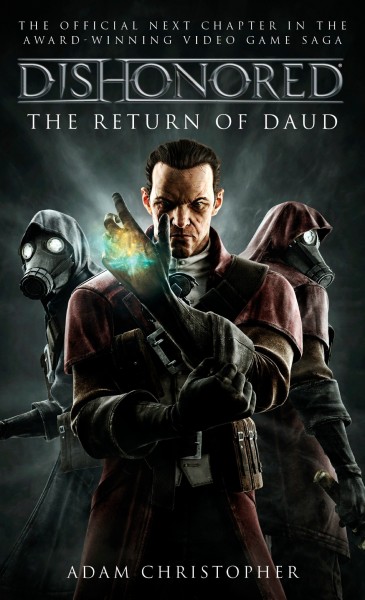 Before gaming and its licensed variations ever became popular, books based on popular movies and TV shows were very common. As such, it was easy to find novels that would retell big and small screen affairs in a writer's chosen words. Those were also complemented by books that would take the form of sequels or spinoffs, taking such popular IPs as Star Wars and The X-Files in new directions under the approval of their overseers.

These types of books still exist, but they're not as common or as popular as they once were. Then again, people don't seem to read as much as they used to. We tend to live in an increasingly audio/visual world, after all.

Books based on or spun off of movies and TV shows do still exist, though, and there are also novels (and graphic novels) that are based around popular video games and the characters that inhabit them. One such title is Dishonored: The Return of Daud, a book by New Zealand-born author Adam Christopher. It was sent to us for review purposes by the folks at Titan Books, and is part of a series.

Centering on Daud, the infamous Knife of Dunwall who was exiled following his role in the murder of Dunwall's Empress, this story bridges the gap between the first Dishonored game and those that followed. Through it, those who love the series can discover the whereabouts of Daud following his exile, and read about the events that led to him being in the situation he was in at the beginning of Dishonored: Death of the Outsider. Thus, this could easily be considered a prequel to that spinoff, which exists as the most recent of the series' interactive outings.

Before beginning this literary journey, however, one should know that this is not as in-depth a retelling of Daud's time in exile as it may seem. Yes, it does act as a prequel to the standalone expansion noted above, but that doesn't mean that it picks up at the end of the first game. No, this narrative is mostly set fifteen years after Corvo banished Daud, although there is an overview of where Daud was and what he did during that time.

Adam Christopher's Dishonored: The Return of Dead begins with a sacrifice using a heretical weapon that is designed as a 'Twin-Bladed Knife.' One that channels some sort of magical light and power that is not known to our anti-hero. It then changes scenery to a cult's attempt at reading the future, before it settles into Daud's story.

Daud, you see, is on a quest to kill the Outsider once and for all. This hard set goal courses through his blood and fills his mind, but it is not yet possible. You see, the former Knife of Dunwall and leader of the Whalers gang does not have a weapon that he can use to destroy the supernatural being. He has, however, heard word about the so-called Twin-Bladed Knife, and sets out to learn of its whereabouts with the hope of collecting it for his own use.

As is usually the case, attempting to get what one wants is easier said than done here. Thus, Daud's quest takes him throughout the Isles of Dishonored's steampunk world, and tasks him with dealing with multiple different threats. All the while, a coup is happening in Dunwall and Empress Emily is dealing with her own problems.

Over the course of its 299 page length, The Return of Daud takes some interludes and focuses on other events that involved some major players like Anton Sokolov. There are also evildoers who wish to do Daud harm, and they're given some time in the spotlight. This is, though, a story about Daud and he's the main character despite the occasional changes of personnel and venue. It all ties in at the end, though, and each interlude has an important role to play in how the plot turns out.

Going into this book, I really didn't know what to expect. It had been years since I had last read a book based on a movie or TV show, and I had never read one based on a video game or its characters. The last time I read anything like it would've been when I collected and read some of The X-Files' episodic novels as a kid. Those retold popular episodes, but the writing was nothing to write home about.

Although my previous experiences with licensed books didn't allow for high expectations, Dishonored: The Return of Daud proved to be better than I had ever thought it could be. Was it great? No, I wouldn't go that far. It is, however, a pretty good book and an interesting read for fans of the series. An interesting backstory is found within, and there's a good amount of action for those who like that. Daud is a complex character, and he's done justice here.

That isn't to say that this is an award-worthy book, but it's solid and easy to recommend to people with interest. It isn't without its downsides, though, because the writing can sometimes become a tad monotonous, certain interludes aren't as interesting as they could've been, and sometimes sentences run on or feature slight grammatical errors.

Of course, the other obvious detraction is the fact that the book's narrative doesn't really conclude on its final page. That isn't the author's fault, though, because this is, after all, something that sets up a video game. As such, you'll want to read this before playing Dishonored: Death of the Outsider if at all possible.

In conclusion, if you're a fan of Dishonored then this book is worthy of your time and attention. It will help you learn more about someone you've been conditioned to dislike, and will offer a pretty interesting narrative to boot.


Score: 7.3/10





ISBN: 9781783293056


Dimensions: 178 x 110mm


Mass market paperback: 304pp


Publication date: 27 March 2018