State of Decay 2: Daybreak DLC Review
by Brent Roberts







When State of Decay 2 released, it set new standards for survival horror and offered up new ways to interact and play socially online which created new story driven narratives. Recently, there was a release of brand new DLC content for the game called Daybreak. This is more than a few new weapons or vehicles, instead it's an entire new mode to play. So, is it worth the $9.99 price tag? Let's find out.

For those who have never played any major shooter games, this style may be new to you. Essentially the premise of the Daybreak is you play as a member of Red Talon, who are the big government bad guys from the main campaign. There is a technician who is trying to get a relay station up and running; however, when the station is being powered up it generates a ton of noise and thus attracts multiple waves of zombies. Yes, this is State of Decay 2's horde mode.

As you start off youl have the ability to customize your loadout. You won't have much, but that will change over time. You can have up to 3 AI teammates or you can swap them for online players should you go online with your game. In front of you will be many walls that you can use wall repair kits to fortify them. The objectives here couldn't be simpler. Survive the rounds, repair any walls, and kill everything you see.

In round 1 you'll have a bloater here and there, but for the most part it's just your typical horde of brainless undead. You'll find that being a bit proactive and jumping over your wall to engage them will keep your wall intact for a much longer period of time. Each round has a timer, and it ticks down towards 0, so you can expect the harder enemies to appear. As your approach rounds 4 and above you'll have to add massive enemies, such as Juggernauts, to contend with as well. While your AI does do a good job at fighting them off, nothing compares to having some good old human players that have your back.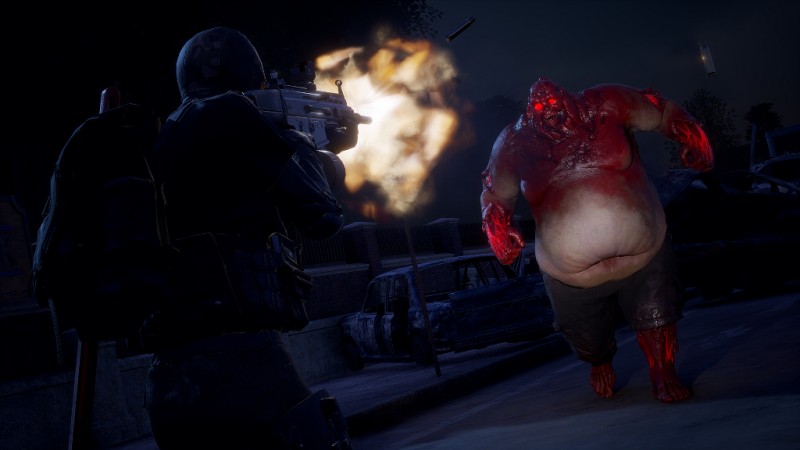 When you get to the end of the odd round outside of 1, you'll be rewarded with not only supply drops, but an unlock for gear (weapon or item) that will be selectable for you at the initial load out, but what really makes this cool is that you can unlock things for use in your main game by all your community members....hould you survive of course. The experience however, as you get deeper into the game, gets exponentially more intense. While you're shooting a bloater, you're drawing the attention of a Juggernaut who is surrounded by his own mini army of undead and they are all racing to detach your head from your body.

It does get rather repetitive very quickly but the loot grinding is essentially the reason for doing this. As you progress and kill more enemies you will earn this in game currency called Prestige Points. These allow you purchase some incredible items, but a word to the wise, save all you can, literally become like a squirrel and stockpile. For example, you can call in a Prestige Trader for the low price of nothing, but if you want to help your community (and not be selfish) you can spend 3500 points and radio in a special Red Talon Contractor. These traders offer you some of the best weapons in the game and should NOT be overlooked.


The main drawback of this DLC comes from the online connections with other players. Sometimes you can get inadvertently disconnected and trying to reconnect is like trying to wake the dead; it's next to impossible. Then if other gamers have a terrible connection you can expect your lag to permeate into your own gameplay experience. Nothing like hearing a blood Juggernaut roar off in the distance, then in a blink of an eye, stand 5 feet away from you, enraged to hell and ready to turn you into a stain on the street before you can even get off one round of ammo.

Overall though, this DLC is a wonderful experience in State of Decay 2 and I personally feel that $9.99 is a perfect price point for this content. Survive 7 waves of a zombie horde, collect incredibly powerful weaponry for use in all game modes, rinse and repeat. When you don't want to worry about story and just spend some time obliterating the undead, you can't go wrong with Daybreak. The amount of content you can unlock for both Daybreak and your main game means that this is some DLC that you should pick up.

Overall 7.5