Preview: Minecraft Dungeons - A New Game in a Familiar Universe
by Kirby Yablonski








We are living in a time where the current circumstances have created a lot of uncharted territory. In the gaming world, and for those who cover it, this time has never been more unique, as previewing games has become quite a challenge. We were recently provided an opportunity to attend a livestream with the developers of Minecraft Dungeons. Yes, there is currently a closed beta for the game going on for PC; however, I don't have a PC strong enough to run it, as my laptop is used more for things like writing, checking/sending emails and other menial non-gaming tasks. This opportunity to see the game in action during a developer run livestream interested me. So, without further ado, here is what we learned from the 45-minute livestream with commentary from David Nisshagen (Executive Producer), Mans Olson (Game Director) and Laura De Llorens (Senior Game Designer).

Developed by those Minecraft gurus at Mojang, Minecraft Dungeons is an action adventure game that is more akin to a dungeon crawler then anything else. Mojang are doubling down on adventure and exploration, but in a more action-oriented way. It is a third person 3/4 top down view, like Diablo or the recently released Darksiders Genesis. Players explore a wide variety of randomly generated dungeons. Designing the game this way encourages players to go back and find new loot or challenges, as it adds to the replay value of the title.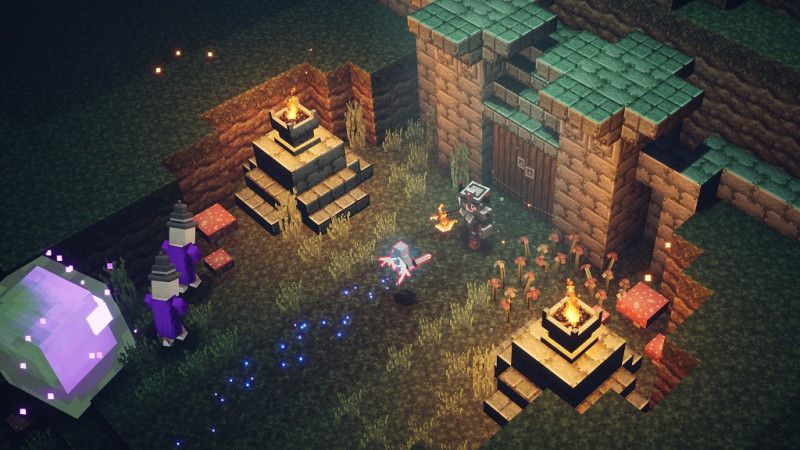 Minecraft Dungeons is game that can appeal to a wide array of gamers. The example that the dev-team used was that for children who want a casual experience, they can play on the lower skill settings and just enjoy exploring a new Minecraft themed world from a new perspective. For those more experienced gamers out there, they can crank up the difficulty and it becomes a challenging dungeon explorer. During the livestream I noted there were six difficulty levels to choose from, but I don't know if that was the maximum number or not. You can play with up to three others, either online or couch co-op. This allows for a good range of multiplayer experiences, especially if you are playing with friends and family at home on one screen. It's a drop-in/drop-out game too, so players won't have to worry about exiting to a lobby to allow other players to join.

Minecraft Dungeons scales automatically as you add players to the group. As you begin to add more players into the group, the game will add more enemies and challenge to your adventure. This is a clever feature as you won't blast through the game's various levels as you make your way towards the end of the game. Speaking of "end of the game", it should be noted you can play your adventure one of two ways. There is a lot to discover in each dungeon, and you can venture off the beaten path to explore all each dungeon has to offer. Should you be an impatient gamer who doesn't want to explore, you can go straight from point A to point B. If you fall in the latter group the main story mode is said to last about 5 hours or so. Should you search every nook and cranny of the dungeons, expect a longer gaming experience as well as the opportunity to find new and more powerful gear, weapons, and more.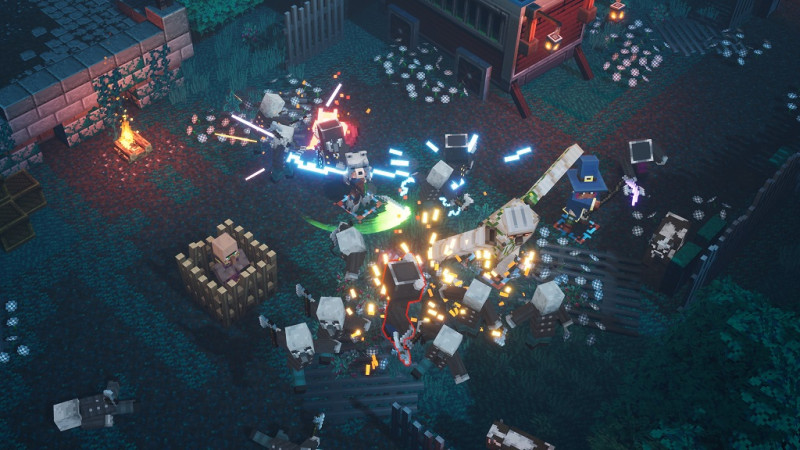 One of the things that I was pleasantly surprised with was how versatile your character is. The ability to add specific gear, weapons and artifacts at anytime adds a lot more variety than I had anticipated. You have melee weapons (e.g. sythe, hammer, swords) as well ranged weapons (e.g. bows). These weapons are not restricted to one type of character, as all weapons are useable by all characters. Armour is the differentiating item for what gamers may consider a 'class' system of characters (e.g. tank-like player vs. summoner type player). You can boost up your character by using artifacts that you'll collect by running the dungeons in the game. These are akin to abilities and have 'set' times that they will be active. You can double down on very specific things too. The dev-team also mentioned that you can also enchant your armour. During the demo, one of the developers playing electrified their armour to zap enemies during battle. You can also stack different enchantments onto a single item, and you can level up these enchantments as well, which can help you in the higher difficulty settings of the game.

As you venture through the games various dungeons you will find that there are 'fixed' steps during your mission as well as the optional side quests where you can go off and find secrets, gear and more. When playing the online multiplayer, your teammate(s) can take on the side quests and/or explore other paths, while you can keep going on the main quest. It's nice to see they allow this kind of flexibility for teamplay. It was noted that mob and mini-boss areas will happen at the same time/areas of the specific dungeon you are exploring, even though the rest of it is randomly generated. This is a design choice by Mojang as these 'events' are a way for the player(s) to recognize where they are in regard to their progress of any one specific level and how close to the end they may be.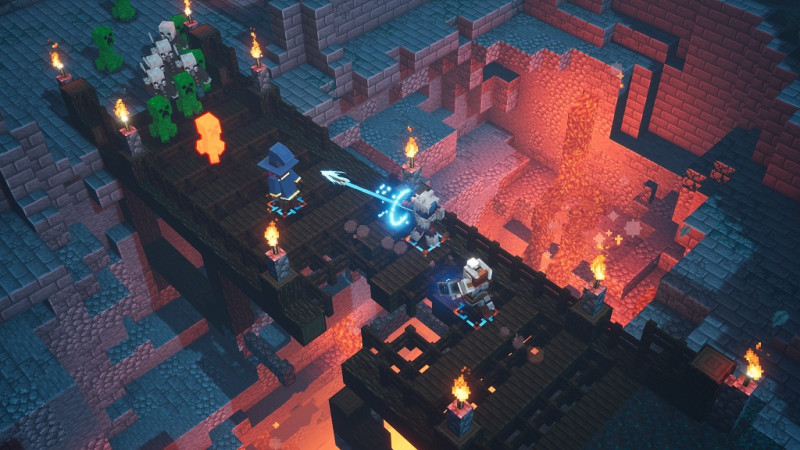 One more thing worth mentioning about the gameplay is how you and your teammates share lives. If you die, and another teammate raises you from the dead, you do not lose any lives at all; however, should you and your party all die, with no one left to revive anyone, then you lose one shared life. There is a total of three shared lives per dungeon mission. You are also not penalized for an untimely death, as you will be able to continue from the spot you die and are not forced to start the dungeon from the beginning.

In terms of the visuals, it is a very Minecraft inspired world, but with current/next-gen effects. During the livestream, there were three things that really struck me. The first is the game's lighting and special effects. From torches flickering, lava flowing, to the forested areas that provide shade on specific levels, it was all very impressive. The use of dynamic lighting was very noticeable and made for a very solid looking game within the Minecraft universe. The second thing I noted is the differentiation between the three worlds that we were shown. This was not only in terms of the locales (e.g. the new Redstone Mines level was shown) but the design of each one. You'll find that some dungeons are more open and are very suitable for ranged weapon use, while others are more enclosed or constrained, forcing you switch up to a more melee-based attack style. Having this variety is something to be appreciated, as you won't be slogging through the same looking dungeons, visually and design wise, repeatedly. The third thing that is very noticeable is how much action can occur on screen. It can border on chaotic at times. From numerous types of enemies attacking, including new ones that are being introduced to the world of Minecraft for the first time, to all the weapon effects, magic effects and of course, the lighting. I can't remember seeing much, if any, technical issues, and this includes the times when there was an incredible amount of action happening on screen.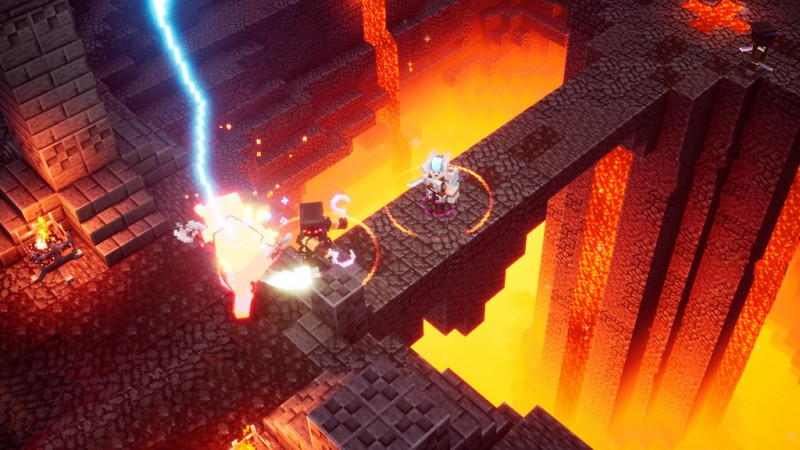 I would love to talk more about the game, but I am running out of time and space. But a few quick housecleaning notes are required. The game will come in two editions, the regular edition and the hero edition. The regular edition is the base game, which of course you'll find on Xbox (and PC) Game Pass. The hero edition is like the regular edition but with a season pass, which includes two DLC packs. There will be no in-game store and no microtransactions as the games follows a 'traditional' model of a game. When asked if they would support the game outside of the two DLC packs, Mojang stated they hope to support the game for "...a long time" given how long the original Minecraft has been supported for (10 years).

Oh, and one last thing, once you see an in-game piggy bank, a literal Minecraft pig carrying a loot chest, you will recognize the tried and true Minecraft humour in this action adventure game. We here at XBA can't wait to play the final version.