Nacon RIG PRO 500 HX Gen 2 Review
by Adam Dileva








Features:

Audio Connection: 3.5mm Wired Connector
Cable Length: 1.2m
Headphone Frequency Response: 20 Hz - 20 kHz
Impedance: 32 ohms
Headphone Sensitivity: 111 dBSPL/V
Max Input Power: 40 mW
3D Audio: Dolby Atmos
Headphone Drivers: Dynamic 50mm
Ear Coupling: Around Ear
Microphone Frequency Response: 111 Hz-10 kHz
Microphone Sensitivity: -45 dBV/Pa
Mic Pickup Pattern: Uni-directional
Mic to Signal Ratio: >42 dB
Removable Mic: Yes
Volume Control: Inline Volume with Max Lock Position
Color: Black
Weight: 281g
Compatibility: Xbox One, Xbox Series X|S, Windows 10
Warranty: 1-Year Limited (US/Canada)

*Non-stock images and videos provided courtesy of 1000 Shutters Co.**

RIG PRO 500 HX Gen 2



Headsets come in many different configurations with varying audio features and price points. People tend to choose their gaming headsets based on a number of factors, with price being one of the most noteable and then any other features they deem important for their situation and needs. Myself, I tend to gravitate towards headsets that not only has great audio, but those that are generally lightweight and/or very comfortable to wear, as I generally game for hours at a time since I'm constantly reviewing games.

The latest headset I got to check out is the new line of RIG's with their Gen 2 offerings. The RIG 500 PRO HX Gen 2 is a wired lightweight gaming headset built for the Xbox One, Xbox Series X|S and Windows 10, priced at $69.99 USD / $89.99 CAN. The RIG brand has been around a while but recently was purchased by Nacon, who are known for their accessories and games. With their input and knowledge, the Gen 2 version of the popular headset was conceived, offering a slightly reworked model with a couple of compelling features and decent audio.

The general rule of thumb when it comes to headsets is that you're going to get what you pay for. A sub $100 headset like the RIG PRO HX Gen 2 isn't going to compete with my high end $500 cans, but it's not meant to. This review is keeping the price point in mind first and foremost, comparing it directly to other entry level headsets under $100. While I tend to prefer my mid to high end headsets, the RIG PRO 500 HX Gen 2 really surprised me with a few of its noteworthy features, notably its Dolby Atmos inclusion and extremely lightweight frame which doesn't feel like it's made from cheap plastic.

LOOKS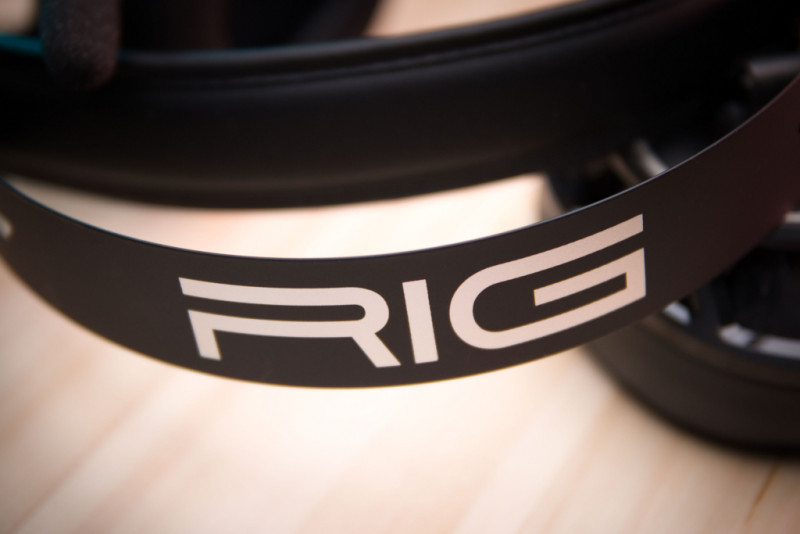 The RIG PRO 500 HX Gen 2 does look like a gaming headset, as I most likely wouldn't wear it out in public, but it isn't gaudy with crazy accents or RGB lighting. It is purely black in colour aside from the RIG logo branding along the top of the headband and where the ear cups connect. Yes, it's a wired headset most likely to keep costs down, but the 3.5mm connector has changed from the previous generation, now sporting a standard plug instead of a proprietary one, so it can essentially be used with any 3.5mm headphone jack. A nice touch is that the cable is tangle free due to it being a flat cord as opposed to round. There is also a volume inline control about halfway down the 1.2m length cable.

The mic is a boom arm that folds up or down depending if you want it muted or not, and the mic itself has a gooseneck so you can move it and find that perfect distance away from your mouth for clarity and to allow your online friend not to have to experience you constantly sounding like Darth Vader breathing though the mic. The sleekest part about the headset is its metal frame and the head band that auto adjusts to any sized noggin without any effort required. The cups themselves have honeycomb-like cutouts, adding some interesting flair and texture while also slightly reducing its overall weight. There's even a large "R" in the right ear cup to indicate which way it should be worn just in case you forget that microphones and cables generally always go on the left side for whatever reason.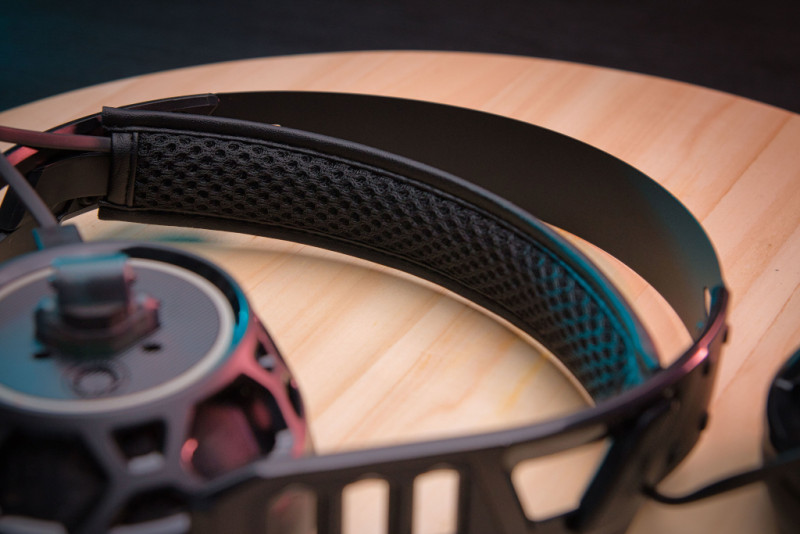 While I don't factor in the unboxing experience in any way to my scoring and impressions, it's always cool to have a memorable unboxing if it's done in the same manner you generally get with higher priced items. Remember, this is an inexpensive headset, so don't expect much for the unboxing experience, as it's as bare bones as it gets. The outer box is quite slick and eye catching with its half black and white packaging, but open it up and the headset just sits in some recycled cardboard along with some papers and stickers. Not a knock against it in any way, just don't expect a premium unboxing experience.

FEEL

As mentioned above, comfort is a very big checklist item that I prioritize when choosing what headsets to buy or use as I game for hours at a time most days. If it's too heavy or makes my ears sweat it's generally a deal breaker. Thankfully I never had this issue with the RIG PRO 500 HX Gen 2, and to the best of my knowledge, is probably the lightest headset I've reviewed in quite a while, if not ever, that also has quite a few features. Even after a six hour Netflix binge my head never became sore, ears didn't sweat and I had no issues aside from some headset hair where the band rests.

The headset only weighs 281 grams, just over a half pound. For a headset with 50mm drivers, that's incredibly light. Factor in that the main band isn't just cheaply made plastic like in other entry level headsets and it's even more impressive. I eventually became so accustomed to its weight that I once got up to get a snack, forgetting it was on my head, then was reminded by the pull on the cord connected to the controller.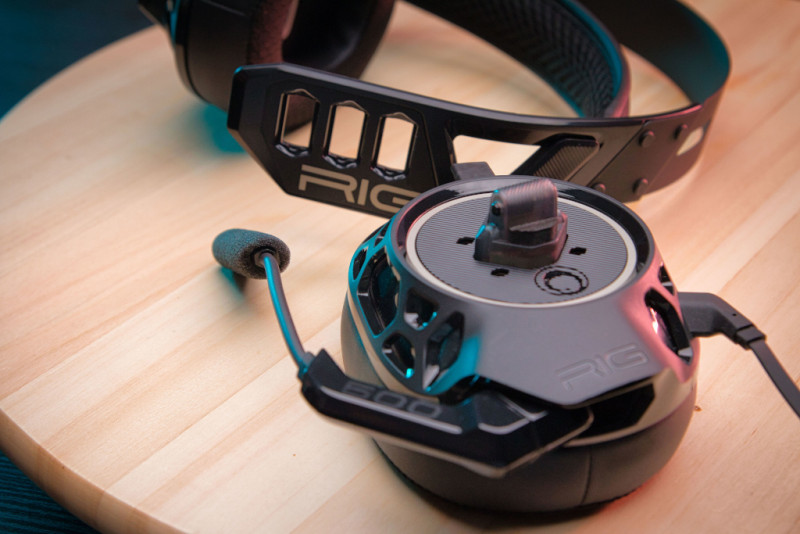 The outer band is made of a very light metal, flexible but sturdy. The coolest part though has to be the inner band wrapped in a comfy material that flexes automatically based on the size of your head when you put it on. This system works really well and I never had an issue with it slipping off when I bent down to get something or turned my head quickly like with other headsets. There's just enough pressure to keep it on your head but not too tight. While I don't wear glasses, I tried wearing a pair as I tossed my coolest shades on just to see if I could notice any pressure on the glasses arms, and I was surprised that I couldn't feel any difference at all. I asked my wife who does wear glasses to try them as well and she couldn't notice any extra pressure applied to her glasses arms either, which speaks volumes to how much cushioning the ear cups have.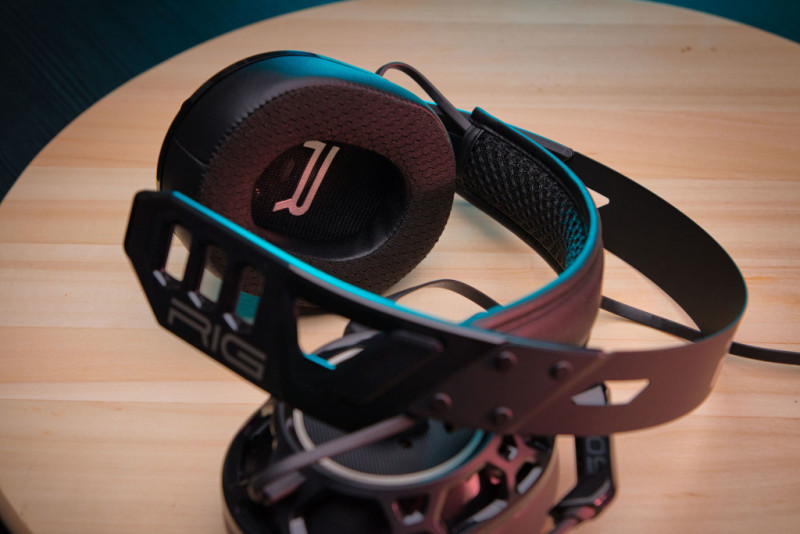 The way the band is designed means you can't make any adjustments, but there's no need to as it simply stretches and fits the shape of your head without any effort. There are three separate notches where the ear cups connect to the bottom of the bands for some slight adjustment, a really cool system I can't recall seeing in any other headsets, especially at this price point. The cushioning consists of two different materials, a faux leather on the outside edge and a super soft foam for the inner part that actually rests against your ears. I really approve of this mix as full leather cups generally tend to make my ears quite hot and sweaty, but I never had that issue, even once after hours of continuous use with these. While I wasn't throwing the headset around, I was a little rougher than I would normally be just to see how it stood up to some slight abuse. For how thin and lightweight the headset is I was quite impressed with how resilient it was to bends and drops. My only complaint here is that the microphone is apparently detachable, but after a few attempts I was unable to unplug it, worried I might break it off; not that you need to remove it though.

CANS

50mm drivers are generally the go-to size for most gaming headsets as it seems just right for audio and features. RIG chose low distortion drivers to offer some more accuracy to the audio quality. The closed back ear cups rest over your whole ear and are your standard oval shape, but they don't swivel at all due to the auto adjusting headband style. I never encountered this to be an issue though as they fit my head perfect in the default position. There isn't much noise isolation though, even with the closed back style. While external sounds will get muffled a bit, I was able to still hear my daughter in the background playing her games or my wife calling me when she needed something. Obviously if I turned up the audio loud enough it helped, especially if I was focusing on my game, but I was a little surprised with the lack of outside noise isolation, possibly due to the foam ear cup choice.

AUDIO

Your audio is generally going to be why you ultimately decide on one headset or another. A headset at this price range isn't meant to compete with others that cost five times as much, so again, I'm simply trying to keep in mind other headsets around this same price point. The headset utilizes its 50mm drivers to deliver a very crisp soundstage, one that I tested with a handful of different game genres, movies and music. Explosions sounded loud, dialogue and music very clear and vehicle engine roars were distinct. There's very little distortion, even when I set the inline volume slider to maximum and within the Xbox dashboard as well. My only real complaint, and it's not even really a complaint, is that it does lack a bit of 'oomph' with its bass. The bass is there but it doesn't sound or feel very deep compared to a few other headsets I own. This is obviously a personal preference, as I enjoy super loud and deep bass while others wish there wasn't as much.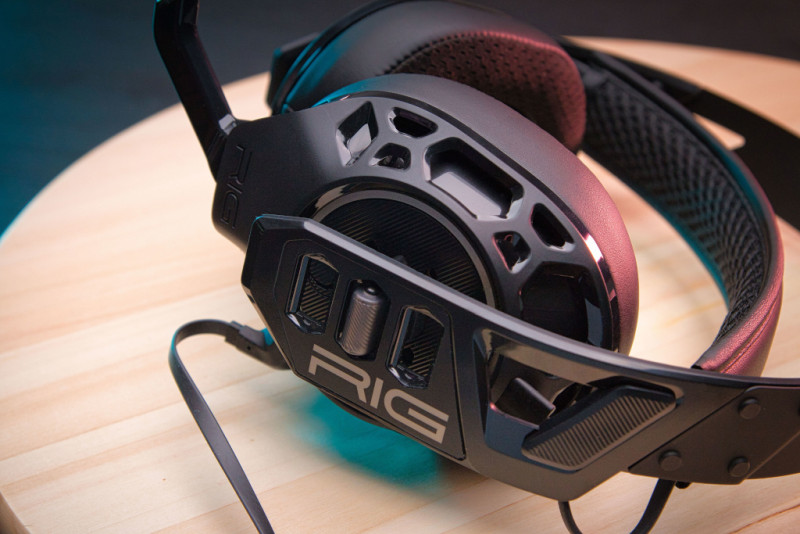 It seems not many gamers were fans of the old volume dial and very unique plug that was present on the Gen 1 versions, so it seems as though they've heard the feedback loud and clear, switching things up to a standard 3.5mm headphone jack instead, but the other change in this area is also tied to my least favorite feature about this headset; the inline volume slider. The slider sits halfway down the 1.2m cable, which is fine, but it feels like the cheapest part of the whole product. There's no notches or anything of the sort to lock in place other than when it's at max volume, it simply slides and feels as if it is made out of very flimsy plastic.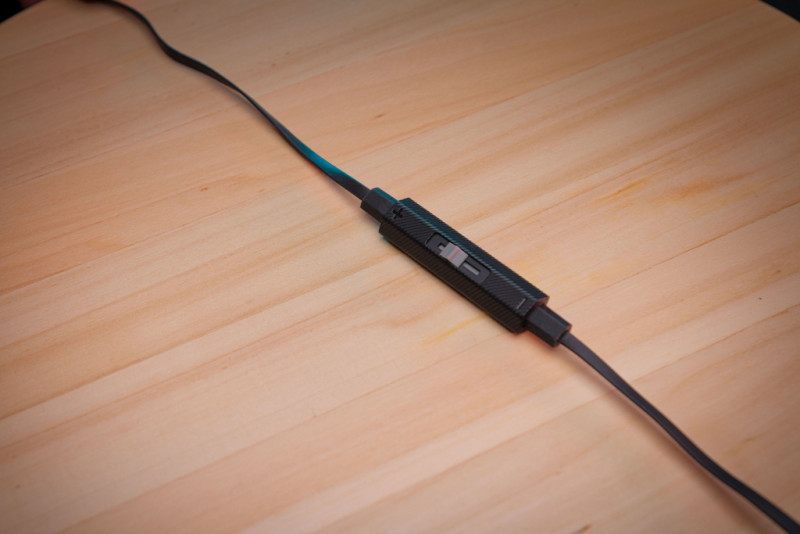 DOLBY ATMOS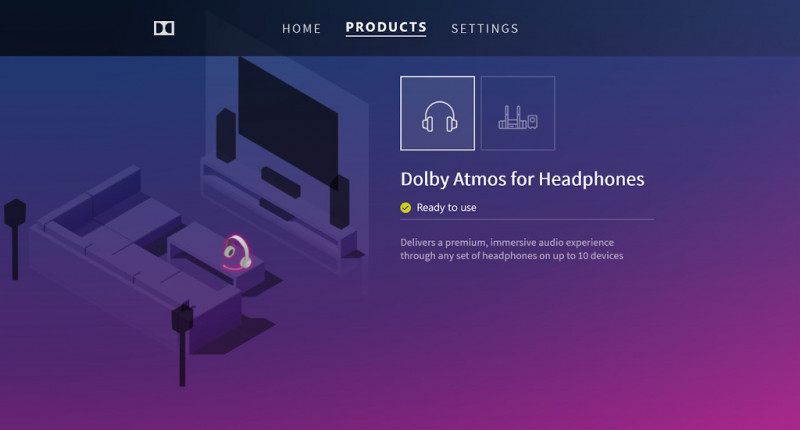 The RIG PRO 500 HX Gen 2 has a secret weapon though when it comes to audio; its inclusion of Dolby Atmos support and a 2 year activation code for the Dolby Access App. Basically, Dolby charges a $14.99 license fee to gain access to Dolby Atmos for Headphones on console, adding a whole new level of immersion when it comes to your soundscape. I don't want this to turn into a review about Dolby Atmos itself, but generally it's going to give you a more rich and immersive sound as it emulates true sround, even from above or below, not just on a horizontal plane around you. The easiest explanation to describe this is that if you heard a helicopter fly overhead with Dolby Atmos, it would actually sound as if its above you as it soared past. Pair Dolby Atmos with a supported headset like this and you'll have a completely new audio experience with a full 3D soundstage.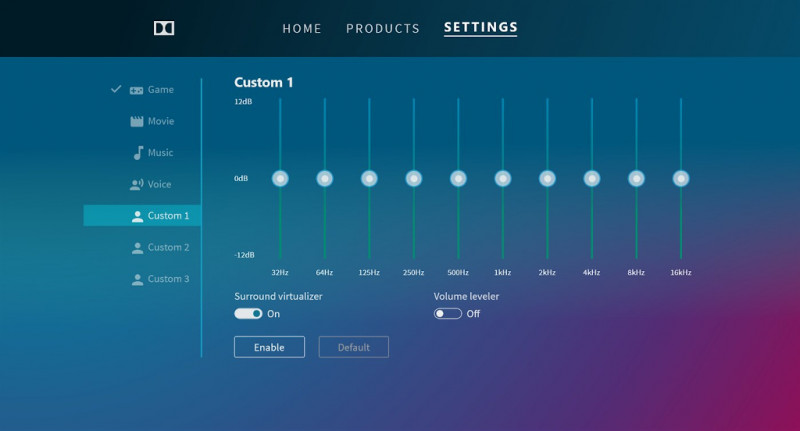 If you have not purchased a Dolby Atmos license yet for your Xbox, you'll be pleased to know that the RIG PRO 500 HX Gen 2 comes with a 2 year activation code inside the box, free of charge, further adding more value to its price point, and as far as I know is the only gaming headset that offers this currently. Be aware this subscription is only for one device, so if you have multiple Xbox's or PC's, you'll want to choose which one you want the Atmos activation on with the included card. The App is very simple to use and this is where you can fine tune the adjustments and equalizer settings to suit your preferences.

MICROPHONE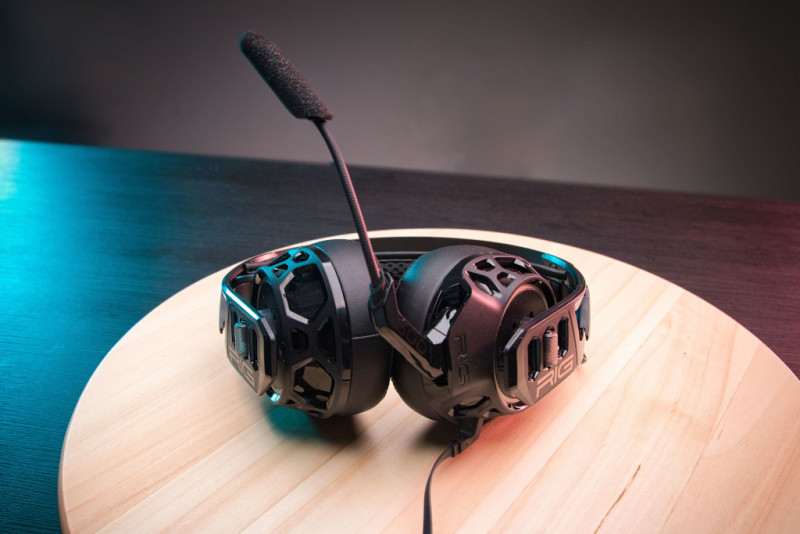 I don't know why but the vast majority of my gaming headsets usually have some sort of microphone issues, usually an echo that my friends complain about when I'm in Party Chat, so I was curious if this would have the same issue. Sometimes the way headsets are designed, the wiring within crosses or the mic picks up on the vibrations that can cause echo which is usually where much of my issues stem from. Naturally I was wondering if this headset was going to give me the same problems. Short answer, not really.

As for it the mic itself, it flips up and downwards with the actually input on the end of a small gooseneck. This means you can place it anywhere you wish but I had the same issues here I did with inline volume control. There's no click mechanism other than halfway between up and down, again simply sliding it to your desired position.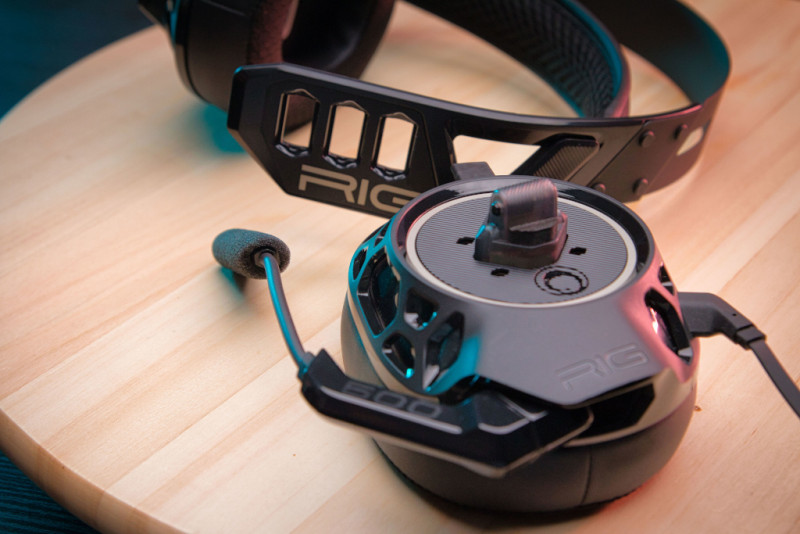 To mute your mic you simply flip it all the way up, but this made me uneasy, as there's no click to indicate it's in the muted position, nor any audio ping or red light that some headsets use to visually show you're microphone isn't broadcasting. A mute button or switch on the inline control would have been a welcomed addition. As mentioned above, apparently the mic is technically detachable, but I was unable to do so without fear of breaking it off or causing irreversible damage.

As for the microphone quality, I swapped to multiple headsets and asked which one sounded the most natural and clear. Every time my friends in Xbox Party Chat chose the RIG Pro 500 HX Gen 2 without me telling them which one I was using. "You sound like you're in front of me just talking in the same room, not on a headset" was the best quote I got from them. I did get the odd echo issues I sometimes have a couple times, but not always. When it worked perfectly I was told I sounded perfectly clear and this is the same people I game with every day, so they would know best.

CONCLUSION

The RIG Pro 500 HX Gen 2 took the best parts from the original model and slightly improved on many minor facets, making for a more refined and better overall headset. Couple that with the Dolby Atmos inclusion and there's very few headsets out there in this same price range that offers as much value. The unique headband fitting system works so well, mostly likely due to its ultra-lightweight, allowing for uninterrupted gaming sessions without any fatigue or sweating ears due from the headset, a feature that's incredibly important to me and I would assume many others.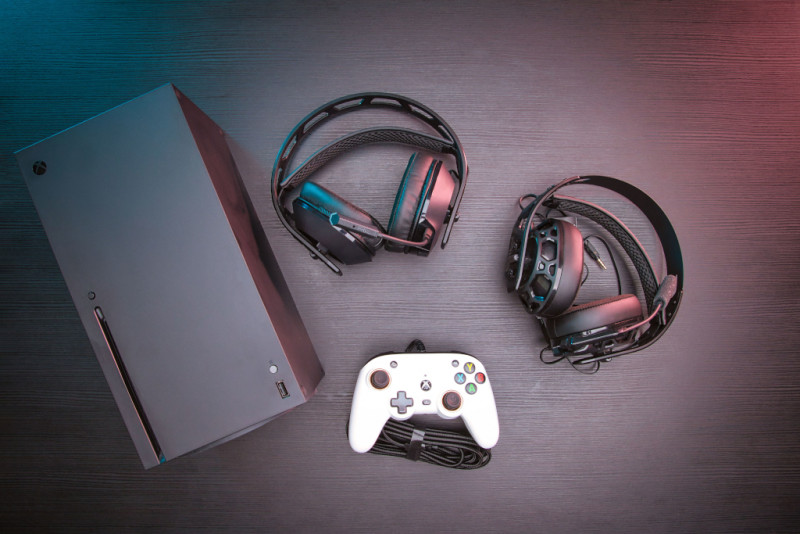 The RIG series of headsets have always been a solid choice, and the Gen 2's again cement a solid offering that provides great value, clear audio and Dolby Atmos support for its price point of $69.99 USD / $89.99 CAN, not something many other brands can easily match. Having used the RIG Pro 500 HX Gen 2 exclusively for the past few weeks, and even with the few issues I noted, I'm still finding myself reaching for it as my first choice when I'm going to be gaming for a long session due to its lightweight comfort.

**We were provided with the RIG Pro 500 HX Gen 2 and it was tested across numerous games, streaming apps and music on an Xbox Series X**



Overall: 8/10