Audeze Penrose X Review
by Josh Morgan







Specifications:
Style: Over-ear, closed-circumaural
Transducer type: Planar Magnetic
Magnetic structure: FluxorTM magnet array
Phase management: Fazor
Magnet type: Neodymium N50
Diaphragm type: Ultra-thin UniforceTM
Transducer size: 100 mm
Maximum SPL: >120dB
Frequency response: 10Hz - 50kHz
THD: <0.1% (1 kHz, 1mW)
Earpads: Contoured memory foam - artificial leather
Microphone: Detachable broadcast quality mic
Battery type: Lithium-polymer (15hr battery life, 3hr charge time)
Wireless Connection: 2.4 GHz Wireless (16bit/48kHz) + Bluetooth
Wired Connection: 3.5mm analog audio, USB-A-to-C charging
Weight: 320g (including battery)

Package Includes:
Penrose Wireless Planar Magnetic Headset
2.4GHz Wireless Dongle
Detachable Broadcast Quality Microphone
USB-A to USB-C Cable
3.5 mm to 3.5 mm Cable
Quick Start Guide
Warranty Card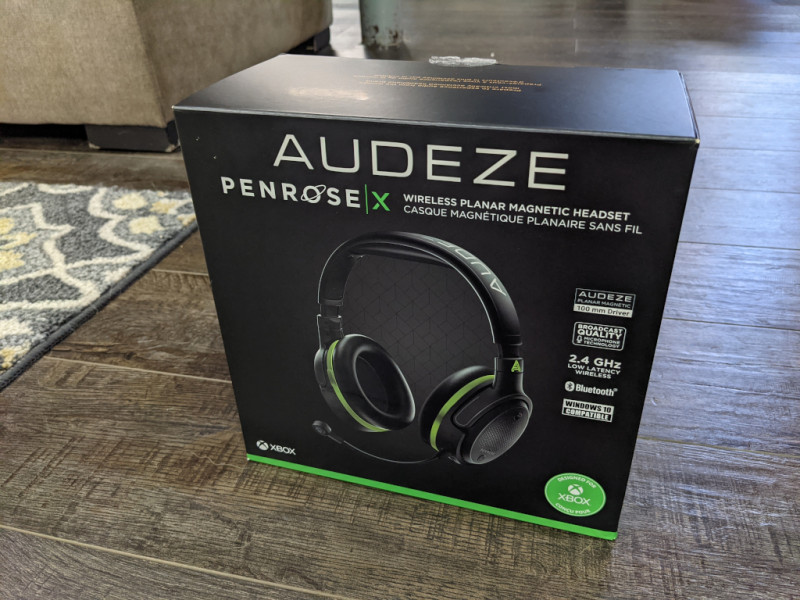 Over the course of my gaming career, I've owned a dozen headsets and reviewed a handful of them for this site. When I heard about the Audeze Penrose coming out my ears immediately perked up. I had been in the market for a new pair for a while; my longtime headset (Astro A50) was starting to show wear and I bought a set of the Xbox Wireless Headset and was pretty underwhelmed with the sound. Don't get me wrong, they are a great set for $99 but I am looking for something with a bit more sound quality. I really liked the dual channel with Bluetooth feature of the official Xbox set, so hearing the Penrose X has a similar feature, but paired with the excellent reputation of sound quality in Audeze products I just had to get my hands on a set. There are so many questions that come up when you are looking for a new gaming headset; How do they sound? How do they feel? How is the battery? Are the buttons easy to find without looking? Do they look funny when you are only wearing them and underwear? I will try to answer all of these questions and more.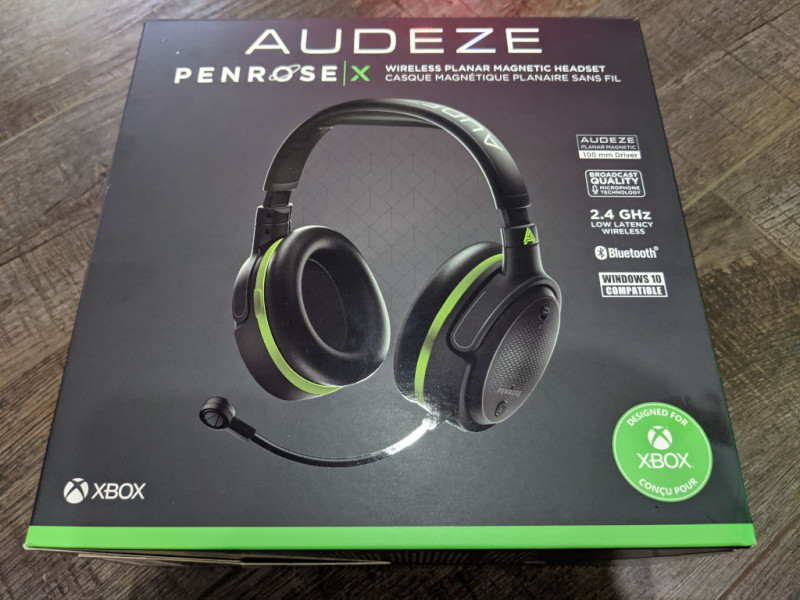 I have to admit, I had never heard of the audio brand Audeze before about 2 years ago (could be longer, the pandemic has warped all sense of time) when our chief editor posted his review of the most excellent Audeze Mobius for PC (that happened to work with Xbox One also). As a console gamer, I was instantly jealous that a gaming headset of that caliber was not available for me to enjoy. So needless to say, I was super stoked when I was asked to review their entrance to the console space and I was glad to see that the Penrose X was fully compatible with the Xbox One generation of consoles, and the new Series X and S consoles, because I am a sucker and own every version of them.



I could move from console to console in my house with ease and it is compatible with all of them and my PC/Laptop. As a father of two young boys, and a husband to a wife that despises loud noises at night (she puts up with two boys all day) I find myself gaming with headsets more and more these days. I have a good 7.1 theater setup that will shake my house if cranked up. So great sound is very important to me and my hobbies. I game, I listen to music, I watch movies, I watch TV and I watch YouTube all from my Xbox and I use a headset to do it most of the time since I live with the fun police.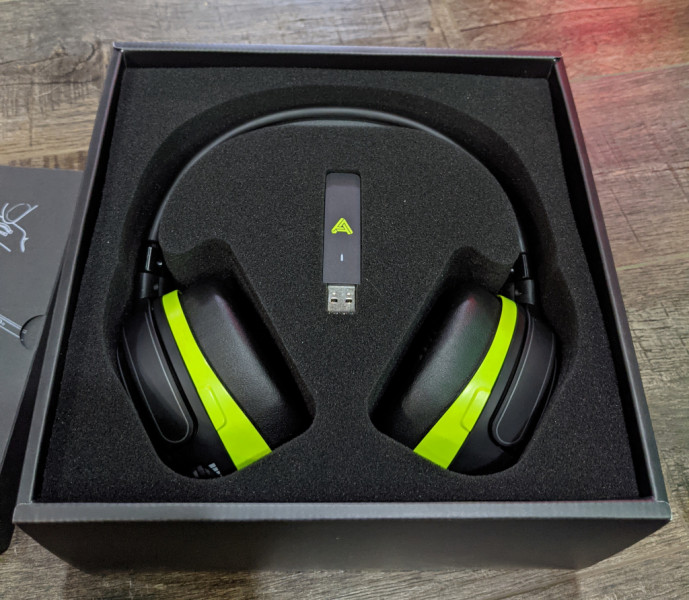 I bet if you asked people if the packaging of your devices matters or not, most people would say no. I can agree with that for the most part, but you can't tell me that you don't notice the packaging when an item you purchase has a premium look and feel as you open it. Like when you are unboxing an iPhone, you know what's inside, the newest model is almost the same as the one that is in your pocket and you shouldn't be this excited, but opening it up just feels like an experience. I did not feel any of that while opening the Penrose X. For a $300 headset I was expecting more. Is it a bad thing? Heck no who cares, but when I saw the box, I was a little disappointed. I quickly got over it when I opened the flaps and saw the headset and USB dongle inside the foam insert all snug as a bug in a rug. Under the foam insert is a smaller box that holds additional cables and a warranty card. I was also a bit disappointed that there was not a carry case included. My A40s from 10 years ago had a hard-shell zipper case that still holds up to this day. I travel for gaming parties a few times a year and I would have liked a way to transport them safely. Neither the Astro A50s nor the Official Xbox Headset came with cases, so I guess this is the norm now.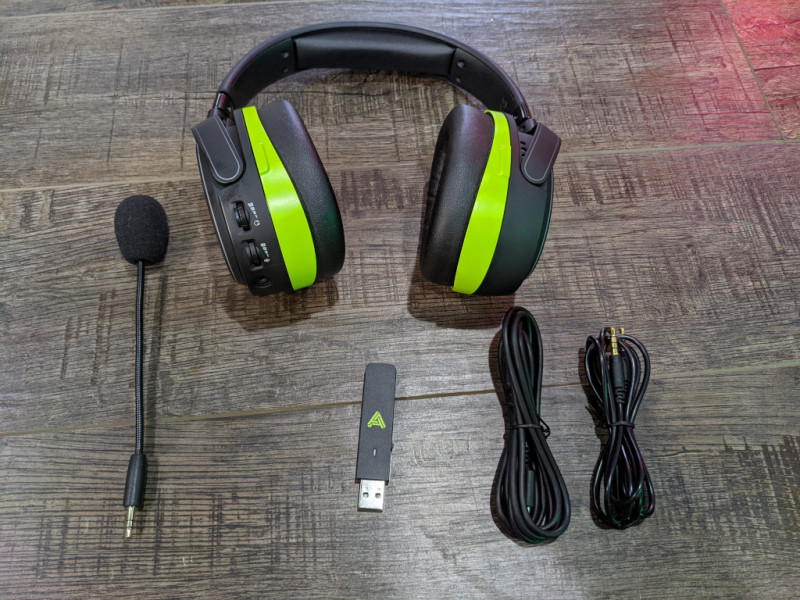 Setup is so easy; your mom could do it. You simply plug in the provided wireless dongle into an open USB A port on the console and switch the toggle on the side of the stick to XBOX and you'll be instantly connected. You'll see the "headset assigned" message come up on your screen and you'll know you did it right. If you want to take the Penrose to your PC just simply plug the dongle into an open USB port. switch the toggle to PC and you're good to go there too. It's really that simple. Before you go any further, you'll want to set yourself up with the app on PC, and the app on your phone or tablet. Download the software from the website shown on the instructions and now you'll have a decent suite of EQ settings, sensitivity options, and volume sliders that you can tweak until it sounds just right. There are even pre-made EQ templates on their website for games like Apex Legends, Call of Duty and other popular titles that you can save and store on your PC for future use. But you need to plug your Penrose into the PC with the included USB C to USB A cable to apply those settings, and also to update the firmware. The Penrose are not capable of updating or changing EQ settings over Bluetooth or 2.4GHz wireless.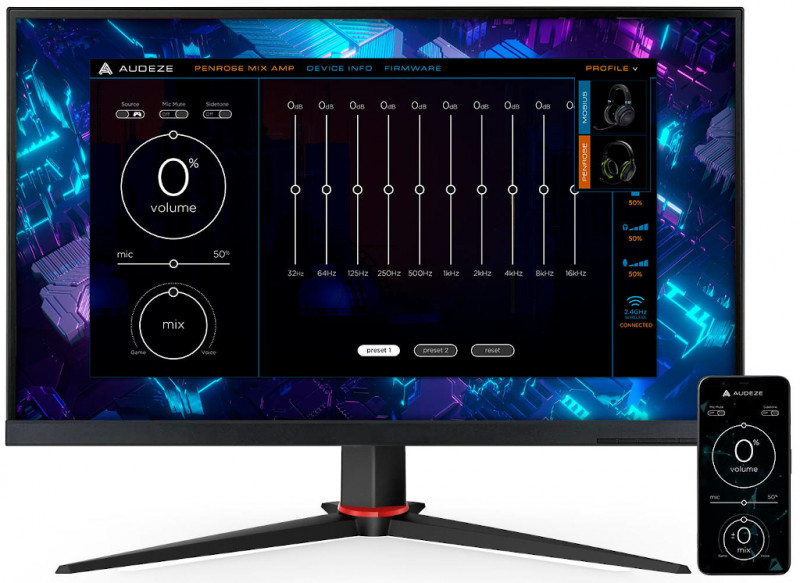 The Penrose has four connection modes you can have the headset set to and they are identified by the status light right above the power button on one of the cups. The first, and default mode, is the standard 2.4GHz connection that Xbox uses, and it lights up green. The second is Bluetooth and you guessed it, the light turns blue if you are only connected via Bluetooth. The third color is teal, and that is used when both Bluetooth and 2.4GHz are connected at the same time. The last mode is Aux and this allows you to use a 3.5mm cable to connect other devices like a Nintendo Switch or Microsoft Zune. Yes, I mentioned the Zune in a review in 2021. Bring it back you cowards! You can switch between these modes with the press of the multi-function button, and the lovely lady in your ears tells you which mode you are in. Once you have your firmware updated, it's connected to the Xbox via 2.4GHz, and/or connected to a phone or tablet via Bluetooth then you are set to start gaming.



Once you slide these beauties over your fat melon, you'll notice right away how the ear cups create a seal around your ears and the headset fits snug to your head. I have an average sized head, and I've had headsets that feel loose or flimsy even on the smaller settings; that is not the case with the Penrose. They are stiff and snug, tight to your head and ears. Maybe it was the years of use with my Astro A50s, but I never remember them feeling this snug. I actually put them back on to test the fit and I wonder now how I was able to keep them on my head. I felt like if I turned my head fast enough or bent over my A50's would fall off. With the Penrose they never moved an inch with every turn, bend or bounce I did with them on. I bet I could do some backflips and they would still be attached to my ears. They feel fantastic.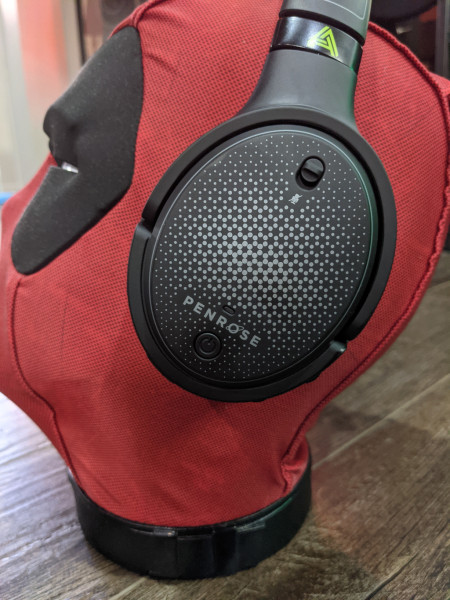 The detachable boom mic is a bit of a concern for me. The boom arm that the mic is attached to feels very flimsy and limp. It plugs into the headset microphone port and that part feels secure. You can tell you are plugging it in right because one of the male ends of the plastic housing around the aux is straight, meaning you can only insert the plug in one way. But the boom itself just doesn't feel strong enough to support the weight of the mic at the end of it. Now, I'm not much of a multiplayer guy, I would say I am about 80% single player,and 20% multiplayer so the mic doesn't get a ton of use from me so it will sit most of the time safely on my gaming shelf. But I can see this boom becoming even more limp over time and dropping below your chin making you adjust it a lot. I can say with the 100 or so hours that I tested it and chatting with friends during games it did not fall at all, but I just don't know how this will last over the long term.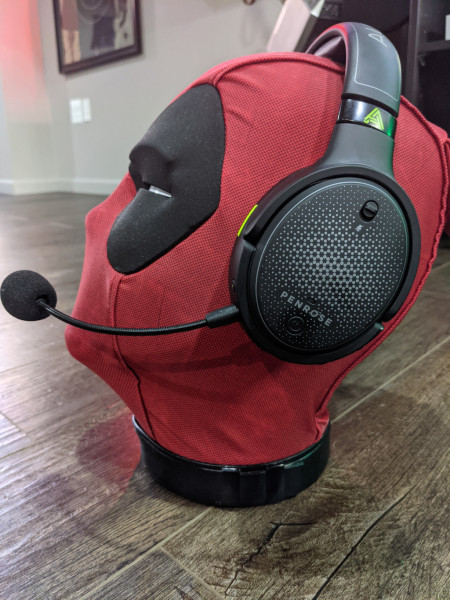 The layout of the buttons on the cans is standard. You've got the main power button and the mute toggle (up/down) along with the connection status light on the left can face. The left can perimeter also has the headset volume dial which just controls the volume of the headset both chat and game at the same time, the mic volume dial which controls your voice level, an auxiliary port, USB C port, microphone port, and the multi-function button that you use to switch between wireless connections. There's a lot packed into the left can on the Penrose, but it's nice to know it is all on the same side for easy access.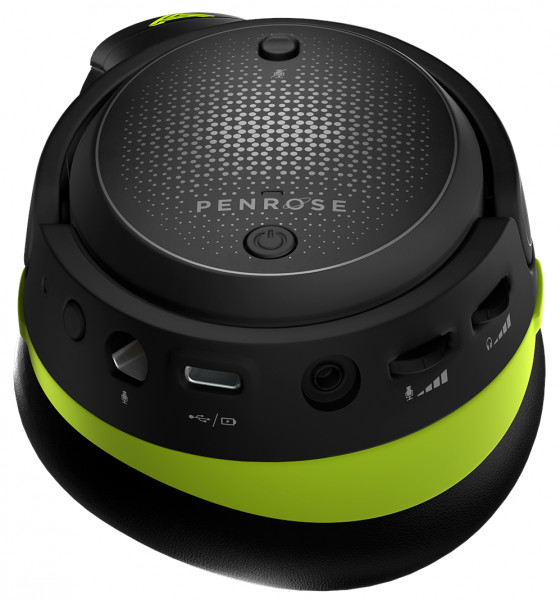 The ear cups themselves are made of a memory foam wrapped in artificial leather. The memory foam, as I talked about above, helps with the snug fit around your ears and the artificial leather ensures that your head can barely breathe. It's not uncomfortably hot, as I do think the Xbox Headset feels a lot hotter in comparison. My Astros were made of a cloth foam, and I felt like those would let my head breathe a little bit more than the Penrose, so these fit pretty comfortably right in between the two sets. I wasn't sweating a lot or anything, but I did notice the air felt cooler when I took them off after an extended time period. The head band is pretty stiff, again helping with the snug fit, and the band itself is made of the same memory foam as the cups so it's soft, yet stiff, and delivers a comfortable fit that I think will last over time. One thing to mention, and I've seen it in other reviews, is that a friend tried on the Penrose, and he made a comment about the metal headband under the foam padding sticking into his head and he could noticeably feel it. I of course made fun of his pointy head, but then I jotted the notes down to pass on to you. I did not feel this band at all, but I have a perfectly shaped head. I get all kinds of compliments on it.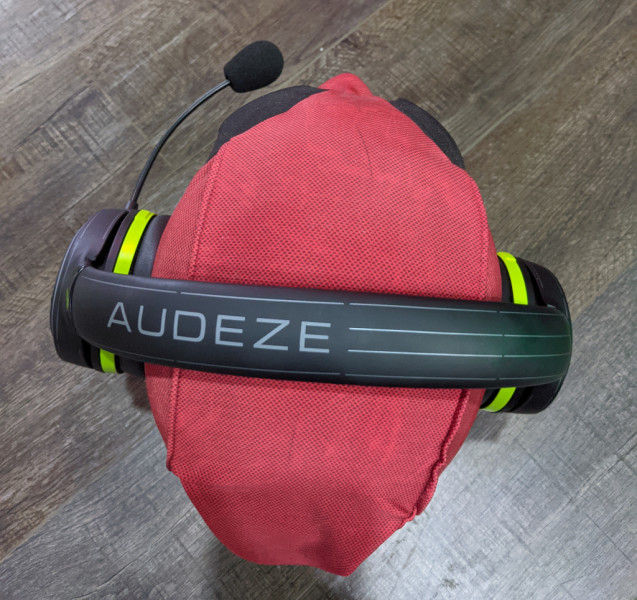 The plastic parts of the Penrose are made of a flat black plastic that looks slick up against the neon green highlights that usually accompany Xbox focused products, and the face of each cup has a gradient hex pattern that breaks up the flat black as well. I would say they are a cool looking headset, a nice middle ground between boring black and some of the obnoxious RBG lit flashy ones you see on streams. If you decide to take these out in the wild to listen to music or watch movies on your phone or tablet, I'm sure people will know you are using a gaming headset with its bright green highlights. The USB-A to USB-C charging cable that is provided with the Penrose is long enough that you can plug it in and charge while you play and is made of a nice, braided material that will last longer than the iPhone cables.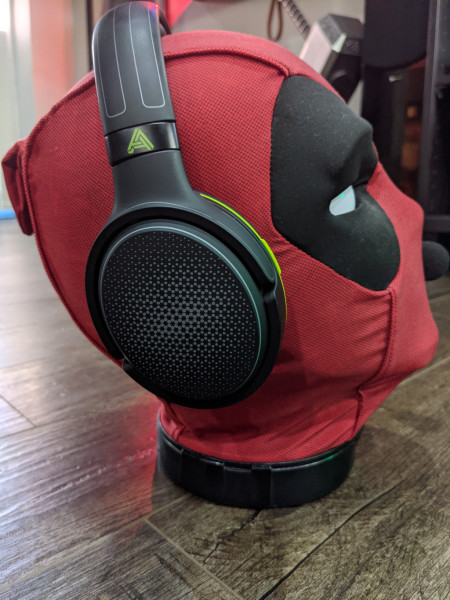 The Penrose X comes packed with the features that all the new headsets are coming out with the new consoles. The top of the list is the dual channel support with Bluetooth. When this feature started to get announced with headsets, I immediately had thoughts of listening to my own music while playing. I started off with the Penrose connected to my phone and made a few calls while gaming. Everyone I talked to said my voice was crystal clear and couldn't tell that I was using a microphone. Gaming volume and Bluetooth volume are easy to adjust to find the right balance. Next up I connected them to my Samsung tablet, and this is the device I will use it on most other than my Xbox. I can listen to podcasts, chat on discord, listen to music, watch Netflix and even my cable TV streamed to the tablet, and the audio all goes through the Penrose and all while still listening to in-game sounds and music. It's a real game changing feature and the Penrose does it perfectly. I've used it multiple times while watching YouTube walk through or tutorial videos and it's nice to be able to watch and listen to the video while playing the same game on my Xbox. Another great thing about this is now that XCloud is in beta, I was able to take my headset and tablet on vacation and play games and chat with friends while I was away from my house and Xbox. I played some Yakuza Zero and Maneater while I was camping with my family and having the headset with quality sound really made me forget that I was streaming a game hundreds of miles from my Xbox.



With the Bluetooth connection also comes the ability to make some small adjustments to the settings on the headset via the mobile app. Just download the Audeze app from Google or Apple store, it's bare bones when it comes to the settings you can adjust, but it gets the job done. You can increase or decrease your mic volume and adjust the game audio/chat audio slider so you can ensure the perfect balance of sound while gaming with your buddies. I've found that I like to open the app up on my tablet and keep it open while gaming with friends. There are times when I might need to adjust the game/chat slider a bit depending on the mic quality of my friends. It also helps to have the mic volume, game volume and mute buttons right there on screen for easy and quick changes.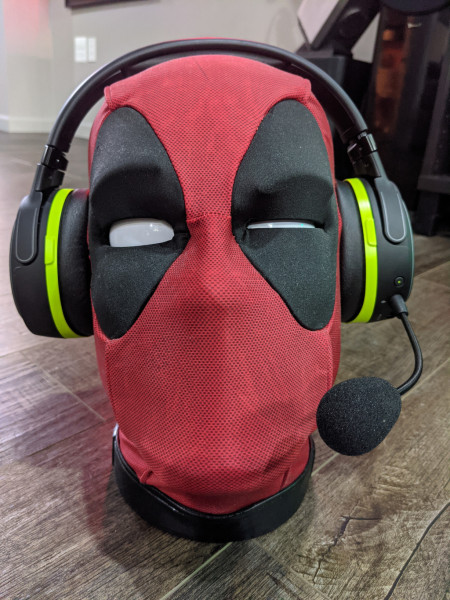 I can't believe that I have gone for ten paragraphs and have not mentioned the sound quality. Let me tell you these things sound amazing on everything I tried. The 100mm planar magnetic drivers deliver full and immersive lows while making sure the mids and highs are crisp and clean like a well ironed shirt. I'm sorry, I started that sentence and had no ending and that was the best I could come up with. The point is these cans deliver the best sound I have ever heard in a gaming headset. While playing Doom Eternal I was experiencing some of the best sounding explosions and gunfire that I have ever heard all while still performing the mids and highs with the same precision. I was able to discern the moans and groans of the demons in hell while fireballs would wizz past me and explosions were happening all around. A lot of lower end headsets have trouble dividing the lows and highs and they would meet in a muddy mess in the middle offering either too much bass or not nearly enough.





I tested them with many games over the last month and I have no complaints. Death's Door was a fantastic example of how the penrose can deliver crystal clear wind instruments in the main hub, yet also flawlessly deliver the slapping bass, clanks and drums of the furnace level in the Urn Witches basement. I played almost the entirety of Control and its DLC using the Penrose, and then switching back to my A50's and Xbox headset to get a comparison. With every switch I was amazed with how much more full the Penrose sounded. They all have great surround sound so all of the channels perform as they should, but the standout difference was when I would use the launch ability and hold the item in the air before throwing it at an enemy. The Penrose had such a full and precise sound that made the floating, pulsing, item sounds right next to my ear as it's supposed to. I could clearly make out the highs and lows of the pulse when the other two headsets were more of a muffled hum that was not nearly as accurate. The Penrose deliver the perfect balance of sound and I found myself cranking the volume up to see how far I could press them before they would become distorted, and my ears always lost that battle. I would have to take the headset off with my ears ringing in defeat. As I said above, I am used to the Astro A50s and I think a lot of the sound would bleed out of the cups. Everything with the Penrose seems more focused and clearer.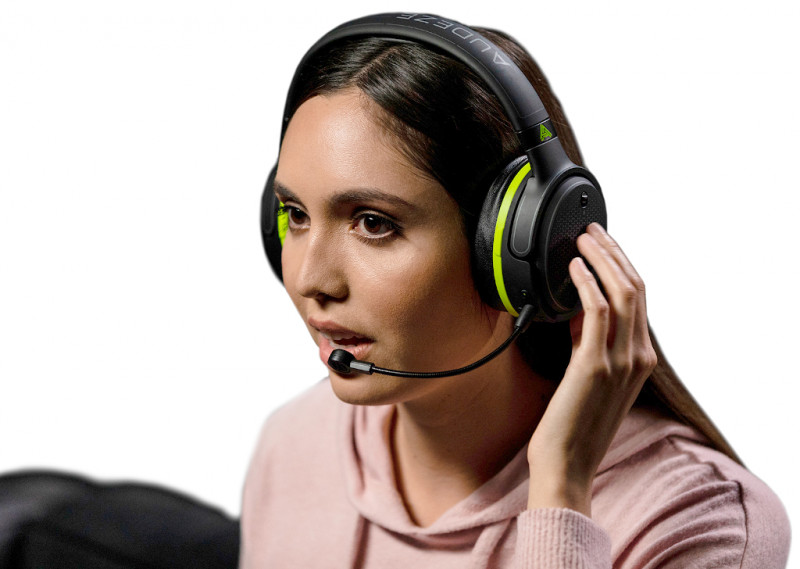 Microphone quality is another area that the Penrose X shines. It has a "broadcast quality" microphone with some of the best background noise cancelling I've used. The specs say they perform up to 20 decibels of background noise cancellation and since I don't have any type of meter to test that, I will take their word for it. I did however have my son make a bunch of noise while I was in a chat party, and my chat partner didn't hear a thing in the background while I was talking. I don't know what kind of wizardry Audeze has performed here but my experience with other headsets has never been this positive when it comes to noise cancelling microphones. Since I live in a house with two young boys that like to follow me around like puppies, it's nice to know that I won't be bothering my chat partners too much if my kids are in the same room as me.

One thing to note about the microphone, the volume slider that is on the perimeter of the cans is for YOUR mic and is not to increase chat volume. Early on while testing the Penrose I was trying to test the set out and I was fumbling with the dials and buttons to test different things. I turned my mic up so high thinking it was the chat volume that my chat partners would hear a loud hissing noise every time I would make a noise. After I realized that it was mic volume/gain and not chat volume, I made the changes to the dial, and all was well from there on. They all said I came in loud and clear.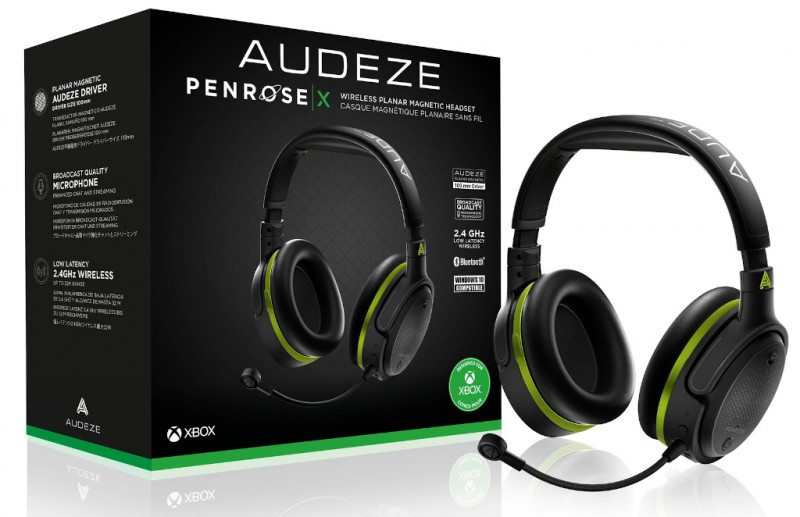 The Audeze Penrose X are the best gaming headphones I've ever used. Period. After over a month of using them and then comparing them to other sets I own, I have found that the Penrose outperforms them all in every aspect. I've used them to play videogames on Xbox, Switch, tablet and phone. I've listened to rock music, rap, reggae and whatever kind of music you think Post Malone is (he really is delightful). They check all of the boxes when you are looking for premium sound, long battery life, comfortable fit and a suite of features. At $299 USD they are more expensive than some of the other options out there, but I can confidently tell you that the additional money is well spent here and you'll get what you pay for.


Overall 9.5/10