Roccat Torch Review
by Adam Dileva







Features:

Sample/Bit Rate: 48kHz. 24-bit with optional selection for 44.1kHz
Capsules: 2 × ROCCAT Proprietary ∅14 × 6.5mm condenser capsules
Pickup Patterns: Cardioid, Stereo, Whisper (ROCCAT Proprietary)
Frequency Response: 20Hz – 20kHz
Max SPL: 110dB
Zero-latency 3.5mm, 4-Pole headphone socket
Dimensions (Desktop fully assembled): 138mm × 95mm × 208mm
Weight (microphone and stand): 500g
Weight (microphone only): 290g
Windows 7, 8.1 or 10
USB 1.1/2.0/3.0

Package contains:

ROCCAT Torch Studio-Grade USB Microphone Module
Base with recording studio style controls, and Microphone Angle Adjuster
2 × Microphone to Base Connection Cable (15cm /200cm)
USB-C to USB-A PC Connection Cable (200cm)
Quick-start guide



Intro:

I admit, I've not really heard of the Roccat brand before. After doing some research and seeing their product lineup, I did like what I saw, but have yet to try any of their peripherals. Back in 2019 Turtle Beach bought the brand, so you know there's some experience behind Roccat now and hopefully we'll see it get a larger presence in the future. I say this because after using the new Roccat Torch microphone for the last few weeks, I'm absolutely a Roccat fan now.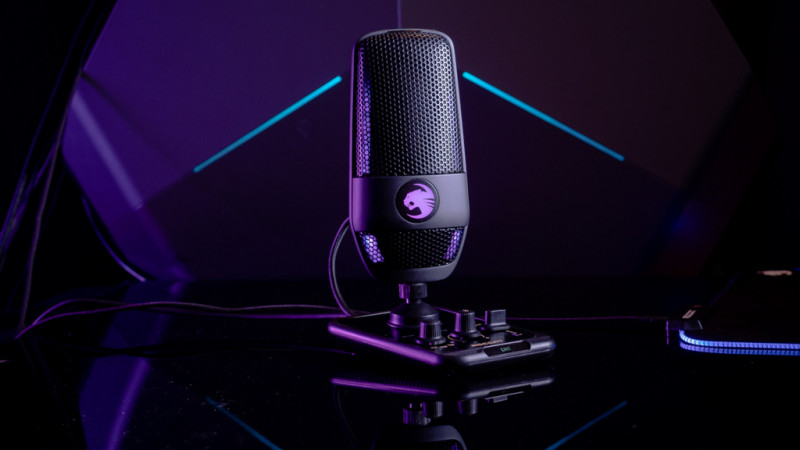 Being a streamer, you need a decent amount of hardware if you want to do it right. Even figuring out what hardware you need is quite a journey of research, but one thing almost every streamer is going to need is a decent microphone so that you can talk to your audience. While mice, keyboards and your usual gaming peripherals are endless in choices, microphone options are a bit more limited, not that there's not many choices, but most new streamers gravitate towards the same few options for a number of reasons. Roccat's new Torch is going to possibly turn some heads with what it offers for its price point.

The Roccat Torch is a USB microphone, and I know, before you scoff at the idea of a basic USB mic compared to a professional XLR grade, hear me out, as there's quite a lot offered here in this package for a fraction of the price. While the Torch is marketed as a "studio-grade" microphone, which could mean many things, it's a dual condenser design that offers three sound modes, a base with mixer-like controls, 24-bit audio quality, a unique touchless mute and RGB lighting (because what gamer doesn't want RGB right?) all for $99.99 USD. I know, you probably wouldn't expect much from a sub $100 microphone, but I was far more impressed than I expected, as it always gave a clean and crisp sound of my voice once I found the sweet spot for placement and gain levels.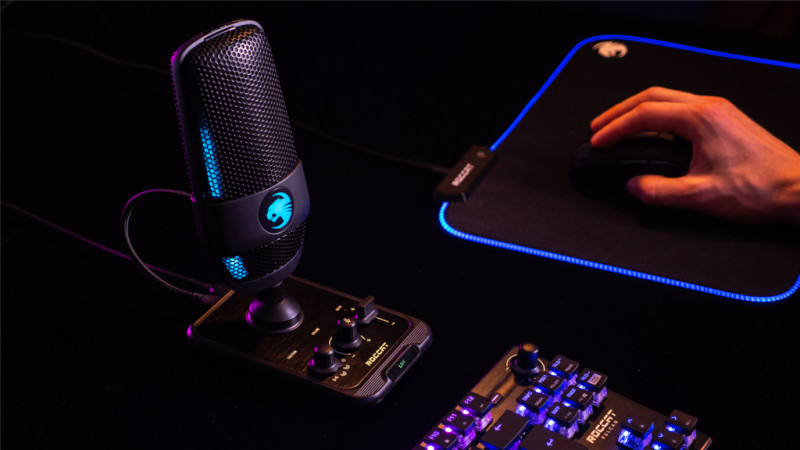 On top of that, the Torch has a driver free setup. Simply plug it in and it works once Windows recognizes it. No need for downloading new drivers, updates or bloated software, simply plug it in and you can start recording or streaming right away. The dual condenser design gives you a lot of options, from solo streaming to podcasting with another person in the room. There's even an exclusive Whisper Mode that is meant for those like me that tend to play much later at night once the family is asleep while trying to keep the noise down to a minimum.

Looks:

Like many, I've been using my old trusty Blue Yeti Pro for many years. It used to be the default entry level microphone that many still use today due to its lower price point for those starting out. The issue I always had with it though was the weird shape of it an dits weight, forcing you to use many of their proprietary or expensive add-ons like shock mounts and others when you want to improve its quality. I didn't know what to expect from the Roccat Torch, but I was simply hoping that it would simply work with my other equipment like boom arms and such without much hassle. Thankfully I had no issues with this as it attached to my boom arm no problem without the need for any sort of adapter. I've actually since put aside my Yeti, now simply a backup if needed and replaced it with the Torch full time.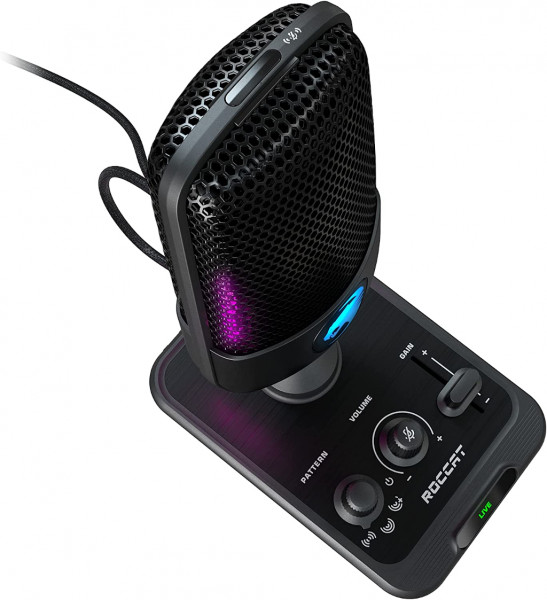 Even as I took it out of the box, I was instantly impressed with its weight, feel and build quality. It has some heft to it with the base attached, but not heavy at the same time. Together with the microphone and base it still only weighs 500g whereas the microphone itself is only 290g, still light enough that my boom arm had no problem sustaining its weight without sagging. As yes, this means you can separate the microphone from the base and still keep all of its functionality, but more on that shortly. The metal parts that surround the Torch feel very high quality, as does the honeycomb design that houses the condensers.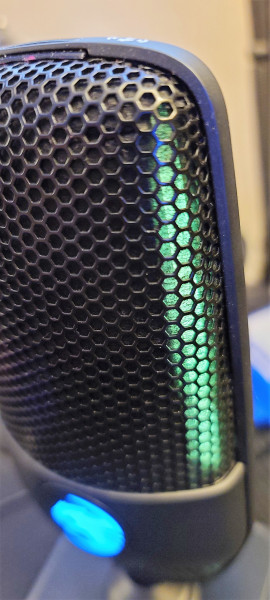 I quite liked the design and shape of the Torch as well, as it still looks like a professional microphone but has some style and flair to it as well. Is a gaming peripheral even for gamers if it doesn't have RGB these days? Roccat knows this and has included a subtle yet functional way of including some RGB lighting within the microphone itself; not too flashy or overpowering, but purposeful. There are two strips of lighting that go up the sides of the face that indicates how high your gain is set to. Have the gain maxed all the way, the RGB light strip will run from the base to the top of the mic. Set it to half and the strip stops half way up. It's subtle but a clever way to add a quick glance of functionality instead of having to fiddle with software or knobs to see what my gain is set to.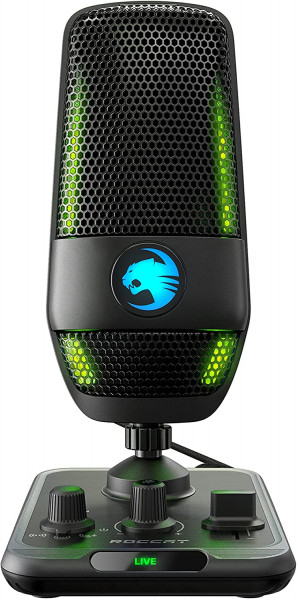 There's also the Roccat logo right in the middle of the mic that also lights up. The Torch allows for choosing of three different recording modes, each of which are indicated by a separate color. Purple is for to indicate stereo (what you'd use for podcasting with another person in the room across from you), Yellow for cardioid mode (what you'll most likely keep it on for streaming or recording) and lastly Blue for Roccat's exclusive Whisper Mode. I'll delve into all these modes shortly, but quickly glancing at the RGB on the Torch can give you a lot of information which I found to be quite clever.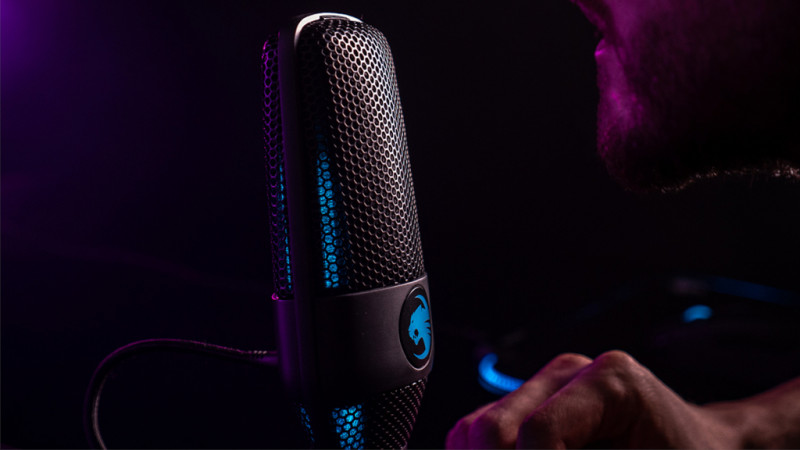 As you're actively using the microphone there's even a "LIVE" light to indicate that your microphone is hot, because we've all done it at some point and had our mics on when we meant to have it muted. When you do mute the microphone, either with a wave of the hand overtop the mic or pressing in the volume knob, the base shows a muted symbol along with the Torch's RGB going red. Again, nothing revolutionary, but a very clever way to convey information you might want at a quick glance without fiddling in a bunch of options, knobs or software. My only disappointment with the RGB is that even with the AIMO or NEON software installed, I wasn't able to find a way to change the RGB to have different patterns or even associated colors with the different recording modes. If you're a streamer that uses all of a specific color pallet, having a forced color that isn't to your preference might be a little bit of a an annoyance, as I would have enjoyed to have the cardioid mode set to a green to match with my Xbox streams.

Base:

While getting a standard microphone isn't challenging, when you start to want more control over what you're doing you're generally going to have to invest in some other hardware to go alongside with the microphone. The Torch does this with its base, giving you a few professional mixer-style controls for fine tuning on the fly without need for software. The base for the Torch allows you to turn one knob to change to the three different pick-up patterns, another for volume control (on a Windows level) and then a slider for controlling the gain. There's even a 3.5mm jack in the back of the base to plug in a headset to have all the audio go through the base itself for ease of use.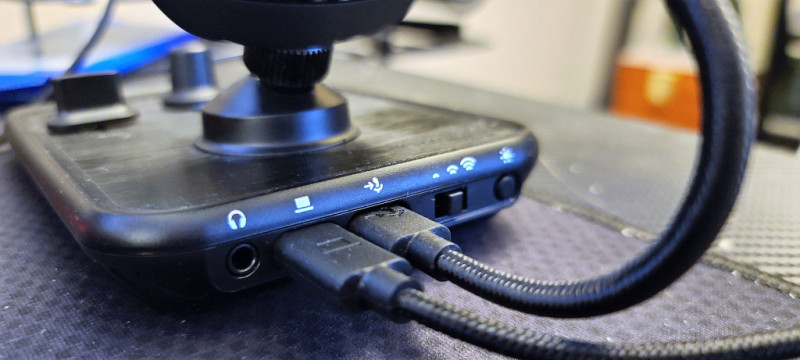 The mic attaches to the base with an included USB-C to USB-C cable about an inch or two long. Though if you'd prefer to have your mic on your boom arm or elsewhere, you can separate the two. Simply use the longer cable included to go from microphone to base and then another USB-C to USB-A cable to connect the base to your PC (regardless if the mic is mounted on the base or not). This allows you to still have the mixer controls at your fingertips with the base unit but still giving the freedom to place the microphone in your desired position away from it should you want.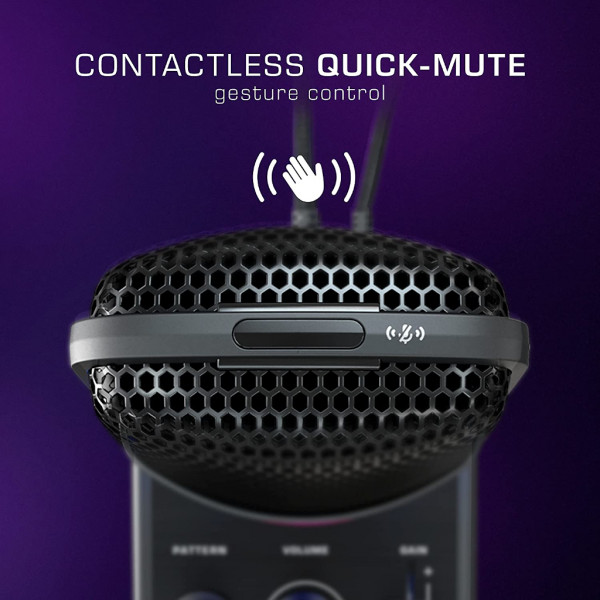 One of the other interesting features is the Torch's contactless quick mute. There's a small sensor at the top of the mic that is meant to tell if you wave your hand over it. By doing this you can quickly mute the mic without touching it or the base. This may seem like a silly feature, but there's always going to be some sort of feedback or small bumping noise if you press a physical button, like a mute, on the microphone or base. This is a clever solution for this problem. While I don't think many people will find the pressing of the mute button with some minor feedback an issue at this price range, it's certainly something that some people do think about, so it's a welcome feature.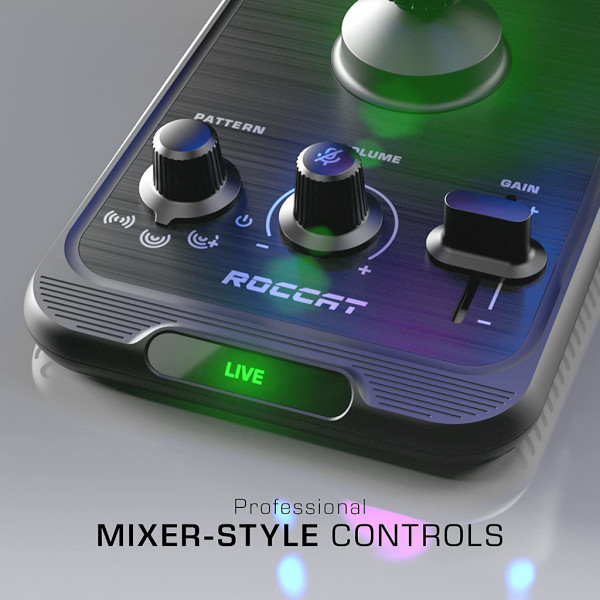 Audio:

Now to the reason you're possibly researching the Roccat Torch, its audio recording abilities. In short, I was very impressed with how it performs by default without needing to touch anything up or change any settings in software. Because of the Torch's dual condenser design, of course the diaphragms are a bit smaller than a dedicated singular one that's larger, meant for professionals, but you're still given 24-Bit quality with up to 48kHz sampling. Basically, you're going to sound good and clear, though this is based on many factors like your background noise, mic placement and more.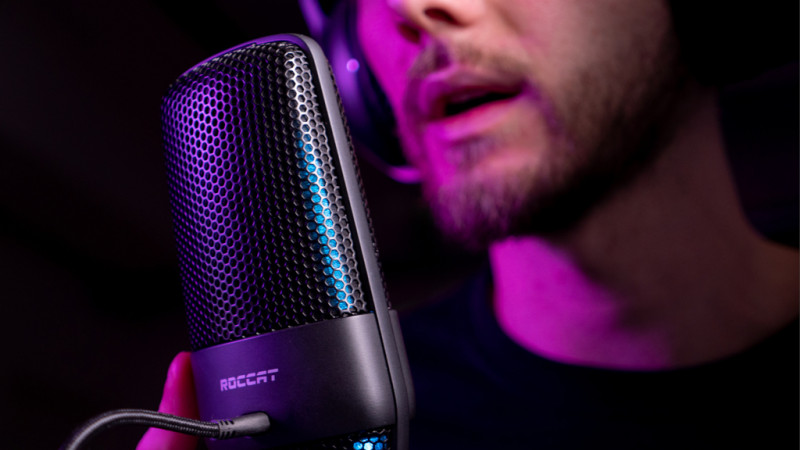 Also included is a built in pop filter underneath the honeycomb design of the mic face. Pop filters are used to cut down on the harshness, or 'popping' of certain sounds, like the letter "P". The built in pop filter does do a decent job of diffusing these sounds, though having taken voice acting classes in the past, it's still engrained into me that I always still use an external pop filter as well. While I could tell a minor difference with my extra pop filter placed in front of the Torch when compared to not, it's not totally necessary like some other microphones, like my now retired Blue Yeti Pro.

The whole point of the Roccat Torch being plug and play is that you don't have to fiddle with anything to start sounding good. You're going to sound crisp and clear for the most part, and while I'd still suggest playing around with settings in whatever software you'll be using like Audacity, OBS or Steam Labs, you can quickly plug in and start streaming knowing you'll sound good without much setup. Even by default, the Torch was fairly decent and filtering out the background noise such as my router or PC fans that are nearby, though with some software tweaking and microphone placement testing, this shouldn't be much of an issue. This means the Torch will do a better job at simply focusing on your voice instead of any background audio.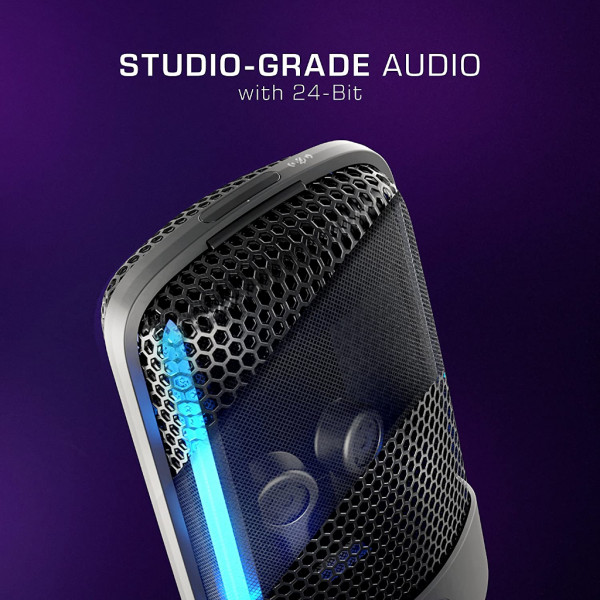 The left most knob on the Torch's base is how you switch between the three different pick-up patterns. Stereo Mode utilizes both back and front condensers of the Torch, so this will use both channels to record multiple sources. This of course picks up more background noise, but is meant for podcasts, talking with other people across from you, ASMR content or instruments. Cardioid Mode is what most users will stick with, as it simply records what's in front of the Torch, meant for streaming and chatting.





Lastly is the exclusive Whisper Mode. This is meant for those that play late and night and want to be quiet, yet heard. I'll admit, I simply thought this was going to be a fancy marketing term where it jacked up the gain to simply capture more audio at lower levels, but it's more than that. Generally when you boost the gain you're telling the mic to 'listen harder', which is does, but this is when you start to pick up more background audio the higher the gain is. Whisper Mode essentially does this, making the Torch pick up your voice when you're being quieter, but it doesn't bring the background noise with it that simply cranking up the gain would normally do. I'm not sure what wizardry Roccat is using, but it's quite a useful mode and feature for those that want to stay quiet but remain heard.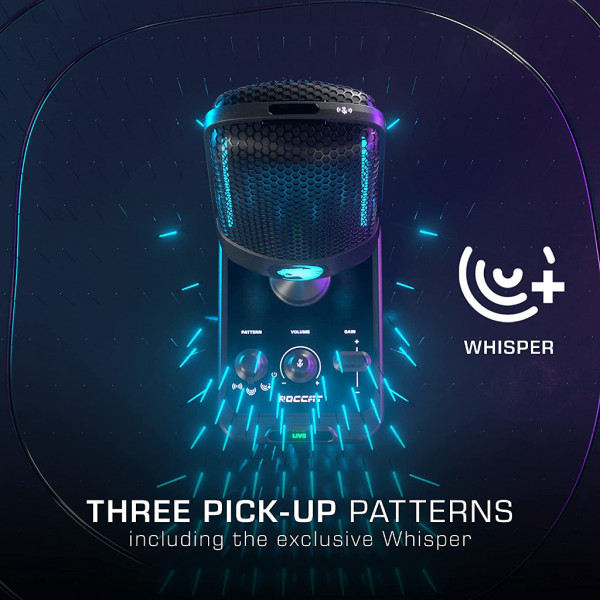 I joined a number of friends in a variety of different apps with all different settings to see what their feedback was about my voice. I had multiple talks through discord, created an Xbox Live party via PC and even tried some Facebook Messenger and Skype calls with the Torch. The vast majority of the feedback was that I sounded very clear and they had no issues hearing my voice. I tried each pick-up pattern mode to see the differences, and everyone mentioned how 'normal' I sounded in Whisper Mode even when talking quite lightly. Again, this was all done with the default settings without any external hardware or software editing, something that many will appreciate when they simply want to plug in and start recording or streaming without a ton of setup beforehand. Obviously I still suggest doing a lot of audio tests with different settings and mic placements to find what works best for you and your environment, but it doesn't get much simpler than these to get going.

Outro:

If you're wanting to upgrade from a standard gaming set or a very entry level microphone, then the Roccat Torch is absolutely worth the look. With a gaming headset you don't really get any external controls about how you sound or how it picks up the audio, so this is your next step up to having a professional setup. The Roccat Torch is essentially an all-in-one solution with a fairly decent price for all the features you get while being as beginner friendly as it can get.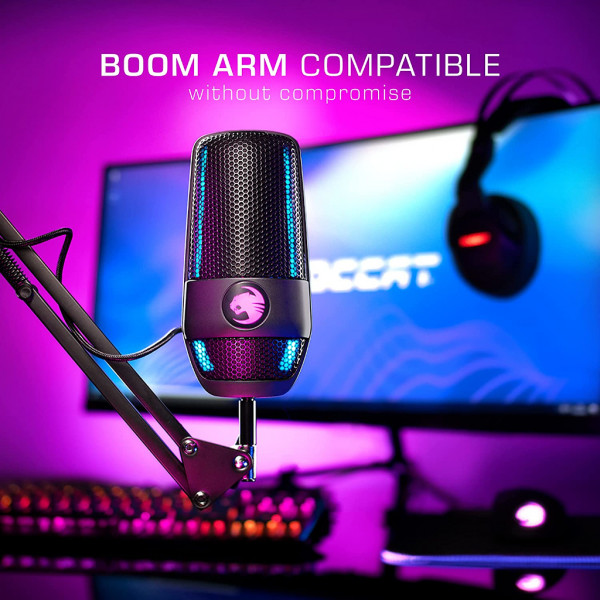 Normally to start getting hardware mixer controls you have to start putting in a decent investment into extra hardware, but the basics of what you'd need are all included in the Torch's base and is a great way to introduce new users enjoy more versatility from their hardware without any expensive externals or software.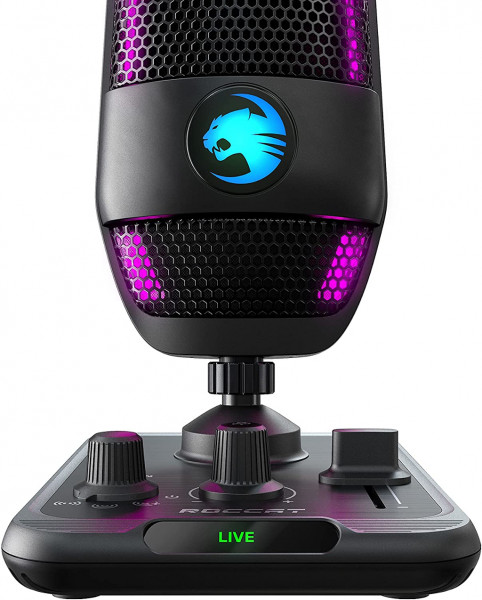 While there may be the odd microphone out there that do sound a little better at this price range, I guarantee they don't come with the Torch's base, giving you built in mixer controls. Sure, a microphone that costs ten times as much is going to sound better, but for this price range at around $100, I'd argue that the Roccat Torch is probably one of the better deals out there as there's not much to complain about for the price and quality received.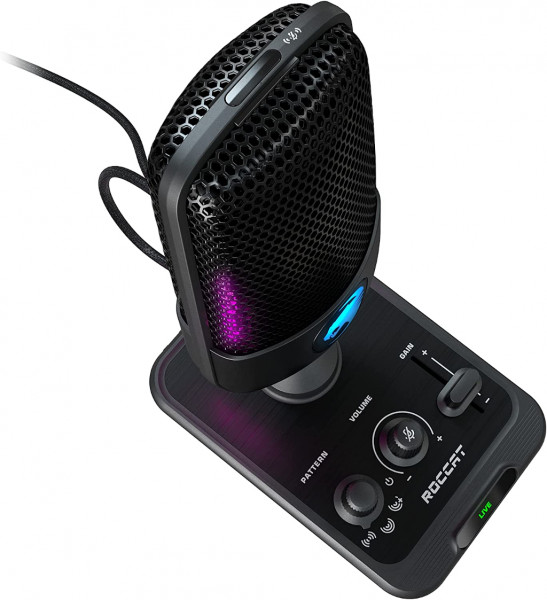 **Roccat Torch was provided reviewed on PC with numerous apps and recording software**
Overall: 9 / 10