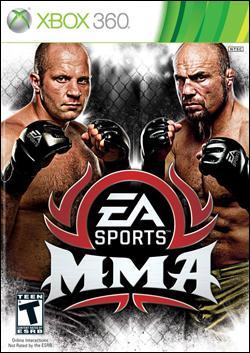 EA Sports MMA
by Matt Paligaru

October 5, 2010

The Electronic Arts MMA game has been a long running source of drama both in and outside of video gaming ever since it was announced in early 2009. UFC owner Dana White also stated at one point that any fighter signed up for the EA game would never be welcome to fight in the UFC or appear in UFC games; though the ban was mysteriously lifted once Jake Shields became a free agent, and somehow did not apply to the likes of Randy Couture or Andrei Arlovski, who remain prominent figures in the UFC Undisputed line.

Whatever happens, the true winners, really, are the gamers. UFC Undisputed provides a fantastic arcade-style of grappling game, while early reports Electronic Arts would be providing more of a simulation style gameplay. After nearly 2 years of waiting, and numerous teasers during Strikeforce events, the demo for EA Sports MMA was finally released with a street release date for the final version pegged for late October.

The first difference you will notice between UFC and EA Sports MMA is the inclusion of entrances. While he is missing the cheerleaders, Jason "Mayhem" Miller dances to the ring in similar fashion to his real fights, and you would swear that the entrances are ripped straight from a Strikeforce event, complete with cheesy lighting and dry ice steam. Loading time isn't bad, and you are even treated to interesting, somewhat irrelevant, and not always correct trivia in between matches. One fact, for example, about the legendary Rickson Gracie states that all of his MMA matches were won by submission (this on paper is true, however, 2 of those wins were submission due to strikes, which some purists may argue is more along the lines of a TKO.)

Once the game begins, you'll notice the engine is built similarly to Fight Night Round 4. Buttons provide functions, while the right stick provides offense. Movesets are catered toward fighter, and not necessarily fighting style. Stand up fighters may not even have textbook ground submissions, with Bobby Lashley being a prime example. While he has no basic submission from a top mount, you can stuff a takedown and put someone in a D'Arce Choke. This does create a trace sense of reality, as Lashley's bread and butter is the stand up game and he has shown slight propensity toward the awkward and rarely seen submissions at times. Oddly enough, the one choke he did win an MMA fight with (a Guillotine) was not part of his special moveset.

One positive that this game has going for it is the fact that it is very easy to learn how to play this game, but very hard to master it. A novice can still have a very competitive match with an expert, and an expert will be forced to use technique to win the match. As with the UFC game, throwing too many strikes in succession will have a severe drain on your fighter's stamina, and so button mashing is discouraged. Takedowns don't require you to give the thumb sticks a workout, and transition defense is a bit more unique to the situation, and does not always end up with the same sequence of blocking animation 20 times in a row. The Graphics are crisp, especially battered fighters getting damaged throughout. Don't expect to see the same lacerations, bruises and black eyes that seemed to plague every fighter in UFC Undisputed. This game battle damages its fighters uniquely depending on what you have punished one with during the fight.

Perhaps the most interesting addition to the game is the submission mini-game, and how submitting your opponent works. It is not the two step transition process that we have seen time and time again dating all the way back to the PRIDE game on PS2. The submitting fighter now has to work during the submission, as opposed to simply getting the submission off and receiving an automatic victory. This is accomplished through a mini game entitled "Find the Zone" where the submitting fighter and the one being submitted jockey for position in a circle transposed over the playing field and race to flick the thumb stick in the requested motion. The winner will be the one with the quickest trigger finger and attention to detail (for avid sports gamers, the mini game is very similar to the way the diving event worked in "Beijing 2008.")

Above all else, however, the demo suffers from its overall presentation. Blood spatters on the mat are unrealistic, and the demo suffers from very selective controls. It responds well to certain commands and sequences, but not to others. With the lengthy production delays to tweak and add fighters and create a better game overall, it was expected that perhaps the demo EA released would be very close to the finalized product, however, it seems that this demo is not. I don't know what percentage of completion the demo build is, but it comes off as something fairly primitive. There is no commentary, the sound effects don't appear to be complete, and some of the mechanics seem to be broken. Takedowns are too easy, guards are too easy to pass, and you just don't get a good feel for what this game may be.

Given how much the game promises to output when the full version comes out (including the inclusion of PRIDE rules and a ring,) I choose not to pass final judgment until I've sat down to play the finished product. Something I believe, however, is that in the end, comparing this to UFC Undisputed will be much like comparing Street Fighter to Mortal Kombat, or Derby Owner's Club to Final Furlong. You will see a similar premise on the surface, however, the products on a deeper level will be so different that it will be hard to compare the two.

Electronic Arts releases their long awaited foray onto the Mixed Martial Arts stage October 19th, and XBox Addict will run down all the action from the intro until the final bell.