Preview of Gears of War 3: Brothers to the End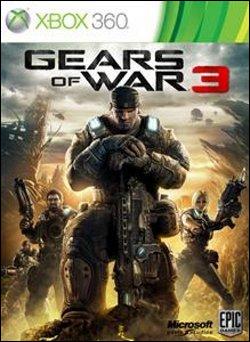 Gears of War 3: Brothers to the End
by Gail Countaway

May 9, 2011

In this Xbox exclusive title, Epic Games is back with their multiplayer beta of Gears of War 3. Set to release in September 2011, this is one of the most anticipated games this year. The beta of course is a must have for any Gears fan and if you haven't had a chance to get your hands on it yet, you still have time as the beta will be available until May 15th.

Marcus Fenix is humanity's last hope against the Locust scourge and in this upcoming title he will stop at nothing to ensure he gets the job done. With his team of death dealing soldiers he's got one thing in mind, and one thing only. THEY MUST DIE! So suit up soldier, we're not here to sell cookies...

There is a lot of new innovations and a lot of familiarity as well in the upcoming release of Gears of War 3. Epic pulled out all the stops when they introduced some of the new weapons like the retro lancer, the sawed off shotgun and the digger launcher. These are just some of the choices you have as you decide on which character to use and what weapons he will have equipped before jumping into the action but bare in mind, some of the weapons, and a few of the characters will need to be unlocked before you can use them. While using the retro lancer, you will be able to unlock the gold retro lancer in the beta by playing 90 matches, and then by using the gold retro lancer and getting 100 kills it's yours to keep in the retail version. On one of the maps, you will also find a one shot, which is the most powerful weapon ever introduced into the Gears series, and if used properly is a very powerful advantage over the opposing team. If none of these new innovations work for you, Epic also brought back some of the classics as well such as the lancer, the snub, the gnasher and more. Also new in this upcoming title expect some pretty intense graphics as Epic decided to use the Unreal 3 engine. You will be pleasantly surprised with the detail as your lancer is ripping through your enemies or when you down your opponent, rip off his arm and beat the ever loving s*&t out him. Almost everything you loved from Gears 2 found its way into Gears 3 and everything newly introduced is a definite improvement.

The Gears of War 3 multiplayer beta gives us the opportunity to try out 3 of the game types we will see in the retail version.
Team Death Match, which is played exactly like you may be imagining. Two teams of five face off and try to wipe out the opposing team by any means necessary until all lives are expelled or the timer runs out.
King of the Hill, The goal here is to take over your objective on the map until the time is up gaining you a point and once that happens, another objective will spawn on the map.
Capture the Leader, which is played like capture the flag, except the goal here is to capture the opposing teams leader and use him as a meatshield for 30 seconds gaining you the win for the round, all the while the opposing team is trying to do the same to you and your leader.

In the beta, we get to test each of these game types out on four new maps. The new maps we get to experience on this "EPIC" journey (no pun intended) are...
Thrashball - Takes place on a destroyed thrashball court. There are a few things on this map that you may be able to use to your advantage but if you aren't careful when you take out the scoreboard dangling from a frayed cable in the center of the map, it could spell disaster for you and your team mates.
Checkout - A department store in total ruins. With lots of different rooms filled with boxes and broken down shelving to take cover, this map will be a sure favorite for those that are more stealthy and prefer close combat.
Old Town - Is exactly like its name describes, a run down town. This map offers up something great for those that like to take the duck and cover approach, including a broken bell tower which seems to be the spot of choice for most and the perfect spot for any gruesome limb stomping battle.
Trenches - this map kind of reminds you of something you'd see in a war movie. Its dusty and dirty with trenches and dug outs where your team will spawn. As well this is a great map to flank your enemies and flush them out 1 by 1.

So as you can see, Epic did a fantastic job with this title so far and really gives us Gears fans a look into the future of what this amazing game will bring when it hits the shelves in September. If you haven't had a chance to pre-order your copy, this would be your opportunity to get into the action of this blood and gore packed beta and in the words of Marcus Fenix, "We're not saints. But we are gonna win this f*&king war and I'd rather have you on the winning side."