Preview of Dungeon Siege 3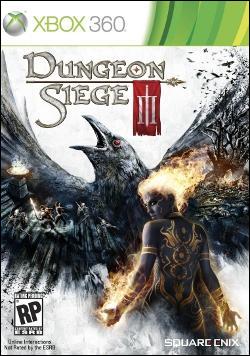 Dungeon Siege 3
by Adam Dileva

May 30, 2011

I was never huge into the hack and slash types of games like Diablo and Neverwinter Nights but somehow I got a copy of Dungeon Siege given to me back when the original came out and I've always enjoyed it. Dungeon Siege is the concoction of Chris Taylor (who now is an advisor on the upcoming DS3) and was always made by Gas Powered Games and published by Microsoft Game Studios. Fast forward a few years and now Dungeon Siege 3 is almost upon us now made by Obsidian (KOTOR 2, Neverwinter Nights 2 and the new Fallout) and now published by Square Enix.


My first thought before trying out Dungeon Siege 3 is if they'll be able to hold a candle to the series I've come to love done by Gas Powered Games or not; luckily yes. As you'd expect from any good hack and slash adventure, loot is thrown your way at every turn, there are hoards of enemies to kill and you get to customize your characters across many different environments.


Once again you return to the kingdom of Ehb and I will delve more into some of the gameplay mechanics while leaving out any story elements to save for the real review later. Dungeon Siege 3 is built upon a strong cooperative experience for up to 4 players total in the classic isometric camera angle (though you can zoom in if you prefer).


There are four different characters to choose from (unlike in the original where you make your own) and their skills and play styles vary wildly. Lucas is your soldier type with a huge two hand sword or a sword and shield combo. Katrina is the ballistics that can shoot from afar with her guns, Reinhart is your magic user than can shock and stun while bending time for his benefit and lastly is Anjali who wields a fiery staff and can also turn into a demon to slay her enemies.


Each character has two fighting modes which essentially comes down to and offensive and defensive (or long and short range) style. You can instantly swap between these stances (and appropriate weapons) to take care of enemies however you see fit. A great example is with Katrina; you can use your rifle to snipe from long range, when they get in close you can swap to your dual pistols to damage them then cast a knock back spell and swap back to your high powered rifle to finish them off. It adds more variety than most simple button mashers in the genre and some bosses will have you swapping stances and using skills varyingly.


While you are able to block, it has to be the direction you are actually getting hit from which I found was a little frustrating when being surrounded constantly by swarms. Gone are the days of health and mana potions, now you pick up orbs as you slay enemies to fill your respective bars. This also will have you watching your character more so than usual as you can't just hit your potion when needed.


As you gain xp you will obviously level up, and with doing so you get to start building your characters skillsets whoever you wish. You can focus on new skills and spells or buff your defense and known abilities even further. This is how characters will differ once you start playing online multiplayer (complete with drop-in drop-out!)

While I will save the bulk of my thoughts for the full review later, know that you'll constantly be upgrading your gear with new loot and that your actions and choices you make in the storyline will change certain outcomes.


While there is no pvp, Dungeon Siege 3 is a co-op offering from Obsidian that I can't wait to get my hands on. Looking at the skill trees definitely makes me want to level up so I can try out all the new abilities and spells to suit my play style. The demo is out now so make sure you download and try it out and if you're a fan of the genre I think you're going to enjoy when the full game releases June 21st.