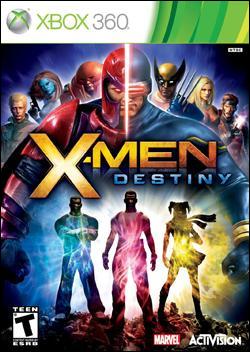 X-Men Destiny
by Brent Roberts

July 20, 2011

Power comes with character, character comes with choices, and choices come with your destiny. In Activision's new upcoming game X-Men: Destiny, the focus is on you and your choices. Let's face it, not much in the form of information has been talked about the upcoming game from Silicon Knights called X-Men: Destiny. We have seen non-informative 10 sec. teaser clips, less than a handful of pics, but now we have more wonderful news on some of the details of this upcoming game. For starters you have your choice of three mutants to choose from and you also have the ability to choose between various power sets, and each set has their own way of progressing and developing your skills and abilities.


Now we have seen various pieces of teaser information in regards to what other characters we will see, but nothing like what we are in store for with X-Men: Destiny. One of the most amazing innovations of this upcoming title is the fact that this title gives gamers the ability to change and shape their own path and decide if they are going to join the X-Men or the Brotherhood. Some other very cool aspects are that no two playthroughs are going to be the same and your choices that you make are very critical to your character so choices must be made with care. Personally after hearing Silicon Knights was involved with this title I never expected something higher than the colossal failure of Too Human, thankfully though this is not even close to that flop of a title.


The preview that we got to witness showcased some of the power progression systems, combat styles, and even a critical choice plot instance. There are three different mutants that you can chose from and from each of these mutants you can pick the power set you wish to develop. This truly makes the game feel like you are a young mutant enrolled in Xavier's School for the Gifted and throughout your experience you will be forced to deal with plot altering choices that will make all the difference not only in your future, but the future for all mutants. The combat system is mixed between using hand to hand combat and your mutant abilities but the real beauty of it is the animation and the flow of combat. Being able to utilize your mutant abilities in the middle of your combo allows for seamless control and gives you the power to wipe out a whole area of mutant haters.


Throughout the game one of the great innovations are how current X-Men and Brotherhood mutants teach you not only about your powers, but teach you about the choices you make. In the preview we witnessed how our character faced a choice on the future of the X-Gene and how it should be used. The interesting thing is that you don't have to face these decisions alone because you will have members of both X-Men and the Brotherhood who will be trying to sway your decision to their side by providing a hint of the future of the outcome of your choices. In the preview we witnessed Colossus and Gambit trying their best to help guide you as to what your actions should be, but ultimately in the end the choice is yours.


In X-Men: Destiny you control not only your future but the future of all mutants and humans. With a massive amount of gameplay innovations and a highly developed storyline, X-Men: Destiny is poised to be the iconic staple in a new genre of comic RPG adventure game. Stay tuned as we here at Xbox Addict uncover more details as the months progress.