Preview of Gears of War 3: Brothers to the End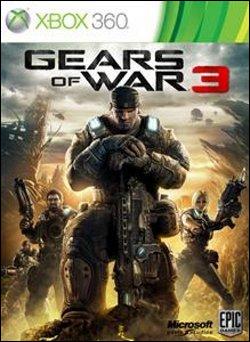 Gears of War 3: Brothers to the End
by Brent Roberts

August 8, 2011

Woooooooooo Hoooooooo! Yeah motherf***er what's up now?!?! Don't look to good now with my boot up your a$$ huh!?! We here at XboxAddict.com don't f*** around when it comes to a bunch of Locust aliens trying to destroy our world! We're here to give you a taste of what you motherf***ers can expect in the upcoming game Gears of War 3! The war against the Locust comes to an end this September but we'll be dammed if we're going to let those bastards win. It's time to grow a pair if you want to swing with the big boys, so let's get this preview underway.


If you were expecting more information on the campaign then here's a tissue because we have got a lot more to cover than the campaign. For starters let's get one thing crystal clear, you will need your teammates if you wish to survive. Going in solo with guns blazing is a guaranteed first class ticket to hell, and if you're that bat$hit crazy then we only have two words for you, good luck. Not only will your teammates help you seriously f*** some $hit up, but they will also be invaluable when it comes to certain weapons. You heard me right; your teammate can be the difference between winning the war and becoming fertilizer. You hopefully already know about the weapons from the beta (retro lancer, lancer, sawed off, etc..) but now you and your teammate can have the pleasure of unleashing 1000 rounds of "have a bad day" when the two of you join forces to take on what is known as the Vulcan Cannon. Don't let the description fool you, this is a gun that commands respect, and a teammate good at active reloads. Sure you can pick up the gun and let loose, but here is why your teammate is priceless. As long as your teammate performs perfect active reloads on the ammo box you will never run out of ammo. Yup, you have any idea how f***ing sweet it is to find that little gem?


Now that we've established that a teammate will save your sorry a$$ when times get tough, this fact rings true when talking about the new Horde mode in Gears of War 3. If you haven't played Horde mode before, then imagine wave after wave of increasingly bada$$ enemies that are hell bent on one thing, to detach your head from the rest of your body. Not only will the Locust do anything and everything to tear you to pieces in Horde mode, but now the Lambent have decided to hop in the ring and deliver wave after wave of brutality to your skull. With the new Horde mode you and your team now have a chance to get paid.

Yup now you can earn in game credits throughout your slaughtering which will become your saving grace as you use these credits to purchase various head popping supplies and structures to aid you in your bloodshed. You can fortify your position with various structures such as laser grid barriers, sentry gun turrets, manual gun turrets, but our two favorites have to be the decoy and silverback. With the decoy you get a chance to laugh your a$$ off as you watch the dumb motherf***ers try to destroy a makeshift decoy of you while you sit back with their head in your sights waiting for that moment to deal out a battlefield lobotomy.

The crowning innovation though has to be the Silverback. Think of this as a small mech suit with one goal in mind, to kill every f***ing thing in sight. Trust us, all of these new fortifications will become essential as you enter the end of each group of waves and see who swings a bigger d!ck by taking on enormous boss battles such as fighting a fully loaded Brumak and more. If your skills lead you on a one way trip to the grim reaper, don't worry because you can use your in game credits to buy your way back into the fight. Think of it like busting out in poker and then rebuying your way back in. Now if you don't feel like being a selfish motherf***er with your money, you have the option now to give some of your credits to your teammates. So now, not only can you swap weapons and ammo, but you can fill your partner's pockets too.


As much as we would like to continue your journey in this preview, alas you are going to have to wait and experience all of this and more when Gears of War 3 launches on September 20, 2011. Tons of new innovations to the graphics and gameplay make this a game where the weak a$$ b!tches need not apply. You think you got the stones to take on the Locust and Lambent and prove why the Gears are the baddest f***ing group of soldiers, then lock and load motherf***er because we are bringing the pain in Gears of War 3! Woooooo Hoooooo!!