Preview of Assassins Creed Revelations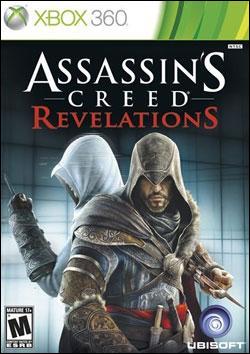 Assassins Creed Revelations
by Brent Roberts

September 28, 2011

Benvenuto mio Assassino fratello, it has been a while since we have had the chance to discuss the various events that took place in Assassin's Creed Brotherhood. We hope that when you are finished reading this preview of the upcoming game that you are not only excited to see how the storylines of both Altair and Ezio wrap up, but to see how Ubisoft plans on bringing all of us a new chapter in the Assassin's Creed saga. Always remember the code Assassino for it is through the code that we will always live on.


An interesting aspect of every Assassin's Creed title is the setting in which the game takes place. We have been all over Europe in our many adventures, but now we come to the heart of the world, Constantinople. Once thought to be the bridge of the world, Constantinople is a melting pot of multiple cultures, influences, and people. In the demo we have seen various structures but gone are the Italian influences to make way for a more Persian feel. The beauty of the landscape has always been one of the many staples of excellence in the Assassin's Creed stories and this takes aim at the heart and guarantees it hits with all audiences. How will Ezio fare in this new environment, and what other places are in store for us? Only time will tell, but for now rejoice for they have put you in one of the greatest cities in human history, Constantinople.


For those who have somehow missed out on the previous three titles in the Assassin's Creed saga, we should kill you here and now for your insolence, but we understand that knowledge is power and instead of destroying the weak, we make the weak a powerful ally. The story of Assassin's Creed Brotherhood answers some of our protagonist Desmond's questions, but the ending is something that cannot be revealed and must be experienced instead. Questions remain for both Desmond and Ezio and our original Assassino, Altair and thankfully all of them will be answered, or so we would hope to believe. The plot has had numerous twists and turns throughout the various games, and many of them have been unexpected and sometimes incredibly lethal, so it raises the question, since this is going to be the final chapter in the book of Desmond, Ezio, and Altair, will all of our questions be answered? If based on past experiences, my guess is no. Remember how we mentioned that knowledge is power? Well that is precisely what the Templar's are after, power. Ezio must find the lost key's to unlock the secret library of Altair and uncover the truth that the master assassin has kept hidden for years. Knowledge is power my friend, and it is up to you to make sure that the power does not rest in the Templar's hands.


Fighting the Templar's has evolved into an art form for Ezio and in Assassin's Creed Revelations we are treated to a masterpiece. Ezio now has the ability to craft multiple items and weapons from various resources found throughout the city which can aid him on his quest in many different ways. One such item is a shard bomb which is a small concealable explosive device that can be quickly tossed to dispatch a pair of guards who are on the lookout for you. While crafting new items is a wonderful thing, Ezio's main arsenal has also received not only upgrades, but a new member as well. Such upgrades now include items such as a new improved smoke bomb that disperses a wider cloud of thicker smoke to help our assassin hide his activities and combat from onlookers or other guards as well. We have all fallen in love with the weapons we are treated to in every installment of the Assassin's Creed saga, and in Revelations we get to witness one of the most agile and lethal weapons in Ezio's history, the Hookblade. This blade allows Ezio to not only traverse the city in blinding speed as you zip across lines, but now you can also use it in combat and climbing making this the multi-tool from hell. Get ready to zip across ropes and then instantly drop down on unsuspecting guards and extinguish their lives in an ariel assassination.


While the innovations of Assassin's Creed Revelations are truly a sight amongst themselves to behold, the core gameplay remains just as solid as it ever was and with the return of your brotherhood, we all wait with baited breath for the final chapter of Desmond, Ezio, and Altair to come to an end. Knowledge is power my friend, and it's time that we seek out the truth, but always remember "Nothing is true, everything is permitted". Go now Assassino, work through the shadows to serve the light.