Preview of Call of Duty: Modern Warfare 3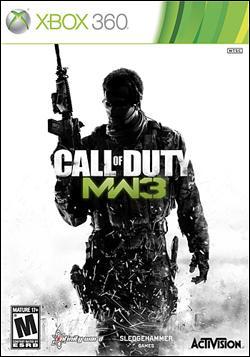 Call of Duty: Modern Warfare 3
by Stephen Cameron

September 5, 2011

Arriving in Los Angeles to the Call of Duty XP 2011 event I really didn't know what to expect. People were telling me, "Prepared to be amazed", and of course I would reply..."Ya, whatever!"

I'll you folks know, and the people that know me...I don't amaze terribly easily. But, we've all eaten our words from time to time in our lives.
Kids, the Call of Duty XP2011 event was a "no holds barred" Call of Duty fan boy's wet dream; seriously. This thing turned out to be like Blizzcon with guns (fake ones). You had all kinds of people dress up as all the various soldiers within the game.

This is the first year for the event and this thing can and will only get bigger and better. Activision seriously spared no expense on this event. Various attractions were things like a paintball replica of "The Pit", and "Scrapyard" from Modern Warfare 2. The funniest one had to be an exterior replica of "Burger Town", you heard me...Do you remember the place? Where you could actually order a combo platter!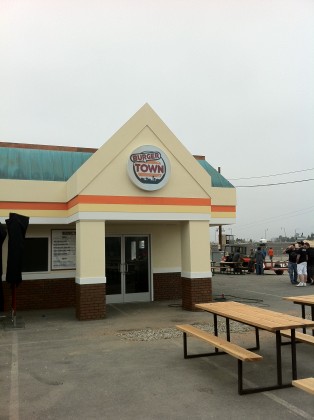 Behold, Burger Town!


They also had a military ZipLine! That was a lot of fun too. Plus, in the evenings they had Dropkick Murphys and Kayne West play for us. Although, these bands were not my personal cup of tea, they rocked none the less! Good times were had.

Throughout the event I came to realize that the attendees paid $150 to get in. What did they get for their hard earned cash? They got what really mattered...the "Hardened Edition" of Call of Duty, plus full access to the event, concerts, rides...everything. PLUS, had a chance to win the limited edition Modern Warfare Jeep Wrangler. Nuts, I tell you. I really need to have a nice sit down chat with Microsoft. I must congratulate them on the new console because it looks great! However, who was sleeping at the wheel with the Call of Duty application NOT coming to the Windows 7 phone? At least if it was coming, it should of been announced at the event. Seriously ? Someone totally dropped the ball there. If it is coming, announce it! They announced the iPhone and Android version. Hell, who knows.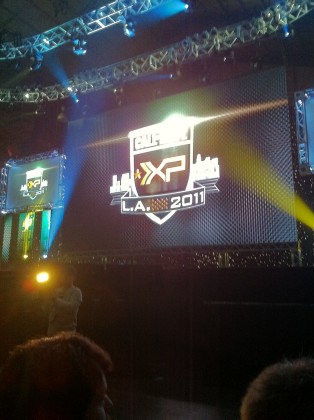 The Stage


Lastly, they had a charity tournament and the winners walked away with $100,000 each! Lucky little buggers! Let's talk about Call of Duty (digital) now. Every year we are graced with a new Call of Duty title. Some people say it's the same old, same old thing and the opposing live, eat and breathe the game no matter what. However this year we are getting a little something new, if you wish. Allow me to explain. It's called the Call of Duty Elite service. Myself personally, I'm a big fan of the game series whether it's Modern Warfare or Black Ops...I love them all. However, my current life situation with a family, doesn't allow me to play this wonderful game with them (not quite family friendly here). As you can imagine my time is very limited, but still enjoy playing thru the Campaign, and some Spec -Ops with a friend. Anyways, enough about me, let's talk about this new service.

The Call of Duty Elite service. What is it exactly? Most of you are wondering if the Elite service is right for you or not. Or just plain don't know what it is. Let me try and attempt to help you figure that out. First of all it will set you back $49.95 USD per year, however, if you purchase the "Hardened Edition" of the game, you'll get the first year of the service included with it. This is especially a good idea since you'll probably want to check out everything before you fork out another $49.95 the following year.

Alright, now that we know what it costs....what do you get by subscribing to the service?

First, you'll get all the DLC (Downloadable Content) for that year included, plus you'll get it before everyone else. The DLC is rolled out every single month, while everyone else has to wait a little longer for it. This might make some fans unhappy, but if you want it early then you'll need to subscribe to the service.

Second, the massive clan support. You still get clan support without the elite service, but it won't as robust. They really dive really deep into all the little extra features, but I'm sure it will be worth it.

You'll also get extra space to upload your HD gameplay videos, and be able to schedule times to play with your clan with the portal/service.
My personal feeling is as follows; if you are a casual COD player (like me) the elite service is not for you. However, if you are crazy for the game, and call in sick at work and school and you're the kind of gamer that downloads every piece of digital content. You'll be right at home. Stay tuned for more complete details.

But, if you are like me, you'll not only still have all the same cool features or years past, you'll actually be getting more! Yes, more! They announced that you'll be able to load-out your weapons via a mobile application, which will be free. There are a lot new features, but I'll keep it simple. If you are curious of the game and service: buy the hardened edition. If you're a hardcore player: buy the hardened edition, if you are a casual player that is not part of a clan, but love the game: buy the regular edition (or maybe even the console bundle).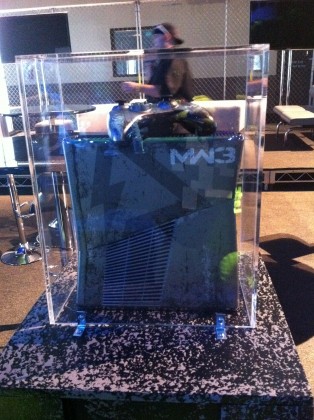 The last couple of years have been a little out of the "norm" for the Call of Duty series. Infinity Ward was dismembered with some staff still around and lot of the hardcore fans were seriously concerned with the fate of the series. Activision did the right thing and took the left over crew of the company and teamed them up with Sledgehammer Games. However, from what we've all seen here at the 2011 XP event here in Los Angeles, we honestly have nothing to really worry about -- Thankfully.

From what I've gathered, the two development studios have joined forces to keep things on schedule the produce Modern Warfare 3 and Beachhead Studio has been hard at work on the new Elite service.
What's different in Modern Warfare 3? The one thing that stood out the most to me was the integration of Facebook in the game; the initial reaction is "WTF?". What better way to round friends up than Facebook !?!?! The unexpected feature is that you can see people that you never thought played Call of Duty because they may be on the Playstation Network or something. So, you are basically expanding your player/friends list.

Killstreaks have been redesigned to reward different play styles and skill levels through unique Strike Packages. Completing game mode objectives now counts towards your Pointstreak progression. For the first time ever, kills are not the only way to earn Pointstreaks.

This also allows Pointstreaks to cater to more unique play-styles:




Assault Strike Package - Pointstreaks within this package chain and are designed for more directdamage (Predator, helicopter, etc), just like in Call of Duty®: Modern Warfare® 2. Your streak resets on death.


Support Strike Package - Pointstreaks within this package do not chain. However, streaks do not reset on death. Streaks are more support oriented (UAV, Counter UAV, SAM turret, etc)


Specialist Strike Package - Pointstreaks designed for the expert players. Rewards come in the form of additional perks. A player activates additional Perks as they progress in a Pointsreak. These perks last until death.


NEW WEAPON RANKING SYSTEM:




MW3 evolves your gun progression
Modern Warfare 3 features more than 40 of the most high-speed weapons that are either in-use or being field-tested by special forces:


Primary: Assault: SMG, LMG, Sniper Rifles, Shotguns and Riot Shield
Secondary: Machine Pistols, Handguns and Launchers


The new weapon progression is designed to improve specific weapon leveling unlocks (attachments, reticules, and camos) and Weapon Proficiencies


Weapon Proficiencies allow players to specialize their weapons with new attributes (some unique to weapon classes)


Proficiencies (not a comprehensive list):




Kick - Reduced recoil when firing


Attachments - Two attachments on Primary weapon


Focus - Reduced flinch when hit


Stability - Reduced sway when ADS


Attachments




Red Dot Sight


Silencer


Holographic sight


Dual Scope (Close Range/Long Range Optics)


In conclusion, the Call of Duty series is stronger than ever. No bull. Although the graphics look slightly tweaked since Modern Warfare 2 or Black Ops, the game's multiplayer has kept evolving. Activision, Infinity Ward and the two new comers (Beachhead Studio, and Sledgehammer Games), they are working hard to give the fans the game they've ask for every year. They've definitely delivered! Now, I just can't wait to get my paws on the single player campaign!

NOTE: Check out our facebook page for event details. Hit "Like" while you're at it.