Preview of Goldeneye 007: Reloaded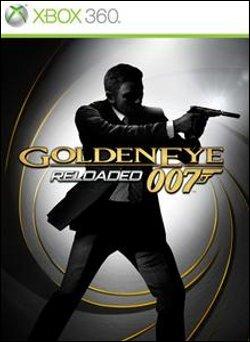 Goldeneye 007: Reloaded
by Brent Roberts

October 13, 2011

There are very few characters in any form of media that can offer us years upon years of entertainment, however, there are two words that almost everyone knows and they belong the British secret service agent, Bond... James Bond. Throughout the years of Ian Fleming's Mi6 007 agent, we have been treated to a ton of witty one liners, fast cars, exotic locations, gorgeous Bond girls, technological toys for destruction, and some of the most diabolical enemies we have ever witnessed on film. When it comes to gaming, there is only one that a vast majority of gamers call the true James Bond experience and that one game is called GoldenEye. From the early days on the Nintendo 64, GoldenEye set new standards for not only a James Bond game, but for first person shooters as well. Throughout the years however, many have tried to duplicate the same success that GoldenEye had and not one came close. Does this new GoldenEye set its sights on reclaiming the lost glory by delivering us another amazing Bond experience with a License to Kill?


First what we have to set our sights on was everything that is possible to experience in GoldenEye Reloaded. There were areas setup to explore every aspect from single player, 16 player multiplayer, even split screen combat and more. Consider this the ultimate GoldenEye experience as this game is packed, literally to the brim with more characters, weapons, maps than ever before. For starters, the multiplayer gametypes include: Golden Gun, You Only Live Twice, License to Kill, Team License to Kill, Conflict, Team Conflict, Black Box, Heroes, GoldenEye, and Classic Conflict. Now if that weren't enough multiplayer options, GoldenEye Reloaded adds in Bomb Defuse, Escalation, Detonator Agent, and Data Miner as well to really provide something for everyone.


Some of your favorite villains return such as Jaws and Oddjob, however, now every character has bonuses specific to their character. In Classic Conflict mode, you get to play as some of the greatest Bond villains and while you're fighting for supremacy you get to enjoy over 20 unique abilities and eight signature weapons as you decide who is the most diabolical. Let's take the hatman himself, Oddjob as a good example. One of the greatest weapons he wields in the movie is his decapitating hat, well now in GoldenEye Reloaded, you can use it too. Instead of putting one right between the eyes of your opponent; if you want to, you can whip that razor blade brimmed hat right at your opponents head detaching it from the rest of his body. Jaws, is another example of some serious character bonuses. This giant of a villain is a walking behemoth of pure evil with a set of teeth that most rap stars would spend a fortune on. Due to the strong steel teeth however, Jaws can deflect up to %50 damage from headshots making this character harder than normal to take down.


While the list of what is available and the new innovations involving the characters is quite impressive, it just scratches the surface of the sheer magnitude of what GoldenEye Reloaded has to offer. Running at 60FPS the controls seemed blend perfectly to the gameplay. We got to enjoy the fluidity of the game as we were treated to a 16 player License to Kill gametype, where yours truly came in 2nd place (behind an Activision employee using Oddjob (we couldn't select him, and if you're reading this Mr. Hatman, next time will be different). The levels were very well laid out and while we only got to participate in a few of them, the total list of levels is staggering at 14! Another great innovation that GoldenEye Reloaded packs in the chamber is customization. Customization plays a very big role in GoldenEye Reloaded as it allows you to fully customize not only your loadout for your character, but over 30 weapons, mines, grenades and more.


After all of these new innovations the biggest questions that have to be answered is: Is GoldenEye Reloaded a good James Bond game? Does this rekindle the love we all had back when we were doing marathon GoldenEye tournaments everywhere? Releasing November 1, 2011 With all the new innovations combined with everything included in the game itself, GoldenEye Reloaded is setting its sights on become the definitive James Bond game as we all become "boys with toys".